Events & Tickets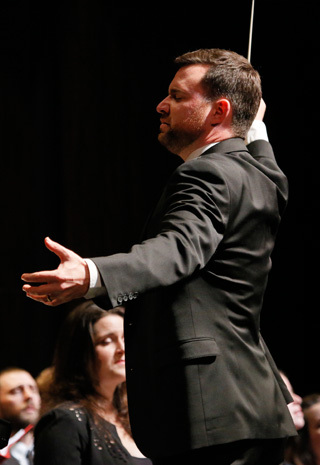 Orchestra Concert
SOUNDS OF THE TIMES: THE DESERT MUSIC
New World Center, Michael Tilson Thomas Performance Hall
Saturday, April 16 at 7:30 PM
Program
The highly anticipated collaboration of two of South Florida's premier cultural institutions—the  New World Symphony and Seraphic Fire--culminates in an incredible performance featuring Steve Reich's pulsing The Desert Music.  Based on poetry by William Carlos Williams, this groundbreaking minimalist masterpiece fuses varied harmonies, counterpoint and sung texts. György Ligeti's Adventures and New Adventures live up to their names by employing a humorous use of rubber bands, wooden furniture, paper bags, the smashing of plates and even a "grand hysterical scene" for soprano seemingly straight from a bel canto opera. A revolutionary all his own, Monteverdi pairs soaring antiphonal voices with virtuosic obbligato violins in his daring Beatus vir.


Program
Gyorgy Ligeti
(1923-2006)
Approx. Duration: 12 minutes

Claudio Monteverdi
(1567-1643)
Approx. Duration: 9 minutes

Beatus vir, SV 268 (c. 1630)

Gyorgy Ligeti
(1923-2006)
Approx. Duration: 12 minutes

Steve Reich
(b. 1936)
Brass arrangement by Alan Pierson
Approx. Duration: 46 minutes

The Desert Music  (1982-83; chamber version 2001)

Gyorgy Ligeti
Adventures (1962)

Approximate duration: 12 minutes
Among a generation of composers bound by rigorous orthodoxy, György Ligeti was a trendsetter and a free spirit. He studied from 1945 to 1949 at Budapest's Academy of Music, and his early compositions followed Bartók and Kodály in their explorations of folk materials. After Ligeti fled Hungary following the Soviet invasion in 1956, he discovered and embraced the 12-tone music of Webern, but he moved away from total serialism as espoused by Boulez and others. In the 1960s Ligeti honed a signature style of "micropolyphony" in such scores as Atmosphères (1961), Requiem (1963–5) and Lux aeterna (1966), which all received special acclaim after appearing in Stanley Kubrick's 1968 film, 2001: A Space Odyssey. 
Kubrick used another Ligeti score, Adventures, in a particularly bizarre scene near the end of the film in which the astronaut arrives in an ornate bedroom and appears as an older version of himself. (Ligeti actually sued Kubrick for misuse of his music, partly over the fact that the recording of Adventures was manipulated electronically without his permission.) Kubrick's choice of Adventures in that scene is revealing, since the music is somehow more civilized and yet more disturbing than the compositions built from diffuse swaths of sound. In Adventures, we hear every minute detail of three singers communicating in expressive nonsense syllables, supported by a spectral ensemble of seven players. 
Much of the drama and intensity stems from Ligeti's intricate instructions for the vocal sound production. In just one measure, for example, while holding a single pitch for about five seconds at a barely audible dynamic of pianissississimo (pppp), the soprano is asked to execute a sequence of coughing, laughing, crying, moaning, groaning, gasping and very quickly and repeatedly panting and exhaling. 
This strange drama ends with the alto alone, her last desperate sounds reverberating in the resonant strings of the piano. 
Additional Resources 
Scene from 2001: A Space Odyssey featuring altered recording of Adventures 
Analysis and appreciation of Adventures 
Profile of Ligeti from publisher Schott Music
Claudio Monteverdi
Beatus vir, SV 268 (c. 1630)

Approximate duration: 9 minutes
Claudio Monterverdi played a pivotal role in ushering in the Baroque era in music. Early in his career, he specialized in madrigals, the polyphonic vocal works that were a quintessential Renaissance style. While serving as maestro della musica to the Duke of Mantua, Monteverdi presented two landmark works of the early Baroque era: the opera L'Orfeo (1607), and his first major sacred work, the Vespers of 1610. In 1613 he won an audition to become maestro di cappella at St. Mark's Basilica in Venice, one of the most prestigious musical posts in Italy. Monteverdi continued to compose and innovate throughout his life, creating two final operas in his 70s and continuing to publish influential vocal collections, including Selva morale e spirituale, published in Venice in 1641. 
In that volume of sacred music, Monteverdi included a setting of Psalm 112 for six voices and accompanying ensemble, a motet known by its opening Latin phrase, Beatus vir. Monteverdi probably composed this setting around 1630, but he based it on an earlier secular song, Chiome d'oro, which used the same repeating bass line. Over that stable harmonic platform, the vocal setting of Beatus vir is incredibly varied, switching from solos to ensemble phrases and jumping between the upper and lower ranges of the ensemble. 
A contrasting middle section turns more serious with a minor key and heavier pulse, as the text delves into the fate of "the righteous" and "the wicked." 
Additional Resources 
PDF score from the IMSLP Petrucci Music Library 
Reproduction of the first edition of Selva morale e spirituale 
Text and translation of Psalm 112 
Gyorgy Ligeti
New Adventures (1962-65)

Approximate duration: 12 minutes
After completing Adventures in 1962, Ligeti began a second work for the same ensemble, New Adventures. He ended up setting it aside to work on the Requiem (which incorporated some of the same techniques for abstract vocalization), but he returned to New Adventures and finished it in 1965. 
The second installment elaborates on the same vocal techniques as Adventures. It also involves the instruments in more of the foreground dialogue, as in a stuttering cadenza for the horn, which the singers then seem to mock with strident retorts. 
One of the most impressive ensemble feats is a technique of "hocketing," in which the voices and then the instruments interlock in a cascade of single-note bursts. 
Within this bizarre and futuristic drama, there are haunting echoes of the past, as when the singers and ensemble join momentarily for a wispy chorale before the madness resumes. 
Additional Resources 
Guide to Ligeti's music from The Guardian 
Video of Ligeti's magnum opus, the opera La Grande Macabre, which utilized some of the same vocal principles as Adventures and New Adventures
Steve Reich
The Desert Music  (1982-83; chamber version 2001)

Approximate duration: 46 minutes
Steve Reich was pivotal in the rise of a musical style known as "minimalism," certainly one of the most influential compositional approaches of the last 50 years. Following his studies at The Juilliard School and Mills College, Reich moved away from musical academia; he made his living driving a taxi in San Francisco and connected with other West Coast pioneers, most importantly Terry Riley. Reich's first breakthrough works utilized techniques of tape looping, as heard in It's Gonna Rain (1965) and Come Out (1966). After moving to New York, he established his own ensemble, Steve Reich and Musicians, to perform his multi-layered, pulsing scores that drew upon African and Asian percussion patterns. With his landmark Music for 18 Musicians (1974-76), Reich demonstrated the impressive scope and range possible in music constructed from repetitive cycles. A recording released on the ECM label in 1978 sold over 100,000 copies in its first year, and Reich's broad popularity brought with it new respect (and paying commissions) from the musical establishment. 
A co-commission from West German Broadcasting in Cologne and the Brooklyn Academy of Music in New York led Reich to compose The Desert Music (1982-83), his largest work since Music for 18 Musicians. The title and text came from the American poet William Carlos Williams (1883-1963), a practicing doctor whose direct language and everyday inspiration made him a hero to the Beat poets and other trendsetters of the 1950s and '60s. Reich organized fragments of Williams' poetry into a five-movement arch cycle, with the long central movement subdivided into its own three-part, symmetrical form. An ensemble of voices and a percussion-heavy orchestra expanded upon the sound palette of Reich's own group, including the integral use of amplification. (This performance features a reduced orchestration prepared in 2001 by Alan Pierson, music director of the new music ensemble Alarm Will Sound.) 
The fast opening movement, in classic Reich fashion, first presents a chorale-like chord sequence in a series of pulsing swells. 
When the singers introduce the text, they participate in the same kind of fragmented, interlocking cycles, splitting the word "begin" into its separate syllables and passing them from voice to voice, eventually adding the next phrase, "my friend." 
The entirety of The Desert Music is an immersive experience, in which the sounds of words take on their own meanings beyond the poetry itself (suffused, according to Reich, with an undercurrent that addresses nuclear warfare). As Reich wrote in his program note to the work, "In the center of the piece is the text … which says, 'it is a principle of music / to repeat the theme. Repeat / and repeat again, / as the pace mounts. The / theme is difficult / but no more difficult / than the facts to be / resolved.' Those at all familiar with my music will know how apt those words are for me and particularly this piece which, among other things, addresses that basic ambiguity between what the text says, and its pure sensuous sounds." 
Additional Resources 
Online perusal score from publisher Boosey & Hawkes (free login required) 
Program note by Reich, including the complete vocal text 
Article from 1999 in Rolling Stone in which Reich addresses his influence on sampling and DJ culture 
-- Copyright © 2016 Aaron Grad 
Aaron Grad is a composer, guitarist and writer based in Seattle. Besides providing program notes for the New World Symphony, he has been the Orpheus Chamber Orchestra's program annotator since 2005 and also contributes notes to the Saint Paul Chamber Orchestra and Seattle Symphony.
Audio clips provided by Naxos of America, Inc.
Patrick Dupré Quigley, conductor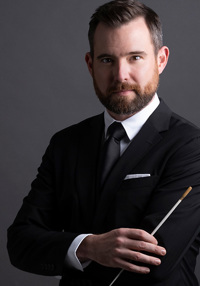 Conductor Patrick Dupré Quigley is at the vanguard of a new generation of young Baroque- and Classical-era specialists: completely at ease at the helm of the modern symphony orchestra while still able to create the passionate, distinctive stylings of the Baroque and Classical sound. The founder and artistic director of Seraphic Fire and the Firebird Chamber Orchestra, he has also received rave reviews of his work with the music of contemporary American composers. In addition, Mr. Quigley is the author of a recurring column on artistic entrepreneurship for American Public Media. 
A popular artist with audiences and critics alike, the Miami Herald has described Mr. Quigley as: "A musician with a constellation of qualities rarely found in a single conductor: an enthusiastic and  audience-friendly personal style, a scholar's instinct for rooting out obscure but worthy music, a scrupulous and historically informed approach to works that span a wide range of musical periods, an ability to bring out the best in his talented platoon . . . and a showman's canny sense of how to appeal to audiences."
Under Mr. Quigley's direction, Seraphic Fire has released 14 recordings on the Seraphic Fire Media label (founded by Mr. Quigley), with an additional recording forthcoming in 2016.  Mr. Quigley was nominated for two 2012 Grammy Awards. He was the only conductor in the world to be nominated for two separate projects that year, and Seraphic Fire was the only choir in North and South America to receive a nomination. Mr. Quigley's last three releases have debuted in the top 10 of the Billboard Magazine classical charts.  His recording Reincarnations, featuring 20th- and 21st-century American vocal masterpieces, was hailed by Gramophone as "extraordinary."
The 2015-16 season sees guest engagements with the New World Symphony in a program of Reich, Ligeti and Monteverdi; covering The Cleveland Orchestra's performances of Handel's Messiah and touring performances in New York, Philadelphia and Washington, D.C. of Mozart's Requiem, Brahms' A German Requiem, and Charpentier's Te Deum with Seraphic Fire and the Sebastians Period Orchestra.  
Mr. Quigley's past guest conducting appearances include Handel's Messiah at Carnegie Hall, as well as programs with the New World Symphony, San Francisco Symphony's Community of Music Makers Series, four separate appearances with the San Antonio Symphony, Louisiana Philharmonic, Mobile Symphony and Naples Philharmonic. 
Mr. Quigley is the recipient of the 2004 Robert Shaw Conducting Fellowship, given annually by the National Endowment for the Arts and Chorus America to one conductor between the ages of 25 and 40 who demonstrates the potential for a significant professional career. At 26 he was the youngest person to receive this award.  Most recently, he was awarded Chorus America's Louis Botto Award for Innovative Action and Entrepreneurial Zeal, recognizing his artistic and institution-building achievements with Seraphic Fire. 
Mr. Quigley received his master of music degree in conducting from the Yale School of Music and his undergraduate degree in musicology from the University of Notre Dame. He is a graduate of the Indiana University Center on Philanthropy's Fundraising School.
Seraphic Fire, vocal ensemble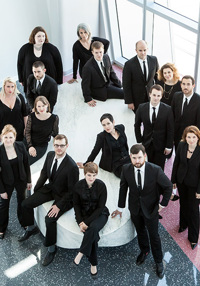 Now in its 14th season performing throughout the South Florida region and on national tours, Seraphic Fire is regarded as one of the preeminent choral/orchestral chamber ensembles in the United States. Led by Founder and Artistic Director Patrick Dupré Quigley, Seraphic Fire brings top ensemble singers and instrumentalists from around the country to perform repertoire ranging from Gregorian chant and baroque masterpieces, to Mahler and newly commissioned works by this country's leading composers. Two of the ensemble's recordings, Brahms: Ein Deutsches Requiem and A Seraphic Fire Christmas, were nominated for 2012 Grammy Awards, making Seraphic Fire the only choral ensemble in North or South America to be nominated that year and the only classical ensemble in the world to be nominated for two separate projects. 
At the start of its 2015-16 season, Seraphic Fire brought its "crystalline artistry" (Gramophone Magazine) into the national spotlight with tours in New York, Philadelphia, Washington D.C. and Naples. The organization also continues a partnership with the New York-based instrumental ensemble, The Sebastians, which brings its Baroque and classical genre expertise, as well as its immaculate execution, to make Seraphic Fire performances even more dynamic, cohesive and impressive. 
Seraphic Fire's artistic accomplishments have translated to chart-topping album sales. The ensemble's September 2014 release, Reincarnations: A Century of American Choral Music, soared to No. 4 on the iTunes Classical Chart and reached No. 6 on the Billboard Traditional Classical Chart. The ensemble's Grammy Award-nominated recording of Brahms: Ein Deutsches Requiem debuted at No. 7 on the Billboard Traditional Classical Chart. In the summer of 2010 Seraphic Fire's recording of Monteverdi's Vespers of the Blessed Virgin (1610) reached the No.1 position on the iTunes Classical Chart, and its 2010 Christmas album, of which NPR's Morning Edition proclaims "the singing is just fabulous; this group has a really excellent blend," broke into the top ten on the iTunes Classical Chart on the day of its release. 
Seraphic Fire has a partnership with Naxos of America for the distribution of Seraphic Fire Media.