Events & Tickets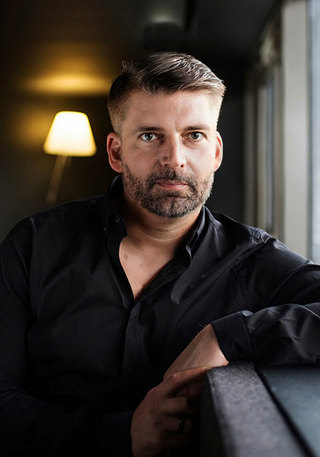 Orchestra Concert
SOUNDS OF THE TIMES: TURBULENCE
New World Center
Saturday, February 16 at 7:30 PM
Program
Explore the leading edge of today's music alongside conductor and composer Matthias Pintscher, who follows in Pierre Boulez' footsteps as Music Director of Paris' Ensemble intercontemporain and creator of intricate sound worlds. Pintscher leads his own Violin Concerto—an atmospheric wonder—with fearless French violinist Renaud Capuçon. Olga Neuwirth's ingenious work has been hailed a brash and brilliant showpiece that "transfers Mahler to the 21st century" (General-Anzeiger). Celebrating the San Francisco Symphony's 60th Anniversary, György Ligeti's Polyphony is as vibrant and unique as the city it represents.
COMPOSE YOUR OWN SUBSCRIPTION PACKAGE!
Choose this plus two more concerts to customize your own subscription. It's the ultimate flexibility with all the subscriber benefits, including free exchanges when plans change! Click or call the NWS Box Office at 305.673.3331 to create your own series today.
Program
György Ligeti
(1923-2006)
Approx. Duration: 12 minutes

San Francisco Polyphony (1973-74)

Matthias Pintscher
(b. 1971)
Approx. Duration: 27 minutes

mar'eh for Violin and Orchestra (2010-11)

Olga Neuwirth
(b. 1968)
Approx. Duration: 25 minutes

Masaot/Clocks without Hands (2013)

György Ligeti
San Francisco Polyphony (1973-74)

Approximate duration: 12 minutes
György Ligeti began composing in a folk-influenced style indebted to his Hungarian predecessors Bartók and Kodály, but after he fled his homeland in 1956, he forged a groundbreaking new technique he dubbed "micro-polyphony, i.e. the technique of the close and intense amalgamation of instrumental voices (and vocal lines)." This sound achieved special acclaim in 1968 when Stanley Kubrick used several examples in the soundtrack for his film 2001: A Space Odyssey, but by then Ligeti had already evolved toward a new sound. "I began to strive towards the direction of a polyphony which was more transparent," he wrote, "more clearly defined and more slender and brittle."
This new aesthetic is evident in San Francisco Polyphony, commissioned in honor of the 60th anniversary of the San Francisco Symphony. (Ligeti connected with the orchestra during his year as a visiting professor at nearby Stanford University.) The word "polyphony," taken literally from its Greek origins, means "many sounds," and that is what greets the audience at the start of this piece—a tangle of themes that do not yet organize themselves into a hierarchy. Soon groups of instruments coalesce into accentuated unisons while others dissipate into diffuse textures, and in this way the musical layers continually reorganize themselves into foreground and background relationships, not unlike traditional polyphony from the 16th to 18th centuries. The buzzing and rumbling effects of micro-polyphony still inform the character of each musical object, such that every sound feels like a living, organic entity.
Matthias Pintscher
mar'eh for Violin and Orchestra (2010-11)

Approximate duration: 27 minutes
The German composer and conductor Matthias Pintscher has established himself as a formidable musical presence on both sides of the Atlantic. Following in the footsteps of another noted composer-conductor, Pierre Boulez, Pintscher spends part of his time in Paris, where he is Music Director of the Ensemble intercontemporain. He also keeps a residence in New York, where he teaches at The Juilliard School, and he maintains a packed schedule of guest conducting appearances for top-tier orchestras including the Los Angeles Philharmonic and Berlin Philharmonic. Pintscher's recent works for The Cleveland Orchestra, Chicago Symphony and BBC Scottish Symphony Orchestra place him in the highest echelon of contemporary orchestral composers.
Pintscher composed mar'eh in 2010-11 for the violinist Julia Fischer to play with the London Philharmonic at Switzerland's Lucerne Festival. The title, Hebrew for "face" or "sign," can also mean "the aura of a face, a beautiful vision, something wonderful which suddenly appears before you," Pintscher wrote. "I came across this word when I thought of the fine lines which Julia can spin with her instrument—this very intensive, but light play. The 'wonderful appearance' is a metaphor for the sound-aura of the entire Concerto."
In Pintscher's plan for the single-movement Concerto, "The violin starts at the beginning and draws a line—or its vision—through to the end in the most varied registers, often quite high where it can only be continued in harmonics. I wanted this continual pacing-out of a line. In the attempt to create horizontal arcs of sound, I was concerned with always giving the sound a direction in perspective."
Olga Neuwirth
Masaot/Clocks without Hands (2013)

Approximate duration: 25 minutes
Austria's Olga Neuwirth, forced to abandon her dreams of being a jazz trumpeter after a jaw-shattering car accident at 15, shifted her focus toward contemporary concert music. She enrolled at the San Francisco Conservatory of Music (while simultaneously taking art and film classes), and after returning to Europe she studied with Tristan Murail and Luigi Nono. Neuwirth is especially renowned for her operas, including an adaption of David Lynch's film Lost Highway, an American re-examination of Berg's unfinished Lulu and a treatment of Virginia Woolf's Orlando that debuts in 2019 at the Vienna State Opera. The following is excerpted from her program note for Masaot/Clocks without Hands, composed in 2013 for the Vienna Philharmonic.
My grandfather, whom I had never met and whom I only knew through photos and my grandmother's stories, appeared to me in a dream. In the sunlit meadow of the Danube, with its rippling water, the wind moved myriads of green blades of grass in a strip of tangled reeds. My grandfather was standing in the midst of the grass and playing one song after another to me on an old crackling tape recorder. He said: "From the start, I was strikingly different. I was an outsider and never entirely fit into my Austrian surroundings. All my life I had the feeling of being excluded. Listen to these songs: this is my story." He had fallen out of time and was sharing this with me.

This dream had moved me so much that I wanted to process it by writing a composition, because for me writing has anyway always to do with memory. The idea was for it to seem as if you were listening to something being dreamt, as if you yourself were dreaming while listening. 

Masaot/Clocks without Hands can be seen as a poetic reflection on how memories fade. The piece combines recurrent fragments of melodies from very different places and experiences from my grandfather's life. It is a "shaped stream of memories." The composition develops a "grid" in which song fragments resound and are recombined. Concurrently, there is a "musical object," based on metronome beats, that makes time audible and perceptible. Just like on a spinning carousel, these metronome beats appear and disappear. Yet unlike on a carousel, they do not remain the same; they change each time through a slight shift in context and the superposition of various tempi. Through this "ticking of the metronome," through this time's externally regulated pulsation, time itself becomes a subjectively timeless realm of the subconscious. Ultimately, time appears to dissolve: clocks without hands.
I wanted to look back at the world of Kakanian heritage from the perspective of my present life, in search of identity and origin. Perhaps this piece is the ironic and melancholic "swan song" of an Austrian composer who feels "in a negative sense free" to compose whatever she wants and so feels close to Robert Musil's "man without qualities."

Masaot/Clocks without Hands evolved out of the multi-voiced sound of my fragmented origins and my desire for an uninterrupted flow, determined throughout the piece by constantly interchanging cells.

To me "Heimat" (homeland, native country) is something nebulous. In Masaot/Clocks without Hands I try to respond to the idea of someone having "several homelands," namely, by composing music that is both native and foreign. Familiar and unfamiliar sounds, beyond any form of Kakanian nostalgia, in the impossible attempt to stop time by composing.
              -- Olga Neuwirth
-- Copyright © 2019 Aaron Grad
Aaron Grad is a composer, guitarist and writer based in Seattle. Besides providing program notes for the New World Symphony, he has been the Orpheus Chamber Orchestra's program annotator since 2005 and also contributes notes to the Saint Paul Chamber Orchestra and Seattle Symphony.
Matthias Pintscher, conductor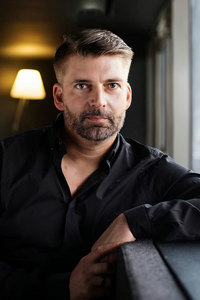 Matthias Pintscher is the Music Director of the Ensemble intercontemporain, the world's leading contemporary music ensemble founded by Pierre Boulez and from the 2020-21 season is the newly appointed Creative Partner of the Cincinnati Symphony.
Conducting highlights have included projects with the Los Angeles Philharmonic, Chicago, Cleveland, Dallas, Cincinnati, Montreal, Baltimore, Houston, Pittsburgh and Detroit symphonies, as well as with the Chamber Orchestra of Europe, BBC Scottish Symphony, Orchestre de Paris, Rotterdam Philharmonic Orchestra, Royal Concertgebouw Orchestra, Berlin Philharmonic, Bavarian Radio Symphony Orchestra, Mariinsky Orchestra, Deutsches Sinfonie-Orchester Berlin, Vienna Radio Symphony Orchestra and Deutsche Kammerphilharmonie Bremen, in addition to extensive international touring with the Ensemble intercontemporain. Mr. Pintscher has also appeared as guest conductor with the NDR Hamburg, Danish Radio Symphony, Finnish Radio Symphony, Sydney Symphony and Melbourne Symphony, as well as at the Staatsoper Unter den Linden and Vienna State Opera to conduct the premiere of Olga Neuwirth's opera Orlando.
Known equally as one of today's foremost composers, Mr. Pintscher's recent highlights include the premiere of his cello concerto Un Despertar in 2019-20 by Alisa Weilerstein and the Boston Symphony and the premiere of his new work SHIRIM for baritone, chorus and orchestra, performed by Georg Nigl and the Bavarian Radio Symphony Orchestra and Chorus at their Musica Viva festival. Mr. Pintscher is also professor at The Julliard School since 2014 and is published by Bärenreiter-Verlag.
In the 2020-21 season, Mr. Pintscher will lead a new production of Lohengrin at the Staatsoper Unter den Linden in Berlin directed by Calixto Bieito and return in the spring for repeat performances. Other conducting appearances this season include the Royal Concertgebouw Orchestra, Swedish Radio Symphony and a return to the Baltimore, Detroit and New World symphonies.
Renaud Capuçon, violin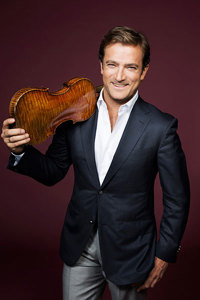 French violinist Renaud Capuçon is firmly established internationally as a major soloist, recitalist and chamber musician. He is known and loved for his poise, depth of tone and virtuosity, and he works with the world's most prestigious orchestras, artists, venues and festivals.
Born in Chambéry, France in 1976, Mr. Capuçon began his studies at the Paris Conservatory at the age of 14, winning numerous awards during his five years there. Following this, he moved to Berlin to study with Thomas Brandis and Isaac Stern and was awarded the Prize of the Berlin Academy of Arts. In 1997 he was invited by Claudio Abbado to become concertmaster of the Gustav Mahler Youth Orchestra, which he led for three summers, working with conductors including Pierre Boulez, Seiji Ozawa, Franz Welser-Möst and Claudio Abbado.
Since then, Mr. Capuçon has established himself as a soloist at the very highest level. He performs with leading orchestras such as the Berliner Philharmonic, Vienna Philharmonic, London Symphony, Chamber Orchestra of Europe, Orchestre National de France, Orchestre Philharmonique de Radio France, La Scala Philharmonic, Boston Symphony and New York Philharmonic. His many conductor relationships include Valery Gergiev, Daniel Barenboim, Semyon Bychkov, Stèphane Dénève, Christoph von Dohnanyi, Gustavo Dudamel, Christoph Eschenbach, Bernard Haitink, Daniel Harding, Paavo Järvi, Andris Nelsons, Yannick Nézet-Séguin, François-Xavier Roth, Lahav Shani, Robin Ticciati, Jaap van Zweden and Long Yu. Highlights of the 2018-19 season include performances with the Vienna Symphony, Orchestre de Paris, Rotterdam Philharmonic, Camerata Salzburg, Konzerthausorchester Berlin, New York Philharmonic, National Symphony, New World Symphony and a tour of Europe with the Sydney Symphony.A great commitment to chamber music has led Mr. Capuçon to collaborations with Martha Argerich, Nicholas Angelich, Daniel Barenboim, Yuri Bashmet, Yefim Bronfman, Khatia Buniatishvili, Hél ène Grimaud, Sarah Hagen, Yo-Yo Ma, Maria João Pires, Daniil Trifonov and Yuja Wang, as well as with his brother, cellist Gautier Capuçon. These collaborations have taken him, among others, to the Berlin, Lucerne, Verbier, Aix-en-Provence, Roque d'Anthéron, San Sebastián, Stresa, Salzburg, Edinburgh International and Tanglewood festivals. He is also the Artistic Director of two festivals, the Sommets Musicaux de Gstaad, since 2016, and the Easter Festival in Aix-en-Provence, which he founded in 2013.
Mr. Capuçon has built an extensive discography and records exclusively with Erato/Warner Classics. Recent releases include a recording of Bartók's two violin concertos with the LSO and François-Xavier Roth, Brahms and Berg with the Vienna Philharominc and Daniel Harding, and the chamber music of Debussy. His latest recording, Au Cinema, featuring much-loved selections from film music, released in October 2018.
In 2017 Mr. Capuçon founded a new ensemble, the Lausanne Soloists, composed of current and former students of the Lausanne Conservatory, where he has held a professorship since 2014. He plays the Guarneri del Gesù 'Panette' (1737), which belonged to Isaac Stern. In June 2011 he was appointed Chevalier dans l'Ordre National du Mérite and in March 2016 Chevalier de la Légion d'honneur by the French government.