Events & Tickets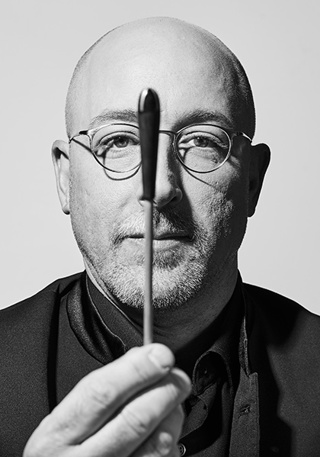 Orchestra Concert
SOUNDS OF THE TIMES: VOLATILE PRAYERS
New World Center
Saturday, December 7 at 7:30 PM
Program
Today's leading interpreter of contemporary music, Jeffrey Milarsky returns to NWS to lead Fellows and audience on a spiritual journey. Known for its interpretations of Steve Reich's music, Synergy Vocals recite Hebrew psalms in this chamber orchestra version of his powerful Tehillim. American music icon John Adams married science, art, morality and humanity in his award-winning opera Doctor Atomic. The inner chaos and conflict of J. Robert Oppenheimer, who developed the atomic bomb, comes to life in this symphonic reworking which includes the opera's "panic" and "military" music, culminating with an orchestral setting of Oppenheimer's "Batter My Heart" aria. Prayer Bells starts at a whisper, but before long Augusta Read Thomas' score has the orchestra tolling at a full clangor.

New for this concert! Audiences will receive synchronized program information right to their phones during the first half of the concert. Information will be streamed in both English and Spanish. 
COMPOSE YOUR OWN SUBSCRIPTION PACKAGE!
Choose this plus two more concerts to customize your own subscription. It's the ultimate flexibility with all the subscriber benefits, including free exchanges when plans change! Click here to create your own series today.
SUBSCRIBERS ENJOY THE BEST OF NWS!
As an NWS Subscriber, you receive amazing benefits to enjoy throughout the season, including the best seats for the lowest prices and access to our incredibly talented Fellows. Click here to learn more!
Program
Augusta Read Thomas
(b. 1964)
Approx. Duration: 12 minutes

John Adams
(b. 1947)
Approx. Duration: 24 minutes

Doctor Atomic Symphony (2007)

The Laboratory
Panic
Trinity
Steve Reich
(b. 1936)
Approx. Duration: 30 minutes

Tehillim (1981; chamber music version)

Psalm 19: 2-5, "The heavens declare the glory of God"
Psalm 34: 13-15, "Who is the man that desires life"
Psalm 18: 26-27, "With the merciful You are merciful"
Psalm 150: 4-6, "Praise Him with drum and dance"
Synergy Vocals
   Micaela Haslam, soprano/director
   Rachel Weston¸ soprano
   Caroline Jaya-Ratnam, high soprano
   Heather Cairncrossm, alto
Augusta Read Thomas
Prayer Bells (2001)

Approximate duration: 12 minutes
Augusta Read Thomas stands out in the American musical landscape for her compositions that involve large ensembles and profound ideas, as seen in such titles as Plea for Peace and Sonorous Earth (a percussion concerto featuring bells from around the world). A Grammy winner and Pulitzer Prize finalist, she has written for major orchestras around the globe, including the Pittsburgh Symphony Orchestra, which commissioned Prayer Bells and debuted it in 2001. Thomas wrote the following note about the work.
My favorite moment in any piece of music is the moment of maximum risk and striving, whether the venture is tiny or large, loud or soft, fragile or strong, passionate, erratic, ordinary or eccentric! Maybe another way to say this is the moment of exquisite humanity and raw soul. All art that I cherish has an element of love and recklessness and desperation. I like music that is alive and jumps off the page and out of the instrument as if something big is at stake.
I believe that all music of substance should have an immediacy about it, while I also know that we, as human beings, are attracted to enigmatic things such as nature, gravity, the cosmos, space travel, God and religions, advanced math, myths, love, etc. I believe we find such enigmas in art and I try to reach toward these mysteries in my music.
Prayer Bells is, I hope, at once vital, present and immediate on first hearing, while at the same time distinctive and spiritual so that it can withstand multiple hearings.
There is an indisputable journey taking place during this 12-minute composition. In general the score falls into a three-part form: a slow growing introduction of 90 seconds (a section of music I composed as a student in 1988 reworked in a more refined manner); a central section of about five minutes, led by a line of music in the cellos, violas and other strings, which is often punctuated by brassy flares; and the final section of about 5 minutes, best described as relentless, sinuous, fanfares that alternate with other earnest, more expansive materials. The music is passionate throughout as if something big is at stake in it.
The "bells" are not only simply percussion instruments in this work. Rather, the bells are often implied by blended woodwind, brass and string sounds.
The title Prayer Bells can mean anything from miniature, intimate prayer bells one would find in a meditation context, to a massive carillon of bells in a cathedral, to metaphorically representing an inner tolling to pray in the human soul.
                – Augusta Read Thomas
John Adams
Doctor Atomic Symphony (2007)

Approximate duration: 24 minutes
With his 1987 opera Nixon in China, John Adams found a powerful and timely vehicle for his expansive musical language, building on the large-scale minimalism he had cultivated in earlier instrumental scores like Shaker Loops and Harmonielehre. The theatre director Peter Sellars was the driving force behind both that opera and Adams' next political drama that followed in 1991, The Death of Klinghoffer, and they reunited to create yet another newsworthy opera, Doctor Atomic, based on the test of the first atomic bomb at Los Alamos and the scientist who led that effort, J. Robert Oppenheimer. This time Sellars functioned as the librettist as well as the director, and his text incorporated materials from declassified government documents, poetry by Charles Baudelaire, the Holy Sonnets of John Donne and quotes from the Bhagavad Gita, among other sources. Since its debut production at the San Francisco Opera in 2005, Doctor Atomic has been staged in major American and European opera houses, and The Metropolitan Opera streamed it in theaters nationwide as part of its Live in HD series.
In 2007 Adams extracted instrumental portions of the opera to create the 25-minute Doctor Atomic Symphony, which begins with The Laboratory from the opera's overture. In a video interview on his website, Adam explains, "I was inspired by the science fiction movie music of the 1950s, which I watched as a little kid on a black-and-white television, and I remembered how many of these science fiction movies started with some nuclear test in the desert and then some terrible thing happened: a monster would appear out of somewhere, or something strange would happen. I thought, in a way, that really constituted the mythology of our time, that kind of existential angst, the awareness of nuclear war, and particularly the kind of fear I felt as a kid growing up in the fifties and sixties."
The next section, Panic, comes from the opera's second act, "where there is an enormous sense of frenzy and anxiety," Adams noted. "The scientists are under huge pressure to deliver this bomb, to make sure it works, and at the same time it summons up what a city that's being bombed might be like, the kind of chaos that might occur during a bombing."
The signature aria from Doctor Atomic comes at the end of Act I, when Oppenheimer sings a setting of Donne's "Batter my heart, three-person'd God," described by Adams as "a sonnet in which the poet talks about the loss of his soul, and asks God to come literally break, burn and batter him, that he may regain his soul, which has since been given to the devil." In this symphonic transcription, a solo trumpet substitutes for the protagonist's voice.
Steve Reich
Tehillim (1981; chamber music version)

Approximate duration: 30 minutes
During a formative period when he earned a living as a taxi driver in San Francisco, Steve Reich helped pioneer the musical approach based on repetitive cycles that has been dubbed "minimalism." His first breakthrough works generated repetitions by looping and splicing magnetic tape recordings, as heard in It's Gonna Rain (1965) and Come Out (1966). After moving to New York, he transferred that pulsing and multi-layered sound into increasingly rich compositions written for his own ensemble, Steve Reich and Musicians, using pitched percussion and keyboard instruments to render complex patterns inspired by African and Asian traditions. With his landmark Music for 18 Musicians (1974-76), Reich achieved a level of breadth and grandeur that rivals any symphony, and his recording of the work for ECM records became a well-deserved hit. In its wake, Reich signed a contract with a music publisher and began fielding new inquiries from the orchestral establishment that had long ignored him.
 Composed in 1981, Tehillim was one of Reich's first scores that crossed over into orchestral territory. He created parallel versions, one using orchestral strings and winds and the other coming closer to the nature of his ensemble performances, with the individual woodwinds and strings all playing with amplification, joined by six percussionists and two electric organs. Tehillim also used amplified female voices, a sound that had become a recurring feature in his large-scale works from the 1970s, but here he assigned them to sing words instead of just syllables, which he hadn't attempted since his student days.
In selecting the Hebrew texts from the Book of Psalms (Tehillim in Hebrew), Reich was inspired in part by his recent travels to Israel to hear devotional singing from various Jewish traditions, but he chose to craft his own melodic phrases instead of quoting liturgical chants. "One of the reasons I chose to set Psalms as opposed to parts of the Torah or Prophets is that the oral tradition among Jews in the West for singing Psalms has been lost," Reich wrote in a program note. "This meant that I was free to compose the melodies for Tehillim without a living oral tradition to either imitate or ignore."
Fans of Reich's signature works will recognize in Tehillim his distinctive use of pulses, interlocking rhythmic patterns and canons in which one voice follows another at a close distance. The shifting meters and elongated phrases were new elements in his language, dictated by the sounds and meanings of the Hebrew words, and the radiance of the final "Hallelujah" passage underscores just how much Tehillim honors and enriches the ancient tradition of devotional singing.
-- © 2019 Aaron Grad
Aaron Grad is a composer, guitarist and writer based in Seattle. Besides providing program notes for the New World Symphony, he has been the Orpheus Chamber Orchestra's program annotator since 2005 and also contributes notes to the Saint Paul Chamber Orchestra and Seattle Symphony.
Jeffrey Milarsky, conductor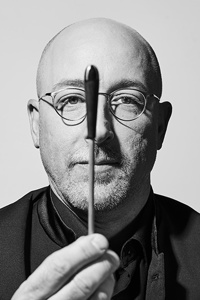 American conductor Jeffrey Milarsky is highly acclaimed worldwide for his impeccable musicianship, exhilarating presence and innovative programming. He has been hailed for his interpretation of a wide range of repertoire, which spans from Bach to Xenakis.  In recent seasons he has worked with accomplished groups such as the San Francisco Symphony, American Composers Orchestra, MET Chamber Ensemble, Los Angeles Philharmonic, Milwaukee Symphony, Bergen Philharmonic, New York City Opera, Chamber Music Society of Lincoln Center, New World Symphony, Tanglewood Festival Orchestra and the New York Philharmonic chamber music series. In the United States and abroad, he has premiered and recorded works by many groundbreaking contemporary composers, in venues such as Carnegie Hall, Zankel Hall, Davies Symphony Hall, Alice Tully Hall, Walt Disney Concert Hall, Boston's Symphony Hall and at IRCAM in Paris. 
Mr. Milarsky has a long history of premiering, recording and performing American composers and in keeping with that he was recently presented the prestigious Ditson Conductor's Award. Established in 1945, it is the oldest award honoring conductors for their commitment to the performance of American music. Past honorees have included Leonard Bernstein and Leopold Stokowski. His interest and dedication has brought forth collaborations with esteemed composers such as Adams, Babbitt, Cage, Carter, Corigliano, Crumb, Davidovsky, Druckman, Gordon, Lang, Mackey, Rouse, Shapey, Subotnick, Wuorinen and an entire generation of young and developing composers.
A dedicated teacher, Mr. Milarsky is a Senior Lecturer in Music at Columbia University, where he is the Music Director and Conductor of the Columbia University Orchestra. In addition to conducting the Juilliard Orchestra, he serves on the conducting faculty at Juilliard and is the Music Director of AXIOM, The Juilliard School's critically acclaimed contemporary music ensemble.
A much-in-demand timpanist and percussionist, Mr. Milarsky has been the Principal Timpanist for the Santa Fe Opera since 2005. In addition, he has performed and recorded with the New York Philharmonic, The Philadelphia Orchestra and the Pittsburgh Symphony. He has recorded extensively for Angel, Bridge, Teldec, Telarc, New World, CRI, MusicMasters, EMI, Koch and London records.
Mr. Milarsky received his bachelor and master of music degrees from The Juilliard School. Upon graduation, he was awarded the Peter Mennin Prize for outstanding leadership and achievement in the arts.
Synergy Vocals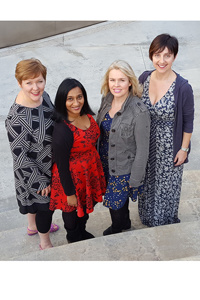 Synergy Vocals' first concert was in London in 1996 - a performance of Tehillim for Steve Reich's 60th birthday. Over 20 years later, the group comprises an elite pool of singers able to deliver a broad repertoire in a variety of styles. The group specializes in close-microphone singing and is often associated with the music of Steve Reich, John Adams, Louis Andriessen, Steven Mackey and Luciano Berio. 
Synergy Vocals has given concerts all over the world with orchestras and ensembles including the Boston, Chicago, St Louis and San Francisco symphony orchestras; the Los Angeles, Brooklyn and New York philharmonic orchestras; Nexus, Steve Reich & Musicians, Shanghai Symphony Orchestra, Sydney Symphony Orchestra, AskoǀSchönberg, Ensemble intercontemporain, Ensemble Modern, Ictus, the London Symphony Orchestra and all five of the U.K.'s BBC orchestras. They have also collaborated with dance companies including the Royal Ballet (London) and Rosas. 
The group's world premieres include Steve Reich's Three Tales and Daniel Variations, Steven Mackey's Dreamhouse, Louis Andriessen's video opera La Commedia, David Lang's writing on water and Sir James MacMillan's Since it was the day of Preparation…, as well as the U.K. premiere of Nono's monumental Prometeo on London's South Bank.  
Synergy Vocals is featured on a variety of film soundtracks and television signature tunes. The group also has several CDs to its name. As well as the premieres listed above, Synergy Vocals has recorded Reich's Proverb and Drumming with the Colin Currie Group, Berio's Sinfonia with BBCSO and John Adams' Grand Pianola Music conducted by the composer. The group has also provided vocals for Kompendium's Beneath the Waves, These New Puritans' Field of Reeds, Rob Reed's Sanctuary and Steven Wilson's Grace for Drowning.
For more inforation, visit www.synergyvocals.com and www.musicfor18.com.