Events & Tickets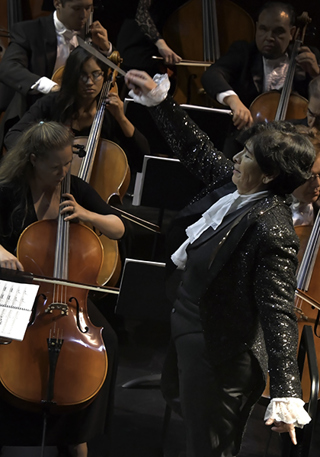 Guest Presenter
South Florida Symphony Orchestra: Tchaikovsky, Elgar & Barber
New World Center, Michael Tilson Thomas Performance Hall
Thursday, November 10, 2022 at 7:30 PM
South Florida Symphony Orchestra kicks off its 25th Anniversary Season with Tchaikovsky's beloved Violin Concerto, performed by soloist Askar Salimdjanov; Elgar's series of short musical portraits, Enigma Variations; and Barber's orchestral work in one movement, Essay for Orchestra.
Tickets from just $25 are on sale now.
Barber | First Essay for Orchestra, Op. 12


Tchaikovsky | Violin Concerto in D major, op. 35
featuring Askar Salimdjanov, violin 
Elgar | Enigma, Variations on an Original Theme, Op. 36
SUBSCRIBE AND SAVE on South Florida Symphony's 3-concert Masterworks Series at New World Center. Call the New World Center Box Office at 305.673.3331 (Monday through Friday, 10:00 AM to 5:00 PM ET)
Program
Samuel Barber
(1910-1981)
Approx. Duration: 8 minutes
First Essay for Orchestra, Op. 12 (1937)
Pyotr Ilyich Tchaikovsky
(1840-1893)
Approx. Duration: 35 minutes
Violin Concerto in D major, op. 35 (1878)
Allegro moderato
Canzonetta: Andante
Finale: Allegro vivacissimo

featuring Askar Salimdjanov, violin 
INTERMISSION
Edward Elgar
(1857-1934)
Approx. Duration: 30 minutes
Enigma, Variations on an Original Theme, Op. 36 (1898-1899)
Theme (Enigma: Andante)
Variation I (L'istesso tempo)
Variation II (Allegro)
Variation III (Allegretto)
Variation IV (Allegro di molto)
Variation V (Moderato)
Variation VI (Andantino)
Variation VII (Presto)
Variation VIII (Allegretto)
Variation IX (Adagio)
Variation X (Intermezzo: Allegretto)
Variation XI (Allegro di molto)
Variation XII (Andante)
Variation XIII (Romanza: Moderato)
Variation XIV (Finale: Allegro)
Sebrina Maria Alfonso, Music Director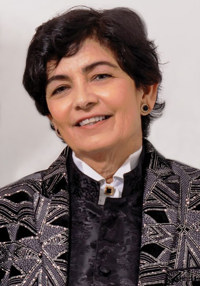 Sebrina María Alfonso, founder and Music Director of South Florida Symphony Orchestra (SFSO), made her New York debut conducting the American Symphony Orchestra at the finals of the Stokowski International Competition in Avery Fisher Hall at Lincoln Center. She studied with Frederic Prausnitz at Johns Hopkins' Peabody Conservatory and with Harold Farberman and Daniel Lewis at the Conducting Institute. Maestra Alfonso has established herself as a dynamic musical force, having performed with such world-class ensembles as the Los Angeles Philharmonic, San Jose Symphony, American Symphony Orchestra, Prague Radio Symphony, Orchestra Rus de Sienna, the Women's Philharmonic of San Francisco and the Sphinx Organization. She became the first female conductor of Cuban-American descent invited to lead Cuba's premier orchestra, the National Orchestra of Cuba, on numerous occasions.
After impressive career successes with prominent organizations including Baltimore's Goucher Symphony and the John Carrol Opera Company, in 1997 she returned to her roots in Key West, Florida – to bring orchestral music, with its associated educational and cultural benefits, to the southernmost island in the continental United States. SFSO is recognized as a "Major Cultural Institution," and is the largest symphony in the region.
"Producing works of the highest caliber that have an impact on the community has been my passion since the Symphony was conceived in Key West 25 years ago," said Alfonso, "and it's been extremely rewarding to watch us thrive."
With her national reputation continuing to expand, Maestra Alfonso has been featured on WLRN, CBS radio news, CNN, the Associated Press, MS Magazine (New York), Deco Drive, and Miami News (ABC) and Reuters. She received the Unity Coalition Award in honor of her positive contributions to the LGBTQ community and was named one of the top 100 LGBTQ Movers and Shakers in Florida by Agenda Magazine.
In 2015, SFSO joined a consortium of top Symphonies to commission American composer, Michael Daugherty, to create Tales of Hemingway. The piece itself also won GRAMMY Awards for composer Michael Daugherty (best contemporary classical composition category & best classical compendium). Zuill Bailey, cello, performing Daugherty's Tales of Hemingway, also received a GRAMMY Award.
South Florida Symphony broke new ground with a commissioned work by the first female composer to win the Pulitzer Prize for Music, Ellen Zwilich; her Concerto for Cello and Orchestra made its world premiere in March 2020.
Maestra Alfonso's collaborations shatter expectations: her modern dance commission of the renowned Martha Graham Dance Company brought to life Legend of Bird Mountain by renowned composer, Tom Hormel. Her passionate streak ran wild with Manuel de Falla's Amor Brujo, accompanied by sweeping theatrics of Siudy Garrido and her Siudy Flamenco Dance Theater, and most recently with the success of the groundbreaking production of Gershwin's great American opera Porgy and Bess. In 2020, SFSO recorded works by Key West-based Composer-in- Residence John Gottsch:  his Princess Yurievskaya and Sunset, dedicated to Maestra Alfonso. Both were distributed by the world's leading classical music label, Naxos Records, in June 2021. In recognition of the impact of early exposure to classical music on her own life, she began the Symphony in the Schools program in 1997, which has served more than 100,000 under-resourced students to date.
A strong commitment to diversity is apparent in all aspects of her career. She intentionally features female composers, promotes diversity among the members of the orchestra, as well as within the structure of SFSO, and among the students served. She is married to SFSO CEO, Jacqueline Lorber; is devoted to animals and gardening; and has reignited her interest in making craft beer in her spare time.
Maestra Alfonso is committed to presenting the finest of symphonic performances and enriching the cultural experience of South Florida. Her absolute love of music and unwavering passion to grow, expand and discover, continues to elevate Alfonso and South Florida Symphony toward ever greater achievements of excellence.
Askar Salimdjanov, violin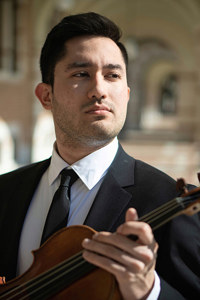 "Rich, warm sound and a high degree of technical skills..."
---- South Florida Classical Review


Violinist Askar Salimdjanov is the multiple winner of the Lyric Chamber Music Competition, which led him to his New York debut recital in May 2019 and in May 2020 at the Lyric Chamber Series at the Kosciusko Foundation. In November 2020 Askar had his Orchestra Miami debut performing Tchaikovsky Violin Concerto. In 2020 Mr. Salimdjanov won the first NSAL Piano and Strings Duo Competitio, and in 2019, he won Fourth place in the John Oliveira String Competition.
Mr. Salimdjanov has performed as soloist with South Florida Symphony Orchestra, Uzbekistan National Symphony Orchestra, State Conservatory Orchestra of Uzbekistan, Lynn Philharmonia, Orchestra Miami, under the batons of Sebrina Alfonso, Kuvanch Usmanov, Vladimir Neymer, Kamoliddin Urinbaev, Alan Paris, Guillermo Figueroa and Elaine Rinaldi. He performed as a soloist and as a chamber musician in Russia, Ukraine, Italy, Sweden, Singapore, Israel and the United States. As a soloist and chamber musician, Salimdjanov has concertized in such notable venues as Great Hall of Uzbekistan State Conservatory, Esplanade Concert Hall in Singapore, Tel Aviv Performing Arts Center, Carnegie Hall and Wold Performing Arts Centre.
A laureate of the 6th International Competition of Young Performers in Moscow, a finalist of the 2nd Yankelevitch International Violin Competition, a winner of international competitions in Ukraine and Italy, and laureate of Vladimir Spivakov's International Music Festival. Askar attended the Keshet Eilon Mastercourse (Israel) in 2016 and 2018, the Singapore Violin Festival 2016, 2017, and the Heifetz International Music Institute in 2017 and 2020. In 2022, he has been selected as one of the 7 violinists to participate at Geneva International String Academy in Switzerland.
Mr. Salimdjanov was a concertmaster of Yong Siew Toh Conservatory orchestra and Lynn University Orchestra, as well as a substitute violinist at Naples Philharmonic Orchestra. He received his Bachelor of Music degree from the Yong Siew Toh Conservatory of Music in Singapore, where he studied with distinguished violinist Qian Zhou. Mr. Salimdjanov completed his professional performance certificate at Lynn University with renowned violinist Elmar Oliveira. He began his training at age seven, attending the V. Uspenskiy Special Music School for Gifted Children in Tashkent, Uzbekistan as a student of Gulnara Suleymanova. Salimdjanov has participated in masterclasses with David Takeno, Takashi Shimizu, Valeriy Sokolov, Itzhak Rashkovsky, Ilya Kaler, Levon Ambartsumian, Rosa Fain, Hagai Shaham, Eduard Grach, Silvia Marcovici, Gabor Nagy Takacs, Midori Goto, Tang Quartet, Victor Tretyakov, Emerson Quartet, Hagen Quartet, Borromeo Quartet, Christian Tetzlaff, Boris Kuschnir and Pierre Amoyal.
He has seven years of teaching experience and some of Salimdjanov's students are Prize Winners of international competitions for young musicians.
He is currently pursuing his master's degree at Rice University under renowned violinist Cho Liang Lin. Mr. Salimdjanov previously played on 1795 Vincenzo Panormo generously loaned by Mr. and Mrs. Rin Kei Mei, 1670 Antonio Stradivarius and 1702 Antonio Stradivarius loaned by Florian Leonhard Fine Violins Collection.