Events & Tickets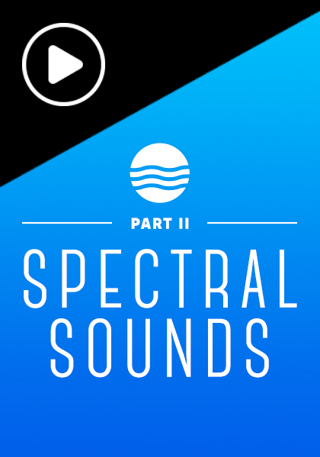 Free
Spectral Sounds: The Real World in the Symphony, Part II
Online Event
Thursday, April 15, 2021 at 7:30 PM ET
Program
WAYS TO WATCH ON APR 15:
FACEBOOK LIVE    NEW WORLD SYMPHONY   

A series of free streamed performances, curated by Horn Fellow Scott Leger and partnered with an interactive online concert museum, that allows the audience to engage with music and sounds featured on the program. This event is Part II in the series and will feature music inspired by nature and water. 
Part I on March 26 will feature music that is inspired by birds. Part III on May 6 focuses on "unnatural" sounds and includes a performance by NWS Fellows.
CLICK HERE FOR SPECTRAL SOUNDS' CURATED LISTENING MUSEUM
Spectral Sounds: The Real World in the Symphony is an NWS BLUE project. Fellow- driven projects are sponsored in part by the Maxine and Stuart Frankel Foundation.
Program
Charlie Rosmarin, percussion
Tsunami for Cello, Percussion and Piano (1991)

James Churchill, cello
Thomas Steigerwald, piano
Kevin Ritenauer, Charlie Rosmarin, percussion
Claude Debussy
(1862-1918)

I. From Dawn to Noon on the Sea
Michael Tilson Thomas, conductor
Performance from April 25, 2015 at the New World Center
Program notes: 

John Cage – Water Music
I highly recommended for you to watch Charlie Rosmarin's performance of Water Music first before reading any further program notes about the piece. John Cage's music is surreal, meditative, odd, and sometimes even off-putting. However, the music is also at its most captivating and successful when experienced genuinely and openly, without preparation. So, here's a few moments to watch Spectral Sounds Part II before continuing... 
 
... 
 
... 
... 
... 
… 
You might have a lot of questions now, but allow me to pose some of my own: why was this piece featured in Spectral Sounds, and what makes this weird experience so compelling? 
In fact, John Cage's Water Music was one of the first pieces included in the draft of this concert series. I knew I wanted to explore and appreciate the natural "white-noise" of moving water, and the 20-gallon buckets of water featured prominently in the music were the perfect opportunity to present this sound at the start of our concert, before continuing with more symbolic and poetic adaptations of water in Welcher and Debussy's music. 
 
"White noise" is a specific term in electronics and acoustics, referring to a sound that contains all frequencies at an equal intensity. Colloquially, "white noise" can imply a variety of sounds that are constant in their timbre, but indeterminate in pitch, rhythm, and harmony. As I was planning this concert in my Miami Beach apartment-surrounded by rain falling on my patio, the waves of the ocean a short walk away, and my air conditioner working hard to stay cool in the heat- I was alerted to how present these sounds are in my own day-to-day life. But it was only after I started listening to these sounds, especially noticing when they were gone, that I realized how loud and obtrusive they can really be. 
John Cage about silence (video) 
John Cage's music is rooted in an appreciation for sound, noise, really. In a 1991 interview, Cage said this about his music: "I love the activity of sound. It gets louder and quieter, higher and lower, shorter and longer. I'm completely satisfied with that--I don't need sound to talk to me. I love sounds just as they are, and I have no need for them to be anything more than they are. I don't want them to be psychological, I don't want a sound to pretend that it's a bucket, or that it's a President, or that it's in love with another sound. I just want it to be a sound."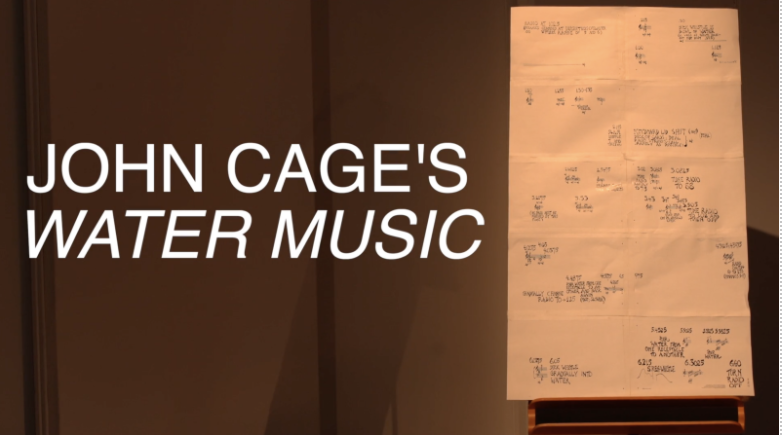 Still frame from Spectral Sounds Pt. 2 showing John Cage's score to Water Music. Each page of the score is assembled into a giant poster, visible to the audience at all time throughout the performance.
Water Music begins the second part of Spectral Sounds by asking all of us, performer, musician, and curator, to appreciate noise as music first, before any manipulation or adaptation of these sounds are introduced later in the program. Originally written for solo piano in 1952, Charlie Rosmarin adapted the piece for vibraphone, keeping all of the auxiliary instruments, radios, cards, duck calls, nightingale whistles, rubber bands, and, of course, 20 gallons of water too.  
 - Scott Leger 
Dan Welcher – Tsunami
In his own program notes for the work, composer Dan Welcher describes "Tsunami" this way: "My piece does not attempt to depict this natural cataclysm---how could it, with three instruments?" But I was surprised to read this in his description of his piece, because after I heard the opening measure and motif, I thought the sound of the tom-toms, tam-tam, piano and low cello encapsulated the sound of shockwave almost perfectly. It felt almost like watching a film, with Mr. Welcher acting as the foley artist for a tidal wave beginning to form in the ocean. 
 
Although, as the composer continues to explain in his own description, "the initial percussive '"shock'" that opens the piece creates a stir...the cello motive begins an undersea journey---very slow and lyrical at first...this force grows, the cello line climbs higher and higher, until another double-shock is heard," and so on, until the shockwaves increase in intensity and eventually crash into land. So, while the work may not aim to literally depict a tsunami, it does narrate the experience of living through a tsunami, mapping out the trajectory of a shockwave as it pushes forward and retreats, eventually creates the cataclysmic tidal waves. 
 
In Part 1 of Spectral Sounds, we discussed fidelity with different composers' adaptations of birdsong, from the harmonically detailed music of Messiaen, to the much simpler implementation by Beethoven. Tsunami was written in 1991, well after advances in technology and a post-modern musical philosophy, could have afforded Welcher a much more literal and scientific sonic palette to recreate or evoke the sound of a tsunami in his work. This piece could have used pre-recorded audio of a tidal wave crashing on land or employed a synthesizer and computer to produce white noise not available in the piano, cello, or percussion, but it doesn't. Instead, Dan Welcher utilizes time-tested compositional archetypes for "water music," - Polynesian rhythms, non-pitched gamelan-inspired percussion like the tam-tam, a pentatonic harmonic foundation - and this is why the initial quote surprised me after my first listen. 
 
When the composer says the piece does not "depict this natural cataclysm," he could be saying that the epic proportions of this event are too large to be captured by such small forces, cello, piano, and a collection of percussion instruments. It could be that he doesn't mean to specifically recreate the sounds in the ensemble using complex spectral techniques or that they should shake the earth in quite the same way. Nevertheless, when I hear this piece, I hear the shockwave of the opening measure reverberating through the ocean floor, gathering in strength and growing in size until the force moves the ocean and crashes on to land. And after surviving this destructive force, there is a celebration in the same waters that moments before were the cause of such terror. 
- Scott Leger 
Claude Debussy – La Mer
The music of the French impressionist composers Debussy, Ravel, Dukas and other is a paradigm of evoking water, specifically the ocean, in classical music. The harmonic language and orchestration of works like Debussy's La Mer, and Ravel's Jeux d'eaux inspired numerous film scores and video game soundtracks to employ the same techniques to depict water for their own mediums. In fact, when I first heard La mer performed by the Houston Symphony, I remember thinking it sounded like the music from The Legend of Zelda: Wind Waker, a video game about travelling the ocean on a small boat to save the princess.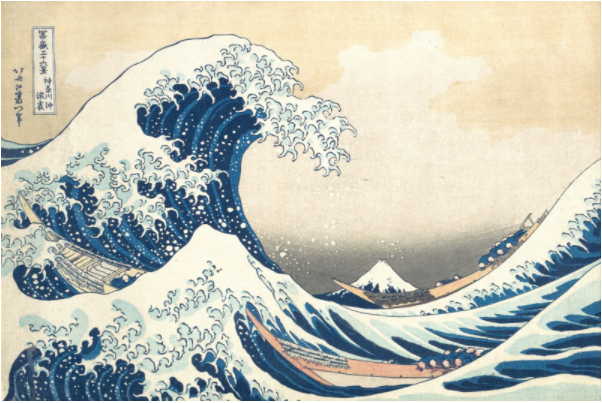 The Great Wave off Kanagawa, by Katsushika Hokusai, used by Debussy as the cover page in the first edition score to La Mer
Why does this French sound succeed in capturing and symbolizing the sea so well? Debussy and Ravel are taught in music theory and history classes as being innovators in harmony and masters of orchestration, meaning that they were especially thoughtful in their decisions about what instruments would play what notes and how they would play them. Their works are often described as colorful, utilizing a wide range of tones from across the orchestra. Muted strings and brass create veiled ghostly textures; an arsenal of new, and often foreign, percussion instruments were brought into the orchestra, and technologically advanced harps and woodwind instruments like the bassoon allowed for increased ranges and extended techniques in the orchestra. At the turn of the 20th century, the impressionists had access to new sounds and incorporated them into the orchestra flawlessly.  
The score to La Mer demonstrates Debussy's unique and holistic approach to composition. The notes, rhythms, tempo, and dynamics work together to imply the crashing waves and gentle ebb and flow of the tide. Even looking at the score, you can see the rising and falling of melodic lines up and down the page, and the waxing and waning of textures as instruments enter and leave the sound. Pentatonic (5-note) and Octatonic (8-note) scales are the genesis of most of his harmonic language; Debussy specifically uses these sounds to symbolize water as neither of these scales have distinct beginnings or endings. Much like a wave in the middle of ocean, small moments can be an individual experience, but it always is incorporated back into the entire work.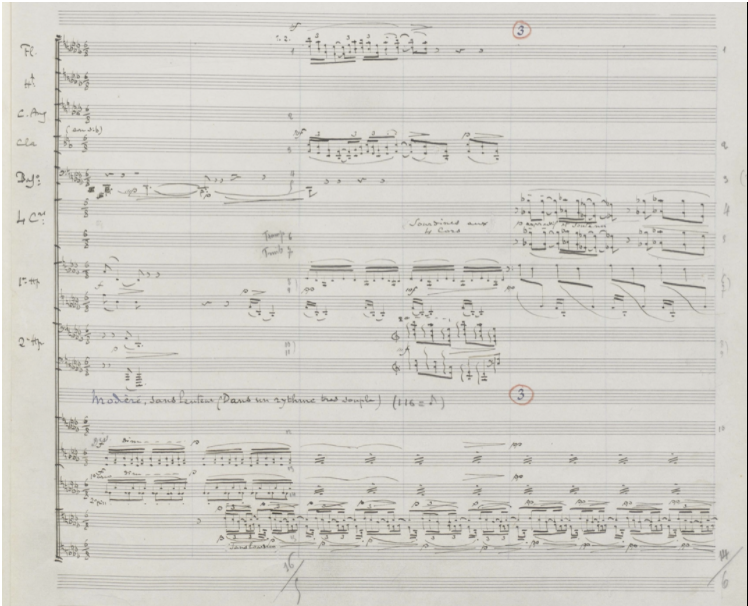 Manuscript of Debussy's La mer
Spectral Sounds Part II features the first movement of Debussy's three-movement symphony. De l'aube à midi sur la mer, (From Dawn to Midday on the Sea), begins with a calm sea in the morning as the ocean wakes to the first high tide at noon, with waves excitedly crashing against the shore. Like in other pieces on the program, large climactic moments of the piece are sung through noble brass chorales and accented by non-pitched percussion, especially cymbals and tam-tams.  
Debussy's work gave a unique sound to the wind and sea, and his foundation of a holistic and detailed impressionist would eventually influence future French composers of spectral music, where Debussy's ear for orchestration would be paramount to replicating detailed harmonic spectra within the orchestra.  
Scott Leger, video and audio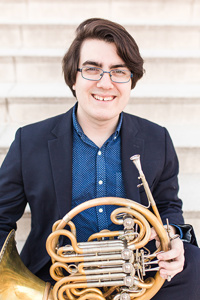 Scott Leger is a second-year Horn Fellow at the New World Symphony. He currently holds the position of Principal Horn of the Cayuga Chamber Orchestra in Ithaca. In addition, he has performed with the Omaha and South Dakota symphonies as a substitute musician, and has received fellowships to spend his summers at a variety of music festivals including the Tanglewood Music Center, National Repertory Orchestra, Norfolk Chamber Music Festival and National Orchestral Institute.
As a soloist, Mr. Leger has performed in international competitions, most recently receiving Second Prize in the University Division of the International Horn Competition of America. He received an Honorable Mention in the Woolsey Concerto Competition in 2017 for his performance of Oliver Knussen's Horn Concerto, and in 2014 he performed Gordon Jacob's Concerto for Horn and String Orchestra with the Meadows Symphony Orchestra at Southern Methodist University.
Mr. Leger remains dedicated to chamber music of varying ensembles. Performing on the Yale School of Music's Vista Recital Series and Oneppo Chamber Series, he has presented Brahms' Trio in E-flat for Horn, Violin and Piano; Mozart's Quintet for Piano and Winds and his own transcription of Shostakovich's String Quartet No. 8 for wind quintet.
Mr. Leger is an active arranger and composer of music for horn, wind quintet and other instrumentations, with the explicit goal of finding compositional genres and styles that have eluded these ensembles and finding a way to make this music adaptable, to enhance both the repertoire of the ensemble and breathe new life into the music.
Receiving certification from the State of Texas to teach music for grades EC-12 in 2016, Mr. Leger has maintained an active teaching schedule. His primary teaching engagement prior to joining the New World Symphony was as the conductor of the All-City Honors Ensemble for the Yale School of Music's Music In Schools Initiative. He also served this program as a Teaching Artist, and continues to present master classes and seminars to high school brass players in Houston and Dallas.
Mr. Leger completed his master's degree at the Yale School of Music under the direction of William Purvis in 2018. He received his bachelor of music degrees in music education with certification and music performance, with minors in music theory and mathematics, in the studio of Gregory Hustis.