Events & Tickets
Free
Spectral Sounds: The Real World in the Symphony, Part III
Online Event
Thursday, May 6, 2021 at 7:30 PM ET
Program
WAYS TO WATCH ON MAY 06:
FACEBOOK LIVE    NEW WORLD SYMPHONY   

Spectral Sounds ends its three-part exploration of sound by showcasing works inspired by the most pervasive musical force of nature, the physics of acoustics. Composers have always been fascinated by sound, but in the 21st century, technological developments in audio and computing allowed composers to understand the science behind music and create in ways never before possible. 
Spectral Sounds is a series of free streamed performances, curated by Horn Fellow Scott Leger and partnered with an interactive online concert museum, that allows the audience to engage with music and sounds featured on the program. 
Part I on March 26 featured music that is inspired by birds. Part II on April 15 focused on nature and water sounds.
CLICK HERE FOR SPECTRAL SOUNDS' CURATED LISTENING MUSEUM
Spectral Sounds: The Real World in the Symphony is an NWS BLUE project. Fellow- driven projects are sponsored in part by the Maxine and Stuart Frankel Foundation.
Program
Nocturne for Solo Violin (1994)

Petals for Cello and Electronics (1988)

Mémoire/Erosion for Solo Horn and Nine Instruments  (1976)

Chad Goodman, conductor
Scott Leger, horn
Elizabeth Liu, flute/alto flute; Mark Debski, oboe/English horn
Jesse Gilday, clarinet/bass clarinet; Bee Ungar, bassoon
Ethan Hoppe, violin I; Luis Salazar, violin II
Sam Pederson, viola; Chava Appiah, cello
Kathryn Bradley, bass
Kaija Saariaho
Nocturne

 

for Solo Violin

(1994)
Kaija Saariaho can be considered a "post-spectralist" composer, meaning that her work is heavily inspired by the sound experiments conducted by acousticians and early spectralists at IRCAM (Institute for Research and Coordination in Acoustics/Music) in Paris and brings those techniques into other genres and styles of classical music of her time. Saariaho spent a lot of her early career using computers to analyze, manipulate and transform sound – in fact, she still gives lectures at IRCAM which are available to watch for free on YouTube – but these mathematical processes are sometimes an understated guide to her compositions, rather than a mandatory effect. Nocturne itself doesn't utilize any electronics and instead relies on extended techniques of the acoustic violin for its spectral machinations. 
The first of these techniques is a variety of harmonics the violin, and all string instruments, can produce using the left hand. As a string vibrates, placing your finger gently on the string at specific spots will cause the string to resonate a higher pitch. Each of these specific spots dividing the string in half, quarters, eighths, etc. results in a new overtone being emphasized. These overtones sound thinner, less resonant, than a regularly-produced note, and although harmonics have been used as early as Paganini for flashy, high-pitched technical showpieces, Saariaho uses the harmonics as a ghostly foil to the regular tone of the violin. 
Two techniques with the violin bow expand the instrument's timbral capabilities: bow pressure and bow placement. In regular classical violin playing, musicians strive to great lengths to maintain bow technique that is somewhere in the middle of playing with just enough bow pressure to create a full resonant sound on the instrument without losing flexibility up and down, and a bow placement that is somewhere between the fingerboard and bridge, producing a regular even tone. But while good technique is a virtue for any musician, purposefully eschewing common practice opens up the instrument to new sounds. 
Placing the bow near the bridge of the violin darkens the sounds, greatly emphasizing the low harmonics present in the tone, while placing the bow above the fingerboard does just the opposite, creating a flute-like sound emphasizing the higher harmonics. Placing the bow directly on top of the bridge over-emphasizes seemingly random harmonics for an intense and chaotic tone (although probably more chaotic is achieving the same effect at the very top of the fingerboard by the scroll.) With almost no pressure, the violin barely speaks, often sounding similar to the left-hand harmonics but with less of a consistent tone. Pressing the bow deep into the string makes an over-excited scratchy sound, a scattering of harmonics almost as white noise. 
Kaija Saariaho no doubt studied exactly how these extended techniques altered the regular tone of the violin and all string instruments. These delineations of bow placement and pressure, and the wide range of harmonics possible on these instruments are pervasive in her compositions. The piece uses these techniques as another tool to use to compose. Like pitch and rhythm, tone also can be indicated by the score, and in Nocturne, these elements come together to create a constantly-evolving, fragile and beautiful piece. 
Kaija Saariaho
Petals

 

for Cello and Electronics

(1988)
Petals relies on much of the same extended techniques as Nocturne, but this time with a solo cello instead of asolo violin. Harmonics, trills and variations of bow pressure and bow placements are all present, but as opposed to the purely acoustic Nocturne, Petals enhances the solo cello through live-processed electronics. 
During the performance, you'll notice a small microphone near the bridge of the cello. This microphone picks up the cello's sound, sends it to a computer where it is processed by two digital machines—a reverberator and a harmonizer—and finally, sends it to a speaker near the musician. Saariaho notes that the sound should not overpower the regular cello sound in the room, but rather mix the electronic and acoustic together. 
The reverberator adds artificial reverb to the cello sound, creating a delay in the processed sound and also filling out the sound of the cello, enveloping listeners in the instrument's tone. Of course, NWS's Sun Trust Pavilion (where Ben will perform) also has its own natural reverb from the room's acoustics, but the digital reverb can be altered in real time and behind-the-scenes, another musician is controlling the intensity and quality of this effect throughout the piece as indicated in the score. The harmonizer adds harmony to the cello's notes by slightly altering the pitch flat or sharp. The effect is subtle, but the purposefully de-tuned electronic sound accompanies the solo cello to create a hazy atmosphere, especially when combined with the reverberator. 
 
Interestingly, Petals does not require the electronics. The piece works just as well with only the solo cello, but the electronic effects create sounds that are impossible to produce by a single cellist alone, making for a complete unique timbre. 
Tristan Murail
M

é

moire

/Erosion

 

for Solo Horn and Nine Instruments
 

(1976)

Tristan Murail's Mémoire/Erosion was the first piece I programmed for this concert series. I find it an exceptional example of applying techniques from electronic music into a piece for exclusively acoustic ensemble. The piece uses detailed spectral analysis to blur the line between natural and unnatural, creating music that is at times chaotic and disorientating, but also beautiful and poetic. 

Mémoire/Erosion begins with just a single note, the solo horn playing a loud middle C, and then each of the nine instruments take their turn imitating the sound of the horn, until finally the horn imitates the new sound as it returns from the ensemble, and the cycle continues. In electronic and spectral music this is called an injection loop, but at recess at my elementary school we called it the game of "telephone." As the sound travels from player to player, despite their best attempt to recreate the sound perfectly, it ends up being twisted and distorted until it eventually becomes something new entirely. 

Within that initial middle C is a whole series of notes heard together to sound like a horn. It's not just one pitch, but an entire spectrum of harmonics. As different instruments in the ensemble respond to the note, they emphasize these harmonics, and one note suddenly becomes a chord, which then becomes a melody, and finally grows into the entire piece. For the spectralist composers, all the building blocks of music are made of the same stuff. Pitch, rhythm, chords, melody, and tone are all different waves to be analyzed and pieced together, and within even one note, someone could express an entire symphony. 

Of the composers who are considered the pioneers of Spectral Music—Gérard Grisey, Tristan Murail and Hugues Dufourt—Murail is sometimes considered to be the "poet" of the group. Spectral music, like much of the computer and electronics-inspired contemporary music in the mid-20th century, has a reputation of being dry and scientific, an exercise in music theory. Murail's compositions, however, use spectral techniques as a method to expand the emotional range of his music and express a variety of meaningful, albeit specific, human experiences and sounds in nature. (For further listening, I recommend his symphony Le Partage des Eaux, which derives its musical material from the audio spectrum of a wave gently crashing onto the shore). 

The title of this Concerto has an ambiguous meaning. Murail does not provide any specific notes on why the work is called Mémoire/Erosion, but I think it reflects how we experience memory as people. Memories that were once clear in our heads fade or change over time leaving behind only the most nostalgic or terrible details. Or we become frustrated and upset with memories that will not leave us, playing over and over in our minds, until we calm down or think of something else to remember. This piece has moments of both serenity and frustration, beauty and disorder.  

      --- Scott Leger
Scott Leger, video and audio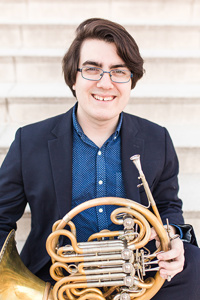 Scott Leger is a second-year Horn Fellow at the New World Symphony. He currently holds the position of Principal Horn of the Cayuga Chamber Orchestra in Ithaca. In addition, he has performed with the Omaha and South Dakota symphonies as a substitute musician, and has received fellowships to spend his summers at a variety of music festivals including the Tanglewood Music Center, National Repertory Orchestra, Norfolk Chamber Music Festival and National Orchestral Institute.
As a soloist, Mr. Leger has performed in international competitions, most recently receiving Second Prize in the University Division of the International Horn Competition of America. He received an Honorable Mention in the Woolsey Concerto Competition in 2017 for his performance of Oliver Knussen's Horn Concerto, and in 2014 he performed Gordon Jacob's Concerto for Horn and String Orchestra with the Meadows Symphony Orchestra at Southern Methodist University.
Mr. Leger remains dedicated to chamber music of varying ensembles. Performing on the Yale School of Music's Vista Recital Series and Oneppo Chamber Series, he has presented Brahms' Trio in E-flat for Horn, Violin and Piano; Mozart's Quintet for Piano and Winds and his own transcription of Shostakovich's String Quartet No. 8 for wind quintet.
Mr. Leger is an active arranger and composer of music for horn, wind quintet and other instrumentations, with the explicit goal of finding compositional genres and styles that have eluded these ensembles and finding a way to make this music adaptable, to enhance both the repertoire of the ensemble and breathe new life into the music.
Receiving certification from the State of Texas to teach music for grades EC-12 in 2016, Mr. Leger has maintained an active teaching schedule. His primary teaching engagement prior to joining the New World Symphony was as the conductor of the All-City Honors Ensemble for the Yale School of Music's Music In Schools Initiative. He also served this program as a Teaching Artist, and continues to present master classes and seminars to high school brass players in Houston and Dallas.
Mr. Leger completed his master's degree at the Yale School of Music under the direction of William Purvis in 2018. He received his bachelor of music degrees in music education with certification and music performance, with minors in music theory and mathematics, in the studio of Gregory Hustis.