Events & Tickets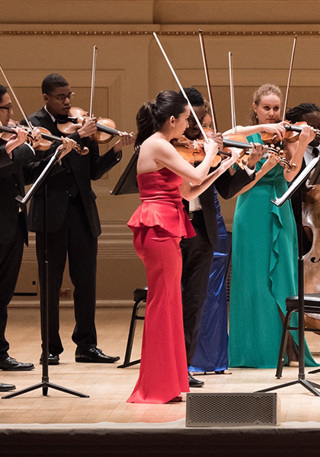 Guest Presenter
SPHINX VIRTUOSI: CONCERTI PER VENTI
New World Center
Thursday, September 28 at 7:30 PM
Program
The Sphinx Virtuosi is a chamber orchestra dedicated to diversity in music, performing well-known repertoire together with works by African-American and Latino composers. Experience this year's performance at the New World Center!
In celebration of the 20th anniversary of the Sphinx Organization, this exciting program offers a collection of concertos through the ages, performed by the 18-piece Sphinx Virtuosi. The program has something for every listener, showcasing tremendous variety in languages and styles, from the Baroque era to present day. It will include the newly commissioned Guardian of the Horizon by award-winning composer Jimmy López, made possible in part by Linda and Stuart Nelson. It will also feature Delights and Dances by Michael Abels, a three-movement work for string quartet and string orchestra, as well as works by Vaughan Williams and Beethoven.
Please note this performance does not include the NWS Fellows.
The national Sphinx Virtuosi Tour is made possible with the generous support of JPMorgan Chase & Co. with additional support from Mercedes-Benz Financial Services, Aetna, and National Endowment for the Arts/Art Works. In-kind support provided by MAC Cosmetics.
The Sphinx Virtuosi are exclusively represented in North America by California Artists Management (www.CalArtists.com).
This concert is sponsored in part by Sheldon and Florence Anderson; Antonio Argiz; The Betsy South Beach--Deborah Plutzik Briggs, Jonathan Plutzik and Lesley D. Goldwasser; Beth Boleyn; Stanley and Gala Cohen; Cassidy Fitzpatrick; Rose Ellen Greene; Howard Herring; Marilyn Holifield; Susan D. Kronick and Edward Manno Shumsky; Dr. Willie Logan; Robert and Diane Moss; Faye Munnings; Lona D. T. Palmero; Patricia Papper; Ms. Dorothy Terrell; the Keith & Renata Ward Family Fund at The Miami Foundation; and The Wege Foundation.
Program
Ludwig van Beethoven
(1770-1827)

Antonio Vivaldi
(1678-1741)

Concerto in B-flat major for Violin and Cello, RV 547
Allegro
Andante
Allegro molto
Annelle Gregory, violin
Thomas Mesa, cello
Guardian of the Horizon: Concerto Grosso for Violin, Cello and Strings
Riddle
Crossing the Threshold
Into the Effulgent Light
Adé Williams, violin
Gabriel Cabezas, cello
Rainel Joubert, violin I
Alexandra Switala, violin II
Celia Hatton, viola
Thomas Mesa, cello
Ludwig van Beethoven
Grosse Fuge, Op. 133
This gigantic movement is fiercely powerful and one of the most forceful expressions in Beethoven's music. The piece is a magnificent exploration of fugal writing, which serves not only as a formal vehicle, but is an important part of its weighty emotional charge.
The Grosse Fuge's structure allows the listener to hear it in several different ways. It is an introduction followed by a long fugue, or a series of fugues. It is a fugal theme with variations, each, in turn, built as a series of variations. It is also a large-scale sonata form movement, in which each of the principal components is a fugue. It is even a cyclical work of four movements condensed into one: introduction, Allegro, slow movement and finale. All of these descriptions can be accurate.
Antonio Vivaldi
Concerto in B-flat major for Violin and Cello, RV 547
Vivaldi's Concerto for Violin and Cello, an example of a concerto grosso, is a spirited dialogue for the two solo instruments as colleagues and rivals for the spotlight. The first movement opens energetically with strong rhythms and straightforward ideas, alternating between orchestral sections and solo episodes. The soloists develop musical ideas imitatively; the cello presents a form of the theme first, which the violin follows with the same music two octaves higher. The music develops in harmonic sequences, with great beauty. The second movement is a short, sensitive Andante in which the orchestra plays only a supporting role. The soloists again imitate each other as they exchange calm and peaceful phrases. In the humorous final movement, the two soloists sound offbeat accents and alternate virtuosic sections, sharing involved passagework.
Jimmy López
Guardian of the Horizon: Concerto Grosso for Violin, Cello and Strings
Guardian of the Horizon: Concerto Grosso for Violin, Cello and Strings, was commissioned by the Sphinx Organization, with the support of Linda and Stuart Nelson, Carnegie Hall and the New World Symphony in honor of Sphinx's 20th Anniversary Celebration. The following note was provided by composer Jimmy López.
Guardian of the Horizon is a metaphor for Sphinx, which is associated with strength, wisdom and resilience. It seemed to me like the most logical choice, albeit the most challenging, but as I was about to embark on the composition of this piece, tragedy struck me in a way which turned this into one—if not the most—personal piece I have written to date. My father, Javier, a staunch supporter of my music since my early childhood, and the most loving and generous man one could ask for a father, passed away on December 4, 2016. In light of this enormous loss, the figure of the Sphinx gained an even greater significance. I began to think of Greek Mythology and Oedipus (hence the title of the first movement). Then I started to think of it the way ancient Egyptians did, as a manifestation of Hathor, Goddess of birth and death, or as Horus in the Horizon, guarding the rising and setting sun, and finally, as holding the keys to the gates of wisdom. In my work, the Sphinx guards the passage to the afterlife, but the aspiring soul must first answer a Riddle, and only then can it be allowed into Crossing the Threshold. As I got to work, it felt more and more like I was writing a companion piece for my father's transcendental journey, a journey that we will all have to undertake someday. 
This piece is a labor of love. Few things in life have the power to touch us so deeply, the loss of a parent being one of them. But this piece is also meant to celebrate life, the life and talent of those young artists whom you will see on stage, because they represent the best and brightest, regardless of race or color. We must remember that no matter how dark the times may seem, our path will always lead us Into the Effulgent Light.

Michael Abels
Delights and Dances
Michael Abels, an African-American composer best known for combining classical music with jazz, blues, bluegrass and ethnic genres, has gained widespread recognition for his orchestral music. Delights and Dances, commissioned by Sphinx, captivates listeners with witty, soulful and infectiously rhythmic music. The New York Times review described the piece as "an energetic arrangement...which incorporates jazz, blues, bluegrass and Latin dance elements." Delights and Dances features quickly moving chord sequences and sixteenth-note runs for the solo quartet, which are rhythmically varied by the insertion of triplet patterns that relax and slow down the pace. The introductory section begins slowly with rhythmic freedom. The opening passage for solo cello sounds almost like a cadenza, before the solo viola joins imitating the cello's ascending motive. The two play a brief duet and are then joined by the two solo violins. The orchestra enters with short, detached, syncopated pizzicato (plucked) patterns. This section sounds like blues but it is very rhythmic and has an optimistic feel. Each player in the solo group plays its own riff. The final section, "Bluegrassy" begins with a solo viola theme, and soon all four soloists join in a spirited hoedown. Finally, the solo quartet and the orchestral strings play together in a spirited conclusion.
Program notes for Concerti per Venti were compiled by Susan Halpern, with contributions by Afa S. Dworkin, President and Artistic Director, The Sphinx Organization.
Sphinx Virtuosi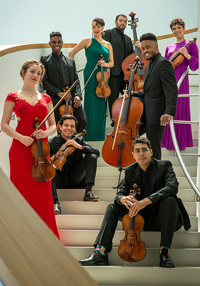 The Sphinx Virtuosi is a dynamic and inspiring professional self-conducted chamber orchestra and serves as the flagship performing entity of the Sphinx Organization—the leading social justice nonprofit dedicated to transforming lives through the power of diversity in the arts. Comprised of 18 accomplished Black and Latinx artists, a critical aim of the Sphinx Virtuosi is to evolve and transform the face of classical music through artistic excellence, pioneering programming, and impassioned community engagement. Its members serve as cultural and diversity ambassadors for audiences and communities around the United States during national tours.
Since 2004 the Sphinx Virtuosi's concerts have been presented by the leading arts organizations, including annual return visits to Carnegie Hall where it is an established highlight of the fall season. Frequently selling out venues, the ensemble has garnered effusive accolades including from The New York Times that has described the group as "...top-notch...more essential at this moment than ever...a vibrant, assured performance..."; and The Washington Post that wrote "true to their name, the Sphinx Virtuosi call up the vision of an iconic mythological feline with its immeasurable power, unwavering command, and soulful beauty."
Heralded for its kaleidoscopically varied repertoire and bold thematic programming, Sphinx Virtuosi concerts give prominence to historically excluded Black and Latinx composers such as Samuel Coleridge-Taylor, Alberto Ginastera, Coleridge-Taylor Perkinson, Florence Price, Heitor Villa-Lobos and George Walker. In an effort to expand its repertoire and engage new audiences, the ensemble commissions new works annually. Commissions have included major new works from Michael Abels, Terence Blanchard, Valerie Coleman, Xavier Foley, Jimmy Lopez, Jessie Montgomery, Daniel Bernard Roumain and Carlos Simon.
Members of the Sphinx Virtuosi have performed as soloists with major American orchestras, including the New York Philharmonic and the Cleveland, Detroit, Atlanta, Philadelphia, Seattle and Pittsburgh symphonies. Members also hold professional orchestral and academic positions. The Sphinx Virtuosi's community engagement initiatives regularly extend beyond master classes and workshops to members leading DEI initiatives within arts organizations and connecting with other Sphinx programming to further the mission of achieving excellence through diversity. As a bilingual ensemble, these artist-citizens frequently break down existing barriers empowering the artform to connect with the broader community. During the pandemic in 2020-21 the ensemble found creative ways to connect with audiences and communities virtually through performances, panel discussions, master classes, Q&A sessions and more, reaching over 30,000 people across 20 organizations.
The Sphinx Virtuosi has collaborated with major artists such as Terence Blanchard, Denyce Graves, Sweet Honey in the Rock, Damien Sneed, Will Liverman, J'Nai Bridges and Davóne Tines, among others. Outside of the classical realm, its musicians have also worked with leading international artists such as Beyoncé and Jay-Z, and made high profile appearances including on The Tonight Show Starring Jimmy Fallon and the broadcast of the 2022 Grammy Awards. In October 2022, the ensemble made its international debut at the Sala São Paulo in Brazil.
Sphinx Virtuosi Tours are made possible through the support of Robert F. Smith, JPMorgan Chase, and National Endowment for the Arts.
2023 Sphinx Virtuosi Musicians
Violin I
* Patricia Quintero Garcia, concertmaster
Alex Gonzalez, concertmaster and NWS alumnus
Clayton D Penrose-Whitmore
Hannah White
Sandro Leal-Santiesteban
* Scott Jackson, NWS alumnus
Violin II
* Meredith Riley, principal
Robyn Quinnett, principal
Maïthéna Girault
Thierry de Lucas
Caitlin Edwards
Viola
Celia Hatton, principal
Robert Alvarado Switala
Bill Neri
Kayla Cabrera
Cello
Tommy Mesa, principal
Eri Snowden-Rodriguez
Quenton Xavier Blache
Diana Flores
Bass
Jonathan Colbert, principal
Christopher Johnson
* Performing works by Romero and Price