Events & Tickets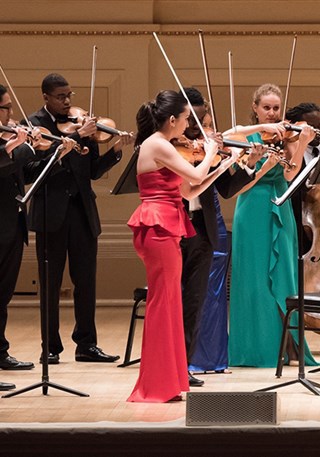 Special Event
SPHINX VIRTUOSI: MUSIC WITHOUT BORDERS
New World Center, Michael Tilson Thomas Performance Hall
Sunday, September 30, 2018 at 2:00 PM
Program
The Sphinx Virtuosi, together with the Catalyst Quartet, is a chamber orchestra dedicated to diversity in music, performing well-known repertoire together with works by African-American and Latinx composers. Experience this year's annual performance at the New World Center!
The Sphinx Virtuosi 2018 tour will illuminate works by composers from communities searching for harmony and separated by time, distance, hardship and conflict, as it seeks to share its inspiration from the diverse voices that remind us of empathy and our common humanity. The tour will include works by Emmy nominated Syrian-American composer Kareem Roustom, Dmitri Shostakovich, Gaspar Cassadó, and features a newly commissioned work by Grammy Award-winning jazz trumpeter and composer, Terence Blanchard.
Please note this performance does not include the NWS Fellows.
The national Sphinx Virtuosi Tour is made possible with the generous support of JPMorgan Chase & Co. and Robert F. Smith, with additional support from Mercedes-Benz Financial Services, Aetna and National Endowment for the Arts/Art Works. In-kind support provided by MAC Cosmetics and Sephora.
The Sphinx Virtuosi are exclusively represented in North America by California Artists Management (www.CalArtists.com).
Program
Yasushi Akutagawa
(1925-1989)

Triptyque for String Orchestra
Allegro
Lullaby: Andante
Presto
Dmitri Shostakovich
(1906-1975)

Chamber Symphony, Op. 110a
Largo
Allegro molto
Allegretto
Largo
Largro
Gaspar Cassadó
(1897-1966)

III. Intermezzo e danza finale
Terence Blanchard
(b. 1962)

Annelle Gregory, violin
Thomas Mesa, cello
Yasushi Akutagawa
Triptyque for String Orchestra
Yasushi Akutagawa was a 20th-century Japanese composer and conductor. He advanced the cause of Japanese music, and with two colleagues, Toshiro Mayuzumi and Ikuma Dan, founded the Japanese composers' group Sannin no kai (Union of Three), whose fundamental principle was the incorporation of elements of traditional music, not just of Japan, but also of the Asian mainland, into concert music. He also worked with the Japanese Federation of Composers and Japanese Society of Rights of Authors and Composers.
In 1954, when Japan did not have diplomatic relations with the Soviet Union, Akutagawa journeyed there illegally to meet the composers who inspired him: Shostakovich, Khachaturian and Kabalevsky. He presented them with his best works, including Triptyque.
Akutagawa composed the delightful Triptyque, which means a grouping of three pictures, in 1953 at the suggestion of Kurt Wöss, an Austrian composer. Wöss conducted its premiere in December 1953 at Carnegie Hall with the New York Philharmonic. Prokofiev in particular was a crucial influence on the work, while Akutagawa's turn towards local roots and other Asian musical traditions, in particular the pentatonic tonal system, can also be heard.
In Triptyque's first movement, the strings play broad melodic arcs and contrasting sequences of rhythmic cells. The movement is infused with counterpoint. One also hears a powerful mixture of otherworldly sounds and earthy rhythms, some created by beating on the wood of the instruments in a percussive style. The slow middle movement, a Lullaby, begins with an ardent viola theme. Later, a yearning violin sings over the plucking lower strings. In the final fast movement, Akutagawa employs Japanese rhythms used in Matsuri festivals in the main motif.
Dmitri Shostakovich
Chamber Symphony, Op. 110a
Dmitri Shostakovich, whom some call music's last great classicist, composed 15 symphonies and 15 string quartets. During World War II, which Russians call the Great Patriotic War, he suffered through the siege of Leningrad, which he memorialized in his Seventh Symphony. He said that Russians would never forget or forgive Nazis' attempts to destroy Slavic culture. Completed in 1960, the String Quartet No. 8, later arranged for string orchestra as the Chamber Symphony, is dedicated to "the memory of the victims of fascism and war." 
Although its dedication suggests its social and political context, it is also an intensely personal work filled with references to Shostakovich's motto, the notes D, E-flat, C, B. The motif forms a sort of musical cryptogram he derived from the German designations of the notes of the scale and the German spelling of part of his name: D SCH(ostakovitch). It is heard in the opening notes of the first, third and fifth movements, but also occurs in the other movements. Shostakovich also quotes a number of earlier compositions: Symphonies 1 and 5, the Piano Trio, Cello Concerto No. 1 and his opera Lady Macbeth of the Mtsensk District.
He also characteristically includes extended chromatic melodies stretched over long, sustained notes, persistent rhythmic figures of varying intensity, dynamic contrasts and complex counterpoint, even when it appears in only two parts.
Of the five connected, closely-related movements, three are very slow and broad. The first movement, a quiet, contrapuntal prelude, derives principally from the DSCH motto, while the second resembles classical sonata form. The third, a waltz-like consideration of the motto, precedes dark-toned music in the instruments' lowest registers that quotes the patriotic song "Bowed by the Burden of Bondage." The motto leads into the final Largo, where it is used fugally with musical ideas from the first movement.
Gaspar Cassadó
Suite for Solo Cello
Gaspar Cassadó was one of the foremost cellists of the 20th century. In 1906, a 21-year-old Pablo Casals heard the nine-year-old prodigy Cassadó and was so impressed that he invited him to become his first full-time student. Cassadó also studied composition with Manuel de Falla and Maurice Ravel, whose stylistic influences are evident in his 1926 Suite for Solo Cello, inspired by Casals' performances of the Bach's Cello Suites.
The Cello Suite combines Baroque-like forms with Catalan flair, paying tribute to that region of Spain that has been deeply disturbed by a search of identity, independence and conflict.
The third and final movement is based mostly on the jota, a dance originally performed with castanets. Beginning slowly with a lyrical section of five-beat phrases, it soon becomes a swinging, vigorous dance. Cassadó imitates the sound of castanets in abrupt rhythms, the strumming of the guitar in flamboyant arpeggio patterns, and Spanish folk music in the distinctive pattern of the four-note descending bass line.
Terence Blanchard
Dance for a New Day
A lone violin sounds a melody—at first simple, like a folk tune, and then unfurling into a lengthy and unsettling phrase. Here is the voice of frustration, a mirror to issues not easily sorted out, let alone resolved. A cello enters, reflecting that same feeling, that same sense of heightened concern. The two form a chorus, aggressive in tone yet bending toward beauty. They sing of confusion but slowly distill order. They move together like modern dancers—frenetic, angry even, but also spinning toward hope. Soon more musicians engage: the entire orchestra, recruited into a deepening statement, at times breathless with energy but also pausing here and there to reflect. Plucked notes—two on downbeats, two on upbeats—bear echoes of distant drums, African drums, drums not of war but of wisdom. The violin and the cello return, commanding once again that which they were called to create, that which grew like all movements do, within a piece of music or a popular revolution: organically, as the sum of grand ideas and small gestures. 
"It's all about what's going on now," Terence Blanchard says of this piece. By that he means this moment of social and political upheaval. Through his small jazz ensembles, his genre-defying E-Collective band, his film scores and his recent opera, Blanchard has sought to address unrest and injustice through a personal musical lens and to project themes of communal compassion and elevated discourse. Here, the violin and cello reflect his own frustration, his urge to stimulate "something different, a new day," he says. The orchestra is the larger public, moving from comprehension to commitment. This music unfolds as the moment demands: It does not relent yet seeks and finds calm. 
               —Larry Blumenfeld
Mr. Blumenfeld has written about Terence Blanchard's music in many contexts including in The Wall Street Journal, where he is a regular contributor.
Kareem Roustom
A Voice Exclaiming
An Emmy-nominated composer who has written for film, television, the concert hall and album projects, Syrian-born Kareem Roustom grew up with the musical traditions of the Near East and trained in the tradition of Western concert music and jazz in America. A professor at Tufts University, he has collaborated with a wide variety of artists and composed works for the Kronos Quartet, Daniel Barenboim and the West-Eastern Divan Orchestra, The Philadelphia Orchestra and others. His work has been described by The New York Times as "postmodern…music with lots of personality." BBC Radio 3 called Roustom's music as "among the most distinctive to have emerged from the Middle East."
Roustom expressed his music's purpose as "a vehicle for some kind of message, be that advocating for cross-cultural understanding, compassion for the 'other,' or to raise a fist against injustice and tyranny, or another cause that, even in a very small way, tries to make our world a little better."
Dabke is a type of line dance from Palestine, Syria and Lebanon, typically performed in celebrations. The leader of the dance line, called a hawaash, directs the dancers' movements. Many variants of the dabke exist. Roustom's is based on a six-beat rhythm called sudaasi, and is an arrangement of the third movement of A Voice Exclaiming, his work for triple string quartet, originally commissioned for the Kronos Quartet and Providence-based nonprofit Community MusicWorks.
Program notes for Music Without Borders were compiled by Susan Halpern, with contributions by Afa S. Dworkin, President and Artistic Director of The Sphinx Organization.
Sphinx Virtuosi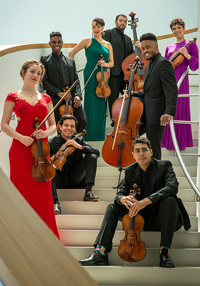 The Sphinx Virtuosi is a dynamic and inspiring professional self-conducted chamber orchestra and serves as the flagship performing entity of the Sphinx Organization—the leading social justice nonprofit dedicated to transforming lives through the power of diversity in the arts. Comprised of 18 accomplished Black and Latinx artists, a critical aim of the Sphinx Virtuosi is to evolve and transform the face of classical music through artistic excellence, pioneering programming, and impassioned community engagement. Its members serve as cultural and diversity ambassadors for audiences and communities around the United States during national tours.
Since 2004 the Sphinx Virtuosi's concerts have been presented by the leading arts organizations, including annual return visits to Carnegie Hall where it is an established highlight of the fall season. Frequently selling out venues, the ensemble has garnered effusive accolades including from The New York Times that has described the group as "...top-notch...more essential at this moment than ever...a vibrant, assured performance..."; and The Washington Post that wrote "true to their name, the Sphinx Virtuosi call up the vision of an iconic mythological feline with its immeasurable power, unwavering command, and soulful beauty."
Heralded for its kaleidoscopically varied repertoire and bold thematic programming, Sphinx Virtuosi concerts give prominence to historically excluded Black and Latinx composers such as Samuel Coleridge-Taylor, Alberto Ginastera, Coleridge-Taylor Perkinson, Florence Price, Heitor Villa-Lobos and George Walker. In an effort to expand its repertoire and engage new audiences, the ensemble commissions new works annually. Commissions have included major new works from Michael Abels, Terence Blanchard, Valerie Coleman, Xavier Foley, Jimmy Lopez, Jessie Montgomery, Daniel Bernard Roumain and Carlos Simon.
Members of the Sphinx Virtuosi have performed as soloists with major American orchestras, including the New York Philharmonic and the Cleveland, Detroit, Atlanta, Philadelphia, Seattle and Pittsburgh symphonies. Members also hold professional orchestral and academic positions. The Sphinx Virtuosi's community engagement initiatives regularly extend beyond master classes and workshops to members leading DEI initiatives within arts organizations and connecting with other Sphinx programming to further the mission of achieving excellence through diversity. As a bilingual ensemble, these artist-citizens frequently break down existing barriers empowering the artform to connect with the broader community. During the pandemic in 2020-21 the ensemble found creative ways to connect with audiences and communities virtually through performances, panel discussions, master classes, Q&A sessions and more, reaching over 30,000 people across 20 organizations.
The Sphinx Virtuosi has collaborated with major artists such as Terence Blanchard, Denyce Graves, Sweet Honey in the Rock, Damien Sneed, Will Liverman, J'Nai Bridges and Davóne Tines, among others. Outside of the classical realm, its musicians have also worked with leading international artists such as Beyoncé and Jay-Z, and made high profile appearances including on The Tonight Show Starring Jimmy Fallon and the broadcast of the 2022 Grammy Awards. In October 2022, the ensemble made its international debut at the Sala São Paulo in Brazil.
Sphinx Virtuosi Tours are made possible through the support of Robert F. Smith, JPMorgan Chase, and National Endowment for the Arts.
2023 Sphinx Virtuosi Musicians
Violin I
* Patricia Quintero Garcia, concertmaster
Alex Gonzalez, concertmaster and NWS alumnus
Clayton D Penrose-Whitmore
Hannah White
Sandro Leal-Santiesteban
* Scott Jackson, NWS alumnus
Violin II
* Meredith Riley, principal
Robyn Quinnett, principal
Maïthéna Girault
Thierry de Lucas
Caitlin Edwards
Viola
Celia Hatton, principal
Robert Alvarado Switala
Bill Neri
Kayla Cabrera
Cello
Tommy Mesa, principal
Eri Snowden-Rodriguez
Quenton Xavier Blache
Diana Flores
Bass
Jonathan Colbert, principal
Christopher Johnson
* Performing works by Romero and Price