Events & Tickets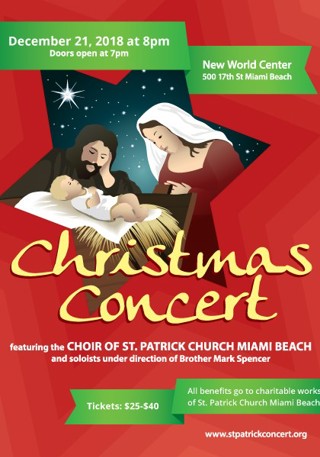 Guest Presenter
St. Patrick's presents Christmas Concert
New World Center
Friday, December 21 at 8:00 PM
Doors open at 7:00 PM
After a sold-out concert and smashing success in its prior edition, the Choir of St. Patrick Church and soloists return to the New World Center during the upcoming Christmas season! Miami Beach Residents and visitors alike will have the opportunity to come together to experience an unforgettable musical evening filled with beautiful Christmas music. The Choir of St. Patrick Miami Beach is known as one of the finest choirs in the Southeastern United States and is conducted by the internationally renowned director and musician, Brother Mark Spencer. This benefit concert is open to anyone, regardless of religious affiliation.
This concert does not include the New World Symphony Fellows. 
Tickets no longer available online.
Choir of St. Patrick Church Miami Beach and Soloists under direction of Brother Mark Spencer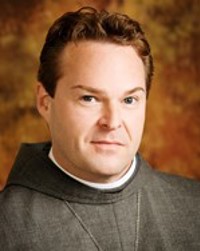 Brother Mark Spencer, Director of Liturgy, Choir Master and Principal Organist for St. Patrick Parish in Miami Beach, Florida since 2002, travels the world, sharing his sacred gifts of music and inspired performance.
After earning his Master's Degree in harp performance from the University of Miami, Mr. Spencer performed as second harpist for both the Florida Philharmonic Orchestra and the New World Symphony and also performed in leading and principal roles with the Opera Theater Program. While engaged in doctoral studies in harp performance at Northwestern University, Illinois, he performed as second harpist with the Chicago Civic Orchestra and principal harpist for the Northwestern Philharmonia. He was also appointed Choir Master and Principal Organist at St. Elizabeth Seton Catholic Church in Naperville, Illinois, responsible for building their Music Program. 

Starting in 1997, Brother Mark toured extensively throughout the United States and Canada for three years in the male soprano role of "Mary Sunshine" in the first national tour of the Broadway Musical "Chicago", and was nominated "Best Supporting Actor in a Musical Comedy" at the 1998 Los Angeles Ovation Awards. That same year he was honored for "Outstanding Vocal Performance" in the San Francisco Chronicle Arts Review for "setting the standard" in male dramatic soprano performance. While touring with the musical, he also concertized extensively as harp, organ, and piano soloist.

In July and August of 2007, Brother Mark and his brother, Keith Spencer, a celebrated Lyric Baritone, released their first CD Recording, "With Harp & Voice." Its overwhelming success has led to numerous concert performances featuring repertoire from the album. 

In May 2005, Brother Mark and the Choir of St. Patrick toured Italy with concerts in Rome, Venice, Florence and Assisi, with many return engagements. They also performed in the world premiere of Stephen James Edwards' "Requiem for My Mother" in November 2007 at New York's historic Carnegie Hall. November of 2008, they were featured in Rome's Festival Internazionale di Musica e Arte Sacra and performed and recorded the International Premiere of "Requiem For My Mother", broadcast worldwide on television for three months, with a Feature Length Documentary released in 2011. The Choir performed again in St. Peter's Basilica and the "Chiesa del Santissimo Nome de Gesu all' Argentina" (the Church of the Gesu) and performed in the Cathedral of Notre Dame de Chartres, France.

Since 2008, Mr. Spencer has returned to the Vatican on four occasions as Principal Organist for the "Young Artists Festival" and in November 2012 performed and recorded the World Premiere of Stephen Edwards' "Missa Brevis" in Prague.

Despite his very hectic performance schedule, Brother Mark continues to maintain a very high standard of excellence, orchestrating his many vital roles for St. Patrick Parish, recognized as one of the finest Church Music Programs in the Southeastern United States.