Events & Tickets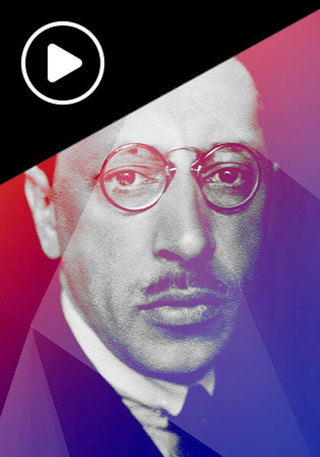 Online Event
Stravinsky in America
Online Event
Saturday, March 13, 2021 at 7:30 PM ET
Program
Sponsored by:

Conducting alumnus Joshua Gersen concludes NWS's Stravinsky festival with a look at the neoclassical works that defined Stravinsky's time in America. A mature Stravinsky embraced earlier musical forms, like Dumbarton Oaks—a chamber concerto inspired by J.S. Bach's Brandenburg Concertos.
NWS thanks its 2020-21 donors.
Program
Igor Stravinsky
(1882-1971)
Approx. Duration: 3 minutes

Serenade in A for Solo Piano (1925)

Igor Stravinsky
(1882-1971)
Approx. Duration: 12 minutes

Concerto in D for String Orchestra (1947; 1961 revision)

II. Arioso: Andantino
III. Rondo: Allegro
Igor Stravinsky
(1882-1971)
Approx. Duration: 16 minutes

Symphony in Three Movements (1942-45; 2020 archival performance)

II. Andante – Interlude
III. Con moto  
Ingolf Dahl
(1912-1970)
Approx. Duration: 5 minutes

Concerto a Tre for Clarinet, Violin and Cello (1946)

Jesse McCandless, clarinet
Jung Eun Kang, violin
Emily Yoshimoto, cello
Igor Stravinsky
(1882-1971)
Approx. Duration: 4 minutes

II. Passacaglia
III. Gigue
Mr. Gersen
Sam Boutris, clarinet; Justin Cummings, bassoon
Corbin Castro, horn; Thomas Steigerwald, piano
Margeaux Maloney, violin; Gabe Napoli, viola
Vivian Chang, cello
Igor Stravinsky
(1882-1971)
Approx. Duration: 15 minutes

Concerto in E-flat major for Chamber Orchestra, "Dumbarton Oaks" (1937-38)

Tempo giusto
Allegretto
Con moto
Mr. Gersen
Dumbarton Oaks by Igor Stravinsky presented under license from G. Schirmer Inc. and Associated Music Publishers, copyright owners.
Igor Stravinsky
Serenade in A for Solo Piano (1925)

Approximate duration: 3 minutes
Stravinsky ended the uncertainty of his wartime exile in Switzerland by moving his family to France in 1920, providing a new rootedness that he later formalized by becoming a French citizen. That same year also marked a key turning point in Stravinsky's musical path, when he made a long-awaited return to the Ballets Russes with Pulcinella. Instead of the strident chords and gut-punching rhythms that made The Rite of Spring so notorious seven years earlier, this new dance score was astoundingly transparent and genteel, steeped in an 18th-century aesthetic. The old Stravinsky fueled by earthy Russian folklore was gone, and the new one emerged from this latest metamorphosis as the cosmopolitan king of the neoclassical style.
Stravinsky wrote his Serenade in A in that neoclassical mold in 1925, at a time when he still toured as a pianist. The piece was a nod to lighthearted evening music from the time of Mozart, but as the Rondoletto movement makes clear, Stravinsky's neoclassical approach was never trifling. The ceaseless motion and counterpoint between the hands also demonstrate the abundance of Baroque inspiration for Stravinsky, a crucial component that sometimes get obscured in the "neoclassical" label, with its misleading evocation of the so-called Classical style associated with Haydn, Mozart and Beethoven.
Igor Stravinsky
Concerto in D for String Orchestra (1947; 1961 revision)

Approximate duration: 12 minutes
Stravinsky embraced the neoclassical style for 30 years, even as his world continued to spin. When war broke out again in 1939, Stravinsky wasted little time restarting his life again, this time in the United States. Like so many other European expatriates, he ended up in Los Angeles, eventually becoming an American citizen in 1945. As famous as he was, demand among American orchestras for Stravinsky's music was quite light in those years, and he needed every paying commission he could get. It was an auspicious time for Stravinsky to hear from Paul Sacher, a Swiss conductor who married into a big pharma fortune and used his platform to commission and promote some of the twentieth century's greatest composers.
In 1946 Stravinsky wrote the Concerto in D for the Basel Chamber Orchestra that Sacher founded and directed. This score shows how broad and adaptable the neoclassical toolkit was for Stravinsky, as in the Arioso with its roots in Baroque vocal music, mixed with the kind of Romantic melodies that Stravinsky so admired in Tchaikovsky, stitched together with various cadences and harmonic maneuvers redolent of Beethoven, all adding up to a slow movement that is somehow sincere and irreverent at the same time. In the final Rondo (a staple of Classical composers), the steady rhythmic flow and logical phrases provide pathways for the music to veer in and out of tonal clarity.
Igor Stravinsky
Symphony in Three Movements (1942-45; 2020 archival performance)

Approximate duration: 16 minutes
The ravages of World War II and complications in international copyright law separated Stravinsky from his old-world income sources. Like so many other expatriate composers in California, he considered scoring films, and he claimed that portions of his Symphony in Three Movements began as sketches for unrealized film music. Over three years it grew into a stark and powerful concert work, approaching a level of turbulence not heard in Stravinsky's music since The Rite of Spring 30 years earlier.
The central Andante offers respite between the Symphony's agitated outer movements, with the harp rising to the foreground in music had its origins in an abandoned film score meant to underscore an apparition of the Virgin Mary. Beginning without a pause, the third movement opens with a grotesque march that Stravinsky acknowledged as "a musical reaction to the newsreels and documentaries that I had seen of goose-stepping soldiers." After a knotted fugue, the Symphony's culmination captures Stravinsky's "exuberance in the Allied triumph."
Ingolf Dahl
Concerto a Tre for Clarinet, Violin and Cello (1946)

Approximate duration: 5 minutes
Ingolf Dahl, born into a family of Swedish and German-Jewish lineage, left Germany in the face of the rising Nazi party. After studying in Zurich and Paris, he joined the wave of European musicians immigrating to the United States in 1938, becoming a citizen in 1943. Like Stravinsky, Dahl landed in Los Angeles, with its pleasant climate and large expatriate community. He joined the faculty of the University of Southern California (USC) in 1945 and taught there for the rest of his life, including lessons in composing and conducting that shaped his most distinguished pupil: our very own Michael Tilson Thomas.
Dahl become a close friend and musical ally of Stravinsky, arranging some of his scores, translating his writings, and teaching a USC class on his music. Dahl's clear affection for Stravinsky also comes through in his own compositions, including the Concerto a tre from 1946, a neoclassical marvel of efficiency and clarity. Recent works by Stravinsky, especially the "Dumbarton Oaks" Concerto and Danses concertantes, had taken the Baroque principle of the concerto grosso as a point of departure, utilizing diverse soloists within the ensemble in the manner of Bach's "Brandenburg" Concertos. Dahl's collective Concerto for just three players (clarinet, violin and cello) strikes a similar posture to those scores with their fanciful and fragmented dance strides, and it creates a surprising density of sound for such a lean ensemble.
Igor Stravinsky
Septet (1952-53)

Approximate duration: 4 minutes
As Stravinsky entered his 70s in the relaxed atmosphere of southern California, he was no longer the trendsetting firebrand who left younger composers scrambling to catch up. In the eyes of the European avant-garde, the future of music was to be found in the 12-tone method developed by Arnold Schoenberg, who was still composing vital music during his own golden years under the Los Angeles sun. Spurred in part by a series of Schoenberg concerts he attended in 1952, Stravinsky reoriented his approach to composition one last time and took up the serial procedures that Schoenberg developed to liberate notes from the expectations of tonality.
As with every other past reinvention, Stravinsky still sounded like Stravinsky. The Septet that he composed in 1952-53 began in a neoclassical mode with a first movement built around major and minor keys, but then the same work nonchalantly shifted into a serial approach for the central Passacaglia, based on that Baroque tradition of crafting short, continuous variations over a recurring pattern. The closing Gigue models its barreling rhythms after the Baroque dance of the same name, adapted in France from the lively jigs of the British Isles.
Igor Stravinsky
Concerto in E-flat major for Chamber Orchestra, "Dumbarton Oaks" (1937-38)

Approximate duration: 15 minutes
Stravinsky's brand of neoclassical music certainly referenced the so-called Classical style that crystallized in the late 1700s, but he was perhaps even more fixated on the Baroque period from the start of that century, as evidenced by the groundbreaking Pulcinella (which used music attributed to the Baroque composer Pergolesi) and continuing in other scores with abundant references to Bach.
A high point in Stravinsky's investigation of Baroque practice was the Concerto in E-flat major for Chamber Orchestra, which came about when the American diplomat Robert Woods Bliss marked his 30th wedding anniversary by commissioning Stravinsky to compose a new work for a group small enough to fit in the lavish music room of his Washington, D.C. mansion known as "Dumbarton Oaks." The compact instrumentation lent itself to treating the ensemble as a collective group of soloists, updating the Baroque tradition of the concerto grosso—particularly those six examples by Bach known as the "Brandenburg" Concertos, with their diverse lineups of soloists. Midway through the first movement, a formal fugue launched by the violas affirms the loving homage to Bach.
Having the violins and violas divided into three parts each (and omitting second violins) draws a parallel with Bach's "Brandenburg" Concerto No. 3, although the application here is quite different; Bach's divisi tends to thicken and enunciate the lines, whereas Stravinsky's separation of voices promotes diffuse, airy textures, such as the churning accompaniment under a bird-like flute solo in the second movement. The energetic finale concludes this modern "Brandenburg" with pulsing beats and shifting accents, exhibiting the kind of rhythmic vitality that Stravinsky carried forward from his seminal ballets into each new phase of his shapeshifting career.
-- © 2021 Aaron Grad
Aaron Grad is a composer, guitarist and writer based in Seattle. Besides providing program notes for the New World Symphony, he has been the Orpheus Chamber Orchestra's program annotator since 2005 and also contributes notes to the Saint Paul Chamber Orchestra and Seattle Symphony.
Michael Tilson Thomas, conductor
Michael Tilson Thomas is Co-Founder and Artistic Director Laureate of the New World Symphony, America's Orchestral Academy; Music Director Laureate of the San Francisco Symphony; and Conductor Laureate of the London Symphony Orchestra. In addition to these posts, he maintains an active presence guest conducting with the major orchestras of Europe and the United States.
Born in Los Angeles, Mr. Tilson Thomas is the third generation of his family to follow an artistic career. His grandparents, Boris and Bessie Thomashefsky, were founding members of the Yiddish Theater in America. His father, Ted Thomas, was a producer in the Mercury Theater Company in New York before moving to Los Angeles where he worked in films and television. His mother, Roberta Thomas, was the head of research for Columbia Pictures.
Mr. Tilson Thomas began his formal studies at the University of Southern California, where he studied piano with John Crown, and conducting and composition with Ingolf Dahl. At age 19 he was named Music Director of the Young Musicians Foundation Debut Orchestra. During this same period, he was the pianist and conductor in master classes of Gregor Piatigorsky and Jascha Heifetz and worked with Stravinsky, Boulez, Stockhausen and Copland on premieres of their compositions at Los Angeles' Monday Evening Concerts.
In 1969, after winning the Koussevitzky Prize at Tanglewood, he was appointed Assistant Conductor of the Boston Symphony Orchestra. That year he also made his New York debut with the Boston Symphony and gained international recognition after replacing Music Director William Steinberg in mid-concert. He was later appointed Principal Guest Conductor of the Boston Symphony Orchestra where he remained until 1974. He was Music Director of the Buffalo Philharmonic from 1971 to 1979 and a Principal Guest Conductor of the Los Angeles Philharmonic from 1981 to 1985. His guest conducting includes appearances with the major orchestras of Europe and the United States.
Mr. Tilson Thomas is a two-time Carnegie Hall Perspectives artist, curating and conducting series at the hall from 2003 to 2005 and from 2018 to 2019. In the most recent series, he led Carnegie Hall's National Youth Orchestra of the United States of America both at the hall and on tour in Asia, opened the Carnegie Hall season over two evenings with the San Francisco Symphony, conducted two programs with the Vienna Philharmonic and finished with a pair of concerts leading the New World Symphony.
A winner of eleven Grammy Awards, Mr. Tilson Thomas appears on more than 120 recordings. His discography includes The Mahler Project, a collection of the composer's complete symphonies and works for voice and orchestra performed with the San Francisco Symphony, in addition to pioneering recordings of music by Charles Ives, Carl Ruggles, Steve Reich, John Cage, Ingolf Dahl, Morton Feldman, George Gershwin, John McLaughlin and Elvis Costello. His recordings span repertoire from Bach and Beethoven to Debussy and Stravinsky, and from Sarah Vaughan to Metallica.
His television work includes a series with the London Symphony Orchestra for BBC Television, broadcasts of the New York Philharmonic Young People's Concerts from 1971 to 1977 and numerous productions on PBS's Great Performances. With the San Francisco Symphony, he created a multi-tiered media project, Keeping Score, which includes a television series, web sites, and radio programs. He received a Peabody Award for his SFS Media radio series The MTT Files.
Mr. Tilson Thomas's compositions are published by G. Schirmer. In 1991, he and the New World Symphony were presented in a series of benefit concerts for UNICEF in the United States, featuring Audrey Hepburn as narrator of his work From the Diary of Anne Frank, which was commissioned by UNICEF. This piece has since been translated and performed in many languages worldwide. In August 1995, he led the Pacific Music Festival Orchestra in the premiere of his composition Shówa/Shoáh, commemorating the 50th anniversary of the bombing of Hiroshima. His vocal music includes settings of poetry by Walt Whitman and Emily Dickinson, which were premiered by Thomas Hampson and Renée Fleming, respectively. In 2016, Yuja Wang premiered his piano piece You Come Here Often?.
Mr. Tilson Thomas' song cycle Four Preludes on Playthings of the Wind, a setting of Carl Sandburg's poem, was premiered in 2016 by the New World Symphony, with Measha Brueggergosman as soloist. In 2019 the piece was recorded for Medici.tv at the New World Center and given its New York premiere as part of Mr. Tilson Thomas's second Carnegie Hall Perspectives series. His first Perspectives series also featured performances of his own compositions, including Island Music for four marimbas and percussion; Notturno for solo flute and strings, featuring soloist Paula Robison; and new settings of poems by Rainer Maria Rilke. In 2020, he led the San Francisco Symphony in the world premiere of his six-part song cycle Meditations on Rilke, and he subsequently conducted the work at the Cleveland Orchestra. Additional compositions include Street Song for brass instruments; Agnegram, an overture for orchestra; and Urban Legend, a concerto for contrabassoon that was premiered by the San Francisco Symphony. In June 2020, SFS Media released an album of works composed by Mr. Tilson Thomas, featuring live concert recordings of From the Diary of Anne Frank, narrated by mezzo-soprano Isabel Leonard, and Meditations on Rilke, sung by mezzo-soprano Sasha Cooke and bass-baritone Ryan McKinny.
Mr. Tilson Thomas is an Officier de l'Ordre des Arts et des Lettres of France, is a member of the American Academy of Arts and Sciences, was Musical America's Musician of the Year and Conductor of the Year, was Gramophone magazine's Artist of the Year and has been profiled on CBS's 60 Minutes and ABC's Nightline. He has been awarded the National Medal of Arts, has been inducted into the California Hall of Fame and the American Academy of Arts and Letters, and was a 2019 recipient of the Kennedy Center Honors.
Joshua Gersen, conductor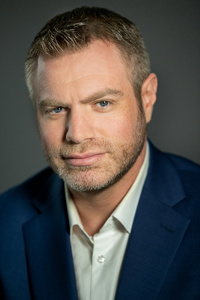 Joshua Gersen recently concluded his tenure as the Assistant Conductor of the New York Philharmonic, where he most notably made his subscription debut in 2017 on hours' notice to critical acclaim filling in for an ailing Semyon Bychkov.
Mr. Gersen's previous conducting posts include the Music Director of the New York Youth Symphony and the John S. and James L. Knight Foundation Conducting Fellow of the New World Symphony, where he served as the assistant conductor to the symphony's Artistic Director Michael Tilson Thomas. There, he led the orchestra in various subscription, education and family concerts, including the orchestra's renowned Late Night at New World Symphony concert series. He made his conducting debut with the San Francisco Symphony in 2013 and has been invited back numerous times to conduct a variety of concerts, most recently replacing Tilson Thomas on short notice for a subscription series in June 2019.
Mr. Gersen's other recent guest conducting appearances include performances with the Chicago Symphony, St. Louis Symphony, Detroit Symphony, Toronto Symphony, Hannover Opera, New Jersey Symphony, Indianapolis Symphony, San Antonio Symphony, Phoenix Symphony, North Carolina Symphony and the Colorado Music Festival.
Mr. Gersen is the recipient of a 2015 and 2016 Solti Foundation U.S. Career Assistance Award. the winner of the Aspen Music Festival's prestigious 2011 Aspen Conducting Prize and the 2010 Robert J. Harth Conducting Prize, and as a result served as the festival's assistant conductor for the 2012 summer season under Robert Spano.
Also a prolific composer, Mr. Gersen's String Quartet No. 1 and Fantasy for Chamber Orchestra have been premiered in New England Conservatory's celebrated Jordan Hall. He has had works performed by the New Mexico Symphony and the Greater Bridgeport Symphony. His work as a composer has also led to an interest in conducting contemporary music. He has conducted several world premieres of new works by young composers with New York Youth Symphony as part of their esteemed First Music Program, and New York Philharmonic as part of their Very Young Composers program, and has also collaborated with many prominent contemporary composers including John Adams, Esa-Pekka Salonen, Christopher Rouse, Steven Mackey, Mason Bates and Michael Gandolfi.  As principal conductor of the Ojai Music Festival in 2013, Mr. Gersen led numerous performances by celebrated American composers such as Lou Harrison and John Luther Adams.
Mr. Gersen made his conducting debut at age 11 with the Greater Bridgeport Youth Orchestra and his professional conducting debut five years later when he led the Greater Bridgeport Symphony in a performance of his own composition, A Symphonic Movement. Mr. Gersen is a graduate of the Curtis Institute of Music, where he studied conducting with the esteemed Otto Werner Mueller and the New England Conservatory of Music, where he studied composition with Michael Gandolfi.  As an educator himself, Mr. Gersen has worked often with students and ensembles at The Juilliard School, Manhattan School of Music, Boston University and Curtis Institute of Music. He currently serves as the interim Director of Orchestras at Boston University for the 2019-20 school year.
Musicians of the New World Symphony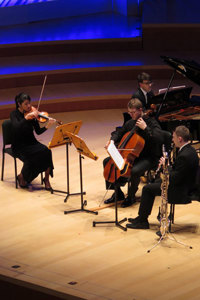 A laboratory for the way music is taught, presented and experienced, the New World Symphony consists of 87 young musicians who are granted fellowships lasting up to three years. The fellowship program offers in-depth exposure to traditional and modern repertoire, professional development training and personalized experiences working with leading guest conductors, soloists and visiting faculty. 
NWS Fellows take advantage of the innovative performance facilities and state-of-the art practice and ensemble rooms of the Frank Gehry-designed New World Center, the campus of the New World Symphony and home of the Knight New Media Center.
In the hopes of joining NWS, nearly 1,000 recent music school and conservatory graduates compete for available fellowships each year. The Fellows are selected for this highly competitive, prestigious opportunity based on their musical achievement and promise, as well as their passion for the future of classical music.