Events & Tickets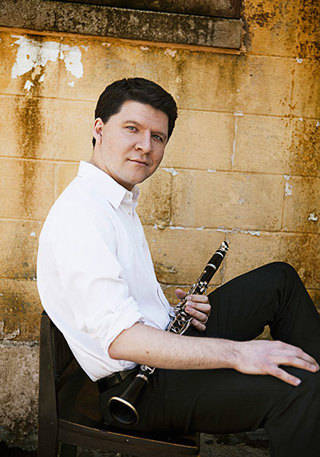 Chamber Music
SUCH DIFFERENT PATHS
New World Center
Explore a myriad of chamber music alongside NWS Fellows as they tackle styles spanning over 200 years! The clarinet has a rich history and concert artist Alexander Fiterstein will make sure we experience all of it, joining Fellows for a performance of one of Mozart's best-known chamber works, the Clarinet Quintet. In Paul Schoenfeld's wildly virtuosic and fun Trio, the clarinet celebrates Jewish traditions, including klezmer music. The wind and brass Fellows are on display for John Harbison's abstract score that provides answers before it asks questions, while Bulgarian composer Dobrinka Tabakova explores familiarity and the unknown in her music, which John Adams called "extremely original and rare."
COMPOSE YOUR OWN SUBSCRIPTION PACKAGE!
Choose this plus two more concerts to customize your own subscription. It's the ultimate flexibility with all the subscriber benefits, including free exchanges when plans change! Click or call the NWS Box Office at 305.673.3331 to create your own series today.
Loading Concert Information
Program
Music for Eighteen Winds (1986)

Dean Whiteside, conductor
Dobrinka Tabakova
(b. 1980)
Approx. Duration: 17 minutes

Such Different Paths (2007-08)

Paul Schoenfeld
(b. 1947)
Approx. Duration: 19 minutes

Trio for Clarinet, Violin and Piano (1986)

Wolfgang Amadeus Mozart
(1756-1791)
Approx. Duration: 32 minutes

Quintet in A major for Clarinet and Strings, K. 581 (1789)

Allegro
Larghetto
Menuetto: Trio I, Trio II
Allegretto con variazioni
Alexander Fiterstein, clarinet
Alexander Fiterstein, clarinet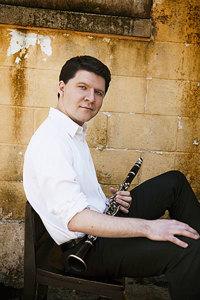 Clarinetist Alexander Fiterstein is recognized for playing that combines flawless technique and consummate musicianship with graceful phrasing and a warm soulful tone. Considered one of today's most exceptional clarinet players, he has performed in recital and with prestigious orchestras and chamber music ensembles throughout the world. Winner of a 2009 Avery Fisher Career Grant Award, Mr. Fiterstein has been praised by The New York Times for possessing a "beautiful liquid clarity;" and The Washington Post wrote, "Fiterstein treats his instrument as his own personal voice, dazzling in its spectrum of colors, agility and range. Every sound he makes is finely measure without inhibiting expressiveness." In 2013 Bridge Records released Mr. Fiterstein's debut concerto album featuring both of Carl Maria von Weber's clarinet concertos with conductor Martin West and the San Francisco Ballet Orchestra. 
Mr. Fiterstein's 2015-16 season currently includes Brahms' Clarinet Quintet with the New World Symphony. In the 2014-15 season, he performed chamber music with the Boston Chamber Music Society and Friends of Chamber Music in Miami, and at Mount Kisco, Music@Menlo and the University of Chicago. He gave the East Coast premiere of a new clarinet quintet by Chris Brubeck, son of Dave Brubeck, with the Muir Quartet at Rhode Island College, following his world premiere performance of the work at the St. Timothy's Summer Music Festival in July 2014. He also performed alongside Arnaud Sussmann, Harumi Rhodes, Dimitri Murrath, Nicholas Canellakis and Michael Brown in the Sedona Winter MusicFest, where he spent his second season as co-artistic director. His orchestral appearances included the Woodstock Mozart Festival, where he performed Mozart's Clarinet Concerto under conductor Istvan Jaray, and with the Minnesota Sinfonia, performing Weber's Second Clarinet Concerto. He toured Kentucky with his Goldstein-Peled-Fiterstein trio, and performed with his Alexander Fiterstein Klezmer Trio at Virginia Tech. He was also guest principal clarinet with the KBS Symphony Orchestra in Seoul and the Saint Paul Chamber Orchestra. 
Mr. Fiterstein has appeared as a soloist with the Belgrade Philharmonic Orchestra, China National Symphony, Czech Chamber Orchestra, Danish National Radio Symphony Orchestra, IRIS Orchestra, Israel Chamber Orchestra, Israel Sinfonieta Baer-Sheva, Jerusalem Symphony, Orchestra of St. Luke's at Lincoln Center, Polish Chamber Philharmonic, San Juan Symphony, Simon Bolivar Youth Orchestra of Venezuela, Saint Paul Chamber Orchestra, Tokyo Philharmonic, University of South Carolina Symphony and Vienna Chamber Orchestra. He has performed in recital on the "Music at the Supreme Court" Series, at Carnegie Hall's Weill Recital Hall, and at the Isabella Stewart Gardner Museum in Boston, the Kennedy Center, the Louvre in Paris, the National Gallery of Art, Suntory Hall in Tokyo, Symphony Space, the Tel-Aviv Museum and the 92nd Street Y. 
A dedicated performer of chamber music, Mr. Fiterstein frequently collaborates with distinguished artists and ensembles. He was a member of the prestigious Chamber Music Society II of Lincoln Center (2004-06) and has continued to perform regularly with the Society. He has also participated in the Marlboro Music Festival for five summers and toured with Musicians from Marlboro. His U.S. festival appearances include Birdfoot Chamber Music Festival in New Orleans, Moab Music Festival in Utah and the Music Mountain Festival. Internationally, he has appeared at the Jerusalem International Chamber Music Festival, the Mecklenburg-Vorpommern Festival in Germany, the Storioni Festival in Holland, the Toronto Summer Music Festival, and the Zodiac Music Academy and Festival in France. 
Mr. Fiterstein has performed chamber music with Emanuel Ax, Daniel Barenboim, Elena Bashkirova, Richard Goode, Steven Isserlis and Mitsuko Uchida; and has joined the American, Borromeo, Daedalus, Fine Arts, Jerusalem, Mendelssohn, Muir, Pacifica and Vogler string quartets, and appeared with Ensemble Wien-Berlin. 
Mr. Fiterstein is the founder of The Zimro Project and the Alexander Fiterstein Trio. The Zimro Project, founded in 2008, is a unique ensemble dedicated to incorporating Jewish art music into chamber music programs that is inspired by the Zimro Ensemble, a group that nurtured the music of Jewish composers and culture nearly a century ago in St. Petersburg, Russia. The Alexander Fiterstein Trio was also formed in 2008 with cimbalom player Walter Zev Feldman and accordionist Christina Crowder. The trio regularly performs a program of Klezmer music from the traditional Eastern European Jewish wedding ceremony. 
Mr. Fiterstein has worked with composers such as John Corigliano and Osvaldo Golijov and has had pieces written for him by Samuel Adler and Mason Bates, among others. He performed the U.S. premieres of Henrik Strindberg's clarinet concerto Minne, Harrison Birtwistle's Pulse Shadows and Paul Schoenfield's clarinet trio. A recording of Schoenfield's trio, performed by Mr. Fiterstein with James Tocco and Yehuda Hanani, was released in May 2010 on the Naxos label. Mr. Fiterstein recorded the clarinet music of Ronn Yedidia, which was released by Naxos in the 2011-12 season. He is also featured in the album Sean Hickey: Concertos where he performs the Concerto for Clarinet and Orchestra with conductor Vladimir Lande and the St. Petersburg State Academic Symphony Orchestra. The album was released by Naxos in June 2013. He also performed and appeared in Richard Ledes' upcoming film The Dark Side, with violist Paul Neubauer. 
Mr. Fiterstein was born in Belarus. At the age of two he immigrated with his family to Israel where he later studied at the Israel Arts and Science Academy. He graduated from the Interlochen Arts Academy and The Juilliard School. His teachers included Charles Neidich and Eli Heifetz. Mr. Fiterstein is a first prize winner of the Carl Nielsen International Clarinet Competition and the "Aviv" competitions in Israel; a winner of the Young Concert Artists International Auditions; and the recipient of the Bunkamura Orchard Hall Award (Tokyo) and numerous awards from the America-Israel Cultural Foundation. Mr. Fiterstein is the clarinet professor at the University of Minnesota, Twin Cities.
Musicians of the New World Symphony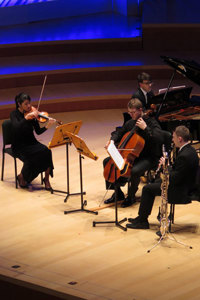 A laboratory for the way music is taught, presented and experienced, the New World Symphony consists of 87 young musicians who are granted fellowships lasting up to three years. The fellowship program offers in-depth exposure to traditional and modern repertoire, professional development training and personalized experiences working with leading guest conductors, soloists and visiting faculty. 
NWS Fellows take advantage of the innovative performance facilities and state-of-the art practice and ensemble rooms of the Frank Gehry-designed New World Center, the campus of the New World Symphony and home of the Knight New Media Center.
In the hopes of joining NWS, more than 1,500 recent music school and conservatory graduates compete for about 35 available fellowships each year. The Fellows are selected for this highly competitive, prestigious opportunity based on their musical achievement and promise, as well as their passion for the future of classical music.