Events & Tickets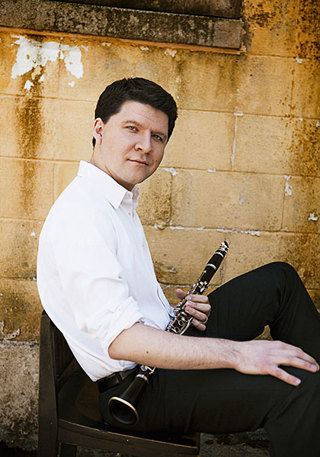 Chamber Music
SUCH DIFFERENT PATHS
New World Center, Michael Tilson Thomas Performance Hall
Explore a myriad of chamber music alongside NWS Fellows as they tackle styles spanning over 200 years! The clarinet has a rich history and concert artist Alexander Fiterstein will make sure we experience all of it, joining Fellows for a performance of one of Mozart's best-known chamber works, the Clarinet Quintet. In Paul Schoenfeld's wildly virtuosic and fun Trio, the clarinet celebrates Jewish traditions, including klezmer music. The wind and brass Fellows are on display for John Harbison's abstract score that provides answers before it asks questions, while Bulgarian composer Dobrinka Tabakova explores familiarity and the unknown in her music, which John Adams called "extremely original and rare."
COMPOSE YOUR OWN SUBSCRIPTION PACKAGE!
Choose this plus two more concerts to customize your own subscription. It's the ultimate flexibility with all the subscriber benefits, including free exchanges when plans change! Click or call the NWS Box Office at 305.673.3331 to create your own series today.
Program
John Harbison
(b. 1938)
Approx. Duration: 11 minutes

Music for Eighteen Winds (1986)

Dean Whiteside, conductor
Kayla Burggraf, flute
Johanna Gruskin, flute/piccolo
Ryan Roberts, James Riggs, oboe
Jesse McCandless, Angelo Quail, clarinet
Jeffrey Siegfried, alto saxophone
Francisco Joubert Bernard, bassoon
Bee Ungar, bassoon/contrabassoon
Roy Femenella, Priscilla Rinehart
Corbin Castro, Nick Castellano, horn
Aaron Ney, Steven Franklin, trumpet
Joseph Peterson, trombone
Paul Garza, bass trombone
Evan Zegiel, tuba
Dobrinka Tabakova
(b. 1980)
Approx. Duration: 17 minutes

Such Different Paths (2007-08)

Jonathan Chern, Brendon Elliot, violin
Spencer Ingersoll, Yuan Qi, viola
Blake-Anthony Johnson, James Churchill, cello
Douglas Aliano, bass
Paul Schoenfeld
(b. 1947)
Approx. Duration: 15 minutes

Trio for Clarinet, Violin and Piano (1986)

Freylakh
March
Nigun
Kozatske
Angelo Quail, clarinet
Harry Chang, violin
Thomas Steigerwald, piano
Wolfgang Amadeus Mozart
(1756-1791)
Approx. Duration: 32 minutes

Quintet in A major for Clarinet and Strings, K. 581 (1789)

Allegro
Larghetto
Menuetto – Trio I – Trio II
Allegretto con variazioni
Alexander Fiterstein, clarinet
Kenneth Liao, Yada Lee, violin
Kip Riecken, viola
Ian Greenberg, cello
John Harbison
Music for Eighteen Winds (1986)

Approximate duration: 11 minutes
John Harbison's lucid and relatable style reflects his own broad tastes, from Bach and Stravinsky on the classical side to the jazz piano sounds he cultivated in his own ensemble starting at the age of 11. After studying at Harvard and Princeton, Harbison began teaching at the Massachusetts Institute of Technology in 1969, where he remains in the distinguished role of Institute Professor.
It was an invitation from the MIT Arts Council that led to Harbison's Music for Eighteen Winds. As he wrote in a program note, he was asked "to compose something for any MIT performance organization, of any length, of any intent. Commissions seldom grant this kind of freedom, and I wrote a piece I had been contemplating for some time—for winds, concise (about 11 minutes), and abstract (without extra-musical associations)."
The scoring mostly conforms to the usual orchestral complement of winds and brass, with the addition of an alto saxophone that inserts jazzy runs into the angular, neoclassical proceedings. Harbison described how the work splits into "two large sections, both based on the same musical materials: I. Very fast, full ensemble, answers, urban, concrete; II. Not as fast, solos, questions, rural, metaphysical."
Dobrinka Tabakova
Such Different Paths (2007-08)

Approximate duration: 17 minutes
From the time of her first piano lessons at age seven in Bulgaria, Dobrinka Tabakova enjoyed improvising at the keyboard. At 11, when her family moved to London, she began to study composition formally, and she went on to earn degrees at the Guildhall School of Music & Drama and King's College London. Championed for years by some of Europe's finest musicians, Tabakova broke through to a wider audience with the release of her debut album on ECM Records, String Paths, which earned her a Grammy nomination in 2014. That disc closes with the string septet Such Different Paths, composed in 2008 for the Spectrum Series in Berlin, and first performed there by an ensemble featuring the superstar Dutch violinist Janine Jansen.
As Tabakova explained in a program note, Such Different Paths emerged from "the underlying idea of music as building blocks," with the intention that "there is the sense of a journey." With stacks of cyclical, recurring motives, she touches on the European strain of Minimalism advanced by the likes of Henryk Górecki and Louis Andriessen, with whom she studied briefly. There is also an antique quality to the music, an aspect that arises frequently in Tabakova's works, such as the 2006 Suite in Old Style. Sometimes the austere string harmonies in this modern septet seem to echo the sound of the viol consort, a tradition with 500 years of history in England.
Paul Schoenfeld
Trio for Clarinet, Violin and Piano (1986)

Approximate duration: 15 minutes
Paul Schoenfeld is best known for his compositions that incorporate elements of Jewish folk music and heritage. He is also one of the rare classical composers in this day and age with a vital sense of humor, as seen in his official bio that starts with a rundown of brutal reviews of his music from around the world. The Trio for Clarinet, Violin and Piano, written in 1990 for the clarinetist David Shifrin, exemplifies Schoenfeld's spirited and unapologetic embrace of Jewish folk traditions, from campy Klezmer to maudlin liturgical singing.
The four movements of the Clarinet Trio correspond to a typical classical structure while also incorporating Jewish elements, starting with a Freylakh, a dance style that takes its name from the Yiddish word for "festive." Instead of a scherzo, the second movement is a biting March with shades of Shostakovich, followed by a slow Nigun (Hebrew for "melody"), reflecting the wordless, free-flowing vocal style that is at the core of Hasidic Judaism. The fast finale, Kozatzke, references a Jewish adaptation of the Ukrainian Cossack dance, that energetic move which involves kicking out one leg at a time from a deep knee bend.
Wolfgang Amadeus Mozart
Quintet in A major for Clarinet and Strings, K. 581 (1789)

Approximate duration: 32 minutes
The music that Mozart wrote for his friend and fellow Freemason Anton Stadler played no small part in elevating the clarinet to the indispensable concert instrument it is today. Until the 18th century, the closest precursor was the cylindrical, single-reed woodwind known as the chalumeau that had open finger holes like a recorder and which only played in a compressed, lower register. The advent of a register key opened access to the instrument's upper range, which offered a bright tone not unlike an 18th-century trumpet, or clarino in Italian—hence the diminutive clarinetto, rendered in English as clarinet.
Through his friendship with Stadler, Mozart came to write a Trio in 1786 for the novel combination of clarinet, viola and piano (the so-called "Kegelstatt" Trio). A Quintet followed in 1789, scored for two violins, viola, cello and basset clarinet, an instrument designed by Stadler with an extended low range. The Clarinet Concerto that Mozart wrote just two months before he died in 1791 also featured Stadler and his basset clarinet.
Despite Stadler's advocacy, his basset clarinet design died out, and most performers today perform the Clarinet Quintet on a modern clarinet, adjusting a few low notes as needed. The instrument's fluidity and wide range is on display from the outset, when it enters with rising and falling arpeggios in response to a smooth string chorale.
The second movement places a songlike melody in the clarinet's sweet soprano register, offset by a few well-timed drops into the throaty chalumeau range. Muted strings provide a soft bed of sound, and the first violin rises to act as a melodic foil to the clarinet.
The Menuetto, based on the graceful three-beat dance from France, makes a game of handing off slurred, chromatic phrases. The clarinet waits out the first contrasting trio section cast in the parallel minor key, but it returns for a second trio in the home key.
The finale begins with a simple, bouncing theme that would not sound out of place on a children's playground. This humble tune becomes a vehicle for flashy variations, showing off the clarinet's wide leaps and virtuosic passagework. An Adagio variation provides a momentary lull, before a short transition and clarinet cadenza usher in the energized closing.

-- Copyright © 2018 Aaron Grad
Aaron Grad is a composer, guitarist and writer based in Seattle. Besides providing program notes for the New World Symphony, he has been the Orpheus Chamber Orchestra's program annotator since 2005 and also contributes notes to the Saint Paul Chamber Orchestra and Seattle Symphony.
Alexander Fiterstein, clarinet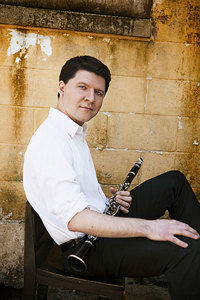 Clarinetist Alexander Fiterstein is recognized for playing that combines flawless technique and consummate musicianship with graceful phrasing and a warm, soulful tone. Considered one of today's most exceptional clarinet players, he has performed in recital and with prestigious orchestras and chamber music ensembles throughout the world. Winner of a 2009 Avery Fisher Career Grant, Mr. Fiterstein has been praised by The New York Times for possessing a "beautiful liquid clarity" and The Washington Post wrote, "Fiterstein treats his instrument as his own personal voice, dazzling in its spectrum of colors, agility and range. Every sound he makes is finely measured without inhibiting expressiveness." 
In the 2017-18 season, Mr. Fiterstein performed with the Chamber Music Society of Lincoln Center and Laguna Chamber Music Society; performed works by Brahms, Ravel and Shulamit Ran at the Banff Centre International String Quartet Festival, and was an inaugural guest artist and teacher with the Classical Bridge Festival in New York City. 
In the summer of 2017, he performed with the Tesla Quartet, presented a solo recital at Beijing's Central Conservatory, collaborated with violinist Esther Yoo in Miami and appeared in the Baltimore Symphony's New Music Festival and at ClarinetFest 2017 in Orlando, where he performed David Maslanka's Clarinet Concerto.
As a soloist, Mr. Fiterstein has appeared with the Orchestra of St. Luke's at Lincoln Center, Simon Bolivar Youth Orchestra of Venezuela, Belgrade Philharmonic Orchestra, China National Symphony, Danish National Symphony, Israel Chamber Orchestra, Jerusalem Symphony, KBS Symphony in Korea, Polish Chamber Philharmonic, Tokyo Philharmonic and Vienna Chamber Orchestra. He has performed in recital at the National Gallery of Art, Kennedy Center, 92nd Street Y, Carnegie's Weill Hall, as well as the Isabella Stewart Gardner Museum in Boston, the Louvre in Paris, Suntory Hall in Tokyo and the Tel Aviv Museum.
A dedicated performer of chamber music, Mr. Fiterstein frequently collaborates with distinguished musicians and ensembles, and performs at esteemed chamber music festivals and societies. Among the highly regarded artists he has performed with are Daniel Barenboim, Mitsuko Uchida, Richard Goode, Emanuel Ax, Yefim Bronfman, Marc-André Hamelin, Pinchas Zukerman and Steven Isserlis; and he has joined the Amernet, Dover, Jerusalem, Mendelssohn, Muir, Pacifica, Shanghai and Vogler string quartets and appeared with Ensemble Wien-Berlin. Mr. Fiterstein was a member of the prestigious Chamber Music Society II of Lincoln Center and continues to perform with the CMS each season. He also participated in the Marlboro Music Festival for five summers and toured with Musicians from Marlboro. Mr. Fiterstein has performed chamber music at Carnegie Hall, Lincoln Center, 92nd Street Y, Kennedy Center, Library of Congress and at the Louvre in Paris. He has appeared at the Mecklenburg-Vorpommern Festival in Germany, Storioni Festival in Holland and Jerusalem International Chamber Music Festival.
Mr. Fiterstein is the founder of The Zimro Project, a unique ensemble dedicated to incorporating Jewish art music into chamber music programs. It is inspired by the Zimro Ensemble, a group that nurtured the music of Jewish composers and culture nearly a century ago in St. Petersburg, Russia.
Mr. Fiterstein has worked with composers John Corigliano and Osvaldo Golijov, and has had pieces written for him by Samuel Adler and Mason Bates, among others. He performed the U.S. premieres of Henrik Strindberg's Clarinet Concerto Minne, Harrison Birtwistle's Pulse Shadows and Paul Schoenfeld's Clarinet Trio.  A recording of Schoenfeld's Trio, performed by Mr. Fiterstein with James Tocco and Yehuda Hanani, was released in 2010 on the Naxos label. Mr. Fiterstein's recordings include an album of clarinet music by Ronn Yedidia released by Naxos and a recording of Weber's clarinet concertos with the San Francisco Ballet Orchestra, conducted by Martin West and released on Bridge Records. 
Mr. Fiterstein was born in Belarus. At the age of two, he immigrated with his family to Israel, where he later studied at the Israel Arts and Science Academy. After attending the Interlochen Arts Academy, Mr. Fiterstein graduated from the Juilliard School. His teachers include Charles Neidich, Eli Heifetz, Richard Hawkins, Sidney Forrest, Mordechai Rechtman and Ayako Oshima. He is the first-prize winner of the Young Concert Artists International Auditions, Carl Nielsen International Clarinet Competition and "Aviv" competitions in Israel. He is also the recipient of numerous awards from the America-Israel Cultural Foundation and Bunkamura Orchard Hall Award (Tokyo). Mr. Fiterstein taught at the University of Minnesota, Twin Cities (2010-17) and is Clarinet Professor at the Peabody Conservatory. 
. 
Musicians of the New World Symphony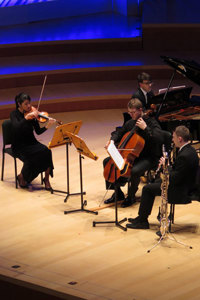 A laboratory for the way music is taught, presented and experienced, the New World Symphony consists of 87 young musicians who are granted fellowships lasting up to three years. The fellowship program offers in-depth exposure to traditional and modern repertoire, professional development training and personalized experiences working with leading guest conductors, soloists and visiting faculty. 
NWS Fellows take advantage of the innovative performance facilities and state-of-the art practice and ensemble rooms of the Frank Gehry-designed New World Center, the campus of the New World Symphony and home of the Knight New Media Center.
In the hopes of joining NWS, nearly 1,000 recent music school and conservatory graduates compete for available fellowships each year. The Fellows are selected for this highly competitive, prestigious opportunity based on their musical achievement and promise, as well as their passion for the future of classical music.