Events & Tickets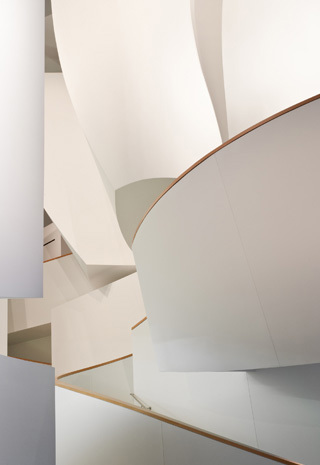 Chamber Music
TAKING THE PRIZE: A PULITZER CENTENNIAL CELEBRATION
New World Center
Sunday, November 20 at 2:00 PM
Program
Sponsored by:


Commemorate 100 years of the Pulitzer Prize with a special chamber music program featuring three of the award's acclaimed winners. 2004's Paul Moravec creates a "musical meditation" to his favorite Shakespeare play in his feverish Tempest Fantasy. Long regarded as one of this country's leading composers, Steve Reich won in 2009 with his Double Sextet, an adventurous experiment in sound layering for 12 players. Filled with sweeping grandeur and unrivaled Americana, Aaron Copland's 1945-winning Suite from Appalachian Spring bursts with joy and pride, from "Simple Gifts" to its quiet, touching finale.
Program
Paul Moravec
(b. 1957)
Approx. Duration: 30 minutes

Ariel
Prospero
Caliban
Sweet Airs
Fantasia
Daniel Parrette, clarinet; John Wilson, piano
Dima Dimitrova, violin; Jacob Hanegan, cello
Steve Reich
(b. 1936)
Approx. Duration: 22 minutes

Elizabeth Lu and Kelly Zimba, flute
Zach Manzi and Samuel Sparrow, clarinet
Stephen Kehner and Daniel Morris, vibraphone
Yu "Dean" Zhang and Kathryn Felt, piano
Natsuki Kumagai and Heather Thomas, violin
Meredith Bates and Thomas Carpenter, cello
Aaron Copland
(1900-1990)
Approx. Duration: 24 minutes

Suite from Appalachian Spring (1944; original orchestration)

Masha Popova, flute; Ran Kampel, clarinet
Sean Maree, bassoon; Aya Yamamoto, piano
Jennise Hwang and Clare Semes, violin I
George Millsap and Kristin Baird, violin II
Jesse Yukimura and Jane Mitchell, viola
Ashton Lim and Ian Greenberg, cello
Mary Reed, bass


Paul Moravec
Tempest Fantasy (2003)

Approximate duration: 30 minutes
The 2004 Pulitzer Prize for Music brought attention to a fact that an elite group of musicians had known for years: that Paul Moravec composes colorful, nuanced works that are as much a delight to perform as they are to hear. For all his extensive training at Harvard and Columbia universities, Moravec bucked the orthodoxy of his generation that sought ever more obscure and rigorous methods of composition. Instead his music seems to focus on what it is communicating, not how. "What I can do," Moravec explained in a recent interview with New Music Box, "is to capture and project emotion: joy, sadness, the whole range of human emotion. Whether or not you as an individual listener receives it in that way or understands what I'm saying, that's a whole other matter, but that's what I'm trying to do as a composer."
The piece that earned Moravec his Pulitzer Prize was Tempest Fantasy, composed in 2003 for clarinetist David Krakauer and Trio Solisti. (The violinist of that piano trio, Maria Bachmann, may be Moravec's staunchest champion, having premiered 14 of his works since 1988.) It is one of many compositions in Moravec's catalog with ties to Shakespeare, this one inspired in particular by a 1995 production of The Tempest. In a program note, Moravec described the quartet as "a musical meditation on characters, moods, situations and lines of text from my favorite Shakespeare play, The Tempest. Rather than depicting these elements in literally programmatic terms, I have used them instead as points of departure for flights of purely musical fancy."
"The first three movements," Moravec explained, "spring from the nature and selected speeches of the three characters after whom they are named." The restless and capricious music of the opening movement represents Ariel, the magical sprite who does the bidding of the sorcerer Prospero.
Next comes Prospero himself—once the Duke of Milan, but deposed by his own brother and left marooned on an island for 12 years with his daughter—portrayed in heavy, withered tones. In a 2007 feature in the The New York Times, Moravec acknowledged his own struggles with depression, and that he "identified with Prospero and his melancholy and his downcast state. … Through the power of imagination he improves his condition, and so that's what I did as a composer."
The strange and lumbering tone of Caliban, especially the low rumble of bass clarinet, captures the essence of Prospero's primitive adversary on the island. 
Moravec wrote that the fourth movement, Sweet Airs, "was inspired by Caliban's uncharacteristically elegant third-act speech: "Be not afeard; the isle is full of noises, / Sounds and sweet airs, that give delight and hurt not."
Tempest Fantasy closes with a final Fantasia that "elaborates on the various musical elements of the earlier movements and draws them together into a convivial finale."
Additional Resources
Review of the 1995 production of The Tempest that inspired Moravec
List of all Pulitzer Prize winners for Music since 1943
Moravec profile and playlist from Q2 Music
Steve Reich
Double Sextet (2007)

Approximate duration: 22 minutes
Following studies at The Juilliard School and Mills College, Steve Reich rejected the academic establishment. He made his living driving a taxi in San Francisco, and he connected with other West Coast mavericks, including Terry Riley. Reich's first breakthrough works utilized techniques of tape looping, as heard in It's Gonna Rain (1965) and Come Out (1966). After moving to New York, he established his own ensemble, Steve Reich and Musicians, to perform his multi-layered, pulsing scores that drew upon African and Asian percussion patterns. With his landmark Music for 18 Musicians (1974-76), Reich demonstrated the impressive scope and range possible in music constructed from repetitive cycles—or, to use a term Reich himself avoids, "minimalism."
When the 72-year-old Reich finally won the Pulitzer Prize in 2009, it underscored a gradual turnaround for what had historically been a bastion of the musical ivory tower. Through much of the 20th century, the prizes went to academic composers; all but a handful wrote in atonal idioms, and only one winner (Wynton Marsalis in 1997) worked outside of classical music. The tides further turned in the early 2000s, and since then the Pulitzer judging panels have made up for lost time, honoring such minimalist and post-minimalist heroes as John Adams, David Lang, Caroline Shaw, John Luther Adams and Julia Wolfe.
Reich earned the Pulitzer Prize for his Double Sextet, composed in 2007 for the chamber ensemble eighth blackbird, comprised of flute, clarinet, violin, cello, piano and percussion. In an interview printed in the liner notes of that group's recording of the work for Nonesuch Records, Reich recalled his initial resistance. "I don't work with one-of-a-kind instruments," he explained; "I work with pairs and multiples of identical instruments, so I can have the unison canons that have been the backbone of my music since It's Gonna Rain in 1965." He ultimately turned to the same solution he had used in such earlier works as Different Trains and Electric Counterpoint, in which live performers play along with pre-made recordings of themselves. This approach worked for the initial performances and recording by eighth blackbird, but as Reich noted, "they and I both agree that the piece is best in live performance when you have twelve players, and I think that is how most of its life will turn out to be in the long run."
Fans of classic Reich will recognize in the Double Sextet his distinctive patterns of interlocking rhythms, a sound that pulses relentlessly through the fast outer sections as well as the central slow section. This work also adds an element that has become more prominent in his later works—a long-lined lyricism, in which stretched-out melodies morph through time and space.
Additional Resources
Video of live performance
Online perusal score from publisher Boosey & Hawkes (free login required)
Program note by Steve Reich
"The Legacy of Steve Reich" by MTT
Aaron Copland
Suite from Appalachian Spring (1944; original orchestration)

Approximate duration: 24 minutes
Following two successful ballets set in the American West—Billy the Kid (1938) and Rodeo (1942)—Aaron Copland received a commission to create another ballet score, this one for the company led by the dancer and choreographer Martha Graham. His working title was simply Ballet for Martha, until she suggested borrowing an evocative phrase, Appalachian Spring, from Hart Crane's poem "The Bridge."
The writer Edwin Denby summarized the plot for the original program notes:
A pioneer celebration in spring around a newly-built farmhouse in the Pennsylvania hills in the early part of the last century. The bride-to-be and the young farmer-husband enact the emotions, joyful and apprehensive, their new domestic partnership invites. An older neighbor suggests now and then the rocky confidence of experience. A revivalist and his followers remind the new householders of the strange and terrible aspects of human fate. At the end the couple are left quiet and strong in their new house.
Appalachian Spring debuted on October 30, 1944, at the Library of Congress in Washington, D.C. Working with the cramped space of the 500-seat auditorium, Copland orchestrated the score for just 13 instruments—flute, clarinet, bassoon, piano and nine strings. He followed up the next year with a concert suite for full orchestra, which kept all the essential aspects of the ballet while trimming some of the sections that were less relevant without choreography. His publisher later released the version heard here, which combines the original scoring for chamber ensemble with the structure of the concert suite. Appalachian Spring won the Pulitzer Prize for Music in 1945, and it remains far and away the most popular of all the winning works.
The wonder of Appalachian Spring is how it achieves so much using such simple and familiar musical ingredients. The first section, case in point, assembles its hazy wash of consonant sonorities by enunciating plain triads and the resonant intervals of fourths and fifths.
The following section energizes similarly basic materials—octave leaps, triadic intervals and descending major scales—into spry dance music.
The action continues with a tender scene for the young couple and a lively romp depicting the revivalist and his dancing minions. A brisk solo dance for the bride then dissolves into a return of the opening calm.
The famous section that follows, starting with a theme in the clarinet, presents the tune of Simple Gifts, a Shaker dance song written in 1848 by Joseph Brackett. The humble melody fits seamlessly into the homespun, diatonic language of Copland's score, and its increasingly grand variations rise to a transcendental climax.
Additional Resources
Online score, with conductor's markings by Leonard Bernstein
Video footage from the 1944 ballet premiere
Studio film version made by the Martha Graham Company in 1959
Keeping Score: Copland and the American Sound by MTT
-- Copyright © 2016 Aaron Grad
Aaron Grad is a composer, guitarist and writer based in Seattle. Besides providing program notes for the New World Symphony, he has been the Orpheus Chamber Orchestra's program annotator since 2005 and also contributes notes to the Saint Paul Chamber Orchestra and Seattle Symphony.
Musicians of the New World Symphony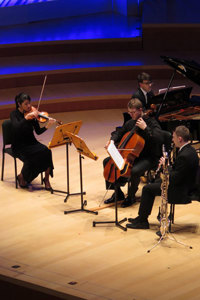 A laboratory for the way music is taught, presented and experienced, the New World Symphony consists of 77 young musicians who are granted fellowships lasting up to three years. The fellowship program offers in-depth exposure to traditional and modern repertoire, professional development training and personalized experiences working with leading guest conductors, soloists and visiting faculty. 
NWS Fellows take advantage of the innovative performance facilities and state-of-the art practice and ensemble rooms of the Frank Gehry-designed New World Center, the campus of the New World Symphony and home of the Knight New Media Center.
In the hopes of joining NWS, more than 1,150 recent music school and conservatory graduates compete for available fellowships each year. The Fellows are selected for this highly competitive, prestigious opportunity based on their musical achievement and promise, as well as their passion for the future of classical music.