Events & Tickets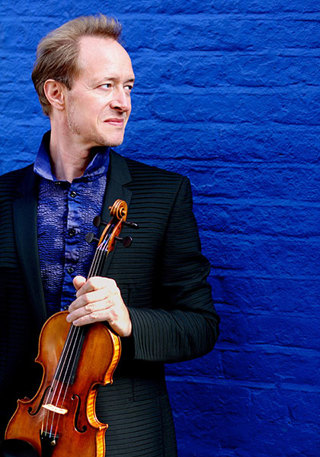 Chamber Music
THE INTIMATE VIOLIN
New World Center
Sunday, October 14 at 2:00 PM
Program
NWS's first chamber music concert of the season celebrates the violin with concert artist Anthony Marwood. The rhapsodic beauty of Ernest Chausson's Concerto mines Marwood's virtuosic talents, while Giuseppe Tartini's is a spark of Baroque brilliance. Offerings by two of today's hottest rising stars include Chris Cerrone's Recovering, in which a musical idea by Stravinsky is reimagined as a road map to hope with musicians scattered around the hall, and Gabriela Lena Frank's tone poem, which brings to life her childhood dream of walking hand-in-hand with Mozart and pays homage to her mother's Peruvian heritage.
COMPOSE YOUR OWN SUBSCRIPTION PACKAGE!
Choose this plus two more concerts to customize your own subscription. It's the ultimate flexibility with all the subscriber benefits, including free exchanges when plans change! Click here or call the NWS Box Office at 305.673.3331 to create your own series today.
Program
Christopher Cerrone
(b. 1984)
Approx. Duration: 9 minutes

Angelo Quail, clarinet
Bee Ungar, bassoon
Mark Grisez, trumpet
Myles Blakemore, trombone
Kevin Ritenauer, vibraphone
Teddy Wiggins, violin
Kathryn Bradley, bass
Giuseppe Tartini
(1692-1770)
Approx. Duration: 13 minutes

Concerto in B minor for Violin, Strings and Continuo, D. 125 (date unknown)

Allegro assai
Larghetto, "Let me bid you farewell"
Allegro
Kevin Chen, solo violin
Christopher Robinson, Zachary Ragent, Katherine Kobylarz, Scott Jackson; violin I
Tara Lynn Ramsey, Sergio Carleo, Yefim Romanov, Jesse Kasinger; violin II
Daniel Fellows, Jessica Pasternak, Xiaohan Sun; viola
Chava Appiah, Michael Frigo; cello
Antonio Escobedo, bass
Thomas Steigerwald, harpsichord
Gabriela Lena Frank
(b. 1972)
Approx. Duration: 7 minutes

Canto de Harawi: "Amadeoso" (2005)

Johanna Gruskin, flute
Jesse McCandless, clarinet
Thomas Steigerwald, piano
Ernest Chausson
(1855-1899)
Approx. Duration: 40 minutes

Concerto in D major for Violin, Piano and String Quartet, Op. 21 (1889-91)

Determined
Sicilienne: Not fast
Grave
Very lively
Anthony Marwood, violin
John Wilson, piano
Chelsea Sharpe, violin I
Qianwen Shen, violin II
Stephanie Block, viola
Drew Comstock, cello
Christopher Cerrone
Recovering (2012)

Approximate duration: 9 minutes
Since completing his studies at the Manhattan School of Music and Yale University, Christopher Cerrone has become one of his generation's most accomplished composers. A finalist for the Pulitzer Prize in 2014 and the winner of the Rome Prize in 2015, Cerrone has written for the Los Angeles Chamber Orchestra, the Calder Quartet, Third Coast Percussion, Eighth Blackbird and the Albany Symphony, where he was a composer-in-residence. Recovering was commissioned by The Academy, a joint program of Carnegie Hall, The Juilliard School and the Weill Music Institute. Cerrone wrote the following program note.
Recovering is about gradually coming back to how things were, and in the process becoming something new. When wounds heal, new skin grows back in its place.
In Recovering I selected a brief moment from the "Pastorale" of Stravinsky's L'Histoire du soldat and froze it. This gesture is first played by a sustained vibraphone, coated in a delicate haze of breath sounds arranged to surround the audience—as in recovery, breathing is the most basic element. Stravinsky's gesture gradually thaws and gains direction, joined by evolving sounds in the strings. In time, tiny alterations to the gesture—a displaced octave, a new pitch, different harmonies, and finally a regular pulse—recontextualize it completely from its origins in L'Histoire. Only at this point does the music reach a state of repose and stability, if only temporarily.
Recovering is dedicated to my teacher and friend Nils Vigeland, who first introduced me to the wonders of Stravinsky, particularly L'Histoire.
                              – Christopher Cerrone
Giuseppe Tartini
Concerto in B minor for Violin, Strings and Continuo, D. 125 (date unknown)

Approximate duration: 13 minutes
A self-taught violinist and scholar with deeply mystical leanings, Giuseppe Tartini created groundbreaking compositions and theoretical treatises that helped shape the final decades of the Baroque era. He spent most of his career as the concertmaster for Saint Anthony's Basilica in Padua where he performed the violin concertos and sonatas that comprise the vast majority of his work as a composer. Like other thought leaders of the Enlightenment, Tartini probed the natural world to understand its essential, rational truths. Some of his most significant realizations concerned the vibrations that occur when two pitches sound simultaneously, as in a violin's double-stop, creating an effect still known as the "Tartini tone."
Although he did not write music to be sung, Tartini sought to emulate the "universality and perfection" of the human voice, which he considered a more natural form of expression than the artifice of instrumental technique. A hallmark of his concertos, including this example in B minor, is the subtle and artful application of virtuosity, avoiding flashiness for its own sake. His textures also tend to be quite light and transparent, often supporting the soloist with accompaniment from the upper strings rather than the basso continuo group. These qualities especially stand out in this Concerto's central Larghetto movement, a wordless aria that Tartini labeled "Lascia ch'io dica addio" ("Let me bid you farewell").
Gabriela Lena Frank
Canto de Harawi: "Amadeoso" (2005)

Approximate duration: 7 minutes
When Gabriela Lena Frank appeared on a list of "the top 35 female composers in classical music" compiled in 2017 by The Washington Post, chief critic Anne Midgette pointed to the significance of Frank's "multiculturalism" and her practice of "mingling folk feeling with compositional sophistication." Born in Berkeley to a mother of Peruvian-Chinese heritage and a father from a Lithuanian-Jewish background, Frank has embraced her ancestry, especially her connection to Peru, where she has traveled extensively. When she wrote this trio for Da Camera of Houston in 2005, she referenced the Harawi, a type of love song from the Andean musical tradition that stretches back to the Inca Empire. Flutes made from cane or wood figure prominently in Peruvian folk music to this day. Frank wrote the following program note:
Canto de Harawi: "Amadeoso" for flute, clarinet and piano is a short, moody work inspired by an active dream life in my childhood that I've sought to reclaim, with varying levels of success, as an adult. So frequent were my night excursions into fantasy as a child that I grew accustomed to actually naming the ones that visited me on a recurring basis. "Amadeoso" was one of these, growing out of the strong impression made on me by the film Amadeus released in 1984. This work is a concise tone poem, inspired by a dream where I walk hand-in-hand with Mozart, passing through such unlikely scenes as my old backyard garden, a deserted playground and an ominous cavern that frightened me during a family camping trip.
                              – Gabriela Lena Frank
Ernest Chausson
Concerto in D major for Violin, Piano and String Quartet, Op. 21 (1889-91)

Approximate duration: 40 minutes
Ernest Chausson only embraced music in his early 20s, defying his father's wishes that he practice law. He enrolled at the Paris Conservatory where he studied with Franck and Massenet, and he also fell under the sway of Wagner, whose operas he heard firsthand in Bayreuth in 1879 and 1880. Chausson was able to live off his father's fortune while he developed his musical voice at his own pace, including the eight years he spent writing his largest work, an opera on the subject of King Arthur.
Amid work on that opera, Chausson spent two years drafting the Concerto for Violin, Piano and String Quartet, his first foray into chamber music since the Piano Trio he wrote as a student. By labeling it Concert (to use the French term), Chausson was not proclaiming this music to be a concerto in the Romantic sense of a work for soloist and orchestra; instead he was evoking the Baroque tradition of a group concerto or concerto grosso, in which multiple featured instruments interact with a larger ensemble. Chausson convinced the superstar Belgian violinist Eugène Ysaÿe, a Franck ally, to introduce the Concerto in Brussels in 1892.
Chausson took after Franck in favoring large, cyclical forms derived from a unifying theme. To begin the Concerto, a three-note motive sounds twice, with a performance instruction that translates as "determined" or "purposeful." Those same three notes initiate a calm introduction, and they also launch the animated body of the movement, heading a theme introduced by the solo violin and piano.
The short second movement is a Sicilienne, a dance style that harks back to the Baroque era, with a main theme that rocks between the first and last notes of the three-note motto. In the Grave third movement, the quartet often rests while the violin and piano play in the manner of a sonata. The primary melody slinks downward in a series of slow sighs—again evoking the Baroque era through this typical gesture of a lament—while the piano gradually elaborates and accelerates an alluring pattern of sinking and rising chromatic tones. The wide-ranging finale completes this cyclical form by referencing earlier themes, including the all-important three notes from the beginning.

-- Copyright © 2018 Aaron Grad
Aaron Grad is a composer, guitarist and writer based in Seattle. Besides providing program notes for the New World Symphony, he has been the Orpheus Chamber Orchestra's program annotator since 2005 and also contributes notes to the Saint Paul Chamber Orchestra and Seattle Symphony.
Anthony Marwood, violin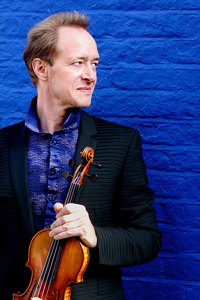 British violinist Anthony Marwood (Chevalier), appointed an MBE in the Queen's 2018 New Year's Honors List, is known worldwide as an artist of exceptional expressive force. His energetic and collaborative nature places him in great demand as soloist/director with chamber orchestras worldwide. He has served as Principal Artistic Partner of the celebrated Canadian chamber orchestra Les Violons du Roy since 2015. His renown as a soloist has led to collaborations with celebrated conductors such as Valery Gergiev, Sir Andrew Davis, Thomas Søndergård, David Robertson, Gérard Korsten, Ilan Volkov, Jaime Martin, Bernard Labadie and Douglas Boyd.
In recent years, Mr. Marwood's engagements have included the Boston Symphony, St. Louis Symphony and Vienna Radio Symphony, as well as the New Zealand and Tasmanian symphonies and the Australian Chamber Orchestra. Last season included performances of Kurt Weill's Concerto with the Royal Philharmonic Orchestra of Galicia, play/direct projects with the Aurora Orchestra at London's Royal Festival Hall and with the Adelaide Symphony, a return to the Amsterdam Sinfonietta for a tour of the Netherlands and a performance of Brahms' Double Concerto with Alexander Rudin and Musica Viva Moscow.
The 2018-19 season includes engagements with the New World Symphony, as concertmaster/soloist with the New Century Chamber Orchestra, leader/soloist with the St. Louis Symphony for two Beethoven gems: the Violin Concerto and Romance in F, and a return to Quebec City as soloist and conductor with Les Violons du Roy for Mendelssohn's Concerto for Piano and Violin and the Chausson Concerto, with pianist Aleksandar Madžar.
Born in London, Mr. Marwood was named Instrumentalist of the Year by the Royal Philharmonic Society in 2006 and was the violinist of the Florestan Trio for 16 years. He is co-Artistic Director of the Peasmarsh Chamber Music Festival in East Sussex, performs annually at the Yellow Barn Festival in Vermont and enjoys a close association with the Australian National Academy of Music in Melbourne. Marwood was appointed a Fellow of the Guildhall School of Music in 2013.
Musicians of the New World Symphony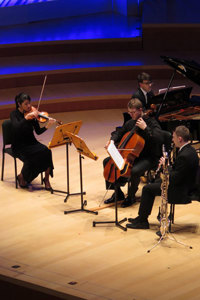 A laboratory for the way music is taught, presented and experienced, the New World Symphony consists of 77 young musicians who are granted fellowships lasting up to three years. The fellowship program offers in-depth exposure to traditional and modern repertoire, professional development training and personalized experiences working with leading guest conductors, soloists and visiting faculty. 
NWS Fellows take advantage of the innovative performance facilities and state-of-the art practice and ensemble rooms of the Frank Gehry-designed New World Center, the campus of the New World Symphony and home of the Knight New Media Center.
In the hopes of joining NWS, more than 1,150 recent music school and conservatory graduates compete for available fellowships each year. The Fellows are selected for this highly competitive, prestigious opportunity based on their musical achievement and promise, as well as their passion for the future of classical music.