Events & Tickets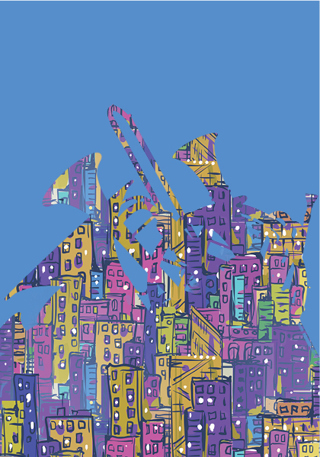 Special Event
Victory Stride: The Orchestral Legacy of the Harlem Renaissance
New World Center
Saturday, February 5, 2022 at 7:30 PM
Thomas Wilkins and Michael Tilson Thomas lead the New World Symphony in a performance of orchestra and chamber music by the great composers of the Harlem Renaissance. This concert will be preceded by a talk curated by FIU Professors Shawn Anthony Christian and Nathaniel Cadle. This presentation—drawn from books, magazines, photographs, and ephemera—explores how authors and visual and performing artists created a vision of Black modernity that extended beyond New York to become a national and global movement.
This event is part of the New World Symphony's festival I Dream a World: The Harlem Renaissance and Beyond. This festival is made possible with support from the NWS Collaborations Fund, the NWS Fund for New Ventures and Bank of America.
While at the New World Center
Exhibition: Interludes of Harlem: Poetic Illustrations of Langston Hughes featuring Jacob Lawrence
Christopher Norwood, curator and founder of Hampton Art Lovers at the Historic Ward Rooming House, will curate an exhibition of art which contextualizes the Harlem Renaissance and the American Great Migration that ushered in the first Black arts movement. This exhibition will be on display at the New World Center throughout the festival. Click here for more information.
Loading Concert Information
FOR YOUR SAFETY 
As of September 18, 2021, these are the guidelines that all guests at New World Symphony concerts must follow. These guidelines will apply to all members of your party before they are allowed to enter the New World Center and to any users of the tickets purchased by you.  Click here for additional information.
COVID REQUIREMENTS: 
We request that all guests are fully vaccinated against COVID-19 (at least two weeks after final dose) and provide proof of vaccination; i.e. original vaccination card, copy of vaccination card, or picture of vaccination card. Name on vaccination card must match name on ID. 

In lieu of proof of vaccination, we require proof of a negative COVID-19 diagnostic test result within 72-hours (including for unvaccinated children under 12 years of age). Name on test result must match name on ID. Results from self-test kits and test-at-home kits will not be accepted.

All guests may undergo a temperature screening upon entry into the building. 

Masks are required inside New World Center at all times, regardless of vaccination status. 
DAY OF EVENT 
Please arrive early for check-in process. 

Please bring your ID and proof of vaccination or negative test result. As noted above, the full name on your ID must match the name on your vaccination card or COVID test result. 

Please remember to bring a mask. 
By attending our events, you voluntarily accept responsibility for all risks related to exposure to COVID-19.
Program
Victory Stride:
The Orchestral Legacy of the Harlem Renaissance
Saturday, February 5, 2022 at 7:30 PM
New World Center
Thomas Wilkins, conductor
Michael Tilson Thomas, conductor
This performance includes a pre-concert talk curated by FIU Associate Professor Shawn Anthony Christian and Wolfsonian Public Humanities Lab fellow Nathaniel Cadle. This presentation—drawn from books, magazines, photographs and ephemera—explores how authors and visual and performing artists created a vision of Black modernity that extended beyond New York to become a national and global movement.
William Dawson                                                Negro Folk Symphony (1934; 1952 revision)
(1899-1990)                                                           III. O Le' Me Shine, Shine Like a Morning Star!
William Grant Still                                            Symphony No. 4, "Autochthonous" (1947)
(1895-1978)                                                           Moderately
                                                                               Slowly
                                                                               With a graceful lilt
                                                                               Slowly and reverently
                I N T E R M I S S I O N                                     
William Grant Still                                             Patterns for Orchestra (1960)
Edited by                                                                Magic Crystal
Michael Tilson Thomas                                        A Lone Teardrop
                                                                               Rain Pearls
                                                                               Tranquil Cove
                                                                               Moon-Gold
Florence Price                                                  Symphony No. 1 in E minor (1932)
(1887-1953)                                                           III. Juba Dance
James Price Johnson                                      Victory Stride (1944)
(1894-1955)
Duke Ellington                                                  Harlem (1950)
(1899-1974)
Arranged by
Luther Henderson and
Maurice Peress
Thomas Wilkins, conductor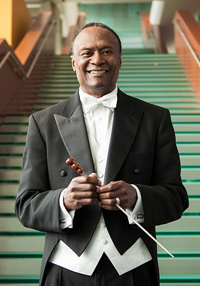 Thomas Wilkins is Principal Conductor of the Hollywood Bowl Orchestra; the Boston Symphony's Artistic Advisor, Education and Community Engagement; Principal Guest Conductor of the Virginia Symphony; and holds Indiana University's Henry A. Upper Chair of Orchestral Conducting established by the late Barbara and David Jacobs as part of that University's "Matching the Promise Campaign." He completed his long and successful tenure as Music Director of the Omaha Symphony at the close of the 2020-21 season. Other past positions have included resident conductor of the Detroit Symphony and Florida Orchestra (Tampa Bay) and associate conductor of the Richmond (VA) Symphony. He also has served on the music faculties of North Park University (Chicago), University of Tennessee in Chattanooga and Virginia Commonwealth University in Richmond. 
Devoted to promoting a life-long enthusiasm for music, Mr. Wilkins brings energy and commitment to audiences of all ages. He is hailed as a master at communicating and connecting with audiences. Following his highly successful first season with the Boston Symphony, The Boston Globe named him among the "Best People and Ideas of 2011."  In 2014 Mr. Wilkins received the prestigious "Outstanding Artist" award at the Nebraska Governor's Arts Awards, for his significant contribution to music in the state, while in 2018 he received the Leonard Bernstein Lifetime Achievement Award for the Elevation of Music in Society conferred by Boston's Longy School of Music.  In 2019 the Virginia Symphony bestowed Mr. Wilkins with their annual Dreamer Award.
During his conducting career, Mr. Wilkins has led orchestras throughout the United States, including the New York Philharmonic, Chicago Symphony, Los Angeles Philharmonic, Cincinnati Symphony and National Symphony.  Additionally, he has guest conducted the Philadelphia and Cleveland orchestras; the symphonies of Atlanta, Dallas, Houston, Baltimore, San Diego and Utah; and the Buffalo and Rochester philharmonics, as well as at the Grant Park Music Festival in Chicago.
Mr. Wilkins' commitment to community has been demonstrated by his participation on several boards of directors, including the Greater Omaha Chamber of Commerce, Charles Drew Health Center (Omaha), Center Against Spouse Abuse in Tampa Bay, and Museum of Fine Arts as well as the Academy Preparatory Center, both in St. Petersburg, Florida. Currently he serves as chairman of the board for the Raymond James Charitable Endowment Fund and as national ambassador for the non-profit World Pediatric Project headquartered in Richmond, Virginia, which provides children throughout Central America and the Caribbean with critical surgical and diagnostic care.
A native of Norfolk, Virginia, Mr. Wilkins is a graduate of the Shenandoah Conservatory of Music and New England Conservatory of Music. He and his wife Sheri-Lee are the proud parents of twin daughters, Erica and Nicole.
Michael Tilson Thomas, conductor
Michael Tilson Thomas is Co-Founder and Artistic Director of the New World Symphony, America's Orchestral Academy; Music Director Laureate of the San Francisco Symphony; and Conductor Laureate of the London Symphony Orchestra. In addition to these posts, he maintains an active presence guest conducting with the major orchestras of Europe and the United States.
Born in Los Angeles, Mr. Tilson Thomas is the third generation of his family to follow an artistic career. His grandparents, Boris and Bessie Thomashefsky, were founding members of the Yiddish Theater in America. His father, Ted Thomas, was a producer in the Mercury Theater Company in New York before moving to Los Angeles where he worked in films and television. His mother, Roberta Thomas, was the head of research for Columbia Pictures.
Mr. Tilson Thomas began his formal studies at the University of Southern California, where he studied piano with John Crown, and conducting and composition with Ingolf Dahl. At age 19 he was named Music Director of the Young Musicians Foundation Debut Orchestra. During this same period, he was the pianist and conductor in master classes of Gregor Piatigorsky and Jascha Heifetz and worked with Stravinsky, Boulez, Stockhausen and Copland on premieres of their compositions at Los Angeles' Monday Evening Concerts.
In 1969, after winning the Koussevitzky Prize at Tanglewood, he was appointed Assistant Conductor of the Boston Symphony Orchestra. That year he also made his New York debut with the Boston Symphony and gained international recognition after replacing Music Director William Steinberg in mid-concert. He was later appointed Principal Guest Conductor of the Boston Symphony Orchestra where he remained until 1974. He was Music Director of the Buffalo Philharmonic from 1971 to 1979 and a Principal Guest Conductor of the Los Angeles Philharmonic from 1981 to 1985. His guest conducting includes appearances with the major orchestras of Europe and the United States.
Mr. Tilson Thomas is a two-time Carnegie Hall Perspectives artist, curating and conducting series at the hall from 2003 to 2005 and from 2018 to 2019. In the most recent series, he led Carnegie Hall's National Youth Orchestra of the United States of America both at the hall and on tour in Asia, opened the Carnegie Hall season over two evenings with the San Francisco Symphony, conducted two programs with the Vienna Philharmonic and finished with a pair of concerts leading the New World Symphony.
A winner of eleven Grammy Awards, Mr. Tilson Thomas appears on more than 120 recordings. His discography includes The Mahler Project, a collection of the composer's complete symphonies and works for voice and orchestra performed with the San Francisco Symphony, in addition to pioneering recordings of music by Charles Ives, Carl Ruggles, Steve Reich, John Cage, Ingolf Dahl, Morton Feldman, George Gershwin, John McLaughlin and Elvis Costello. His recordings span repertoire from Bach and Beethoven to Debussy and Stravinsky, and from Sarah Vaughan to Metallica.
His television work includes a series with the London Symphony Orchestra for BBC Television, broadcasts of the New York Philharmonic Young People's Concerts from 1971 to 1977 and numerous productions on PBS's Great Performances. With the San Francisco Symphony, he created a multi-tiered media project, Keeping Score, which includes a television series, web sites, and radio programs. He received a Peabody Award for his SFS Media radio series The MTT Files.
Mr. Tilson Thomas's compositions are published by G. Schirmer. In 1991, he and the New World Symphony were presented in a series of benefit concerts for UNICEF in the United States, featuring Audrey Hepburn as narrator of his work From the Diary of Anne Frank, which was commissioned by UNICEF. This piece has since been translated and performed in many languages worldwide. In August 1995, he led the Pacific Music Festival Orchestra in the premiere of his composition Shówa/Shoáh, commemorating the 50th anniversary of the bombing of Hiroshima. His vocal music includes settings of poetry by Walt Whitman and Emily Dickinson, which were premiered by Thomas Hampson and Renée Fleming, respectively. In 2016, Yuja Wang premiered his piano piece You Come Here Often?.
Mr. Tilson Thomas' song cycle Four Preludes on Playthings of the Wind, a setting of Carl Sandburg's poem, was premiered in 2016 by the New World Symphony, with Measha Brueggergosman as soloist. In 2019 the piece was recorded for Medici.tv at the New World Center and given its New York premiere as part of Mr. Tilson Thomas's second Carnegie Hall Perspectives series. His first Perspectives series also featured performances of his own compositions, including Island Music for four marimbas and percussion; Notturno for solo flute and strings, featuring soloist Paula Robison; and new settings of poems by Rainer Maria Rilke. In 2020, he led the San Francisco Symphony in the world premiere of his six-part song cycle Meditations on Rilke, and he subsequently conducted the work at the Cleveland Orchestra. Additional compositions include Street Song for brass instruments; Agnegram, an overture for orchestra; and Urban Legend, a concerto for contrabassoon that was premiered by the San Francisco Symphony. In June 2020, SFS Media released an album of works composed by Mr. Tilson Thomas, featuring live concert recordings of From the Diary of Anne Frank, narrated by mezzo-soprano Isabel Leonard, and Meditations on Rilke, sung by mezzo-soprano Sasha Cooke and bass-baritone Ryan McKinny.
Mr. Tilson Thomas is an Officier de l'Ordre des Arts et des Lettres of France, is a member of the American Academy of Arts and Sciences, was Musical America's Musician of the Year and Conductor of the Year, was Gramophone magazine's Artist of the Year and has been profiled on CBS's 60 Minutes and ABC's Nightline. He has been awarded the National Medal of Arts, has been inducted into the California Hall of Fame and the American Academy of Arts and Letters, and was a 2019 recipient of the Kennedy Center Honors.