Events & Tickets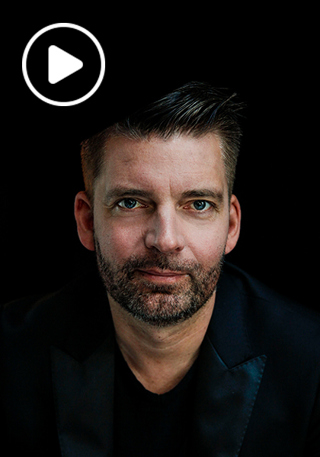 Online Event
Wagner's Idyll
Online Event
Saturday, June 5, 2021 at 7:30 PM
Program
The unforgettable season concludes with a performance of Richard Wagner's profoundly beautiful Siegfried Idyll. Brimming with lush melodies borrowed from his own operas, the work is a musical love letter to his wife Cosima. Matthias Pintscher leads the U.S. premiere of Nina Šenk's meditative brass trio, and works by Classical contemporaries (and rivals) Wolfgang Amadeus Mozart and Joseph Boulogne, Chevalier de Saint-Georges.
Program
Wolfgang Amadeus Mozart
(1756-1791)
Approx. Duration: 22 minutes

Serenade No. 12 in C minor, K. 388 (1782-83)

Allegro
Andante
Menuetto in canone
Allegro
Victoria Chung, Erik Andrusyak, oboe
Jesse McCandless, Jakob Lenhardt, clarinet
Justin Cummings, Bee Ungar, bassoon
Thea Humphries, Rebekah Lorenz, horn
Nina Šenk
(b. 1982)
Approx. Duration: 7 minutes

da kehrte die Ruhe ein (2020; U.S. premiere)

Scott Leger, horn
Morgen Low, trumpet
Arno Tri Pramudia, trombone
Joseph Boulogne
(1745-1799)
Approx. Duration: 15 minutes

Symphony No. 1 in G major, Op. 11 (1779)

Allegro
Andante
Allegro assai
Richard Wagner
(1813-1883)
Approx. Duration: 17 minutes

Siegfried Idyll, WWV 103 (1870)

Elizabeth Lu, flute; Mark Debski, oboe
Kelsi Doolittle, Elisha Willinger, clarinet
Amelia del Caño, bassoon
Jessica Elder, Tanner West, horn
Gianluca Farina, trumpet
Yefim Romanov, violin I; Jung Eun Kang, violin II
Stephanie Block, viola; James Churchill, cello
Levi Jones, bass
Edgard Varèse
(1883-1965)
Approx. Duration: 8 minutes

Rather slow
Very lively and nervous
Solemn – Animated and jubilant
Robert Spano, conductor
Elizabeth Lu, flute; Victoria Chung, oboe
Phillip Solomon, clarinet; Justin Cummings, bassoon
Thea Humphries, horn; Morgen Low, trumpet
Guangwei Fan, trombone; Levi Jones, bass
Wolfgang Amadeus Mozart
Serenade No. 12 in C minor, K. 388 (1782-83)

Approximate duration: 22 minutes
After Mozart moved to Vienna in 1781 to try his luck as a freelancer, he was eager to catch the ear of Emperor Joseph II. One trend Mozart picked up on was the interest in Harmoniemusik, or music for small wind ensembles. The Emperor had recently added a Harmonie to his retinue, the kind of band that was perfect for entertaining at outdoor gatherings, where its sound carried well on the open air. Mozart composed two Serenades for just such a group while he was still new to Vienna, one in the key of E-flat major, and another in C minor.
We know that Mozart created the E-flat Serenade to try to impress the Emperor's musical advisor, but for the C-minor Serenade (K. 388) that came next, no record of its origin has survived. No matter the setting, it is hard to imagine any reaction to this music other than shock, considering the type of pleasant and forgettable music usually played by those wind ensembles. Mozart was clearly pleased with the work, since he recycled it into a String Quintet in 1787.
The Serenade begins at full force, climbing up an arpeggio in C minor and then dropping precipitously to a pungent dissonance. Several pregnant pauses heighten the movement's sense of drama, especially at the return to the main theme for the recapitulation.
The Andante second movement takes up the gentle key of E-flat major, and the first theme is delivered in a piano dolce (soft and sweet) tone by just clarinets and bassoons. The oboe and clarinet trade melodies that confirm each instrument's claim to be the truest surrogate for the human voice—especially in the hands of Mozart, who was always an opera composer at heart.
In those first years in Vienna, Mozart became fascinated by Baroque counterpoint as mastered by Bach and Handel. The entire Serenade is full of contrapuntal layering, but it becomes most explicit in the third movement, a Minuet constructed as a canon in which the voices follow each other at a fixed distance.
The finale unfolds as a theme and variations, building from a C-minor melody first voiced by the oboes and bassoons. The coda finally settles on C major, but it hardly softens the intense effect of this unflinching Serenade.
Nina Šenk
da kehrte die Ruhe ein (2020; U.S. premiere)

Approximate duration: 7 minutes
As an undergraduate music student in Ljubljana, Slovenia, the composer Nina Šenk won a major prize that allowed her to pursue post-graduate training abroad in Germany. A growing body of works for large and small ensembles have propelled Šenk even farther, including a commissioned work performed by the Berlin Philharmonic at the BBC Proms and participation in the New York Philharmonic Biennial, making her the most recognizable composer today representing her small homeland.
A commission from the Slovenian SiBRASS Association led Šenk to compose this brass trio in 2020, with a German title that translates as "and then came peace." A notable feature of the trio is its use of harmon mutes for all three instruments, bringing new sonic range to a device mostly associated with trumpets and trombones in jazz bands. A hollow stem runs through the mute, allowing the player to cover the hole and make a "wah-wah" sound—an effect that Šenk uses to create constant shadings and subtleties within long, sustained tones.
Joseph Boulogne
Symphony No. 1 in G major, Op. 11 (1779)

Approximate duration: 15 minutes
Joseph Bolougne, Chevalier de Saint-Georges, was a champion fencer before his 20th birthday. He was also a renowned boxer, dancer and marksman, but his real love was music, and his prowess with the violin allowed him to become the leader of a powerhouse orchestra in Paris and a personal instructor to Marie Antoinette. She nominated him to become music director of the Paris Opera in 1776, but the prejudices he had transcended up to that point finally proved to be too strong: the prima donnas at the opera refused to sing for a mixed-race maestro.
The Chevalier's French father owned sugar plantations on the Caribbean island of Guadeloupe, and the son that he raised as his own was conceived with one of his African slaves. Throughout his life, Boulogne defied what should have been possible for a person of African descent under France's Code Noir, and his determination to become an opera composer proved to be another hurdle that he cleared with gusto, with three comic operas appearing between 1776 and 1780. In 1799, the year of the Chevalier's death, a publisher profited off the composer's popularity by printing the overture to one of those operas as the second of two symphonies. The source of the First Symphony in G major is unknown, and in fact a leading music encyclopedia doubts that it was actually the work of Boulogne.
Whoever wrote this G-major Symphony, it is a splendid example of the genre at a time of rapid transformation. The Italian term for an opera overture was sinfonia, and the typical practice was to preface an opera with instrumental music in three sections, organized fast-slow-fast. In the 1760s Haydn was at the forefront of expanding that theatrical sinfonia into the Symphony as we know it today, inserting a minuet to make a four-movement form, but the three-movement Symphony remained a viable alternative for decades.
This Symphony's first movement uses the expected sonata form with distinctive themes in two contrasting keys. The Andante is tuneful and operatic, and the triplet meter of the finale imparts a lively, dancing quality, stacking this Symphony with everything it would need to delight concertgoers in Paris and beyond.
Richard Wagner
Siegfried Idyll, WWV 103 (1870)

Approximate duration: 17 minutes
The great love of Richard Wagner's life was Cosima, the illegitimate daughter of Franz Liszt and his longtime mistress. She was 24 years younger than Wagner, and they were both married to others when they met, but still they consummated their infatuation in 1864, and she gave birth to Wagner's daughter Isolde the next year. Cosima spent long periods at Wagner's house at Tribschen, overlooking Lake Lucerne in Switzerland, and they had three children together by the time her divorce went through in 1870, allowing them to marry a month later.
Wagner capped that momentous year with an extraordinary birthday present for his 33-year-old bride. On Christmas morning (she was actually born on the 24th, but she celebrated her birthday a day later), he woke up Cosima with the sounds of a 15-piece chamber orchestra piled onto the staircase outside her bedroom. She described the experience in her diary:
When I woke up I heard a sound, it grew ever louder, I could no longer imagine myself in a dream, music was sounding, and what music! After it had died away Richard came in with the five children and put into my hands the score of his Symphonic Birthday Greeting. I was in tears, but so, too, was the whole household; Richard had set up an orchestra on the stairs and thus consecrated our Tribschen forever! The Tribschen Idyll—thus the work is called!
The title Wagner inscribed on the original score was Tribschen Idyll with Fidi-Birdsong and Orange Sunrise, presented as a symphonic birthday greeting to his Cosima by her Richard. "Fidi-Birdsong and Orange Sunrise" were references to the sights and sounds Wagner remembered from the early morning birth of their son Siegfried, nicknamed Fidi. The familiar title Siegfried Idyll came later, when the cash-strapped Wagner offered this private memento for publication.
The opening melody of the Siegfried Idyll comes from a sketch Wagner made in 1864, not long after he began his affair with Cosima. The same theme appears in Act III of Siegfried, sung by Brünnhilde to the words, "Eternal I was, eternal I am, eternal in sweet, Yearning bliss, yet eternal for your sake!" The Idyll also incorporates a traditional lullaby, Schlafe, Kindchen, schlaf, which Wagner transcribed in 1868. Most of the work retains a sweet, dreamy quality; it makes only one powerful surge, with triumphant music fashioned after a leitmotif associated with the title character in the opera Siegfried. (For the premiere, family friend and conductor Hans Richter taught himself to play trumpet just for that 13-measure passage.) A gentle version of the same Siegfried motive brings this magical Idyll to a hushed conclusion.
Edgard Varèse
Octandre (1923)

Approximate duration: 8 minutes
Edgard Varèse was an innovative composer whose small body of music—only 12 complete works—shaped the future of music on both sides of the Atlantic Ocean. He studied in his native Paris until 1907, and then he relocated to Berlin for six years, where he came into contact with Strauss and Schoenberg. After a brief return to Paris, he moved on to New York in 1915 and based himself there for his remaining 50 years.
Octandre, for a chamber ensemble of eight players, is one of Varèse's early compositions, composed long before the advent of electronic music that brought him widespread fame for how he incorporated recordings of everyday sound. His title came from the botanical term for a flower with eight separate stamens, and his musical approach likewise emphasized the individuality of the ensemble members by including many featured solo parts within the spare textures, like the unsettled oboe line that begins the work, the tapping flute solo that starts the , and the exchange of phrases between the contrabass and bassoon at the opening of the third movement. In such a bare sound world, the use of all eight players together transmits surprising power, especially when led by the piercing muted trumpet.
-- © 2021 Aaron Grad
Aaron Grad is a composer, guitarist and writer based in Seattle. Besides providing program notes for the New World Symphony, he has been the Orpheus Chamber Orchestra's program annotator since 2005 and also contributes notes to the Saint Paul Chamber Orchestra and Seattle Symphony.
Matthias Pintscher, conductor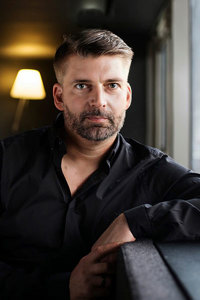 Matthias Pintscher is the Music Director of the Ensemble intercontemporain in Paris. In the 2020-21 season, he began a three-season appointment as the Cincinnati Symphony's new Creative Partner. Known equally as one of today's foremost composers, his works are frequently commissioned and performed by major international orchestras.
Mr. Pintscher opened his 2021-22 season as the "Theme Composer" of Suntory Hall's 2021 festival, including the world premiere of his work neharot, which he conducted with the Tokyo Symphony. In January 2022, his violin concerto written for Leila Josefowicz, Assonanza II, was be premiered by the Cincinnati Symphony under Mr. Pintscher's baton. This season he makes debuts with the Pittsburgh Symphony, Staatskapelle Dresden, Lahti Symphony and Musikkollegium Winterthur. He returns to the Houston Symphony, Indianapolis Symphony, Orchestre de la Suisse Romande, Barcelona Symphony, Orchestre Philharmonique de Radio France, Netherlands Radio Philharmonic Orchestra at the Holland Festival, Academy of the Berlin Philharmonic and the Boulez Ensemble. In recent seasons, Mr. Pintscher has begun to conduct staged operas, and in the 2021-22 will return to the Staatsoper Unter den Linden in Berlin to lead Lohengrin, for which he gave the production's premiere the prior season.
Mr. Pintscher has held many titled positions, most recently as the BBC Scottish Symphony's Artist-in-Association for nine seasons. During the 2018-19 season, he served as the Season Creative Chair for the Tonhalle-Orchester Zürich, as well as Artist-in-Residence at the Los Angeles Chamber Orchestra. He was Principal Conductor of the Lucerne Festival Academy Orchestra from 2016-2018.
Mr. Pintscher began his musical training in conducting, studying with Pierre Boulez and Peter Eötvös in his early 20s, during which time composing soon took a more prominent role in his life. Mr. Pintscher's music is championed by some of today's finest performing artists, orchestras and conductors. His works have been performed by such orchestras as the Boston Symphony, Chicago Symphony, Cleveland Orchestra, New York Philharmonic, Philadelphia Orchestra, Berlin Philharmonic, London Symphony Orchestra, Royal Concertgebouw Orchestra and the Orchestre de Paris, among many others. He is published exclusively by Bärenreiter. Mr. Pintscher has been on the composition faculty of the Juilliard School since 2014.
Chad Goodman, conductor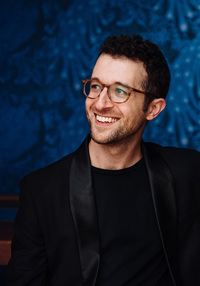 With a flair for inventive programming and a bold presence on stage and in the community, Chad Goodman has been praised for "bringing innovation to classical music" (Forbes).
As the Conducting Fellow of the New World Symphony, Mr. Goodman conducts on subscription, education, family and holiday programs. His program, "SPARK: How Composers Find Inspiration," blended captivating light design and videography with engaging audience participation to explore how a composition is created and brought to life by an orchestra.
Since 2018 Mr. Goodman has served as an Assistant Conductor to the San Francisco Symphony, assisting Esa-Pekka Salonen, Manfred Honeck, Daniel Harding, Pablo Heras-Casado, Simone Young and James Gaffigan among others.
Mr. Goodman's 2022-23 Season will include debut appearances with the Elgin Symphony, Baton Rouge Symphony, Greensboro Symphony and San Francisco Chamber Orchestra.
As Founder and Artistic Director of Elevate Ensemble, Mr. Goodman's ambitious vision for concert programming resulted in the pairing of music from Bay Area composers with underappreciated gems of the 20th and 21st centuries. Under his leadership, Elevate Ensemble established a Composer-in-Residence program and commissioned fifteen works from Bay Area composers. Elevate collaborated with photographers, videographers, poets and culinary artists, bringing new music and vibrant multi-genre experiences to unique venues such as yoga studios, historic Victorian homes and art studio warehouses.
Mr. Goodman has previously served as Conducting Fellow of Festival Napa Valley, Music Director of the Contra Costa Chamber Orchestra, Conducting Fellow of the Atlantic Music Festival, and a rehearsal and cover conductor for the San Francisco Ballet.
In addition to his performing career, he teaches young musicians the business and entrepreneurial skills needed to successfully navigate the world as a working musician in his workshop "You Earned a Music Degree. Now What?"
Mr. Goodman holds a bachelor of music degree from the Eastman School of Music and a master of music degree from San Francisco State University. His mentors include Michael Tilson Thomas, Alasdair Neale, Cyrus Ginwala and Martin Seggelke.
Robert Spano, conductor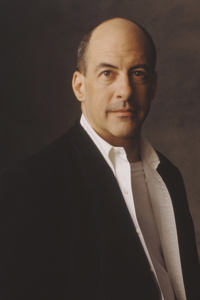 Robert Spano—conductor, pianist, composer and teacher—is known worldwide for the intensity of his artistry and distinctive communicative abilities, creating a sense of inclusion and warmth among musicians and audiences that is unique among American orchestras. After 20 seasons as Music Director, he will continue his association with the Atlanta Symphony Orchestra as Music Director Laureate. An avid mentor to rising artists, he is responsible for nurturing the careers of numerous celebrated composers, conductors and performers. As Music Director of the Aspen Music Festival and School since 2011, he oversees the programming of more than 300 events and educational programs for 630 students and young performers. Principal Guest Conductor of the Fort Worth Symphony Orchestra since 2019, Mr. Spano became Music Director Designate on April 1, 2021, and begins an initial three-year term as Music Director in August 2022. He will be the 10th Music Director in the orchestra's history, which was founded in 1912.           
For the 2021-22 season, Mr. Spano will continue with the Atlanta Symphony Orchestra (ASO), sharing the role of artistic advisor with Principal Guest Conductor Donald Runnicles, extending their unique 20-year musical partnership. To celebrate the return to live performances, Mr. Spano will launch the new season on September 9, 10 and 11, 2021, with an Opening Night program of Beethoven's iconic Fifth Symphony and "Emperor" Concerto with Avery Fisher Prize winner Garrick Ohlsson as soloist.         
In addition to his leadership of the ASO, Mr. Spano recently returned to his early love of composing. His most recent work is a song cycle on Rilke's Sonnets to Orpheus that he wrote for mezzo-soprano Kelley O'Connor. In 2016 he premiered his Sonata: Four Elements for piano at the Aspen Music Festival, and a song cycle, Hölderlin-Lieder, for soprano Jessica Rivera. Those works were recorded on the ASO Media label and praised by Oberon's Grove: "On this latest release, from ASO, we experience Spano as both an imaginative and evocative composer - with a special gift for writing for the voice - and a poetic pianist."            
The Atlanta School of Composers reflects Mr. Spano's commitment to American contemporary music. He has led ASO performances at Carnegie Hall, Lincoln Center and the Ravinia, Ojai and Savannah music festivals. Guest engagements have included the Cleveland, Philadelphia and Minnesota orchestras; New York and Los Angeles philharmonics; and the San Francisco, Boston, Chicago, Dallas, Houston, New World, San Diego, Oregon, Utah and Kansas City symphonies. Internationally, Mr. Spano has led the Orchestra Filarmonica della Scala, BBC Symphony, Amsterdam's Royal Concertgebouw Orchestra, Orquestra Sinfonica Brasileira, Orquestra Sinfonica Estado Sao Paulo, Wroclaw Philharmonic, the Melbourne and Sydney symphonies in Australia and the Saito Kinen Orchestra in Japan. His opera performances include Covent Garden, Welsh National Opera, Lyric Opera of Chicago, Houston Grand Opera, and the 2005 and 2009 Seattle Opera productions of Wagner's Ring cycles.   
With a discography of critically acclaimed recordings for Telarc, Deutsche Grammophon and ASO Media, Mr. Spano has garnered four Grammy Awards and eight nominations with the Atlanta Symphony. He is on faculty at Oberlin Conservatory and has received honorary doctorates from Bowling Green State University, Curtis Institute of Music, Emory University and Oberlin. Mr. Spano is one of two classical musicians inducted into the Georgia Music Hall of Fame and makes his home in Atlanta and Fort Worth.