Events & Tickets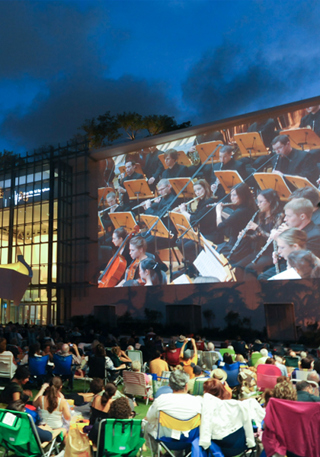 WALLCAST® Concert
WALLCAST® CONCERT: CONCERTO SHOWCASE
SoundScape Park
Saturday, January 26 at 7:30 PM
Program
In a popular all-concerto program—a staple of NWS—select Fellows take the coveted spotlight as winners of this season's concerto competition, an intense contest where Fellows compete head-to-head, armed with their favorite solo work. This year's winners perform show-stopping works from the 20th century, including ultra-Romantic concertos for horn and cello, a virtuosic tour de force for trumpet, and a fiery piano feature by Cosmé McMoon—famed accompanist of Florence Foster Jenkins. Join former Assistant Conductor of the New York Philharmonic and NWS alumnus Joshua Gersen as we celebrate the immeasurable talent and accomplishments of young musicians who call the New World Symphony home.
This concert is sponsored in part by Chanin and Adam Carlin, Mary and Howard S. Frank, Rose Ellen Greene, Susan D. Kronick and Edward Manno Shumsky, William Strong, and Michael Tilson Thomas and Joshua Robison.
Mr. Mariscal will perform on a cello by Francesco Rugieri, Cremona c. 1690 on generous loan from Florian Leonhard Fine Violins, London-New York.
WALLCAST® concerts are free. No tickets required. Document your WALLCAST® concert experience using #WALLCAST and #CitiMiami on social media!
WALLCAST® Concert Club: Click here to learn about the free WALLCAST® Concert Club. Join today!
Mobile Program: Text WALLCAST to 91011 and receive a link to the mobile program.
Citi Pre-Concert Chat: Join NWS Fellows for a free Pre-Concert Chat in SoundScape Park! These half-hour chats begin one hour prior to the performance. 
Restrooms: There are always restrooms available in the south-east corner of SoundScape Park. Restrooms inside the New World Center will be open to WALLCAST® Concert Club members at the beginning of the second half of the concert until 10 minutes before the end of the performance.
What's a WALLCAST® concert? Click here to get a taste of the WALLCAST® concert experience!
Program
Cosmé McMoon
(1901-1980)
Approx. Duration: 19 minutes

Rondo espagnol for Piano and Orchestra (1948)

Allegro
Andante con moto
Allegro primo
Richard Strauss
(1864-1949)
Approx. Duration: 20 minutes

Concerto No. 2 in E-flat major for Horn and Orchestra, TrV 283 (1942)

Allegro
Andante con moto
Rondo: Allegro molto
André Jolivet
(1905-1974)
Approx. Duration: 10 minutes

Concertino for Trumpet, Piano and Strings (1948)

Aram Khachaturian
(1903-1978)
Approx. Duration: 25 minutes

Concerto-Rhapsody in D minor for Cello and Orchestra (1963)

Cosmé McMoon
Rondo espagnol for Piano and Orchestra (1948)

Approximate duration: 19 minutes
The high-water mark of Cosmé McMoon's career as a concert pianist came in 1944, when he accompanied a sold-out vocal recital in Carnegie Hall—performed by arguably the worst singer in history, Florence Foster Jenkins (the subject of a 2016 biopic starring Meryl Streep). Born in Mexico to a family of Irish heritage, the young Cosmé McMunn spent the latter part of his childhood in San Antonio, Texas, where he became serious about music. He moved to New York around 1920 and changed the spelling of his name to McMoon, which is how The New York Times cited him in 1936 when issuing a favorable review of his debut recital at Town Hall, with a program that featured two original compositions.
Jenkins died the month after her fabled Carnegie recital, and in her absence McMoon's career faded. He wrote this Rondo espagnol for piano and orchestra in 1948, but it was never performed before he died in 1980. In fact, the Youth Orchestras of San Antonio only gave the premiere performance in 2018 (with NWS's Thomas Steigerwald also at the keys), after McMoon's grandnephew found the sheet music moldering in the family's house.
With traces of Gershwin and Copland in the jazzed-up dance episodes, McMoon's Rondo puts a modern American sheen on the 19th-century tradition of the Spanish musical fantasy. The more lyrical passages take on some of Rachmaninoff's grandeur, and there are perhaps dashes of Debussy and Stravinsky in some of the bolder moments, which is all to say that it is hardly the sort of music that the elite tastemakers were going to get behind in 1948, right when "serious" composers were rushing toward the tools of the European avant-garde. Maybe it's a blessing in disguise that this music is getting its moment after a 70-year delay, with enough time having passed for us to appreciate this endeavor as the high-quality kitsch that it is.
Richard Strauss
Concerto No. 2 in E-flat major for Horn and Orchestra, TrV 283 (1942)

Approximate duration: 20 minutes
Richard Strauss' first musical idol was his father, Franz Strauss, the principal horn player in the Munich Court Orchestra and the conductor of his own amateur orchestra. Franz was a staunch traditionalist who revered Mozart, Haydn and Beethoven, and so Richard's first compositions embraced that Classical aesthetic. He also developed a special affection for his father's instrument, as seen in the First Horn Concerto from 1882-83 and an Andante for Horn and Piano, the remnant of an incomplete sonata from 1888.
Sixty years separated Richard Strauss' first and second concertos for horn, enough time for the musical terrain to spin 180 degrees and back again. After becoming obsessed with Liszt and Wagner in his 20s, Strauss abandoned his father's conservatism and became a progressive leader in his field; in his 30s he was redefining the tone poem and conducting major orchestras, while his 40s saw him ascend to the very top of the opera world, starting with Salome. Once younger composers took over the march into the future, Strauss turned back to the past with nostalgia and affection, a shift that culminated with the final opera he introduced as he neared the age of 80, Capriccio.
Strauss composed the Horn Concerto No. 2 in 1942 in the wake of Capriccio, and it shares that opera's reverence for the Classical style in all its balance and grace. Not unlike Beethoven's Fifth Piano Concerto, the horn enters with heroic, cadenza-like solos that prepare the glowing main theme. The way the leaping triplets become an integral part of the theme is pure Strauss, and the slippery modulations into unexpected harmonies also affirm tendencies he had been developing since his earliest tone poems.
The middle movement, reached without a pause, has a Mozartean streak in its pulsating lyricism, while the very fast finale recalls Haydn's hunt-inspired rondos, complete with the classic Haydn trick of starting softly and holding back the first big forte. A different take on the idea of leaping triplets counterbalances the first movement and unifies this post-Romantic Concerto in true Classical fashion.
André Jolivet
Concertino for Trumpet, Piano and Strings (1948)

Approximate duration: 10 minutes
André Jolivet, the son of a painter and a pianist, took up cello and composing as a teenager. His earliest influences were Debussy and Ravel, and his tastes grew to include Schoenberg, whose music he first encountered in 1927 at a performance of Pierrot lunaire, and Varèse, with whom he studied for several years. In 1936 Jolivet founded the group La jeune France ("Young France") with Olivier Messiaen and two other emerging composers. Jolivet shared Messiaen's interest in spiritual exploration and emotional expression in music, and they both rejected the cool neoclassicism of Stravinsky and the French modernists known as "les Six."
Jolivet composed the Concertino for Trumpet, Piano and Strings in 1948, fulfilling a request from the director of the Paris Conservatory. This brief showpiece in a single movement, structured as a series of loose variations, packs a tremendous amount of virtuosity and color into 10 minutes. With a prominent piano part supporting the trumpet, this music touches simultaneously on American jazz trends and much older notions of concerto style dating back to the Baroque era. Sometimes the piano acts as a co-soloist, in the manner of a concerto grosso, while other times its supportive playing sounds quasi-improvisational, like a cross between a Baroque basso continuo and a jazz rhythm section.
Aram Khachaturian
Concerto-Rhapsody in D minor for Cello and Orchestra (1963)

Approximate duration: 25 minutes
Aram Khachaturian, born into a poor Armenian family in the Georgian city of Tbilisi, rose to become a leading Soviet composer and a cultural hero in his ancestral homeland. While attending college for biology in Moscow, Khachaturian took cello and composition lessons on the side, until he enrolled at the Moscow Conservatory at the relatively late age of 26. On the strength of his symphonies, concertos, film scores and ballets, Khachaturian joined the elite ranks of Shostakovich and Prokofiev—a risky place to be during the period of Stalin's cultural crackdown. A notorious decree in 1948 singled out those three most famous composers among others for indulging in "formalism" in their music, and in its wake Khachaturian retreated to the safety of conducting and teaching, such that his compositional output dropped off dramatically in the 1950s (his ballet Spartacus being one notable exception).
Khachaturian returned to orchestral music just three times in the late stage of his career, constructing freeform showpieces for violin, cello and piano, each titled Concerto-Rhapsody. The one for cello, composed in 1963 for Mstislav Rostropovich, demonstrates Khachaturian's structural freedom and inventive approach to folk-like materials, starting with an imposing orchestral introduction. The cello responds with a long solo cadenza on related themes; then, instead of a rigid boundary between the cadenza and the orchestra's re-entrance, the strings jump back in seamlessly to support the cello's continued exploration of its virtuosic figures. Within the episodic structure built in a single movement, all the expected aspects of concerto form appear—a lyrical slow section, a scherzo-like diversion, a rousing finale—but the elements dovetail fluidly, always united by themes that share essential traits drawn from folk music.
Mr. Mariscal will perform on a cello by Francesco Rugieri, Cremona c. 1690 on generous loan from Florian Leonhard Fine Violins, London-New York.
-- Copyright © 2019 Aaron Grad
Aaron Grad is a composer, guitarist and writer based in Seattle. Besides providing program notes for the New World Symphony, he has been the Orpheus Chamber Orchestra's program annotator since 2005 and also contributes notes to the Saint Paul Chamber Orchestra and Seattle Symphony.