Events & Tickets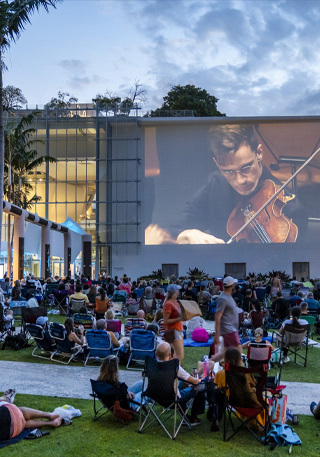 WALLCAST® Concert
WALLCAST® Concert: Denève: Prokofiev's Romeo + Juliet
SoundScape Park
Saturday, October 14, 2023 at 7:30 PM
Program
Romance is in the air! Artistic Director Stéphane Denève returns for an emotional concert that explores true love and poetry. Inspired by Shakespeare's star-crossed lovers, Sergei Prokofiev creates musical fireworks in his portrayal of Romeo and Juliet. Renowned Venezuelan pianist Gabriela Montero returns for what many consider the greatest piano concerto ever written: Rachmaninoff's momentous Second Concerto. James Lee III conjures the historic indigenous metropolis of Cahokia.
WALLCAST® concerts are free. No tickets required.
Document your WALLCAST® concert experience using #NWSWALLCAST on social media!
Mobile Program: Download NWS's free app for event information, program notes, musician profiles and more! Click here to download.
WALLCAST® Concert Club: Attend a WALLCAST Concert and check-in at the Concert Club table to win prizes and rewards.
Expanded Viewing Area: In addition to the New World Center's 7,000-square-foot projection wall, NWS's new Mobile Wall, a 23x13-foot projection wall with a state-of-the-art sound system, will extend the viewing areas in SoundScape Park during the WALLCAST® concert.
Restrooms: There are always restrooms available in the south-east corner of SoundScape Park. 
What's a WALLCAST® concert? Click here to get a taste of the WALLCAST® concert experience!
Live closed captions are available throughout this concert by visiting nws.edu/captions.
Program
James Lee III
(b. 1975)
Approx. Duration: 12 minutes

Visions of Cahokia (2022)

Cahokia's Dawn
Na Yimmi
Chukoshkomo
Michael Matamoros, projection design
Sergei Rachmaninoff
(1873-1943)
Approx. Duration: 32 minutes

Concerto No. 2 in C minor for Piano and Orchestra, Op. 18 (1901-02)

Moderato
Adagio sostenuto
Allegro scherzando
Sergei Prokofiev
(1891-1953)
Approx. Duration: 40 minutes

Suite from Romeo and Juliet  (1935-40)

Montagues and Capulets
Minuet
Juliet the Child
Masks
Montagues and Capulets
Romeo and Juliet
Friar Lawrence
Death of Tybalt
Romeo and Juliet's Tomb
Juliet's Death
James Lee III
Visions of Cahokia (2022)

Approximate duration: 12 minutes
James Lee III studied at the University of Michigan, where his teachers included Michael Daugherty, William Bolcom and Bright Sheng. After completing his doctoral studies in 2005, Lee joined the faculty of Morgan State University in Baltimore, a historically Black college with an exceptional music program. He wrote the following note about Visions of Cahokia, commissioned and premiered by the St. Louis Symphony conducted by Stéphane Denève.
Visions of Cahokia is inspired by the ancient city of Cahokia that was the largest and most influential urban settlement of the Mississippian culture. At one point, there were about 30,000 inhabitants, and the center of the city included a Grand Plaza of 50 acres. The city began around 600 A.D. and reached its peak around 1300 A.D. Various Mississippian tribes that settled in Cahokia included the Alabama, Apalachee, Chickasaw, Choctaw, Muscogee Creek, Missouria, Natchez, Osage, Seminole and Tunica-Biloxi.
I have structured this work in three movements, in which the second and third movements incorporate American Indian words as its title. The first movement, Cahokia's Dawn, is a brief depiction of various tribes' initial journey toward Cahokia. The second movement, Na Yimmi, is a Choctaw Indian word that means "faith." The calmness of most of the movement suggests an attitude of humility, sincerity and prayer among the worshippers. In the third movement, the word Chukoshkomo is a Chickasaw Indian word for play, game or frolic. The excitement and density of the music celebrates this Mississippian cultural community at the height of its existence before the mysterious decline and abandonment of the city.
— James Lee III
Sergei Rachmaninoff
Concerto No. 2 in C minor for Piano and Orchestra, Op. 18 (1901-02)

Approximate duration: 32 minutes
Following the disastrous premiere of his First Symphony in 1897, Rachmaninoff barely composed for three years. He finally sought help from the psychiatrist Nikolai Dahl in 1900, and after months of hypnotherapy he regained his confidence. Rachmaninoff started sketching the Second Piano Concerto that summer in Italy, and by December he had the second and third movements ready for a trial performance. After completing the first movement in 1901, Rachmaninoff dedicated the hard-earned Concerto to his therapist.
Rachmaninoff described this Concerto as "a symphony with a strain of piano solo." The first movement begins with the piano alone in a humble prelude, but as soon as the strings enter with their long-lined melody, the soloist recedes to a role of accompanist, coloring the lush statement with vivid arpeggios. After some exploratory exchanges, the piano returns to the foreground to introduce a wistful new theme. Lyricism predominates in this elegant first movement, and it persists in the Adagio sostenuto movement that follows. Once again there is an introduction, this time commencing in C minor (the previous movement's final chord) and progressing to the new key of E major. The piano enters with the movement's characteristic undulating rhythm, music that has its roots in a Romance that Rachmaninoff composed in 1890 for three daughters in a family of distant relatives. Playing triplets grouped into sets of four, the piano seems to float in its own tempo while the orchestra elaborates a haunting theme.
The Allegro scherzando finale breaks the spell with a playful orchestral lead-in and piano cadenza, again starting with the final chord of the preceding movement and modulating to the movement's home key. Even in this high-energy movement, a lyrical theme steals the spotlight. Rachmaninoff, it should be noted, was not the only person to profit from the immortal melodies in this Concerto; material from the second movement appears in Eric Carmen's 1975 song "All by Myself," while Frank Sinatra had one his earliest hits with his 1945 recording of "Full Moon and Empty Arms," an adaptation of the finale's lyrical secondary theme.
Sergei Prokofiev
Suite from 

Romeo and Juliet

 

(1935-40)


Approximate duration: 40 minutes

Sergei Prokofiev abandoned his homeland and his burgeoning career when he fled Russia in the wake of the October Revolution of 1917. After unsatisfying stints in the United States and France, he made the momentous decision in 1936 to resettle permanently in Moscow, and a major factor in that move was Romeo and Juliet. He had agreed in 1934 to create his first full-length ballet, and he worked with a stage director to devise a scenario based on Shakespeare's tragedy. The original agreement with the Kirov Theater in Leningrad fell apart, and the ballet fizzled again after the Bolshoi Theater in Moscow took over the project, leaving Prokofiev with a score that only reached the stage in 1940. During the wait, he extracted highlights into three orchestral suites for concert performances. This performance weaves together scenes from all three suites.

In the first part of Montagues and Capulets, the embattled clans introduce themselves in a bellicose march. The Minuet sets the scene for guests arriving at an opulent ball, while Juliet the Child captures our heroine's excitement as she gets ready for the festivities. The party is in full swing in the next section, Masks.

Another portion of Montagues and Capulets prefaces the section titled Romeo & Juliet, featuring music from the scene in which Romeo spies Juliet on her balcony (which in the ballet progresses to a romantic dance together). The sweet and gentle music of Friar Laurence comes from the ballet's second act, when Romeo approaches the kindly friar and confesses his love for Juliet. Death of Tybalt concludes the first suite with some of the ballet's most lively and harrowing music. Romeo at Juliet's Tomb intones a bitter melody over a funereal pulse, and Juliet's Death brings the entire tragedy to rest.

– © 2023 Aaron Grad

Aaron Grad is a composer and writer based in Seattle. In addition to providing program notes for the New World Symphony, Orpheus Chamber Orchestra, Baltimore Symphony Orchestra and others, he is also the artistic director of Many Messiahs, a project that reframes George Frideric Handel's masterpiece as a collective call for justice.
Program
Visions of Cahokia (2022)
Cahokia's Dawn
Na Yimmi
Chukoshkomo
Michael Matamoros, diseño de proyección
Sergei Rachmaninoff
(1873-1943)


Concierto No. 2 en Do menor para Piano y Orquesta, Op. 18 (1901-02)
Moderato
Adagio sostenuto
Allegro scherzando
Sergei Prokofiev
(1891-1953)


Suite de Romeo and Juliet (1935-40)
Montagues y Capulets
Minuet
La joven Julieta
Máscaras
Montagues y Capulets
Romeo y Juliet
Fraile Lorenzo
La muerte de Tebaldo
La tumba de Romeo y Julieta
La muerte de Julieta
James Lee III
Visions of Cahokia
 

(2022)


Duración aproximada: 12 minutos

James Lee III estudió en la Universidad de Michigan, donde tomó clases con Michael Daugherty, William Bolcom y Bright Sheng. Después de terminar su doctorado en 2005, Lee se unió al profesorado de la Morgan State University en Baltimore, un colegio históricamente afroamericano con un excepcional programa de música. Él escribió la siguiente nota sobre Visions of Cahokia, comisionada y estrenada por la Sinfónica de St.Louis dirigida por Stéphane Denève.

Visions of Cahokia está inspirada en la ciudad antigua de Cahokia, el mayor y más influyente asentamiento urbano y cultural del Misisipi. En un momento, existieron alrededor de 30,000 habitantes, y el centro de la ciudad incluía una Gran Plaza de 50 acres. La ciudad comenzó sobre los 600 d.C. y alcanzó su mejor momento alrededor de los 1300 d.C. Entre las tribus del Misisipi que se asentaron en Cahokia se encuentran los Alabama, Apalachee, Chickasaw, Choctaw, Muscogee Creek, Missouria, Natchez, Osage, Seminole y Tunica-Biloxi.

He estructurado esta obra en tres movimientos, de los cuales el segundo y el tercero incorporan palabras indígenas americanas en sus títulos. El primer movimiento, Cahokia's Dawn (Amanecer en Cahokia) es una breve representación del viaje de algunas tribus hacia Cahokia. El segundo movimiento, Na Yimmi es una palabra de la tribu Choctaw que significa "fe". La calma del movimiento sugiere una actitud de humildad, sinceridad y plegaria entre los devotos. En el tercer movimiento, la palabra   Chukoshkomo, perteneciente a la tribu Chickasaw, significa juego o jolgorio. La alegría y densidad de la música celebra esta comunidad cultural del Misisipi en la cumbre de su existencia, antes de su misterioso deterioro y abandono de la ciudad.

              — James Lee III
Sergei Rachmaninoff
Concierto No. 2 en Do menor para Piano y Orquesta, Op. 18 (1901-02)

Duración aproximada: 32 minutos
Después del desastroso estreno de su Primera Sinfonía en 1897, Rachmaninoff apenas compuso durante tres años. Finalmente pidió ayuda al psiquiatra Nikolai Dahl en 1900, y tras meses de hipnoterapia recuperó la confianza en sí mismo. Rachmaninoff comenzó a esbozar su Segundo Concierto para Piano ese verano en Italia, y para diciembre ya tenía el segundo y tercer movimientos listos para una presentación de prueba. Luego de terminar el primer movimiento en 1901, Rachmaninoff le dedicó su bien merecido concierto a su terapeuta.
Rachmaninoff describe su Concierto como "una sinfonía con acordes de piano solo". El primer movimiento comienza con una evocadora declaración del piano, pero en cuanto aparecen las cuerdas con su larga línea melódica, el solista se reduce al rol de acompañante, con brillantes y coloridos arpegios. Después de varios intercambios, el piano recupera el primer plano para introducir un nostálgico tema. El lirismo predomina en este elegante primer movimiento, y continúa en el movimiento Adagio sostenuto que le sigue. Una vez más hay una introducción, comenzando ahora en Do menor (el último acorde del movimiento anterior) y progresando a la nueva tonalidad de Mi mayor. El piano entra con el ritmo ondulante característico del movimiento, una música que proviene de un Romance que Rachmaninoff compuso en 1890 para tres hijas de una familia de parientes lejanos. Al interpretar tresillos agrupados en conjuntos de cuatro, el piano parece flotar en su propio tempo mientras la orquesta elabora el inquietante tema.
El finale Allegro scherzando rompe el hechizo con una graciosa introducción de la orquesta y una cadenza del piano, una vez más comenzando con el último acorde del movimiento anterior y modulando a la tonalidad principal del movimiento.  Aún en este movimiento de gran energía, un tema lírico se roba la atención. Debería mencionarse que Rachmaninoff no fue la única persona en beneficiarse de las inmortales melodías de este Concierto, material del segundo movimiento aparece en la canción de Eric Carmen de 1975 "All by Myself", mientras Frank Sinatra alcanzó uno de sus primeros éxitos con su grabación en 1945 de "Full Moon and Empty Arms", una adaptación del lírico segundo tema del finale.
Sergei Prokofiev
Suite de Romeo and Juliet
 

(1935-40)


Duración aproximada: 40 minutos

Sergei Prokofiev abandonó su tierra natal y su floreciente carrera cuando huyó de Rusia tras la Revolución de Octubre de 1917. Después de temporadas poco fructíferas en los Estados Unidos y Francia, en 1936 tomó la importante decisión  de reubicarse permanentemente en Moscú, y un gran factor en esa decisión fue Romeo y Julieta. Él se había comprometido en 1934 a crear su primer ballet completo, y trabajó con un director de escena para concebir un libreto basado en la tragedia de Shakespeare. El acuerdo original con el Teatro Kirov en Leningrado se desmoronó,  y el ballet resurgió una vez más luego de que el Teatro Bolshoi en Moscú acogiera el proyecto, dejando a Prokofiev con una partitura que no alcanzó los escenarios hasta 1940. Durante la espera, él utilizó extractos de la obra en tres suites orquestales para presentaciones en concierto. Esta presentación entrelaza escenas de las tres suites.

 En la primera parte,  Montagues and Capulets (Montescos y Capuletos), los clanes rivales son presentados con una belicosa marcha.  El Minuet prepara la escena para que los invitados arriben a un opulento baile,mientras La joven Julieta captura la emoción de la heroína mientras se alista para las festividades. La fiesta está en pleno apogeo en la siguiente sección, Máscaras.

Otra parte de Montescos y Capuletos precede la sección titulada Romeo & Julieta, la cual contiene música de la escena en que Romeo espía a Julieta en su balcón (a la cual en el ballet le sigue una danza romántica juntos). La dulce y suave música de Fraile Lorenzo proviene del segundo acto del ballet, cuando Romeo se acerca al amable fraile y le confesa su amor por Julieta. La muerte de Tebaldo concluye la primera suite con la música más animada y desgarradora del ballet. La tumba de Romeo y Julieta entona una amarga melodía sobre un pulso funeral, y La muerte de Julieta cierra la tragedia.

– © 2023 Aaron Grad

Aaron Grad es un compositor y escritor que reside en Seattle. Además de escribir las notas al programa para la New World Symphony, Orpheus Chamber Orchestra, Baltimore Symphony Orchestra, entre otras, también se desempeña como director artístico  de Many Messiahs, un proyecto que reenmarca la obra maestra de George Frideric Handel como un llamado colectivo a la justicia.
Stéphane Denève, conductor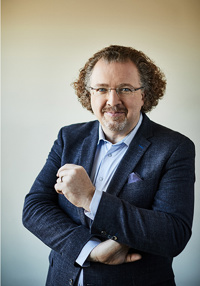 Stéphane Denève is Artistic Director of the New World Symphony, Music Director of the St. Louis Symphony Orchestra and will also be Principal Guest Conductor of the Netherlands Radio Philharmonic from 2023. He recently concluded terms as Principal Guest Conductor of The Philadelphia Orchestra and Chief Conductor of the Brussels Philharmonic, and previously served as Chief Conductor of Stuttgart Radio Symphony Orchestra (SWR) and Music Director of the Royal Scottish National Orchestra.
Recognized internationally for the exceptional quality of his performances and programming, Stéphane Denève regularly appears at major concert venues with the world's greatest orchestras and soloists. He has a special affinity for the music of his native France and is a passionate advocate for music of the 21st century.
Stéphane Denève's recent and upcoming engagements include appearances with the Royal Concertgebouw Orchestra, NHK Symphony Orchestra, Orchestra Sinfonica dell'Accademia Nazionale di Santa Cecilia, Bavarian Radio Symphony Orchestra, Royal Stockholm Philharmonic Orchestra (with whom he conducted the 2020 Nobel Prize concert), Orchestre National de France, Czech Philharmonic, NDR Elbphilharmonie Orchestra, Vienna Symphony, DSO Berlin, Orchestre Philharmonique de Radio France, and Rotterdam Philharmonic.
In North America, Stéphane Denève made his Carnegie Hall debut with the Boston Symphony Orchestra, with whom he has appeared several times both in Boston and at Tanglewood, and he regularly conducts the New York Philharmonic, The Philadelphia Orchestra, The Cleveland Orchestra, Los Angeles Philharmonic, San Francisco Symphony, New World Symphony and Toronto Symphony. In 2022 Denève was the conductor for John Williams' official 90th Birthday Gala with NSO Washington; he is also a popular guest at many of the U.S. summer music festivals, including the Hollywood Bowl, Bravo! Vail, Saratoga Performing Arts Center, Blossom Music Festival, Festival Napa Valley, Grand Teton Music Festival and Music Academy of the West.
Stéphane Denève frequently performs with many of the world's leading solo artists, including Leif Ove Andsnes, Emanuel Ax, Joshua Bell, Nicola Benedetti, Yefim Bronfman, Renaud and Gautier Capuçon, James Ehnes, Kirill Gerstein, Hélène Grimaud, Augustin Hadelich, Hilary Hahn, Sheku Kanneh-Mason, Leonidas Kavakos, Lang Lang, Olivier Latry, Paul Lewis, Nikolai Lugansky, Yo-Yo Ma, Anne-Sophie Mutter, Kelly O'Connor, Víkingur Ólafsson, Stéphanie d'Oustrac, Gil Shaham, Akiko Suwanai, Nikolaj Szeps-Znaider, Jean-Yves Thibaudet, and Frank Peter Zimmermann.  He also treasures the memory of Nicholas Angelich and Lars Vogt, two exceptional artists with whom he enjoyed a close musical friendship over many years.
In the field of opera, Stéphane Denève led a new production of Pelléas et Mélisande with the Royal Concertgebouw Orchestra and Netherlands Opera at the 2019 Holland Festival. Elsewhere, he has led productions at the Royal Opera House Covent Garden, Opéra National de Paris, Glyndebourne Festival, Teatro alla Scala, Deutsche Oper Berlin, Saito Kinen Festival, Gran Teatro del Liceu, La Monnaie and Deutsche Oper am Rhein.
As a recording artist, Stéphane Denève has won critical acclaim for his recordings of the works of Poulenc, Debussy, Ravel, Roussel, Franck and Connesson. He is a triple winner of the Diapason d'Or of the Year, has been shortlisted for Gramophone's Artist of the Year Award, and has won the prize for symphonic music at the International Classical Music Awards. His most recent releases include a live recording of Honegger's Jeanne d'arc au bûcher with the Royal Concertgebouw Orchestra, and two discs of the works of Guillaume Connesson with the Brussels Philharmonic (the first of which was awarded the Diapason d'Or de l'année, Caecilia Award, and Classica Magazine's CHOC of the Year). A box-set of his complete Ravel recordings with Stuttgart Radio Symphony Orchestra was released in 2022 by Hänssler Classic.
A graduate and prize-winner of the Paris Conservatoire, Stéphane Denève worked closely in his early career with Sir Georg Solti, Georges Prêtre and Seiji Ozawa. A gifted communicator and educator, he is committed to inspiring the next generation of musicians and listeners and has worked regularly with young people in programs such as those of the New World Symphony, Tanglewood Music Center, Colburn School, European Union Youth Orchestra and Music Academy of the West.
Gabriela Montero, piano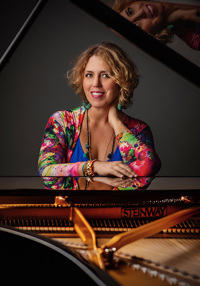 Gabriela Montero's visionary interpretations and unique compositional gifts have garnered her critical acclaim and a devoted following on the world stage. Anthony Tommasini remarked in The New York Times that "Montero's playing had everything: crackling rhythmic brio, subtle shadings, steely power…soulful lyricism…unsentimental expressivity."
Montero's 2023-24 season will feature performances of her own "Latin Concerto" on an extensive U.S. tour with Mexico City's Orquesta Sinfónica de Minería and Carlos Miguel Prieto, as well as with the New World Symphony (Stéphane Denève), Polish National Radio Symphony (Marin Alsop), Antwerp Symphony (Elim Chan) and National Arts Centre Orchestra (Alexander Shelley). In May 2024 Montero also makes her highly anticipated return to Los Angeles to work with the Los Angeles Chamber Orchestra and Jaime Martín.
Celebrated for her exceptional musicality and ability to improvise, Montero has performed with many of the world's leading orchestras and is a frequent recitalist and chamber musician. A graduate and Fellow of the Royal Academy of Music in London, Montero is an award-winning and bestselling recording artist, her most recent album, released in 2019 on the Orchid Classics label, features her own "Latin" Concerto and Ravel's Piano Concerto in G major, recorded with the Orchestra of the Americas in Frutillar, Chile. Her previous recording on Orchid Classics features Rachmaninov's Piano Concerto No. 2 and her first orchestral composition, Ex Patria, winning Montero her first Latin Grammy Award for Best Classical Album. Others include Bach and Beyond, which held the top spot on the Billboard Classical Charts for several months and garnered her two Echo Klassik Awards: the 2006 Keyboard Instrumentalist of the Year and 2007 Award for Classical Music without Borders. In 2008 she also received a Grammy Award nomination for her album Baroque, and in 2010 she released Solatino, a recording inspired by her Venezuelan homeland and devoted to works by Latin American composers.
Winner of the 4th International Beethoven Award, Montero is a committed advocate for human rights, whose voice regularly reaches beyond the concert hall. She was named an Honorary Consul by Amnesty International in 2015 and recognized with Outstanding Work in the Field of Human Rights by the Human Rights Foundation for her ongoing commitment to human rights advocacy in Venezuela. In January 2020 she was invited to give the Dean's Lecture at the Harvard Radcliffe Institute and has spoken and performed twice at the World Economic Forum in Davos. She was also awarded the 2012 Rockefeller Award for her contribution to the arts and was a featured performer at Barack Obama's 2008 Presidential Inauguration.
Born in Venezuela, Montero started her piano studies at age four, making her concerto debut at age eight in her hometown of Caracas. This led to a scholarship from the government to study privately in the U.S. and then at the Royal Academy of Music in London with Hamish Milne.