Events & Tickets
WALLCAST® Concert
WALLCAST® Concert: I Dream a World: Symphonic Persuasion
SoundScape Park
Saturday, February 4, 2023 at 7:30 PM
Program
Take a deep dive into the music that inspired, or was inspired by, the Jazz Age. Conductor William Eddins, one of NWS's very first Piano Fellows, returns to NWS to lead Fellows in music by Scott Joplin, Maurice Ravel and Samuel Coleridge-Taylor. These concerts will be hosted by Festival curator, Dr. Tammy Kernodle and feature soprano Louise Toppin.
This event is part of NWS's I Dream a World: The Harlem Renaissance in Europe festival. Click here for a full listing of festival events.  
I Dream a World: The Harlem Renaissance and Beyond is made possible with support from the NWS Collaborations Fund, the NWS Fund for New Ventures and the Keith and Renata Ward Family Fund. Knight Foundation and New World Symphony: Reimagining Classical Music in the Digital Age.
---------
WALLCAST® concerts are free. No tickets required.
Document your WALLCAST® concert experience using #NWSWALLCAST on social media!
Mobile Program: Download NWS's free app for event information, program notes, musician profiles and more! Click here to download.
WALLCAST® Concert Club: Click here to join for special perks, discounts and WALLCAST® concert reminders. 
Expanded Viewing Area: In addition to the New World Center's 7,000-square-foot projection wall, NWS's new Mobile Wall, a 23x13-foot projection wall with a state-of-the-art sound system, will extend the viewing areas in SoundScape Park during the WALLCAST® concert.
Restrooms: There are always restrooms available in the south-east corner of SoundScape Park. 
What's a WALLCAST® concert? Click here to get a taste of the WALLCAST® concert experience!
Program
Will Marion Cook
(1869-1944)
Arranged by James Lamb

Overture to In Dahomey (1902)

Traditional
(1888-1982)
Arranged by Camille Nickerson

"Gué, Gué, Solingaie" (1942)

Traditional
Arranged by Robert Nathaniel Dett

Louise Toppin
Wesley Ducote, NWS Piano Fellow
Amanda Aldridge
(1866-1956)

Samuel Coleridge-Taylor
(1875-1912)

Overture to The Song of Hiawatha, Op. 30 (1900)

Scott Joplin
(1868-1917)
Arranged by T.J. Anderson

Overture to Treemonisha (1911)

Maurice Ravel
(1875-1937)

Sonata No. 2 for Violin and Piano (1923-27)

Ayrton Pisco, NWS Violin Fellow
Noah Sonderling, NWS Piano Fellow
Harry T. Burleigh
(1866-1949)
Lyrics by Arthur Symons

James P. Johnson
(1894-1955)
Edited by Nicholas Hersh

Subway Journey
Song of Harlem
The Nightclub
Baptist Mission
SYMPHONIC PERSUASION
On the evening of Saturday, May 16, 1903, Will Marion Cook's In Dahomey, featuring George Walker and Bert William, opened at The Shaftesbury Theatre of London's West End. Earlier that day, The Daily News ran an interview with the composer. Among the topics discussed was London's thirst for "genuine negro compositions." To this, Cook spoke about the Afro-American desire to make themselves artistically seen and heard, and if that meant extending beyond the bounds of the United States, then so be it. "We are no longer content to live in New York," the composer revealed. "We are coming over to London, Paris, Berlin and Rome."
In Dahomey was a musical first—after its success at home, it went on a seven-month tour in England, including a Command Performance for King Edward VII on the occasion of the ninth birthday of Edward, Prince of Wales (the future Edward VIII). It would return to the United States, but the export of Black American art had begun.
You can hear folk and popular traditions in Cook's Dahomey, and the richness of that influence is deepened when other composers' musical inspirations are taken into account. It's as if every creator is contributing a tile to the grand quilt that is the story of Black Music in America.
Camille Nickerson, for example, returned time and again to the cultural fountain of her Louisiana Creole heritage and made it a cornerstone of her academic work. As a graduate student at Oberlin Conservatory, she published her master's thesis "Africo-Creole Songs of Louisiana." She collected dozens of songs through her research in Louisiana; it was a testament to her mission to preserve and transmit Creole sound. Equally important was not only her arrangements of those songs, but also passage to a wider audience. "Gue, Gue Solingaie" is one such song. It's a Creole lullaby, reminiscent of French art song, of soft a texture as the gossamer ambience of a humid summer evening. Here, the baby is lulled into a dreamland, full of talking tortoises, singing crocodiles and—surprise!—bobcats ready to pounce from the thickets. Like Nickerson, R. Nathaniel Dett is also representative of the composer who reached unabashedly into the seemingly endless bag of cultural folksong (in this case, Negro Spiritual) to apply knowledge learned in academies that taught Western Classical traditions.
Across the Atlantic, in London, Amanda Aldridge was born of a union that was itself multicultural. Her mother Amanda Brandt was Swedish; her father, the Black New York-born legendary Shakespearean actor Ira Aldridge. Amanda, the younger Aldridge daughter (not to be confused with her older sister, contralto Luranah) studied at the Royal College of Music with "Swedish Nightingale" Jenny Lind, but a bout of laryngitis ended her concert career. Instead, she turned to teaching and composition, writing under the pseudonym Montague Ring such pieces as Lazy Dance, a light orchestral work with a bit of a march flair in its step. After an intro that seems to tumble in from the rafters, that dotted eighth-sixteenth syncopation propels the music along, but it's in the trio that the swing takes on a characteristic of a drift, sans souci, along waters riverine.
Among Aldridge's close relationships in the United Kingdom was one with Samuel Coleridge-Taylor, whose Hiawatha's Wedding Feast received its premiere at the Royal Albert Hall in 1898. Coleridge-Taylor would soon write sequel cantatas to Wedding Feast, establishing The Song of Hiawatha as a trilogy. In addition, he would add an overture replete with sweeping drama and crashing symbols that melt into natural majesty of Longfellow's poem. Born in Britain, Coleridge-Taylor reached back to the United States for inspiration—Longfellow was the inspiration, and the Overture contains reference to "Nobody Knows the Trouble I've Seen." Hiawatha was so well received, in fact, that from 1927 to 1939 received an annual performance at Royal Albert.
Back in America, the famed ragtime composer Scott Joplin had ambitions of his own for the concert hall, or rather, the opera stage. Treemonisha was Joplin's dream project, a kind of morality tale that emphasized the triumph of reason and intellect over superstition. However, his popularity did not transfer to his operatic pursuits; Treemonisha was a departure from the ragtime for which he was known. Early attempts at a production were shambolic affairs; he died shortly after its failure. The world premiere did not arrive until 1971.
The exchange of musical cultural conventions runs deep at this time. In the 1920s French Composer Maurice Ravel indulged his admiration for Black American music—namely, the Blues. You can hear his approximation in the sliding pitches and nostalgic moans; the latter part of the movement is played with a pizzicato action that evokes the sound of the banjo, that most jet-setting of instruments. Compare this cross-reference to the sound of baritone and composer Harry T. Burleigh, whose tormented and anxious "The Grey Wolf" sets British writer Arthur Symons's poem of the same name. In turn, during Burleigh's time at the National Conservatory, the school's director Antonin Dvořak learned from the student a great deal about the "negro melodies" that fascinated him so.
But through all the back and forth across borders terrestrial and maritime, real and imagined, the New York City's Harlem (itself named for a city in the old-world Netherlands) retained its status as a global cultural center. James P. Johnson celebrated those magnificent blocks his Harlem Symphony. The piece begins in Harlem, with a sparkling fanfare heralding the magnificence of old Penn Station. We board the subway and hurtle north towards Harlem, with changing melodic figures and rhythms signaling passage through Jewish and Latin neighborhoods, the bustle of shopping on 125th street, the wide street of seventh avenue, and final arrival in the historically Black section of town. An oboe introduces the slow second movement, "Song of Harlem," an ode to the place that is at turns sensual, nostalgic and romantic. Later we visit a nightclub in the throes of its irresistible swing, with an energy that becomes increasingly harried and frenetic. Finally, the hedonism of a Saturday night is washed away on Sunday morning; at the Baptist Mission presents a series of variations on a plaintive hymn, spiritual in nature. Fittingly, he concludes his celebration of Harlem with a nod to "Go Down Moses," the orchestra straining in the final bars, "let my people go."
—James Bennett II
James Bennett is a full-time reporter and some-time critic who lives and works full-time in Boston and some-time in Brooklyn. Music and food are most important to him. At any given point in time, you can find him frantically catching up on bookclub reading, sacrificing to the zeitgeist, cataloging records, or thinking about the next time he'll eat pâté.
Program
Will Marion Cook
(1869-1944)
Arranged by James Lamb
Overture to In Dahomey (1902)
Traditional
(1888-1982)
Arranged by Camille Nickerson
"Gué, Gué, Solingaie" (1942)
Traditional
Arranged by Robert Nathaniel Dett
Louise Toppin
Wesley Ducote, NWS Piano Fellow
Amanda Aldridge
(1866-1956)
Samuel Coleridge-Taylor
(1875-1912)
Overture to The Song of Hiawatha, Op. 30 (1900)
Scott Joplin
(1868-1917)
Arranged by T.J. Anderson
Overture to Treemonisha (1911)
Sonata No. 2 for Violin and Piano (1923-27)
Ayrton Pisco, NWS Violin Fellow
Noah Sonderling, NWS Piano Fellow
Harry T. Burleigh
(1866-1949)
Lyrics by Arthur Symons
James P. Johnson
(1894-1955)
Edited by Nicholas Hersh
Subway Journey
Song of Harlem
The Nightclub
Baptist Mission
SYMPHONIC PERSUASION
En la noche del sábado 16 de mayo de 1903, In Dahomey de Will Marion Cook, con George Walker y Bert William, abrió al público en el Shaftesbury Theatre del West End de Londres. Más temprano ese mismo día, el periódico The Daily News publicó una entrevista con el compositor. Entre los temas discutidos estuvo la sed de Londres por "composiciones negras genuinas". A esto, Cook respondió hablando sobre el deseo afroamericano de hacerse ver y escuchar artísticamente, y si eso significaba expandirse más allá de las fronteras de los Estados Unidos, pues que así sea. "Ya no estamos contentos viviendo en Nueva York", reveló el compositor. "Nos vamos a Londres, París, Berlín y Roma."
In Dahomey fue una novedad musical: después de su éxito en casa, hizo una gira de siete meses por Inglaterra, incluyendo una actuación para el Rey Eduardo VII por la ocasión del noveno cumpleaños de Eduardo, Príncipe de Gales (el futuro Eduardo VIII). Regresaría a los Estados Unidos, pero la exportación del arte afroamericano había comenzado.
En el Dahomey de Cook podemos escuchar tradiciones folclóricas y populares, y la riqueza de esa influencia se hace más profunda cuando se tienen en cuenta las inspiraciones musicales de otros compositores. Es como si cada creador contribuyera con una pieza al gran edredón que es la Historia de la Música Negra en Estados Unidos.
Camille Nickerson, por ejemplo, volvió una y otra vez a la fuente cultural de su herencia creole de Luisiana, y la convirtió en el pilar de su trabajo académico. Como estudiante de maestría en el Oberlin Conservatory, publicó su tesis "Canciones Africo-Creole de Luisiana". Ella recopiló docenas de canciones durante su investigación en Luisiana, lo cual representó un testamento a su misión de preservar y transmitir el sonido creole. Igual de importante que sus arreglos de dichas canciones, fue también su paso a una audiencia más amplia. "Gue, Gue Solingaie" es una de esas canciones. Es una canción de cuna en creole, que nos recuerda a la canción clásica francesa,  de textura tan suave como las telarañas de una húmeda noche de verano. Aquí, el bebé es arrullado en una tierra de ensueño, llena de tortugas que hablan, cocodrilos que cantan y -¡sorpresa!- gatos monteses listos para saltar de los matorrales. Como Nickerson, R. Nathaniel Dett también es un compositor representativo de aquellos que buscaron imperturbablemente en la bolsa aparentemente sin final de canciones populares (en este caso, Negro Spiritual) para aplicar el conocimiento aprendido en academias que enseñaban tradiciones clásicas occidentales.
Al otro lado del Atlántico, en Londres, Amanda Aldridge nació de una unión multicultural. Su madre Amanda Brandt era sueca; su padre, el legendario actor de Shakespeare Ira Aldridge, afroamericano y nacido en Nueva York. Amanda, la hija más joven de los Aldridge (no debe ser confundida con su hermana mayor, la contralto Luranah), estudió en el Royal College of Music con Jenny Lind, a quien llamaban el "Ruiseñor Sueco", pero un episodio de laringitis terminó su carrera de concierto. En cambio, se dedicó a la docencia y la composición, escribiendo con el pseudónimo de Montague Ring tales piezas como "Danza Perezosa", una obra orquestal ligera con un toque de marcha en su paso. Después de una introducción que parece caerse de los travesaños, esa síncopa de corchea con puntillo semicorchea impulsa la música hacia delante, pero es en el trío que el swing adquiere una característica a la deriva, sans souci, a lo largo de las aguas ribereñas.
Entre los amigos cercanos de Aldridge en el Reino Unido se encontraba Samuel Coleridge-Taylor, cuya obra Hiawatha's Wedding Feast (El banquete de bodas de Hiawatha) fue estrenada en el Royal Albert Hall en 1898. Coleridge-Taylor pronto escribiría la continuación de las cantatas de Wedding Feast, estableciendo The Song of Hiawatha (La canción de Hiawatha) como una trilogía. Además, añadió una obertura repleta de drama y símbolos excepcionales que se desvanecen en la majestuosidad natural del poema de Longfellow. Nacido en Gran Bretaña, Coleridge-Taylor buscó inspiración en los Estados Unidos: Longfellow fue la inspiración y la obertura hace referencia a "Nobody knows the trouble I've seen". Hiawatha fue tan bien recibida que, de 1927 a 1939, fue presentada una vez al año en el Royal Albert Hall.
Mientras tanto, en Estados Unidos, el famoso compositor de ragtime Scott Joplin tenía sus propias ambiciones para la sala de conciertos, o más bien, los escenarios de ópera. Treemonisha fue el proyecto soñado de Joplin, una especie de historia moral que enfatizaba el triunfo de la razón y el intelecto sobre la superstición. Sin embargo, la popularidad de Joplin no se transfirió a sus intentos operísticos; Treemonisha constituyó un alejamiento del ragtime, el género que lo dio a conocer. Los primeros intentos a una producción fueron caóticos; y murió poco después de su fracaso. El estreno mundial no sucedió hasta 1971.
El intercambio de convenciones culturales y musicales era profundo en ese momento. En la década de 1920, el compositor francés Maurice Ravel demostró su admiración por la música afroamericana, específicamente, el blues. Se puede escuchar su acercamiento en las notas arrastradas y los gemidos nostálgicos; la última parte del movimiento se toca con articulación de pizzicato que evoca el sonido del banjo, el más lujoso de los instrumentos. Compare esta referencia con el sonido del barítono y compositor Harry T. Burleigh, cuyo ansioso y atormentado "The Grey Wolf" (El lobo gris), le pone música al poema del mismo nombre de Arthur Symons. En cambio, durante el período de Burleigh en el Conservatorio Nacional, el director de la escuela Antonin Dvorak aprendió mucho del estudiante sobre las "melodías de los negros" que tanto lo fascinaban.
Pero a través del ir y venir de las fronteras terrestres y marítimas, reales e imaginarias, el Harlem de Nueva York (llamado así por una ciudad en los Países Bajos) mantuvo su estatus como centro cultural global. James P. Johnson celebró esas gloriosas calles con su Harlem Symphony. La pieza comienza en Harlem, con una brillante fanfarria proclamando la magnificencia de la antigua Penn Station. Nos montamos en el metro y nos dirigimos hacia el norte a Harlem, con figuras melódicas y rítmicas cambiantes que señalan el paso por barrios latinos y judíos, el bullicio de las compras en la calle 125, la ancha séptima avenida, y el arribo final a la sección históricamente afroamericana de la ciudad. Un oboe introduce el segundo movimiento lento, "Song of Harlem" (Canción de Harlem), una oda al lugar que por momentos es sensual, nostálgico y romántico. Más tarde visitamos un club nocturno en medio de su irresistible swing, con una energía que se vuelve cada vez más tormentosa y frenética. Finalmente, el hedonismo de una noche de sábado se desvanece en la mañana del domingo; en Misión Bautista presenta una serie de variaciones sobre un himno lastimoso, de naturaleza espiritual. Oportunamente, concluye su celebración de Harlem con una alusión a "Go Down Moses", la orquesta presionando en los compases finales, "let my people go" (liberen a mi gente).
—James Bennett II
James Bennett II es un reportero a tiempo completo y crítico en ocasiones que vive y trabaja a tiempo completo en Boston y a veces en Brooklyn. La música y la comida son lo más importante para él. En cualquier momento, lo pueden encontrar frenéticamente poniéndose al día con la lectura de su club de libros, sacrificándose por el espíritu de la época, catalogando sus discos, o pensando sobre la próxima vez que comerá paté.
William Eddins, conductor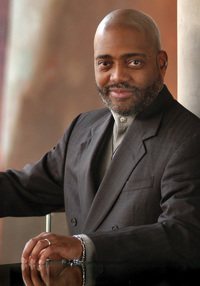 William Eddins is the Music Director Emeritus of the Edmonton Symphony and a frequent guest conductor of major orchestras throughout the world. His engagements have included the New York Philharmonic, St. Louis Symphony, Philadelphia Orchestra and the symphony orchestras of San Francisco, Boston, Minnesota, Cincinnati, Atlanta, Detroit, Dallas, Baltimore, Indianapolis, Milwaukee, Houston, as well as the Los Angeles and Buffalo philharmonics.
Internationally, Mr. Eddins was Principal Guest Conductor of the RTÉ National Symphony (Ireland). He also has conducted the Berlin Staatskapelle, Berlin Radio Orchestra, Welsh National Opera, Royal Scottish National Orchestra, Bergen Philharmonic, Adelaide Symphony, Barcelona Symphony and the Lisbon Metropolitan Orchestra.
Mr. Eddins' career highlights include taking the Edmonton Symphony Orchestras to Carnegie Hall in 2012, conducting RAI Orchestra Sinfonica Nazionale on Italian television and leading the Natal Philharmonic on tour in South Africa with soprano Renée Fleming. Equally at home with opera, he conducted a full production of Porgy and Bess with Opera de Lyon both in France and the Edinburgh Festival and a revival of the production during the summer of 2010.
Mr. Eddins is an accomplished pianist and chamber musician. He regularly conducts from the piano in works by Mozart, Beethoven, Gershwin and Ravel. He has released a compact disc recording on his own label that includes Beethoven's Hammer-Klavier Sonata and William Albright's The Nightmare Fantasy Rag.
Mr. Eddins has performed at the Ravinia Festival with both the Chicago Symphony and the Ravinia Festival Orchestra. He has also conducted the orchestras of the Aspen Music Festival, Hollywood Bowl, Chautauqua Festival, Boston University Tanglewood Institute and the Civic Orchestra of Chicago.
A native of Buffalo, Mr. Eddins attended the Eastman School of Music, studying with David Effron and graduating at age 18. He also studied conducting with Daniel Lewis at the University of Southern California and was a founding Fellow of the New World Symphony.
Tammy Kernodle, festival curator, musicologist and host
Dr. Tammy L. Kernodle is University Distinguished Professor in the Department of Music at Miami University (Ohio), who specializes in African American music (concert and popular) and gender studies in music.
Her scholarship explores the intersection of gender and racial identity, performance practice and musical genre. Her work has appeared in major peer-reviewed journals including American Studies, Musical Quarterly, Black Music Research Journal, The Journal of the Society of American Music (JSAM), American Music Research Journal, The U.S Catholic Historian, and the Journal of the American Musicological Society (JAMS). She also was a contributor to The African American Lectionary Project, the Smithsonian Anthology of Hip Hop and Rap and the Carnegie Hall Digital Timeline of African American Music. Her scholarship also appears in numerous anthologies and reference works including Women's Voices Across Musical Worlds, John Coltrane and Black America's Quest for Freedom: Spirituality and the Music, and The Cambridge Companion to Women in Music Since 1900.
Kernodle is the author of biography Soul on Soul: The Life and Music of Mary Lou Williams (new edition, University of Illinois Press, 2020) She also served as Associate Editor of the three-volume Encyclopedia of African American Music and as one of the Editors for the revision of the New Grove Encyclopedia of American Music.
Kernodle served as the Scholar in Residence for the Women in Jazz Initiative at the American Jazz Museum in Kansas City from 1999 until 2001. She has worked closely with a number of educational programs including the Kennedy Center's Mary Lou Williams Women in Jazz Festival, Jazz@Lincoln Center, NPR, Canadian Public Radio, the Rock 'n' Roll Hall of Fame, and the BBC.
From 2012-2016, Kernodle served as a scholarly consultant for the exhibits entitled "Musical Crossroads" at the National Museum of African American History and Culture. She appears in a number of award-winning documentaries including Mary Lou Williams: The Lady Who Swings the Band, Girls in the Band, Miles Davis: Birth of the Cool, and How It Feels to Be Free.
 In 2014, she received the Effective Educator Award from the Miami University Alumni Association and in 2018 was awarded the Benjamin Harrison Medallion. The Harrison Award is the highest award given to a Miami University faculty member in recognition of their research, teaching and service.  She is the immediate Past President of the Society for American Music.
Louise Toppin, soprano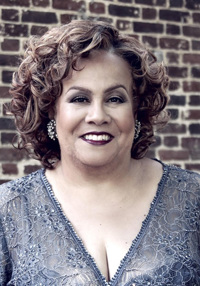 Louise Toppin has received critical acclaim for her operatic, orchestral, oratorio and recital performances worldwide.
Toppin has appeared in recital on many concert series including Carnegie Hall, Merkin Hall, Kennedy Center, and Lincoln Center. Orchestral appearances include: the Norrköping Symphony (Sweden), the Czech National Symphony, Mälmo Symphony Orchestra, (Sweden), Tokyo City Orchestra (Japan), The Montevideo Philharmonic (Uruguay), the Scotland Festival Orchestra (Aberdeen, Scotland), the Honolulu, Toledo, Akron, Canton, North Carolina, Charlotte, Lafayette, Manhattan Chamber, Experiential Chamber, Erie Chamber and Raleigh Chamber Symphony Orchestras, The Bach Aria Group, Phoenix Bach Consort, and the Washington D.C. Bach Consort with conductors such as: Murry Sidlin, Paul Freeman, Richard Aulden Clark, Justin Brown, James Meena, Vladmir Ashkenazy, and Gearhart Zimmerman.
Represented by Joanne Rile Artist Management, she toured in "Gershwin on Broadway" with pianist Leon Bates and currently tours with Joseph Joubert, piano and Robert Sims, baritone.   She has recorded more than nineteen compact disks of primarily American Music songs with piano and with orchestra including solo CDs Songs of Illumination, (Centaur Records), and on Albany Records Ah love, but a day (with John O'Brien) He'll Bring it to Pass, (Joseph Joubert, piano), Heart on the Wall with the Prague Radio Symphony and La Saison des fleurs with John Obrien.  Her newest release is Vol. I Songs of Love and Justice is the songs for soprano by Adolphus Hailstork with John O'Brien at the piano.  Due for release in 2023 are Summer.Life. Songs (songs by Adolphus Hailstork, Vol. 2); Duos (with countertenor Darryl Taylor; vocal chamber music) and The Soprano songs of T. J. Anderson. 
She edited and published 8 anthologies and collections of songs by African American composers with Classical Vocal Reprints in 2020-2021 including An Anthology of African and African Diaspora Songs, Rediscovering Margaret Bonds: Spiritual Suite for piano and Bonds Songs, five volumes of Songs by Adolphus Hailstork and an edition of Margaret Bonds's choral work "St. Francis' Prayer" for SATB with Hildegard Press in March 2021. She is currently collaborating on several other anthology and collection projects including new anthologies of Harry Burleigh, Undine Smith Moore and Margaret Bonds songs.
Her most recent performances include co-curating and hosting the Minnesota Orchestra concert of all African Diaspora compositions (10/6/22), co-curating and singing a festival in May 2021 of four concerts on Black Music in Hamburg, Germany with Thomas Hampson with Larry Brownlee, and Leah Hawkins, and in October 2021 appearing as soloist with the renowned Experiential Orchestra in New York City conducted by James Blachly, conductor, and a recital of the songs of Harry Burleigh on the Oxford Lieder Festival in Oxford, England.  The Oxford appearance marked the first appearance of African American Art Song on this prestigious festival.   Other performances include the 150th celebration of the ratification of the 13th amendment for Congress and President Obama at the U.S. Capitol; a performance in Havana, Cuba with the women's orchestra Camerata Romeu and the opening of the Smithsonian's African American Heritage Museum.  She currently tours in the "New Generation Project" with soprano Marquita Lister.  This project is a multi-cultural response to African American poetry.
Since 2010, she has been on the summer faculties of the Baltimore Summer Opera Workshop (Baltimore, MD), the Vocal Course for The National Conservatory (Bogota, Colombia), the Amalfi Coast Music Festival (Maiori, Italy), and the Accra Symphony Operatic Course (Accra, Ghana).
 As a scholar, she has lectured on the music of African American composers and has appeared on NPR's All Things Considered for many broadcasts; for many national conventions and on many college campuses including Harvard, Yale, Tufts, and Duke Universities.  As the co-founder and director of the George Shirley Vocal Competition that focuses exclusively on repertoire by African American art song, and Videmus (a non-profit organization that promotes the concert repertoire of African American and women composers), she encourages the performance and scholarship of African American compositions by students and scholars.  
Toppin studied with George Shirley, Phyllis Bryn Julson, Reri Grist, and was a fellow at the Britten Aldeburgh Festival studying with Joan Sutherland, Richard Bonynge, and Elly Ameling.  She also coached with Sylvia Olden Lee and Charlotte Holloman on a regular basis.
Toppin was the recipient of many teaching awards, including the North Carolina Board of Governor's Excellence in Teaching Award (the state's highest award). She is also a recipient of the National Opera Association Legacy Award and the African American Art Song Achievement Award.
She served on several boards including the appointments by four North Carolina Governors to the North Carolina Arts Council, NCAC Executive Board, and the African American Heritage Commission.  In addition to serving on the education committee for the Denyce Graves Foundation, she is on the boards of Opera Ebony and The Hampsong Foundation.  She is the co-founder and Director of the George Shirley Vocal Competition and Videmus (promoting African American music). She is also the founder/editor of the Africandiasporamusicproject.org that is a research tool to locate the repertoire of composers of the African Diaspora from the 1600s to the present.
Previously, Dr. Toppin was the Distinguished University Professor of Music and Chair of the Department of Music at the University of North Carolina, Chapel Hill.  She is currently Professor of Music (Voice) at The University of Michigan.