Events & Tickets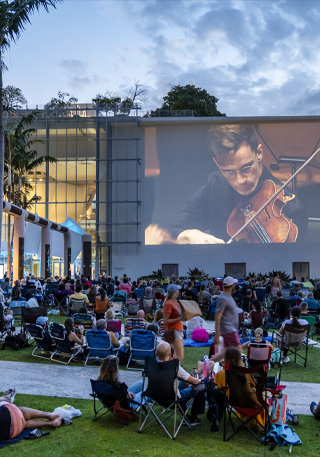 WALLCAST® Concert
WALLCAST® Concert: I Dream a World: The Soundworld of Mary Lou Williams
SoundScape Park
Saturday, February 24, 2024 at 7:30 PM
WALLCAST® concerts are free. No tickets required.
Document your WALLCAST® concert experience using #NWSWALLCAST on social media!
Mobile Program: Download NWS's free app for event information, program notes, musician profiles and more! Click here to download.
WALLCAST® Concert Club: Attend a WALLCAST Concert and check-in at the Concert Club table to win prizes and rewards.
Expanded Viewing Area: In addition to the New World Center's 7,000-square-foot projection wall, NWS's new Mobile Wall, a 23x13-foot projection wall with a state-of-the-art sound system, will extend the viewing areas in SoundScape Park during the WALLCAST® concert.
Restrooms: There are always restrooms available in the south-east corner of SoundScape Park. 
What's a WALLCAST® concert? Click here to get a taste of the WALLCAST® concert experience!
Live closed captions are available throughout this concert by visiting nws.edu/captions.
Program
Mary Lou Williams: History: A Wind Symphony (world premiere)
Mary Lou Williams: Selections from Zodiac Suite
Mary Lou Williams: Boogie Woogie
Mary Lou Williams: Selections of Bee-Bop Songs
Mary Lou Williams: Selections with chorus, including Mass