Events & Tickets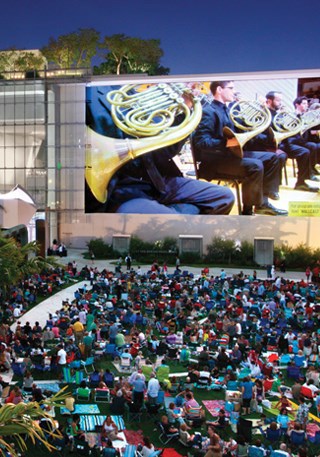 WALLCAST® Concert
WALLCAST® Concert: Latin Love and Lore
SoundScape Park
Saturday, April 9, 2022 at 8:00 PM
Program
Teddy Abrams—Musical America's 2022 Conductor of the Year and NWS alumnus—joins Latin ensemble People of Earth for a celebration of culture and expression. Aaron Copland, founder of the American Sound, takes a detour south of the border as he depicts a raucous dance using Mexican folk tunes that overflow with color and vitality. Gabriela Lena Frank deftly blends her Peruvian heritage with her admiration of Benjamin Britten in Concertino Cusqueño. Passion, turmoil and excitement exude from the pages of Leonard Bernstein's beloved score for West Side Story and Cuban-American drummer, composer and University of Miami professor Dafnis Prieto introduces a new work for the People of Earth global music collective.
WALLCAST® concerts are free. No tickets required.
Document your WALLCAST® concert experience using #WALLCAST on social media!
Mobile Program: Download NWS's free app for event information, program notes, musician profiles and more! Click here to download.
WALLCAST® Concert Club: Click here to join for special perks, discounts and WALLCAST® concert reminders. 
Pre-Concert Chat: Join NWS Fellows for a free Pre-Concert Chat in the New World Center's Truist Pavilion! These half-hour chats begin one hour prior to the performance. Seating is limited.
Restrooms: There are always restrooms available in the south-east corner of SoundScape Park. Restrooms inside the New World Center will be open to WALLCAST® Concert Club members at the beginning of the second half of the concert until 10 minutes before the end of the performance.
What's a WALLCAST® concert? Click here to get a taste of the WALLCAST® concert experience!
Program
Aaron Copland
(1900-1990)
Approx. Duration: 11 minutes

Gabriela Lena Frank
(b. 1972)
Approx. Duration: 11 minutes

Concertino Cusqueño (2012)

Leonard Bernstein
(1918-1990)
Approx. Duration: 23 minutes

Symphonic Dances from West Side Story (1960)

Prologue 
"Somewhere" 
Scherzo 
Mambo 
Cha-Cha 
Meeting Scene 
"Cool" Fugue 
Rumble 
Finale 
Dafnis Prieto
(b. 1974)
Approx. Duration: 25 minutes

Tentación: Concerto for People of Earth and String Orchestra (2022; NWS co-commission)

People of Earth
Ivan Llanes, lead vocals
Joana Obieta, lead vocals
Raul Rios, trumpet and vocals
Rachel Therrien, trumpet
Malec Heermans, trombone
Ahmed Alom, piano and vocals
Ian Stewart, electric bass
Victor Pablo, drumset
Keisel Jimenez, timbal
Gabriel Globus-Hoenich, congas
Aaron Copland
El Sal

ó

n M

é

xico

(1936)

Approximate duration: 11 minutes
At the invitation of his friend Carlos Chávez, Aaron Copland first visited Mexico in 1932. One highlight of the trip was a night spent at a dance hall in Mexico City, a scene that inspired Copland to compose El Salón México. Completed in 1936, the colorful tone poem was Copland's first great popular success, and it opened up rich new stylistic territory that he continued to explore in Rodeo and Billy the Kid, his ballets set in the American West.
Copland incorporated popular Mexican tunes that he learned from published sheet music, and he also evoked the sounds  of local mariachi bands, as heard in the trumpet solo at the beginning and the swaying dance rhythms throughout the score. Copland described feeling a "live contact with the Mexican people" in that dance hall, and his musical tribute captures "the electric sense one gets sometimes in far-off places, of suddenly knowing the essence of a people—their humanity, their separate shyness, their dignity and unique charm."
Gabriela Lena Frank
Concertino 

Cusqueño

(2012)

Approximate duration: 11 minutes
When Gabriela Lena Frank appeared on a list of "the top 35 female composers in classical music" compiled in 2017 by The Washington Post, chief critic Anne Midgette pointed to the significance of Frank's "multiculturalism" and her practice of "mingling folk feeling with compositional sophistication." Born in Berkeley to a mother of Peruvian-Chinese heritage and a father from a Lithuanian-Jewish background, Frank has embraced her ancestry, especially her connection to Peru, where she has traveled extensively.
Ms. Frank provided the following program note:
Concertino Cusqueño, written to celebrate the fine players of The Philadelphia Orchestra on the eve of Yannick Nézet-Ségun's inaugural season as Music Director, finds inspiration in two unlikely bedfellows: Peruvian culture and the British composer Benjamin Britten. As a daughter of a Peruvian immigrant, I've long been fascinated by my multicultural heritage and have been blessed to find western classical music to be a hospitable playpen for my wayward explorations. In doing so, I've looked to composers such as Alberto Ginastera from Argentina, Béla Bartók from Hungary, Chou Wen-Chung from China and my own teacher, William Bolcom, from the U.S. as heroes: To me, these gentlemen are the very definition of "cultural witnesses," as they illuminate new connections between seemingly disparate idioms of every hue imaginable.

To this list, I add Britten, who I admire inordinately. I wish I could have met him, worked up the nerve to show him my own music, invited him to travel to beautiful Perú with me... I would have shared chicha morada (purple corn drink) with him, taken him to a zampoña panpipe instrument-making shop, set him loose in a mercado (market) streaming with immigrant Chinos and the native Indio descendants of the Incas. I would have loved showing him the port towns exporting anchoveta (anchovies), the serranos (highlands) exporting potatoes, and the selvas (jungles) exporting sugar. And I know Britten would have been fascinated by the rich mythology enervating the literature and music of this small Andean nation, so deeply similar to the plots of his many operas, among other works.

Concertino Cusqueño melds together two brief musical ideas: The first few notes of a religious tune, Ccollanan María, from Cusco (the original capital of the Inca empire Tawantinsuyu, and a major tourist draw today) with the simple timpani motif from the opening bars of the first movement of Britten's elegant Violin Concerto. I am able to spin an entire one-movement work from these two ideas, designating a prominent role to the four string principal players (with a bow to the piccolo/bass clarinet duo and, yes, the timpanist). In this way, while imagining Britten in Cusco, I can also indulge in my own enjoyment of personalizing the symphonic sound by allowing individuals from the ensemble to shine.
– Gabriela Lena Frank
Leonard Bernstein
Symphonic Dances from West Side Story (1960)

Approximate duration: 23 minutes
The idea for Leonard Bernstein's West Side Story first came from the choreographer Jerome Robbins, who suggested to Bernstein that he consider a contemporary adaptation of Shakespeare's Romeo and Juliet. The initial concept centered on Jews and Catholics on Manhattan's Lower East Side, and playwright Arthur Laurents drafted a scenario he called East Side Story. Later the Jews were recast as Puerto Ricans, and the setting shifted from Manhattan's Jewish tenements of the east to the Hispanic tracts west of Central Park (an entire neighborhood that would soon be razed to make way for Lincoln Center, the arts complex where Bernstein later directed the New York Philharmonic). When Bernstein couldn't secure his preferred lyricists, the Broadway veterans Comden and Green, it cleared space for a promising new talent, the young Stephen Sondheim.
 The instrumental suite, Symphonic Dances from West Side Story remains one of the composers' most recognizable contributions to the concert stage and includes such highlights as "Something's Coming" with its sizzling cross-rhythms, along with punchy brawl of "Mambo," capping a dance-off between the rival gangs. In "America," Bernstein exploited a rhythmic rub between groups of three beats and two beats, a staple of Afro-Caribbean dance music. This suite closes with the show's great ballad, "Somewhere," a hymn to the possibility of a happy ending—although it ends ominously, with an unsettled, dissonant interval. This particular dissonance, known as an augmented fourth or "tritone," appears as a signature sound throughout the score, from the opening Prologue to the yearning rise in "Maria."
Dafnis Prieto
Tentación
: Concerto for People of Earth and String Orchestra

(2022; NWS co-commission)


Approximate duration: 25 minutes

As a teenager at the National School of Music in his native Cuba, the percussionist Dafnis Prieto studied classical music and traditional Afro-Cuban styles. He soon expanded his horizons to jazz, and he moved to New York at 25 to learn from and play with legends from all corners of the Latin jazz scene. A MacArthur "Genius" Grant in 2011 and a Grammy Award in 2018 for Best Latin Jazz Album are among the many honors that have placed Prieto at the pinnacle of his art as a composer and bandleader. For this work, co-commissioned by New World Symphony with the Louisville Orchestra and other partners, Prieto created a group concerto to feature the Latin music ensemble People of Earth along with orchestral strings.

Mr. Prieto provided the following program note:

Tentación is a love story, or better said, an imaginary love story driven by the powerful law of attraction: the seductive quality that makes us dream for a better and happy future inside and around ourselves, diving into a vast range of feelings and emotions. This story involves many sides of an imaginary "but at the same time" real relationship—the sweet, the bitter, the similarities, the differences, the conversations, the advice, the challenges, the suggestions, the ups and downs. It involves real sensations caused by the imaginary states of willing, of dreaming, and desire. The music reflects in sounds and lyrics two worlds, real and imaginary, with the real provoked by the imaginary.

– Dafnis Prieto

– © 2021 Aaron Grad

Aaron Grad is a composer, guitarist and writer based in Seattle. Besides providing program notes for the New World Symphony, he has been the Orpheus Chamber Orchestra's program annotator since 2005 and also contributes notes to the Saint Paul Chamber Orchestra and Seattle Symphony.
Teddy Abrams, conductor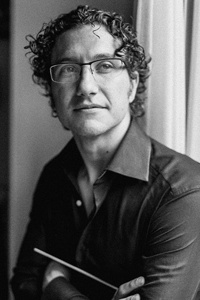 An unusually versatile musician, Teddy Abrams is the widely acclaimed Music Director of the Louisville Orchestra. Now in his eighth season as Music Director, he has fostered interdisciplinary collaborations with the Louisville Ballet and Speed Art Museum, and led Louisville's cultural response to the pandemic with the Lift Up Lou initiative. Among other works, the 2021-22 season includes the world premieres of Mr. Abrams' new piano concerto written for Yuja Wang and a concerto for timba band and string orchestra composed by Grammy Award-winner Dafnis Prieto. His rap-opera, The Greatest: Muhammad Ali, premiered in 2017, celebrating Louisville's hometown hero with an all-star cast that included Rhiannon Giddens and Jubilant Sykes, as well as Jecorey "1200" Arthur, with whom he started the Louisville Orchestra Rap School. Mr. Abrams' work with the Louisville Orchestra has been profiled on CBS Sunday Morning, NPR, The Wall Street Journal, PBS's Articulat, and PBS News Hour. In recognition of his groundbreaking work, Mr. Abrams was named Musical America's 2022 Conductor of the Year.
Mr. Abrams has been Music Director and Conductor of the Britt Festival Orchestra since 2013, where, in addition to an annual three-week festival of concerts, he has taken the orchestra across the region in the creation of new work—including Michael Gordon's Natural History, which was premiered on the edge of Crater Lake National Park in partnership with the National Parks Service, and was the subject of the PBS documentary Symphony for Nature; and Pulitzer Prize-winning composer Caroline Shaw's Brush, an experiential work written to be performed on the Jacksonville Woodlands Trail system.
Mr. Abrams recently collaborated with Jim James, vocalist and guitarist for My Morning Jacket, on the song cycle The Order of Nature, which they premiered with the Louisville Orchestra in 2018 and recorded on Decca Gold. They performed the work with the National Symphony Orchestra at the Kennedy Center in 2019.
Mr. Abrams records on Universal Music Group's Decca Gold Label. In addition to The Order of Nature, he and the Louisville Orchestra recorded All In in 2017 with vocalist Storm Large. His most recent recording was an original track, "Fourth Mode," as part of UMG's World Sleep Day.
As a guest conductor, Mr. Abrams has worked with such distinguished ensembles as the Los Angeles Philharmonic; the Chicago, San Francisco, National, Houston, Pacific, Indianapolis, Milwaukee, Vancouver, Colorado, Utah and Phoenix symphonies; Saint Paul Chamber Orchestra and the Sarasota and Florida orchestras. Internationally, he has worked with the Royal Scottish National Orchestra, Orchestre Philharmonique du Luxembourg and Malaysian Philharmonic. He served as Assistant Conductor of the Detroit Symphony from 2012 to 2014. From 2008 to 2011, Mr. Abrams was the Conducting Fellow and Assistant Conductor of the New World Symphony.
People of Earth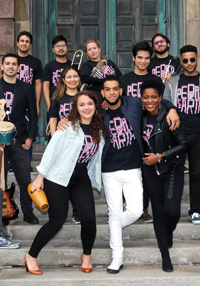 People of Earth is a global music collective set on blurring the barriers between the great art forms of the terrestrial sphere, creating an explosive blend of the music of Cuba, Puerto Rico, Brazil and beyond. The world class musicians who make up this collective represent more than eight different nationalities and have played with a vast range of artists from Gloria Estefan to Ruben Blades to the New York Philharmonic and more.
People of Earth has performed at such venues as The Kennedy Center, Brooklyn Bowl, Penn's Landing, World Cafe Live, The Bitter End, The Highline Ballroom, Drom, SOB's and Rockwood Music Hall in NYC.  They also performed as headliners for Philadelphia's SugarCane Festival and at the legendary Painted Bride, and were recently featured on the Latin music channel Congahead Studios. In 2020 People of Earth was awarded a grant from New Music USA, commissioning Dafnis Prieto to compose a concerto for the group with string orchestra, which was premiered by the Louisville Orchestra in 2022.
In addition to being a powerhouse performing group, People of Earth is devoted to education, and its members work with veteran teaching artists who have led workshops at such venues as Philadelphia's Kimmel Center, Carnegie Hall, Detroit's Orchestra Hall and many more. The band has presented children's concerts for The Mann Center, 92nd Street Y and Afro Latin Jazz Alliance. The members of People on Earth are committed to using music as a vehicle for social change, and through sharing their passion for warm-blooded groove music, they hope to facilitate dialogue, create cultural connections and spread joy, ultimately making the world a better place.
Chad Goodman, conductor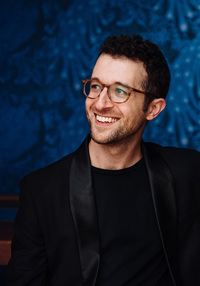 With a flair for inventive programming and a bold presence on stage and in the community, Chad Goodman has been praised for "bringing innovation to classical music" (Forbes).
As the Conducting Fellow of the New World Symphony, Mr. Goodman conducts on subscription, education, family and holiday programs. His program, "SPARK: How Composers Find Inspiration," blended captivating light design and videography with engaging audience participation to explore how a composition is created and brought to life by an orchestra.
Since 2018 Mr. Goodman has served as an Assistant Conductor to the San Francisco Symphony, assisting Esa-Pekka Salonen, Manfred Honeck, Daniel Harding, Pablo Heras-Casado, Simone Young and James Gaffigan among others.
Mr. Goodman's 2022-23 Season will include debut appearances with the Elgin Symphony, Baton Rouge Symphony, Greensboro Symphony and San Francisco Chamber Orchestra.
As Founder and Artistic Director of Elevate Ensemble, Mr. Goodman's ambitious vision for concert programming resulted in the pairing of music from Bay Area composers with underappreciated gems of the 20th and 21st centuries. Under his leadership, Elevate Ensemble established a Composer-in-Residence program and commissioned fifteen works from Bay Area composers. Elevate collaborated with photographers, videographers, poets and culinary artists, bringing new music and vibrant multi-genre experiences to unique venues such as yoga studios, historic Victorian homes and art studio warehouses.
Mr. Goodman has previously served as Conducting Fellow of Festival Napa Valley, Music Director of the Contra Costa Chamber Orchestra, Conducting Fellow of the Atlantic Music Festival, and a rehearsal and cover conductor for the San Francisco Ballet.
In addition to his performing career, he teaches young musicians the business and entrepreneurial skills needed to successfully navigate the world as a working musician in his workshop "You Earned a Music Degree. Now What?"
Mr. Goodman holds a bachelor of music degree from the Eastman School of Music and a master of music degree from San Francisco State University. His mentors include Michael Tilson Thomas, Alasdair Neale, Cyrus Ginwala and Martin Seggelke.