Events & Tickets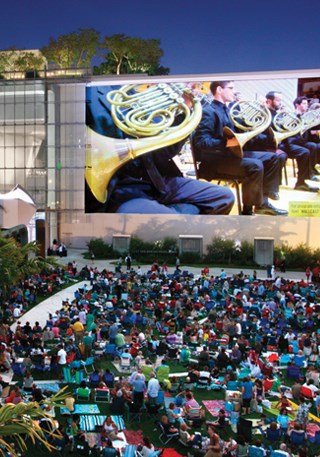 WALLCAST® Concert
WALLCAST® Concert: Latin Love and Lore
SoundScape Park
Saturday, April 9, 2022 at 8:00 PM
Program
WALLCAST® concerts are free. No tickets required.
Document your WALLCAST® concert experience using #WALLCAST on social media!
Mobile Program: Download NWS's free app for event information, program notes, musician profiles and more! Click here to download.
WALLCAST® Concert Club: Click here to join for special perks, discounts and WALLCAST® concert reminders. 
Restrooms: There are always restrooms available in the south-east corner of SoundScape Park. There will be no restroom access inside the New World Center. 
What's a WALLCAST® concert? Click here to get a taste of the WALLCAST® concert experience!
Program
Aaron Copland
(1900-1990)
Approx. Duration: 11 minutes

Leonard Bernstein
(1918-1990)
Approx. Duration: 23 minutes

Symphonic Dances from West Side Story (1960)

Prologue 
"Somewhere" 
Scherzo 
Mambo 
Cha Cha 
Meeting Scene 
"Cool" Fugue 
Rumble 
Finale 
Gabriela Lena Frank
(b. 1972)
Approx. Duration: 11 minutes

Concertino Cusqueño (2012)

Dafnis Prieto
(b. 1974)
Approx. Duration: 25 minutes

New work TBA for Latin Ensemble and Orchestra  (2021; world premiere of NWS commission)

Teddy Abrams, conductor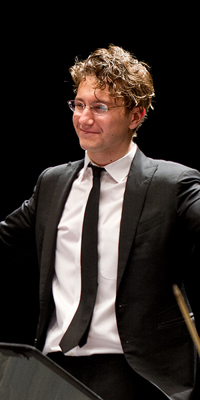 An unusually versatile musician, Teddy Abrams is a widely acclaimed conductor, as well as an established pianist, clarinetist, and composer.  He has been named Music Director Designate of the Louisville Orchestra, and assumes the title of Music Director in September 2014.  Recently appointed Music Director and Conductor of the Britt Orchestra Season, 2014 marks his first season in that role.  Simultaneously, Teddy concludes his tenure as Assistant Conductor of the Detroit Symphony with the 2013-14 season.  Additional appointments include a tenure as Resident Conductor of the MAV Symphony Orchestra in Budapest, which he first conducted in 2011.
Active as a guest conductor, Abrams' recent and upcoming performances include returns to The Florida Orchestra, the Jacksonville Symphony, and the San Francisco Symphony, where he conducted the orchestra's summer classical series in July 2013.  Recent debuts have included the Los Angeles Philharmonic, Indianapolis Symphony, and the Sun Valley Summer Symphony.  From 2008 to 2011 Abrams was the Conducting Fellow and Assistant Conductor of the New World Symphony (NWS) and conducted many performances, including subscription concerts and numerous other full and chamber orchestra events.  Abrams has conducted the NWS in Miami Beach, Washington, D.C. and at Carnegie Hall, and has worked with many other orchestras around the country.
An accomplished pianist and clarinetist, Abrams has appeared as a soloist with a number of orchestras – including playing and conducting the Ravel Piano Concerto with the Jacksonville Symphony in fall 2013 – and has performed chamber music with the St. Petersburg String Quartet, Menahem Pressler, Gilbert Kalish, Time for Three and John Adams in addition to annual appearances at the Olympic Music Festival.  Dedicated to exploring new and engaging ways to communicate with a diverse range of audiences, Abrams co-founded the Sixth Floor Trio in 2008. The Trio has performed around the country, establishing residencies in communities in North Carolina, Philadelphia, New York and South Florida; Abrams and the Trio founded and direct GardenMusic, the music festival of the world-renowned Fairchild Tropical Garden in Miami. Abrams collaborated (as an arranger and pianist) with Cleveland Orchestra principal trombonist Massimo La Rosa for La Rosa's debut CD, released in October 2010.
Abrams studied conducting with Michael Tilson Thomas, Otto-Werner Mueller and Ford Lallerstedt at the Curtis Institute of Music, and with David Zinman at the Aspen Music Festival; he was the youngest conducting student ever accepted at both institutions. Abrams is also an award-winning composer and a passionate educator – he has taught at numerous schools throughout the United States. His 2009 Education Concerts with the New World Symphony (featuring the world premiere of one of Abrams' own orchestral works) were webcast to hundreds of schools throughout South Florida.
Abrams performed as a keyboardist with the Philadelphia Orchestra, won the 2007 Aspen Composition Contest, and was the Assistant Conductor of the YouTube Symphony at Carnegie Hall in
2009.  He has held residencies at the La Mortella music festival in Ischia, Italy and at the American Academy in Berlin.  Teddy was a proud member of the San Francisco Symphony Youth Orchestra for seven seasons, and graduated from the San Francisco Conservatory of Music with a Bachelor of Music, having studied piano with Paul Hersh.
Teddy Abrams is represented by Matthew Oberstein at Opus 3 Artists.
The Sixth Floor Trio is represented by Lisa Sapinkopf Artists.
People of Earth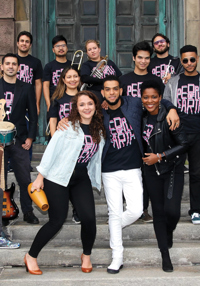 People of Earth is a global music collective set on blurring the barriers between the great art forms of the terrestrial sphere, creating an explosive blend of the music of Cuba, Puerto Rico, Brazil and beyond. The world class musicians who make up this collective represent more than eight different nationalities and have played with a vast range of artists from Gloria Estefan to Ruben Blades to the New York Philharmonic and more.
People of Earth has performed at such venues as The Kennedy Center, Brooklyn Bowl, Penn's Landing, World Cafe Live, The Bitter End, The Highline Ballroom, Drom, SOB's, and Rockwood Music Hall in NYC.  They also performed as headliners for Philadelphia's SugarCane Festival and at the legendary Painted Bride and was recently featured on latin music channel Congahead Studios.  In 2020 People of Earth was awarded a grant from New Music Usa to commission Dafnis Prieto to compose a concerto for orchestra, to be premiered by Louisville Orchestra in 2022.
In addition to being a powerhouse performing group, People of Earth is devoted to education, and its members with veteran teaching artists who have led workshops at such venues as The Kimmel Center, Carnegie Hall, Philadelphia Orchestra, Detroit Symphony and many more.  The band has presented children's concerts for The Mann Center, 92nd Street Y, and Afro Latin Jazz Alliance. The members of People on Earth are committed to using music as a vehicle for social change, and through sharing their passion for warm blooded groove music hope to facilitate dialogue, create cultural connections, and spread joy ultimately making the world a better place.
Chad Goodman, conductor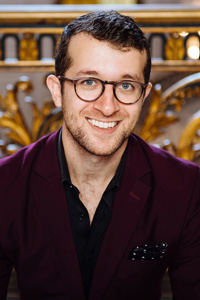 With a flair for inventive programming and a bold presence on stage and in the community, Chad Goodman has been praised for "bringing innovation to classical music" (Forbes).
As the Conducting Fellow of the New World Symphony, Mr. Goodman conducts on subscription, education, family and holiday programs. His program, "SPARK: How Composers Find Inspiration," blended captivating light design and videography with engaging audience participation to explore how a composition is created and brought to life by an orchestra.
Since 2018 Mr. Goodman has served as an Assistant Conductor to the San Francisco Symphony, assisting Esa-Pekka Salonen, Manfred Honeck, Daniel Harding, Pablo Heras-Casado, Simone Young and James Gaffigan among others.
As Founder and Artistic Director of Elevate Ensemble, Mr. Goodman's ambitious vision for concert programming resulted in the pairing of music from Bay Area composers with underappreciated gems of the 20th and 21st centuries. Under his leadership, Elevate Ensemble established a Composer-in-Residence program and commissioned fifteen works from Bay Area composers. Elevate collaborated with photographers, videographers, poets and culinary artists, bringing new music and vibrant multi-genre experiences to unique venues such as yoga studios, historic Victorian homes and art studio warehouses.
Mr. Goodman has previously served as Conducting Fellow of Festival Napa Valley, Music Director of the Contra Costa Chamber Orchestra, Conducting Fellow of the Atlantic Music Festival, and a rehearsal and cover conductor for the San Francisco Ballet.
In addition to his performing career, he teaches young musicians the business and entrepreneurial skills needed to successfully navigate the world as a working musician in his workshop "You Earned a Music Degree. Now What?"
Mr. Goodman holds a bachelor of music degree from the Eastman School of Music and a master of music degree from San Francisco State University. His mentors include Michael Tilson Thomas, Alasdair Neale, Cyrus Ginwala and Martin Seggelke.