Events & Tickets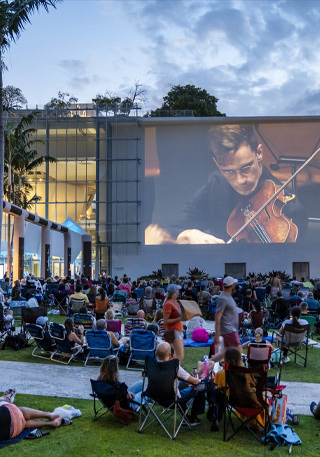 WALLCAST® Concert
WALLCAST® Concert: Mahler 6
SoundScape Park
Saturday, November 4, 2023 at 7:30 PM
Program
Gustav Mahler—who said "a symphony must be like the world—it must contain everything"—created a vast panorama of life's deepest emotions in his Sixth Symphony. Nicknamed the "Tragic," it unflinchingly examines and foreshadows Mahler's own life with Austrian marches, religious chorales, romantic melodies and the final hammer blows of fate. Requiring a massive Mahler-sized orchestra under the direction of conductor Jukka-Pekka Saraste, the Sixth Symphony is a must-see experience for classical music aficionados.
WALLCAST® concerts are free. No tickets required.
Document your WALLCAST® concert experience using #NWSWALLCAST on social media!
Mobile Program: Download NWS's free app for event information, program notes, musician profiles and more! Click here to download.
WALLCAST® Concert Club: Attend a WALLCAST Concert and check-in at the Concert Club table to win prizes and rewards.
Expanded Viewing Area: In addition to the New World Center's 7,000-square-foot projection wall, NWS's new Mobile Wall, a 23x13-foot projection wall with a state-of-the-art sound system, will extend the viewing areas in SoundScape Park during the WALLCAST® concert.
Restrooms: There are always restrooms available in the south-east corner of SoundScape Park. 
What's a WALLCAST® concert? Click here to get a taste of the WALLCAST® concert experience!
Live closed captions are available throughout this concert by visiting nws.edu/captions.
Program
Gustav Mahler
(1860-1911)
Approx. Duration: 80 minutes

Symphony No. 6 in A minor, "Tragic" (1903-04; revised 1906)

Allegro energico, ma non troppo
Scherzo
Andante moderato
Finale
Gustav Mahler
Symphony No. 6 in A minor, "Tragic" (1903-04; revised 1906)

Approximate duration: 80 minutes
In his lifetime, Gustav Mahler was known primarily as a conductor. He had studied piano and composition at the Vienna Conservatory, and we can tell from a surviving student work that he was experimenting with chamber music modeled after Brahms, but once his conducting career took off he narrowed the focus of his composing to two genres exclusively: songs and symphonies.
Rising rapidly through conducting jobs in smaller cities, Mahler was only 28 when he earned his first prestigious post directing the Royal Hungarian Opera in Budapest. From 1897 to 1907 he occupied one of the most influential podiums in Europe, leading the Vienna Court Opera, and in his last years he made his mark in the New World, directing the Metropolitan Opera and the New York Philharmonic. He always kept up his composing on the side, mostly during his summers when opera houses went dark, and upon his death at 50 he left a legacy of nine enormous symphonies, plus the symphonic song cycle The Song of the Earth and an uncompleted Tenth Symphony.
It took decades to make sense of Mahler's complicated musical legacy, and the Nazi suppression of his music (owing to his Jewish origins) diminished his already uncertain standing. Champions such as Leonard Bernstein helped restore Mahler to the repertoire in the latter part of the 20th century, and now with more than a century's hindsight we are able to appreciate his symphonies for the enigmatic, hyper-expressive vessels that they are.
The love of Mahler's life was Alma Schindler, a Viennese beauty 20 years his junior whom he married in 1902. They had their first daughter a few months before he began his Sixth Symphony in 1903, and he finished the score after his second daughter was born in 1904. During summers spent at his lakeside villa in southern Austria, Mahler's idyllic routine was to walk briskly each morning to his one-room studio in the forest for uninterrupted composing time. Despite the apparent joys of those working holidays with his new family, that summer generated some of his darkest music to date.
Mahler conducted the premiere of the Sixth Symphony in 1906 in Essen, Germany, an event that apparently left the audience baffled. (Mahler wrote privately, "My Sixth seems to be yet another hard nut, one that our critics' feeble little teeth cannot crack.") He added the "Tragic" nickname for the Vienna debut in 1907, but then he omitted it for subsequent performances and publications.
The "Tragic" label certainly does not apply to all 80 minutes of this Symphony's subtle and varied music. In terms of structure, it is the most Classical of Mahler's symphonies: There are four movements, each with tempos and functions that square with the precedents of Haydn and Beethoven. The opening movement launches immediately into tense and stormy material that marches forward insistently, prodded by pulsing bass and thumping percussion. A lush and lyrical theme, supposedly representing Alma, provides maximal contrast. In true Classical fashion, and uncharacteristically for Mahler, the opening exposition section repeats verbatim. Complementing the heft of the musical ideas and the large orchestra, colorful flecks of tinkling celesta, clanking cowbells and jangling triangles add shimmering brilliance. The return of the lyrical "Alma" theme and other triumphant motives bring the movement to a spirited conclusion that forestalls the tragedy, for the time being.
There is some controversy about which movement comes next. Mahler submitted the score for publication with the Scherzo second, but for the premiere he swapped the Andante moderato into the second position. In the version that matches Mahler's lasting preference, the slow movement prolongs the ambiguity of the Symphony's ultimate direction, continuing the opening movement's slippery distinctions between major and minor keys and basking in a gentle cascade of nostalgic melodies.
The Scherzo resumes the fateful march toward tragedy, stomping forward like the beginning of the Symphony. The vivid shrieks and pounding percussion have real terror behind them, but other moments give the impression that the whole drama is proffered with a sly, knowing wink, especially in the contrasting sections that align this Scherzo with its Classical origins as a musical joke.
The Symphony completes its descent with the fateful hammer strikes during the finale, meant to sound with a dull thud like the fall of the axe. Alma later wrote that the three blows foreshadowed the tragedies of 1907: the death of one of their daughters, the diagnosis of Mahler's life-threatening heart condition (which did ultimately kill him, as he feared it would), and the loss of his dream job in Vienna. Mahler himself later deleted the third strike of the hammer, as if unable to bear its mortal finality; some performances restore the last blow and others leave it silent, but either way the Symphony maintains its chilling grip to the end. It is music that plumbs the depths of human experience, touching dark places that are real and essential, if not always comfortable. This is the ultimate gift to humanity from the man who once said, "A symphony is like the world—it must contain everything."
– © 2023 Aaron Grad
Aaron Grad is a composer and writer based in Seattle. In addition to providing program notes for the New World Symphony, Orpheus Chamber Orchestra, Baltimore Symphony Orchestra and others, he is also the artistic director of Many Messiahs, a project that reframes George Frideric Handel's masterpiece as a collective call for justice.
Program
Sinfonía No. 6 en La menor, "Trágica" (1903-04; revisada en 1906)
Allegro energico, ma non troppo
Scherzo
Andante moderato
Finale
Gustav Mahler
Sinfonía No. 6 en La menor, "Trágica" (1903-04; revisada en 1906)
Duración aproximada: 80 minutos
Durante su vida, Gustav Mahler fue conocido principalmente como director de orquesta. Había estudiado piano y composición en el Conservatorio de Viena, y podemos afirmar, gracias a la obra sobreviviente de uno de sus alumnos, que experimentó con la música de cámara al modelo de Brahms, pero una vez que su carrera como director de orquesta tomó fuerzas redujo el enfoque de sus composiciones a dos géneros exclusivamente: las canciones y las sinfonías.
En rápido ascenso a través de trabajos como director de orquesta en pequeñas ciudades, Mahler tenía solo 28 años cuando se ganó su primer prestigioso puesto como director de la Ópera Real Húngara en Budapest. De 1897 a 1907 ocupó uno de los podios más influyentes de Europa, liderando la Ópera de la Corte de Viena, y en sus últimos años dejó su huella en el Nuevo Mundo, dirigiendo la Ópera Metropolitana y la Filarmónica de Nueva York. Además, él siempre se mantuvo componiendo, mayormente durante sus veranos cuando las casas de ópera descansaban, y tras su muerte a los 50 años dejó un legado de nueve inmensas sinfonías, más el ciclo de canciones sinfónico "La Canción de la Tierra" y una incompleta Décima Sinfonía.
Pasaron décadas para que pudiéramos encontrarle el sentido al complicado legado musical de Mahler, y la represión de su música por los nazis (debido a su origen judío) disminuyó su ya incierta posición. Líderes como Leonard Bernstein ayudaron a recuperar el repertorio de Mahler en la segunda parte del siglo XX, y ahora, con más de un siglo de retrospectiva somos capaces de apreciar sus sinfonías como las enigmáticas e hiper expresivas naves que son.
El amor de la vida de Mahler fue Alma Schindler, una belleza vienesa 20 años más joven, con quien se casó en 1902. Tuvieron su primera hija unos meses antes de que comenzara su Sexta Sinfonía en 1903, y terminó la partitura antes de que naciera su segunda hija en 1904. Durante los veranos que pasaron en su villa del lago en el sur de Austria, la rutina ideal de Mahler era una rápida caminata a su estudio en el bosque para componer sin interrupciones. A pesar de la aparente alegría de esas vacaciones con su familia, ese verano generó algunas de sus obras más oscuras.
Mahler dirigió el estreno de la Sexta Sinfonía en 1906 en Essen, Alemania, un evento que aparentemente dejó a la audiencia desconcertada. (Mahler escribió en privado, "Mi Sexta parece ser otra dura nuez, una que los pequeños y débiles dientes de nuestros críticos no pueden romper"). Él le añadió el sobrenombre "Trágica" para el debut en Viena en 1907, pero luego lo omitió en posteriores presentaciones y publicaciones.
La etiqueta de "Trágica" ciertamente no es aplicable a los 80 minutos de la música sutil y variada de esta Sinfonía. En términos de estructura, es la más Clásica de las sinfonías de Mahler: Tiene 4 movimientos, cada uno con tempos y funciones que se alinean con los precedentes de Haydn y Beethoven. El primer movimiento se lanza inmediatamente a un material tenso y tormentoso que marcha hacia adelante insistentemente, impulsado por un bajo palpitante y una percusión punzante. Un exuberante y lírico tema, supuestamente representando a Alma, provee el máximo contraste. Al más puro estilo Clásico, no característico de Mahler, la primera exposición se repite textualmente. Complementando el peso de las ideas musicales y la numerosa orquesta, el colorido tintinear de la celesta, el rechinar del cencerro y el resonar de los triángulos agregan una resplandeciente brillantez. El retorno del lírico tema "Alma" y otros motivos triunfantes llevan al movimiento a su enérgica conclusión que previene la tragedia, por el momento.
Existe un poco de controversia sobre cuál es el siguiente movimiento. Mahler entregó la partitura para su publicación con el Scherzo de segundo, pero para el estreno cambió el Andante moderato a la segunda posición. En la versión que presenta la última preferencia de Mahler, el movimiento lento prolonga la ambigüedad de la dirección final de la Sinfonía, continuando las escurridizas distinciones del primer movimiento entre tonalidades mayores y menores y disfrutando de una suave cascada de melodías nostálgicas.
El Scherzo resume la fatídica marcha hacia la tragedia, como al principio de la Sinfonía. Los vívidos chillidos y el martilleo de la percusión poseen un terror real, pero en otros momentos da la impresión de que todo el drama es presentado con un pícaro y cómplice guiño, especialmente en las secciones contrastantes que alinean el Scherzo con sus orígenes Clásicos como una broma musical. La Sinfonía completa su descenso con los funestos golpes de martillo durante el finale, supuestos a ser ejecutados con un golpe seco como la caída de un hacha. Alma escribió posteriormente que los tres golpes presagiaban las tragedias de 1907: la muerte de una de sus hijas, el diagnóstico de la potencialmente mortal afección cardíaca de Mahler (que finalmente le produjo la muerte, como el temía), y la pérdida del trabajo de sus sueños en Viena. Mahler luego borró el tercer golpe de martillo, como si no fuera capaz de soportar su mortal finalidad; algunas interpretaciones rescatan ese último golpe y otros lo dejan en silencio, pero de cualquier manera la Sinfonía mantiene su garra escalofriante hasta el final. Es música que conecta las profundidades de la experiencia humana, llegando a lugares oscuros que son reales y esenciales, aunque no siempre sean cómodos. Este es el principal legado a la humanidad del hombre que una vez dijo, "Una sinfonía es como el mundo – debe contenerlo todo."
– © 2023 Aaron Grad
Aaron Grad es un compositor y escritor que reside en Seattle. Además de escribir las notas al programa para la New World Symphony, Orpheus Chamber Orchestra, Baltimore Symphony Orchestra, entre otras, también se desempeña como director artístico  de Many Messiahs, un proyecto que reenmarca la obra maestra de George Frideric Handel como un llamado colectivo a la justicia.
Jukka-Pekka Saraste, conductor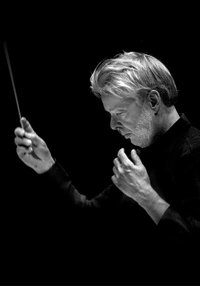 Jukka-Pekka Saraste has established himself as one of the outstanding conductors of his generation, demonstrating remarkable musical depth and integrity. Born in Heinola, Finland, he began his career as a violinist before training as a conductor with Jorma Panula at the Sibelius Academy in Helsinki. An artist of exceptional versatility and breadth and renowned for his objective approach, he feels a special affinity with the sound and style of late Romantic music. He maintains a particularly strong connection to the works of Beethoven, Bruckner, Shostakovich, Stravinsky and Sibelius and is internationally celebrated for his interpretations of Mahler.
In April 2022, Jukka-Pekka was named as Chief Conductor and Artistic Director of the Helsinki Philharmonic Orchestra. He will begin his tenure in summer 2023. From 2010 to 2019, he served as Chief Conductor of the WDR Symphony Orchestra in Cologne. During his term, the orchestra built a reputation both at home and abroad, touring Austria, Spain, the Baltics, and Asia. The symphonic cycles of Sibelius, Brahms and Beethoven were exceptionally well received. Previously, from 2006 to 2013, Jukka-Pekka Saraste was Music Director and Chief Conductor of the Oslo Philharmonic Orchestra. He was subsequently appointed Conductor Laureate, the very first such title bestowed by the orchestra. Earlier positions include the principal conductorships of the Scottish Chamber Orchestra, Finnish Radio Symphony Orchestra, where he is now Conductor Laureate, and Toronto Symphony Orchestra. He also served as Principal Guest Conductor of the BBC Symphony Orchestra and Artistic Advisor of the Lahti Symphony Orchestra. He founded the Finnish Chamber Orchestra, where he remains the Artistic Advisor. Last but not least, Jukka-Pekka Saraste is a founding member of the LEAD! Foundation, a mentorship programme for young conductors and soloists. Based in Finland, the foundation has run projects in Stockholm, Lausanne, Dortmund and Sofia. In 2020, it also created the annual Fiskars Summer Festival, an international platform for both Finnish and international artists to pass on their knowledge and experience to the next generation of conductors from all around the world.
Jukka-Pekka Saraste's guest engagements have led him to the major orchestras worldwide, including the London Philharmonic Orchestra, Philharmonia Orchestra, Gewandhausorchester Leipzig, Munich Philharmonic, Staatskapelle Dresden, Bavarian Radio Symphony, Staatskapelle Berlin, Royal Concertgebouw Orchestra, Rotterdam Philharmonic, Vienna Symphony, NHK Symphony Orchestra, Orchestre de Paris and the leading Scandinavian orchestras. In North America, he has conducted the Cleveland Orchestra, Boston Symphony, Chicago Symphony, San Francisco Symphony, Pittsburgh Symphony, Los Angeles Philharmonic, Detroit Symphony, New York Philharmonic, as well as Orchestre Symphonique de Montréal. In recent years, Jukka-Pekka Saraste has developed a strong profile in opera and, following concert performances of Stravinsky's Oedipus Rex, Schönberg's Erwartung and Bartók's Bluebeard's Castle, had great success at the Theater an der Wien in Vienna with a new scenic production of Mendelssohn's Elijah, directed by Calixto Bieito, and Korngold's Die tote Stadt at the Finnish National Opera. In the 2020-2021 season, he conducted a new staging of Reimann's Lear at the Bavarian State Opera in Munich which was revived in January 2023.
Jukka-Pekka Saraste´s extensive discography includes the complete symphonies of Sibelius and Nielsen with the Finnish Radio Symphony Orchestra and several well-received recordings with the Toronto Symphony Orchestra of works by Bartók, Dutilleux, Mussorgsky and Prokofiev for Warner Finlandia. His CDs with WDR Symphony Orchestra for Hänssler have likewise earned him much critical praise. They include Schönberg's Pelleas and Melisande, Stravinsky's Le Rossignol, Brahms' complete Symphonies as well as Mahler's 5th and 9th Symphony and Bruckner's Symphony No. 8. The complete cycle of Beethoven's symphonies can be regarded as a legacy of his tenure in Cologne.
Jukka-Pekka Saraste has received the Pro Finlandia Prize, the Sibelius Medal, and the Finnish State Prize for Music. He holds honorary doctorates from York University, Toronto and Sibelius Academy, Helsinki. In 2023 he was awarded Commander of the Order of the Lion of Finland.