Events & Tickets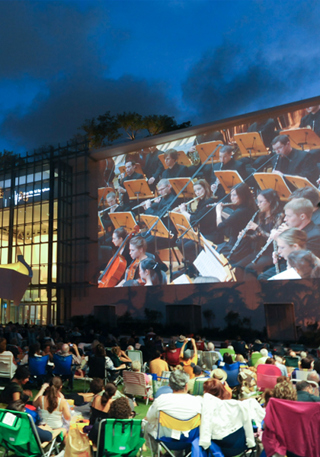 WALLCAST® Concert
WALLCAST® CONCERT: MAKING MOZART
SoundScape Park
Saturday, April 6 at 8:00 PM
Program
Wolfgang Amadeus Mozart—child prodigy, musical master and pop icon of his time—nurtured his extraordinary talent through the influence and mentorship of his peers and predecessors, George Frideric Handel and Franz Joseph Haydn. Radiating an edge-of-your-seat urgency, Mozart's dramatic Symphony No. 40 is one of the most famous works ever written. Handel's Baroque brilliance mesmerized Mozart, and it's on full display in selections from his opera Ariodante. Haydn, whose Sinfonia concertante cheerfully spotlights the violin, cello, oboe and bassoon, proclaimed his dear friend Mozart a once-in-a-century talent. Leading this trifecta tribute is Bernard Labadie, one of the world's leading authorities on Baroque and Classical repertoire.
This concert is sponsored in part by Chanin and Adam Carlin, Mary and Howard S. Frank, Rose Ellen Greene, Susan D. Kronick and Edward Manno Shumsky, William Strong, and Michael Tilson Thomas and Joshua Robison.
Share your Miami story at the Saturday, April 6 performance by visiting the Miami Stories recording booth in SoundScape Park. Miami Stories is an initiative by the Pérez Art Museum Miami and HistoryMiami Museum aimed to preserve and record our community's memories of favorite arts and culture moments.
WALLCAST® concerts are free. No tickets required. Document your WALLCAST® concert experience using #WALLCAST and #CitiMiami on social media!
WALLCAST® Concert Club: Click here to learn about the free WALLCAST® Concert Club. Join today!
Mobile Program: Text WALLCAST to 91011 and receive a link to the mobile program.
Citi Pre-Concert Chat: Join NWS Fellows for a free Pre-Concert Chat in SoundScape Park! These half-hour chats begin one hour prior to the performance. 
Restrooms: There are always restrooms available in the south-east corner of SoundScape Park. Restrooms inside the New World Center will be open to WALLCAST® Concert Club members at the beginning of the second half of the concert until 10 minutes before the end of the performance.
What's a WALLCAST® concert? Click here to get a taste of the WALLCAST® concert experience!
Program
George Frideric Handel
(1685-1759)
Approx. Duration: 7 minutes

Selections from Ariodante, HWV 33 (1734)

Franz Joseph Haydn
(1732-1809)
Approx. Duration: 22 minutes

Sinfonia concertante in B-flat major, H. I:105 (1792)

Allegro
Andante
Allegro con spirito
Wolfgang Amadeus Mozart
(1756-1791)
Approx. Duration: 35 minutes

Symphony No. 40 in G minor, K. 550 (1788; revised 1791)

Molto allegro
Andante
Menuetto: Allegretto – Trio
Allegro assai
George Frideric Handel
Selections from Ariodante, HWV 33 (1734)

Approximate duration: 7 minutes
Had Handel followed the same career path as his fellow Germans Telemann and Bach, he could have reached the same lofty heights in the realm of Lutheran church music. Instead Handel embraced opera, a pursuit that led him to Italy and ultimately England. As the co-producer of his own operas, Handel's fortunes rose and fell with the tastes of London's ticket-buying public, and so he continually updated his style to stay ahead of changing fashions, proving time and again his staying power as a composer and entrepreneur.
When a rival opera company took over his longtime venue, the King's Theatre, Handel started fresh at Covent Garden with a 1734-35 season centered around two wholly new operas along with various revivals. The first new opera, Ariodante, was a love story starring a castrato in the title role sung by Giovanni Carestini—a fine Italian singer, but no Farinelli, the dreamboat who was singing with the competing troupe across town. But Handel had his own star attraction: the French dancer and choreographer Marie Sallé, who led her company in dance sequences written specifically to showcase her pioneering approach to ballet.
Handel fully embraced the French opera tradition in Ariodante, starting with a French-style Overture instead of an Italian sinfonia. Following a fashion popularized by Lully, King Louis XIV's favorite opera and ballet composer, Ariodante starts with a slow introduction built out of dotted rhythms, those alternations of long and short notes that gives the music a crisp, ceremonial snap.
The Overture continues in the usual French manner with a fast fugue.
It was also a French custom to end the opera with a celebratory ballet. The Gavotte and Bourrée from that scene demonstrate Handel's fluency in the courtly dance styles, like how the Gavotte accentuates that dance's defining quality: a rhythmic pattern that starts midway through the first measure. 
Franz Joseph Haydn
Sinfonia concertante in B-flat major, H. I:105 (1792)

Approximate duration: 22 minutes
After Haydn's longtime patron Prince Nikolaus Esterházy died in 1790 and his successor disbanded the court orchestra, the loyal composer was left with a fraction of his old salary—and more freedom than he had enjoyed in decades. Seizing the opportunity, a German impresario active in London, Johann Peter Salomon, enticed Haydn to England with a generous contract for the 1791-92 season.
While Salomon and Haydn presented weekly concerts on Mondays in the Hanover Music Rooms, a competing group occupied the same venue on Thursdays for performances featuring Ignaz Pleyel, one of Haydn's former composition students. As Haydn put it in a letter to a friend in Vienna, "Now a bloody harmonious war will commence between master and pupil."
Adopting a recent French trend, Pleyel impressed his London audiences with diverse concertos for groups of soloists, a genre known as the sinfonia concertante. Not to be outdone, Haydn designed one in direct competition with Pleyel, choosing a mixed solo quartet of violin, cello, oboe and bassoon. The new work debuted on March 9, 1792, with Salomon as the solo violinist.
When Haydn was first mastering the art of the symphony 30 years earlier, his proving ground was the Esterházy family's small private orchestra, consisting of no more than 15 world-class players. He took advantage of those resources by weaving instrumental solos into the fabric of his symphonies, a skill he renewed in this late Sinfonia concertante. By the point in the first movement when the soloists make what should be their official arrival—marked by the solo violin's restatement of the opening theme—the quartet is already a familiar and jovial presence, having appeared within the orchestral textures and independently as a harmonious sub-group.
In choosing four soloists that encompass a full sweep through the bass and treble registers, Haydn put himself on terrain that was familiar from his dozens of string quartets. Often the soloists play as if they are a self-contained chamber music group, their statements framed by the subtlest of plucks from the strings or long tones from the winds.
The central Andante emphasizes the singing qualities of the soloists, placing them in shifting duets and trios in sweet harmony. They also take turns inserting quick counter-lines, but their virtuosity is always in service of the melodic flow.
The finale continues in an operatic vein, interrupting the action for free-flowing recitatives from the solo violin.
Rapid passages of sixteenth-notes let the soloists show off their facility, from wide-ranging arpeggios in the violin to phrases that climb impossibly high into the cello's upper range. 
Wolfgang Amadeus Mozart
Symphony No. 40 in G minor, K. 550 (1788; revised 1791)

Approximate duration: 35 minutes
Mozart began writing symphonies at the age of eight, modeling his style after the works by an older friend he met in London, Johann Christian Bach. Later, as a teenager back in his hometown of Salzburg, Mozart looked to the example of Joseph Haydn, whose brother happened to work alongside Mozart and his father. Some of the symphonies Mozart wrote as a 17- and 18-year-old ranked among his first truly brilliant compositions, and by that time he had already completed three-fourths of his lifetime symphonic output.
Mozart had fewer occasions to write symphonies during his heyday as a busy freelancer in Vienna, and he might never have written his three final symphonies were it not for the money troubles that plagued his final years. Unable to support his family with concert appearances or opera commissions, he was reduced to pleading friends for loans, seeking cheaper housing in the suburbs and following dead-end leads for his music. Some opportunity must have prompted Mozart to compose three symphonies in a span of eight weeks during the summer of 1788, but most likely nothing came of it. The fact that he retouched the Symphony No. 40 suggests that at least this one might have reached an audience somewhere; it survives in the original version completed on July 25, 1788, and also in this later rewrite that added clarinets to the woodwind section.
The Symphony's first movement begins with a peculiar and essential quirk of phrasing that assigns the violas to quiver through one measure of bare accompaniment.
When the violins enter a moment later with a theme that sighs three times before leaping up, there is a subtle rub between what our ears hear as the strong beat and the underlying architecture of the phrase. The result is a persistent and restless feeling of propulsion, as if each phrase must scrabble forward to stay ahead of the surge. 
The second movement is the only portion of the Symphony that moves away from the turbulence of G minor, and even here patterns of hiccupping rhythms and delayed resolutions recall the stormy first movement.
The Menuetto is unusually grave for the portion of a Symphony that often serves as a palate-cleanser, especially when the layers square off in brusque counterpoint.
Only the contrasting Trio section in G major relaxes into an easy, elegant flow aligned with the movement's roots in French dancing.
With contrasts of piano and forte in the manner of Haydn and a theme that rockets up in a style associated with the symphonic trendsetters in Mannheim, Mozart summed up a lifetime of symphonic growth in this energetic finale.
The special ingredient he added to the mix was operatic drama, akin to the minor-key turbulence he had conjured in his most recent work for the stage, Don Giovanni.
-- Copyright © 2019 Aaron Grad
Aaron Grad is a composer, guitarist and writer based in Seattle. Besides providing program notes for the New World Symphony, he has been the Orpheus Chamber Orchestra's program annotator since 2005 and also contributes notes to the Saint Paul Chamber Orchestra and Seattle Symphony.
Bernard Labadie, conductor
Bernard Labadie has established himself worldwide as one of the preeminent conductors of the Baroque and Classical repertoire, a reputation closely tied to his work with Les Violons du Roy (for which he served as Music Director from its inception until 2014) and La Chapelle de Québec. With these two ensembles he has regularly toured Canada, the U.S. and Europe, in major venues and festivals such as Carnegie Hall, Avery Fisher Hall, Walt Disney Concert Hall, Kennedy Center, The Barbican, The Concertgebouw and the Salzburg Festival, among others. He begins a four-year term as Principal Conductor of the Orchestra of St. Luke's in the 2018-19 season.
In 2017-18 Mr. Labadie led the Orchestra of St. Luke's at Carnegie Hall as its designated principal conductor. Also in 2017-18 he was guest conductor of the Baltimore Symphony, Minnesota Orchestra, Cleveland Orchestra, St. Louis Symphony, Toronto Symphony and the National Arts Centre Orchestra (Ottawa). Internationally, his season included conducting the Frankfurt Radio Symphony, Orchestre Philharmonique de Radio France, Finnish Radio Orchestra, Academy for Early Music Berlin (in Hamburg) and Berlin Radio Symphony Orchestra.
Since his triumphant debut with the Minnesota Orchestra, Mr. Labadie has become a regular presence on the podiums of the major North American orchestras, including the Atlanta, Boston, Chicago, Colorado, Detroit, Houston, Montreal, St. Louis, San Francisco and Toronto symphonies; the Cleveland and Philadelphia orchestras; the Los Angeles and New York philharmonics; and the Handel & Haydn Society.
International audiences in past seasons have seen and heard Mr. Labadie conduct the Bavarian Radio Symphony, National Orchestra of France, Academy of Ancient Music, Orchestra of the Age of Enlightenment, BBC Royal Scottish National Orchestra, Melbourne Symphony, Orchestra of the Collegium Vocale Ghent, Royal Concertgebouw Orchestra, Royal Northern Sinfonia, Swedish Chamber Orchestra, WDR Symphony Orchestra (Cologne) and Zurich Chamber Orchestra.
On the opera podium, Mr. Labadie has served tenures as artistic director of L'Opéra de Québec and L'Opéra de Montréal. He made his Metropolitan Opera debut with Mozart's The Magic Flute, a work which he also led at the Cincinnati Opera. Other operatic highlights include Handel's Orlando with Glimmerglass Opera, Mozart's Così fan tutte at the Mostly Mozart Festival, Mozart's Lucio Silla with Santa Fe Opera and concert versions of Handel's Theodora and Samson. In 2017 he made his long-awaited debut with the Canadian Opera Company, conducting The Magic Flute.
Mr. Labadie's extensive discography includes many critically acclaimed recordings on Dorian, ATMA and Virgin Classics labels, including Handel's Apollo e Dafne and a collaborative recording of Mozart's Requiem with Les Violons du Roy and La Chapelle de Québec, both of which received Canada's Juno Award. Other recordings include C.P.E. Bach's complete cello concertos with Truls Mørk and Les Violons du Roy; J.S. Bach's complete piano concertos with Alexandre Tharaud, both on Virgin Classics; and Haydn's piano concertos with Marc-André Hamelin as soloist, released by Hyperion.
In 2016 Mr. Labadie received the Samuel de Champlain award in Paris. The Canadian government appointed him as an Officer of the Order of Canada in 2005 and his home province named him a Chevalier de l'Ordre National du Québec in 2006.