Events & Tickets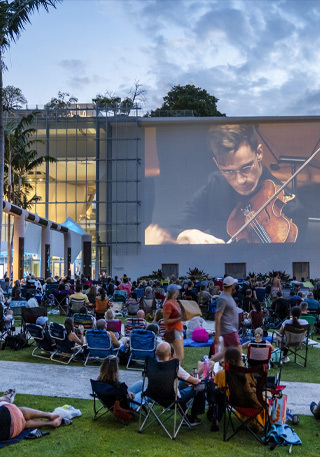 WALLCAST® Concert
WALLCAST® Concert: MTT and Jean-Yves Thibaudet
SoundScape Park
Saturday, May 4, 2024 at 8:00 PM
Program
WALLCAST® concerts are free. No tickets required.
Document your WALLCAST® concert experience using #NWSWALLCAST on social media!
Mobile Program: Download NWS's free app for event information, program notes, musician profiles and more! Click here to download.
WALLCAST® Concert Club: Attend a WALLCAST Concert and check-in at the Concert Club table to win prizes and rewards.
Expanded Viewing Area: In addition to the New World Center's 7,000-square-foot projection wall, NWS's new Mobile Wall, a 23x13-foot projection wall with a state-of-the-art sound system, will extend the viewing areas in SoundScape Park during the WALLCAST® concert.
Restrooms: There are always restrooms available in the south-east corner of SoundScape Park. 
What's a WALLCAST® concert? Click here to get a taste of the WALLCAST® concert experience!
Live closed captions are available throughout this concert by visiting nws.edu/captions.
Program
Pyotr Ilyich Tchaikovsky
(1840-1893)
Approx. Duration: 21 minutes

Romeo and Juliet Fantasy Overture (1893)

Maurice Ravel
(1875-1937)
Approx. Duration: 21 minutes

Concerto in G major for Piano and Orchestra (1921-31)

Allegramente
Adagio assai
Presto
Dmitri Shostakovich
(1906-1975)
Approx. Duration: 42 minutes

Symphony No. 15 in B major, Op. 141 (1971)

Allegretto
Adagio
Allegretto
Adagio – Allegretto
Michael Tilson Thomas, conductor
Michael Tilson Thomas is Co-Founder and Artistic Director Laureate of the New World Symphony, America's Orchestral Academy; Music Director Laureate of the San Francisco Symphony; and Conductor Laureate of the London Symphony Orchestra. In addition to these posts, he maintains an active presence guest conducting with the major orchestras of Europe and the United States.
Born in Los Angeles, Mr. Tilson Thomas is the third generation of his family to follow an artistic career. His grandparents, Boris and Bessie Thomashefsky, were founding members of the Yiddish Theater in America. His father, Ted Thomas, was a producer in the Mercury Theater Company in New York before moving to Los Angeles where he worked in films and television. His mother, Roberta Thomas, was the head of research for Columbia Pictures.
Mr. Tilson Thomas began his formal studies at the University of Southern California, where he studied piano with John Crown, and conducting and composition with Ingolf Dahl. At age 19 he was named Music Director of the Young Musicians Foundation Debut Orchestra. During this same period, he was the pianist and conductor in master classes of Gregor Piatigorsky and Jascha Heifetz and worked with Stravinsky, Boulez, Stockhausen and Copland on premieres of their compositions at Los Angeles' Monday Evening Concerts.
In 1969, after winning the Koussevitzky Prize at Tanglewood, he was appointed Assistant Conductor of the Boston Symphony Orchestra. That year he also made his New York debut with the Boston Symphony and gained international recognition after replacing Music Director William Steinberg in mid-concert. He was later appointed Principal Guest Conductor of the Boston Symphony Orchestra where he remained until 1974. He was Music Director of the Buffalo Philharmonic from 1971 to 1979 and a Principal Guest Conductor of the Los Angeles Philharmonic from 1981 to 1985. His guest conducting includes appearances with the major orchestras of Europe and the United States.
Mr. Tilson Thomas is a two-time Carnegie Hall Perspectives artist, curating and conducting series at the hall from 2003 to 2005 and from 2018 to 2019. In the most recent series, he led Carnegie Hall's National Youth Orchestra of the United States of America both at the hall and on tour in Asia, opened the Carnegie Hall season over two evenings with the San Francisco Symphony, conducted two programs with the Vienna Philharmonic and finished with a pair of concerts leading the New World Symphony.
A winner of eleven Grammy Awards, Mr. Tilson Thomas appears on more than 120 recordings. His discography includes The Mahler Project, a collection of the composer's complete symphonies and works for voice and orchestra performed with the San Francisco Symphony, in addition to pioneering recordings of music by Charles Ives, Carl Ruggles, Steve Reich, John Cage, Ingolf Dahl, Morton Feldman, George Gershwin, John McLaughlin and Elvis Costello. His recordings span repertoire from Bach and Beethoven to Debussy and Stravinsky, and from Sarah Vaughan to Metallica.
His television work includes a series with the London Symphony Orchestra for BBC Television, broadcasts of the New York Philharmonic Young People's Concerts from 1971 to 1977 and numerous productions on PBS's Great Performances. With the San Francisco Symphony, he created a multi-tiered media project, Keeping Score, which includes a television series, web sites, and radio programs. He received a Peabody Award for his SFS Media radio series The MTT Files.
Mr. Tilson Thomas's compositions are published by G. Schirmer. In 1991, he and the New World Symphony were presented in a series of benefit concerts for UNICEF in the United States, featuring Audrey Hepburn as narrator of his work From the Diary of Anne Frank, which was commissioned by UNICEF. This piece has since been translated and performed in many languages worldwide. In August 1995, he led the Pacific Music Festival Orchestra in the premiere of his composition Shówa/Shoáh, commemorating the 50th anniversary of the bombing of Hiroshima. His vocal music includes settings of poetry by Walt Whitman and Emily Dickinson, which were premiered by Thomas Hampson and Renée Fleming, respectively. In 2016, Yuja Wang premiered his piano piece You Come Here Often?.
Mr. Tilson Thomas' song cycle Four Preludes on Playthings of the Wind, a setting of Carl Sandburg's poem, was premiered in 2016 by the New World Symphony, with Measha Brueggergosman as soloist. In 2019 the piece was recorded for Medici.tv at the New World Center and given its New York premiere as part of Mr. Tilson Thomas's second Carnegie Hall Perspectives series. His first Perspectives series also featured performances of his own compositions, including Island Music for four marimbas and percussion; Notturno for solo flute and strings, featuring soloist Paula Robison; and new settings of poems by Rainer Maria Rilke. In 2020, he led the San Francisco Symphony in the world premiere of his six-part song cycle Meditations on Rilke, and he subsequently conducted the work at the Cleveland Orchestra. Additional compositions include Street Song for brass instruments; Agnegram, an overture for orchestra; and Urban Legend, a concerto for contrabassoon that was premiered by the San Francisco Symphony. In June 2020, SFS Media released an album of works composed by Mr. Tilson Thomas, featuring live concert recordings of From the Diary of Anne Frank, narrated by mezzo-soprano Isabel Leonard, and Meditations on Rilke, sung by mezzo-soprano Sasha Cooke and bass-baritone Ryan McKinny.
Mr. Tilson Thomas is an Officier de l'Ordre des Arts et des Lettres of France, is a member of the American Academy of Arts and Sciences, was Musical America's Musician of the Year and Conductor of the Year, was Gramophone magazine's Artist of the Year and has been profiled on CBS's 60 Minutes and ABC's Nightline. He has been awarded the National Medal of Arts, has been inducted into the California Hall of Fame and the American Academy of Arts and Letters, and was a 2019 recipient of the Kennedy Center Honors.
Jean-Yves Thibaudet, piano
For more than three decades, Jean-Yves Thibaudet has performed worldwide, recorded more than 50 albums and built a reputation as one of today's finest pianists. He plays a range of solo, chamber and orchestral repertoire—from Beethoven through Liszt, Grieg and Saint-Saëns; to Khachaturian and Gershwin, and to Olivier Messiaen, Qigang Chen, James MacMillan, Richard Dubugnon and Aaron Zigman.
From the very start of his career, Mr. Thibaudet has delighted in music beyond the standard repertoire, from jazz to opera, including works which he has transcribed himself for the piano. His profound professional friendships crisscross the globe and have led to spontaneous and fruitful collaborations in film, fashion and visual art.
One of the foremost interpreters of Ravel and Gershwin, Mr. Thibaudet will journey across Germany and France performing Ravel's Concerto in G and Gershwin's I Got Rhythm Variations with Antonio Pappano and the Chamber Orchestra of Europe, as well as concerts with the San Francisco, Jacksonville, Baltimore, Atlanta, Detroit and Indianapolis symphonies, Los Angeles Philharmonic and Minnesota Orchestra. Two of his other signature pieces—Saint-Saëns's Concerto No. 5 ("Egyptian") and Leonard Bernstein's Symphony No. 2 ("Age of Anxiety")—are programmed with the Chicago and Pittsburgh symphonies and New York Philharmonic.
Mr. Thibaudet will also spend future seasons revisiting old musical friendships, while sowing the seeds for new ones. Planned programs include Beethoven's complete sonatas for violin and piano on tour with Midori, including a complete cycle in Tokyo's Suntory Hall. He also continues his collaboration with cellist Gautier Capuçon and violinist Lisa Batiashvili, whom he will join in performances across Europe, the United States and Canada.
Mr. Thibaudet has a lifelong passion for education and fostering young musical talent. He is the first-ever Artist-in-Residence at the Colburn School in Los Angeles, where he makes his home. In 2017 the school announced the Jean-Yves Thibaudet Scholarships, funded by members of Colburn's donor community, to provide aid for Music Academy students, whom Mr. Thibaudet will select for the merit-based awards, regardless of their instrument choice.
Mr. Thibaudet's recording catalogue has received two Grammy Award nominations, the Preis der Deutschen Schallplattenkritik, the Diapason d'Or, the Choc du Monde de la Musique, the Edison Prize and Gramophone awards. In 2017 he released to great acclaim Bernstein's Age of Anxiety with the Baltimore Symphony Orchestra and Marin Alsop, with whom he previously recorded Gershwin, featuring big band jazz orchestrations of Rhapsody in Blue, the Concerto in F and the original version of Variations on "I Got Rhythm." In 2016, on the 150th anniversary of Erik Satie's birth, Decca released a box set of Satie's complete solo piano music performed by Mr. Thibaudet—one of the foremost champions of the composer's works. On his Grammy Award-nominated recording Saint-Saëns, Piano Concerti Nos. 2&5, released in 2007, he is joined by the Orchestre de la Suisse Romande. Mr. Thibaudet's Aria–Opera Without Words, which was released the same year, features aria transcriptions, some of which are Mr. Thibaudet's own. His other recordings include the jazz albums Reflections on Duke: Jean-Yves Thibaudet Plays the Music of Duke Ellington and Conversations With Bill Evans.
Mr. Thibaudet has also had an impact on the worlds of fashion, film and philanthropy. He was soloist on Aaron Zigman's score for Robin Swicord's Wakefield; this was the first time that the composer had allowed a pianist other than himself to perform his film work. He was also soloist in Dario Marianelli's award-winning scores for the films Atonement (which won an Oscar for Best Original Score) and Pride and Prejudice, as well as Alexandre Desplat's soundtracks for the 2012 film Extremely Loud & Incredibly Close and Wes Anderson's upcoming film The French Dispatch. He had a cameo in Bruce Beresford's film on Alma Mahler, Bride of the Wind, and his playing is showcased throughout. In 2004 he served as president of the prestigious charity auction at the Hospices de Beaune. His concert wardrobe is designed by Dame Vivienne Westwood.
Mr. Thibaudet was born in Lyon, France, where he began his piano studies at age five and made his first public appearance at age seven. At 12, he entered the Paris Conservatory to study with Aldo Ciccolini and Lucette Descaves, a friend and collaborator of Ravel. At age 15, he won the Premier Prix du Conservatoire and, three years later, the Young Concert Artists Auditions in New York City. Among his numerous commendations is the Victoire d'Honneur, a lifetime career achievement award and the highest honor given by France's Victoires de la Musique. In 2010 the Hollywood Bowl honored Mr. Thibaudet for his musical achievements by inducting him into its Hall of Fame. Previously a Chevalier of the Ordre des Arts et des Lettres, Mr. Thibaudet was awarded the title Officier by the French Ministry of Culture in 2012. In 2020 he was named Special Representative for the promotion of French Creative and Cultural Industries in Romania.