Events & Tickets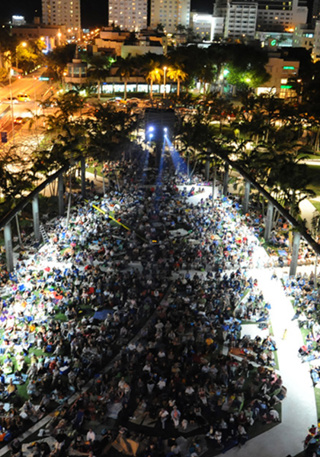 WALLCAST™ Concert
WALLCAST® CONCERT: NYO2 AND GIL SHAHAM
SoundScape Park
Saturday, July 21 at 8:30 PM
Program
Sponsored by:

Carnegie Hall's NYO2 makes its New World Center debut alongside Grammy Award-winning violinist Gil Shaham and NWS Fellows and alumni for an exclusive one-night-only event—the orchestra's only public performance before its finale at Carnegie Hall on July 24. 
NYO2 is joined by conductor Carlos Miguel Prieto for Mexican and Russian masterpieces, including the vibrant suite from Revueltas's Redes, Prokofiev's rich First Violin Concerto and Shostakovich's dramatic Symphony No. 5. 
NYO2's 2018 season and six-day residency in Miami mark the start of a new partnership between New World Symphony and Carnegie Hall, which will see current and former Fellows mentoring and performing side-by-side with participating students from across the country, including many from South Florida.   
Comprising a "remarkable array of talent" (The New York Times), NYO2 is an orchestral training program for talented young players ages 14–17 with a focus on recruiting musicians from communities underrepresented in classical music. 
NYO2 is a program of Carnegie Hall's Weill Music Institute.
Click here for more information on NYO2.
WALLCAST® concerts are free. No tickets required. Document your WALLCAST® concert experience using #WALLCAST and #citimiami on social media!
WALLCAST® Concert Club, Presented by Citi: Click here to learn about the free WALLCAST® Concert Club. Join today!
Mobile Program: Text the word "WALLCAST" to 91011 and receive a link to the mobile program.
Citi Pre-Concert Chat: Join NWS Fellows for a free Pre-Concert Chat in SoundScape Park! These half-hour chats begin one hour prior to the performance. 
Restrooms: There are restrooms available at all times located directly in the south-east corner of SoundScape Park. 
What's a WALLCAST® concert? Click here to get a taste of the WALLCAST® concert experience!
Program
Silvestre Revueltas
(1899-1940)

Suite from Redes (1934-35)

Sergei Prokofiev
(1891-1953)

Concerto No. 1 in D major for Violin and Orchestra, Op. 19 (1915-17)

Andantino
Scherzo: Vivacissimo
Moderato -- Allegro moderato
Dmitri Shostakovich
(1906-1975)

Symphony No. 5 in D minor, Op. 47 (1937)

Moderato -- Allegro non troppo
Allegretto
Largo
Allegro non troppo
Carlos Miguel Prieto, conductor
Carlos Miguel Prieto was born into a musical family of Spanish and French descent in Mexico City. His charismatic conducting, characterised by its dynamism and the expressivity of his interpretations, has led to major engagements and popular acclaim throughout North America and in Europe. Prieto is in great demand as a guest conductor with many of the top North American orchestra including Cleveland, Dallas, Toronto and Houston Symphony orchestras and has enjoyed a particularly close and successful relationship with the Chicago Symphony Orchestra.
Prieto is recognised as a highly influential cultural leader as well as being the leading Mexican conductor of his generation and has been the Music Director of the Orquesta Sinfónica Nacional de México, the country's most important orchestra, since 2007. The following year he was appointed Music Director of the Orquesta Sinfónica de Minería, a hand-picked orchestra which performs a two month long series of summer programmes in Mexico City.
2016 - 2017 marked Prieto's eleventh season as Music Director of the Louisiana Philharmonic Orchestra (LPO), where he has led the cultural renewal of New Orleans following Hurricane Katrina and oversaw the triumphant return of the orchestra to its home, the Orpheum Theater. The string of international soloists, such as violinists Joshua Bell and Augustin Hadelich and cellist Yo-Yo Ma, who now appear with the LPO are testament to his inspirational leadership of the orchestra.
Prieto's 2017-18 season includes engagements throughout Europe, North and South America and New Zealand and includes his debuts with the London Philharmonic Orchestra and the Los Angeles New Music Group. He returns to the NDR Elbphilharmonie, Royal Liverpool Philharmonic, Bournemouth Symphony Orchestra, Strasbourg Philharmonic and the Auckland Philharmonia. Further ahead Prieto will return to the Hallé, Frankfurt Radio Symphony and the Royal Scottish National Symphony Orchestra alongside his regular appearances in Spain conducting orchestras such as the RTVE Symphony Orchestra, Bilbao Orkestra Sinfonikoa, Orquesta de Valencia and Orquesta del Principado de Asturias.
In 2016-17 Prieto made his London conducting debut at the Barbican Centre with the National Youth Orchestra of Great Britain winning several 5 star reviews. He also led a very successful nine-concert tour of Germany and Austria with the Orquesta Sinfónica Nacional de México performing at venues including the Wiener Musikverein, Großes Festspielhaus Salzburg, Kölner Philharmonie and Alte Oper Frankfurt. In June 17 he stepped in for a cancellation making his debut with the Minnesota Orchestra.
Since 2002, alongside Gustavo Dudamel, Prieto has conducted the Youth Orchestra of the Americas, which draws young musicians from the entire American continent. A staunch proponent of music education, Prieto served as Principal Conductor of the YOA from its inception until 2011 when he was appointed Music Director. In early 2010 he conducted the YOA alongside Valery Gergiev on the occasion of the 40th anniversary of the World Economic Forum at Carnegie Hall.
A naturally inquisitive musician of broad and varied interests, Prieto is renowned for championing Latin American music and has conducted over 100 world premieres of works by Mexican and American composers, many of which were commissioned by him.
Prieto has an extensive discography that covers labels including Naxos and Sony. Recent recordings include works by Bruch, Beethoven and Mendelssohn, with violinist Philippe Quint and the Orquesta Sinfónica de Minería on Avanticlassic, and Korngold's Violin Concerto on Naxos, which received two Grammy nominations. In spring 2013, Prieto released a 12-DVD set of live recordings of the complete Symphonies of Gustav Mahler as part of the Orquesta Sinfónica de Minería 35th Anniversary season. Future releases include recordings with Boris Giltburg for Naxos and Ning Feng for Channel Classics.
Also an accomplished violinist, Carlos Miguel Prieto has performed as soloist with the Orquesta Sinfónica Nacional de México, and has participated in the music festivals of Aspen, Tanglewood, Interlochen, San Miguel Allende and Cervantino. Continuing a family tradition that reaches back four generations, he also has been a member of the Cuarteto Prieto, with which he has performed in the most important halls of Mexico, United States, and throughout Europe.
A graduate of Princeton and Harvard universities, Carlos Miguel Prieto studied conducting with Jorge Mester, Enrique Diemecke, Charles Bruck and Michael Jinbo.
Gil Shaham, violin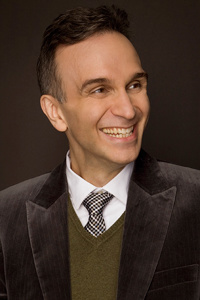 Gil Shaham is one of the foremost violinists of our time.  His flawless technique combined with his inimitable warmth and generosity of spirit has solidified his renown as an American master. The Grammy Award winner, also named Musical America's "Instrumentalist of the Year," is sought after throughout the world for concerto appearances with leading orchestras and conductors, and regularly gives recitals and appears with ensembles on the world's great concert stages and at the most prestigious festivals. 
Long recognized as one of its finest exponents, it was with Korngold's Concerto that Mr. Shaham launched the 2015-16 season at the Berlin Philharmonic under Zubin Mehta. Besides reprising John Williams' Concerto with Stéphane Denève and the Boston Symphony, where he previously recorded the Concerto under the composer's direction, he performs Bach with the Los Angeles Philharmonic and Gustavo Dudamel; Brahms with the Orchestre de Paris; Tchaikovsky with the Orchestra del Teatro di San Carlo and the New World, Sioux City and Nashville symphonies; and Mendelssohn during a Montreal Symphony residency and on a European tour with the Singapore Symphony. Mr. Shaham's long-term exploration of "Violin Concertos of the 1930s" enters an eighth season with performances of Bartók's Second with the Chicago Symphony and The Philadelphia Orchestra at Carnegie Hall and the Kimmel Center, Barber with the Orchestre National de Lyon and Orchestra dell'Accademia Nazionale di Santa Cecilia and Prokofiev's Second on an extensive North American tour with The Knights to celebrate the release of Violin Concertos of the 1930s, Vol. 2. Issued on the violinist's own Canary Classics label, this marks the project's second title and pairs his recordings of Prokofiev with The Knights and of Bartók with the Stuttgart Radio Symphony. As well as undertaking a tour of European capitals with Sejong and a residency at the University of North Carolina at Chapel Hill, Mr. Shaham continues touring to London's Wigmore Hall and key North American venues with accounts of Bach's complete unaccompanied sonatas and partitas in a special multimedia collaboration with photographer and video artist David Michalek. 
Last season Mr. Shaham headlined the Seattle Symphony's opening night gala, before joining the San Francisco Symphony and Michael Tilson Thomas for Prokofiev's Second Concerto at Carnegie Hall and other stops on the orchestra's 20th anniversary tour. The Prokofiev was one of the works showcased in the "Violin Concertos of the 1930s" project, which also took him to The Philadelphia Orchestra for Berg and to the Berlin Radio Symphony and London Symphony Orchestra for Britten. Besides premiering David Bruce's new Concerto with the San Diego Symphony, his orchestral highlights included Bach with the Sydney and Dallas symphonies and Mendelssohn in Tokyo, Canada, Luxembourg and with Gustavo Dudamel and the Los Angeles Philharmonic at the Hollywood Bowl. After Canary Classics released his interpretation of Bach's complete solo sonatas and partitas on disc, Mr. Shaham gave unaccompanied Bach recitals at Chicago's Symphony Center, Los Angeles' Disney Hall and other U.S. venues in company with David Michalek. 
Mr. Shaham already has more than two dozen concerto and solo CDs to his name, including bestsellers that have ascended the record charts in the U.S. and abroad. These recordings have earned prestigious awards, including multiple Grammys, a Grand Prix du Disque, Diapason d'Or and Gramophone Editor's Choice. His recent recordings are issued on the Canary Classics label, which he founded in 2004. They comprise 1930s Violin Concertos (Vol. 1), recorded live with the New York Philharmonic, Boston Symphony, BBC Symphony, Staatskapelle Dresden and Sejong; Haydn Violin Concertos and Mendelssohn's Octet with the Sejong Soloists; Sarasate: Virtuoso Violin Works with Adele Anthony, Akira Eguchi and Orquesta Sinfónica de Castilla y León; Elgar's Violin Concerto with the Chicago Symphony and David Zinman; The Butterfly Lovers and Tchaikovsky's Violin Concerto with the Singapore Symphony; Tchaikovsky's Piano Trio in A with Yefim Bronfman and cellist Truls Mørk; The Prokofiev Album and Mozart in Paris, both with his sister, pianist Orli Shaham; The Fauré Album with Akira Eguchi and cellist Brinton Smith; and Nigunim: Hebrew Melodies, also recorded with Orli Shaham, which features the world premiere recording of a sonata written for the violinist by Avner Dorman. Dorman's Sonata is one of several new works commissioned for Mr. Shaham, who has also premiered and championed pieces by composers including William Bolcom, David Bruce, Julian Milone and Bright Sheng. 
Mr. Shaham was born in Champaign-Urbana, Illinois in 1971. He moved with his parents to Israel, where he began violin studies with Samuel Bernstein of the Rubin Academy of Music at the age of seven, receiving annual scholarships from the America-Israel Cultural Foundation. In 1981, while studying with Haim Taub in Jerusalem, he made debuts with the Jerusalem Symphony and the Israel Philharmonic. That same year he began his studies with Dorothy DeLay and Jens Ellermann at Aspen. In 1982, after taking first prize in Israel's Claremont Competition, he became a scholarship student at The Juilliard School, where he worked with DeLay and Hyo Kang. He also studied at Columbia University. 
Mr. Shaham was awarded an Avery Fisher Career Grant in 1990, and in 2008 he received the coveted Avery Fisher Prize. In 2012 he was named "Instrumentalist of the Year" by Musical America, which cited the "special kind of humanism" with which his performances are imbued. He plays the 1699 "Countess Polignac" Stradivarius and lives in New York City with his wife, violinist Adele Anthony, and their three children.
2018 NYO2 Members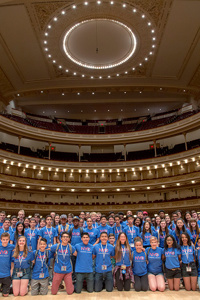 Alabama
Emma Boyd, Violin (Madison)
Bethany Simon, Violin (Montgomery)
Arizona
Vincent Louis Claes, Cello (Phoenix)
Cruise Myers, Bass (Gilbert) *
Caleb York, Timpani/Percussion (Tucson)
California
Ashni Budge, Violin (La Verne)
Darren Chiu, Oboe (Chino Hills)
Ingrid Hernandez, Bassoon (Los Angeles)
Magy Hernandez, Viola (Los Angeles)
Edward Jung, Violin (San Jose) *
Shinwho Kwun, Viola (San Ramon) *
Skyler I. Lee, Bass (Los Angeles) *
Susan Lee, Violin (San Diego)
Scott Quirk, Flute (Simi Valley) *
Heejun Park, Clarinet (Irvine)
Anoush Pogossian, Clarinet (Glendale)
Matthew Sakiyama, Violin (Millbrae)
Joseph Yu, Trumpet (San Francisco)
Katherine Zhu, Violin (San Diego) *
Connecticut
Tyler Tan, Violin (Cheshire)
Florida
Luis Cortez, Trombone (Weston) *
Anthony De Pena, Cello (Miami)
Ethan Hillman, Violin (Tampa)
Ethan S. Olaguibel, Bass (Miami) * ◊
Adam Savage, Viola (Port St. Lucie)
Jiddu Vega, Violin (Miami) *
Hawaii
Yudai Leonzon, Violin (Honolulu) *
Idaho
Danielle Jöstlein, Horn (Coeur d'Alene)
Julia Marielle Tan, Violin (Boise)
Illinois
Jaila Carr, Horn (Chicago)
Avi Gotskind, Timpani/Percussion (Chicago) *
Angelica Lorenzo, Timpani/Percussion (Chicago) *
Indiana
Priyanka Gohal, Harp (Indianapolis)
Kansas
Bethlehem Kelley, Violin (Lenexa) *
Allen Zhang, Violin (Manhattan)
Maryland
Arthur Hu, Bassoon (Bethesda)
Samuel Keh, Timpani/Percussion (Ellicott City)
Esther Kim, Oboe (Potomac)
Tracie Kwon, Flute (Germantown) *
Liam Mcconlogue, Horn (Greenbelt)
Aneesha Sampath, Violin (North Potomac)
David Stephens III, Viola (Ellicott City) *
Hannah Suh, Horn (Potomac)
Grace Tifford, Tuba (Rockville)
Laressa Winters, Bassoon (Columbia)
Sean Yu, Cello (Ellicott City)
Massachusetts
Kaede Ishidate, Cello (Holden)
Thomas Juhasz, Oboe (Carlisle)
Alex Russell, Trombone (Cambridge)
Michigan
Soyoung Cho, Violin (Rochester)
Nevada
Tristin Saito, Viola (Las Vegas)
New Jersey
Laura Futamura, Flute (Middletown)
Danyoung Kim, Viola (Montvale)
Gregory Llewellyn, Cello (Englewood) *
Valerie Mun, Violin (Old Tappan) *
New York
Parker Bruce, Trumpet (Baldwinsville)
Jaycee Cardoso, Violin (Huntington Station)
Lawrence Chai, Viola (Mount Sinai)
Rosee Head, Violin (New Hartford)
Leila Hudson, Harp (Yorktown Heights)
Luna Simone-Gonzalez, Viola (New York)
North Carolina
Aaron Chen, Cello (Asheville)
Ohio
Jamie Park, Bass (Beachwood)
Oregon
Thomas A. Green, Bass (Medford)
Pennsylvania
Myles Bell, Violin (West Chester)
Aaron Berger, Violin (Pittsburgh)
Peirce Ellis, Viola (Philadelphia) *
Sabine Jung, Cello (West Chester) *
Gregory Miguel Padilla, Bass (Philadelphia)
Sarah G. Yoon, Cello (Newton Square)
Puerto Rico
Rafniel E. Rios Babilonia, Trumpet (Aguada) *
South Carolina
Payton Lee, Violin (Duncan)
Texas
Dylan Fernandez de Lara, Violin (San Antonio)
Gabriel Ortiz, Trumpet (San Marcos) *
Adolfo Pena, Horn (Brownsville) *
Tyrun Willoughby Jr., Viola (Corpus Christi)
Virginia
Liam J. Barron, Bass Trombone (Ashburn)
Bryan Kim, Violin (Blacksburg)
West Virginia
Armâan Karimpour, Clarinet (Ona)

* Prior NYO2 member
◊ Member of NWS's 2018 Side-by-Side Ensemble
NWS Fellows and Alumni
VIOLIN
Alex Gonzalez
Sarah Peters
Christopher Robinson
VIOLA
Daniel Fellows
Helen Hess
CELLO
Michael Frigo
Blake-Anthony Johnson
BASS
Andrew Chilcote
Michael Fuller
Blake Hinson (Assistant Principal Bass, New York Philharmonic)
FLUTE
Seth Morris (Acting Principal Flute, Metropolitan Opera Orchestra)
CLARINET
Alex Laing (Principal Clarinet, Phoenix Symphony)
Daniel Parrette
BASSOON
Francisco Joubert Bernard
HORN
Priscilla Rinehart
Denise Tryon (Professor, Peabody Conservatory of Music)
PERCUSSION
Marc Damoulakis (Principal Percussion, The Cleveland Orchestra)
Joseph Kelly
Jacob Nissly (Principal Percussion, San Francisco Symphony)
Erich Rieppel