Events & Tickets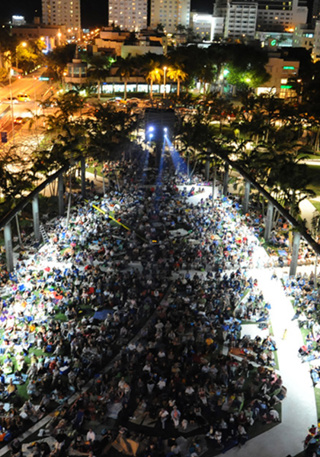 WALLCAST® Concert
WALLCAST® CONCERT: POETIC REFLECTIONS
SoundScape Park
Saturday, November 11 at 7:30 PM
Citi Pre-Concert Chat at 6:30 PM
Program
Mark Wigglesworth returns with a poignant program featuring Britain's finest musical geniuses. Edward Elgar took nearly a decade to write his First Symphony, which was immediately hailed as a phenomenal success. While the lush slow movement is likened to the adagios of Beethoven and Mahler, the Symphony's beauty is its own legacy. Tenor Nicky Spence takes the spotlight alongside the strings in Benjamin Britten's Les Illuminations. Setting the haunting verses of Arthur Rimbaud, the song cycle portrays life as a "savage parade" in ethereal declarations of love and rumblings of sinister underworlds. Igor Stravinsky paints a masterful mosaic in which winds and brass flow between fanfares, folk-tunes and a somber final chorale, all dedicated to the memory of Claude Debussy.
WALLCAST® concerts are free. No tickets required. Document your WALLCAST® concert experience using #WALLCAST and #citimiami on social media!
WALLCAST® Concert Club, Presented by Citi: Click here to learn about the free WALLCAST® Concert Club. Join today!
Mobile Program: Text the word "WALLCAST" to 91011 and receive a link to the mobile program.
Citi Pre-Concert Chat: Join NWS Fellows for a free Pre-Concert Chat in SoundScape Park! These half-hour chats begin one hour prior to the performance. 
Restrooms: There are restrooms available at all times located directly in the south-east corner of SoundScape Park. Restrooms inside the New World Center will be open to WALLCAST® Concert Club members after intermission ends until 10 minutes before the end of the performance.
What's a WALLCAST® concert? Click here to get a taste of the WALLCAST® concert experience!
Program
Igor Stravinsky
(1882-1971)
Approx. Duration: 9 minutes

Symphonies of Wind Instruments (1920)

Benjamin Britten
(1913-1976)
Approx. Duration: 21 minutes

Les Illuminations for Tenor and String Orchestra, Op. 18 (1939)

Fanfare
Villes
Phrase
Antique 
Royauté 
Marine 
Interlude 
Being Beauteous 
Parade Marcia
Départ
Edward Elgar
(1857-1934)
Approx. Duration: 50 minutes

Symphony No. 1 in A-flat major, Op. 55 (1907-08)

Andante, nobilmente e semplice--Allegro
Allegro molto
Adagio
Lento--Allegro
Igor Stravinsky
Symphonies of Wind Instruments (1920)

Approximate duration: 9 minutes
Stravinsky composed the Symphonies of Wind Instruments in 1920, six years after leaving his native Russia in what proved to be a permanent exile. He also left behind the splashy orchestral effects of his breakthrough ballets, a sound that reached its ritualistic climax in The Rite of Spring from 1913. Stravinsky's style was morphing into something more urbane, dry and restrained, woven through with antique, "neoclassical" details, as exemplified in the sparkling ballet Pulcinella from 1920.
Stravinsky designed the Symphonies of Wind Instruments as a tribute to the late French composer Claude Debussy, and yet the music still connects strongly to Russia. In his autobiography, Stravinsky described the work as "an austere ritual which is unfolded in terms of short litanies between different groups of homogeneous instruments." As the scholar Richard Taruskin observed, its progression of chant-like phrases could be viewed as an approximation of a Russian Orthodox burial service. Even the title supports this more elemental understanding of the music: It is not a symphony in the usual sense, but rather a presentation of Symphonies, in line with the term's original Greek meaning of "sounding together."
After the inauspicious premiere of Symphonies of Wind Instruments, conducted by Serge Koussevitzky in London in 1921, Stravinsky wrote, "I did not, and indeed I could not, count on any immediate success for this work. It is devoid of all the elements which infallibly appeal to the ordinary listener and to which he is accustomed. It would be futile to look in it for any passionate impulse or dynamic brilliance. … This music is not meant 'to please' an audience or to rouse its passions. I had hoped, however, that it would appeal to those in whom a purely musical receptivity outweighed the desire to satisfy emotional cravings."
The scoring for wind ensemble heightens the flinty dialect of the Symphonies, especially in phrases that place the clarinets and oboes into their piercing upper ranges.
Elaborating upon fragments heard earlier, the final portion of the work intones a humble chorale.
Additional Resources
Online score from Boosey and Hawkes (free login required)
Full text of Stravinsky: An Autobiography
Excerpt on Symphonies of Wind Instruments from Taruskin's Stravinsky biography
History of the relationship between Stravinsky and Debussy
Benjamin Britten
Les Illuminations

 
for Tenor and String Orchestra, Op. 18

(1939)


Approximate duration: 21 minutes

Benjamin Britten left England in 1939, evading the specter of war, some troubling romantic attachments, and an uncertain musical future. He passed through Canada, visited briefly with Aaron Copland, and then spent three years around New York, first on Long Island and later in Brooklyn Heights, in a house he shared with the poet W. H. Auden. Britten's traveling companion was the tenor Peter Pears, and in those years their relationship blossomed into a lifelong romance and one of the most fruitful musical exchanges of the century.

Shortly before embarking, Britten began a song cycle using texts from the compilation Les Illuminations, a set of ecstatic prose poems that captured the bright spirit of travel, inspiration and love. The author, French poet Arthur Rimbaud (1854-1891), wrote most of the texts while visiting London in 1873 with his own love interest and creative foil, fellow poet Paul Verlaine.

Britten composed Les Illuminations for the Boyd Neel String Orchestra, the group that had provided a major career boost in 1937 with a last-minute commission to write Variations on a Theme of Frank Bridge for the Salzburg Festival. He dedicated the new score to Sophie Wyss, the soprano who gave the premiere performance in January 1940. Pears added Les Illuminations to his repertoire the following year, and it remains the territory of both sopranos and tenors.

In the opening Fanfare, bright triads and shimmering tremolo figures build anticipation to the single line of text: "I alone hold the key to this wild parade."

That line of text returns later in the Interlude; the melody is the same, but the new accompaniment creates a more intimate and vulnerable atmosphere.

Two songs bear cryptic dedications that reference Britten's romantic past and present. "Antique," celebrating the "gracious child of Pan," is dedicated "to K.H.W.S." (Wulff Scherchen), who at 18 began an affair with the 25-year-old Britten. The song calls for players to strum their strings like a guitar, reinforcing the personal, serenading quality of the music.

"Being Beauteous" bears a dedication "to P.N.L.P." (Peter Pears), and the throbbing music brings out all the sensuality and desire in Rimbaud's portrait in which "whistlings of death and rings of faint music make this adored body rise, expand and tremble like a ghost."

The poignant final line of the last song, "Départ," seems to encapsulate exactly Britten's transformative experience during his travels: "Leaving with new affection and amid new sounds."

 

Additional Resources

Details on Britten's house in Brooklyn, and the play it inspired

Complete translation of Rimbaud's Les Illuminations

Texts and translations for Britten's song cycle

 
Edward Elgar
Symphony No. 1 in A-flat major, Op. 55

(1907-08)


Approximate duration: 50 minutes

For 200 years following Henry Purcell's death in 1695, the most significant music created in England was the work of foreigners, including Handel, J. C. Bach and Haydn. The man who broke England's dry spell was an unlikely candidate—the son of a piano tuner, Catholic in a Protestant country, and untrained in music except for some violin lessons as a teenager. Edward Elgar gained international recognition with his intriguing Enigma Variations in 1899 and helped forge a distinctly British sound in the waning years of the Romantic era.

Elgar took steps toward writing a symphony in 1898, but after that effort fizzled he did not try again until 1907. Like Brahms, who delayed the completion of his First Symphony until he was 43, the 50-year-old Elgar brought notable maturity and depth of craft to his Symphony No. 1. The Symphony's dedicatee and first conductor, Hans Richter, declared it "the greatest symphony of modern times, written by the greatest modern composer—and not only in this country." Within a year, a hundred performances of the First Symphony throughout Europe and the United States confirmed Elgar's global importance.

For the Symphony's slow introduction, Elgar dictated that the walking tempo should have a "noble and simple" character.

With this opening, Elgar set up a tremendous challenge: How does one move forward in a multi-movement work when its most memorable theme comes at the outset? (Tchaikovsky's Piano Concerto No. 1 is the poster child for this conundrum.) Elgar's solution was to use that introductory melody as a recurring motto, allowing it to arise organically at later points.

The fast second movement fulfills the function of a scherzo, but instead of a scherzo's usual triple meter, it gathers into the foursquare formation of a brisk march, like a dark shadow of the glowing processional from before.

The same scurrying theme that begins the movement transforms into a new, slower variant in the closing passages, making the link between the two opposing marches more explicit.

The slow third movement, reached without pause, transforms that same theme yet again, rephrasing it as the lyrical heart of this Adagio.

The finale starts with a slow introduction that looks back to the first movement. The leaping phrases are voiced with a spectral quality that reinforces the feeling of a distant memory; initially the sound comes in the form of muted tremolo from the last stands of the cello and viola sections, doubled by bass clarinet and bassoon, respectively. Out of this mist, a new version of the original march emerges, again emanating from the back of the section like a wafting scent.

The fast body of the movement once more explores marching figures, including a passage with a walking bass line that hints at the initial processional.

In the end, that central theme returns in its most grandiose and brilliant formulation yet, closing this cohesive Symphony on a glorious note. 

 

Additional Resources

PDF score from the IMSLP Petrucci Music Library

Recording of Elgar conducting the Symphony No. 1 in 1930

Elgar profile from BBC Radio 3


-- Copyright © 2017 Aaron Grad

Aaron Grad is a composer, guitarist and writer based in Seattle. Besides providing program notes for the New World Symphony, he has been the Orpheus Chamber Orchestra's program annotator since 2005 and also contributes notes to the Saint Paul Chamber Orchestra and Seattle Symphony.
Mark Wigglesworth, conductor
Internationally renowned and Olivier Award-winning conductor Mark Wigglesworth is one of the outstanding musicians of his generation, as much at home in the opera house as the concert hall. Recognized for his masterly interpretations, his highly detailed performances combine a finely considered architectural structure with great sophistication and rare beauty. Through a broad repertoire ranging from Mozart to Boulez, he has forged enduring relationships with many orchestras and opera houses throughout the world.
Mr. Wigglesworth has enjoyed a long relationship with English National Opera (Lady Macbeth of Mtsensk, Così fan Tutte, Falstaff, Katya Kabanova, Parsifal, The Force of Destiny, The Magic Flute, Jenůfa, Don Giovanni and Lulu), and operatic engagements elsewhere include The Royal Opera House (Die Meistersinger von Nürnberg, The Rise and Fall of Mahagonny), The Metropolitan Opera (The Marriage of Figaro) as well as at The Bavarian State Opera, Semperoper Dresden, Teatro Real, The Netherlands Opera, La Monnaie, Welsh National Opera, Glyndebourne and Opera Australia. In 2017 he received the Oliver Award for Outstanding Achievement in Opera.
On the concert platform, Mr. Wigglesworth's highlights include performances with the Berlin Philharmonic, Royal Concertgebouw, London Symphony, London Philharmonic, Boston Symphony, New York Philharmonic, Philadelphia Orchestra, Chicago Symphony, Los Angeles Philharmonic, Cleveland Orchestra, Tokyo Symphony and Sydney Symphony. His recordings include a critically acclaimed complete cycle of the Shostakovich symphonies with the BBC National Orchestra of Wales and the Netherlands Radio Philharmonic, Mahler's Sixth and Tenth symphonies with the Melbourne Symphony, a disc of English music with the Sydney Symphony, Britten's Peter Grimes with Glyndebourne and the Brahms Piano Concertos with Stephen Hough.
Mr. Wigglesworth has written articles for The Guardian and The Independent, made a six-part TV series for the BBC entitled Everything to Play For and held positions as Associate Conductor of the BBC Symphony, Principal Guest Conductor of the Swedish Radio Symphony, Music Director of the BBC National Orchestra of Wales and most recently Music Director of English National Opera. From 2018 he will be the Principal Guest Conductor of the Adelaide Symphony.
Nicky Spence, tenor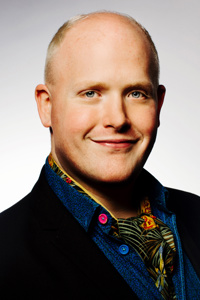 Hailed by The Daily Telegraph as "a voice of real distinction," Nicky Spence is fast emerging as "one of [Britain's] brightest young tenors." His unique skills as a singing actor and the rare honesty of his musicianship are steadfastly earning him a place at the top of the profession.
The Scottish tenor's 2017-18 season includes debuts at the Royal Opera House, Covent Garden in Janáček's From the House of the Dead in a new production directed by Krzysztof Warlikowski with Teodor Currentzis conducting, and at Teatro Real in Bernd Alois Zimmermann's Die Soldaten directed by Calixto Bieito and led by Pablo Heras-Casado. Other highlights include Bernstein's Songfest with the BBC Philharmonic Orchestra, Bach's St. Matthew Passion with the Bach Choir, various projects with the Geneva Camerata, Myrthen Ensemble and London Mozart Players, and a recital tour of the U.K. with performances at the Oxford Lieder Festival, Chiltern Festival and Wigmore Hall.
On the opera stage, Mr. Spence created the role of Brian in the world premiere of Nico Muhly's Two Boys at the English National Opera (ENO), a role he reprised for his Metropolitan Opera debut in 2013.  An internationally acclaimed exponent of Janáček's music, he will record The Diary of One Who Vanished with Julius Drake and has notably appeared in Jenůfa (La Monnaie, Brussels, ENO); Katya Kabanova (Seattle Opera, Opera Holland Park London); and The Makropoulos Case (Oper Frankfurt).
Mr. Spence appears internationally in concert and his repertoire includes Bruckner's Te Deum (Atlanta Symphony / Donald Runnicles); Dvořák's Saint Ludmila (Hallé Orchestra / Sir Mark Elder); Bach's Mass in B minor (Northern Sinfonia / Paul McCreesh); and Britten's Serenade for Tenor, Horn and Strings with L'Orchestre Nationale d'Île de France and at Wigmore Hall.
Mr. Spence has recorded prolifically and his discography includes the recently released final disc of Roger Vignoles' Strauss Song Series (Hyperion), French Mélodie and Shakespeare Settings (both with Malcolm Martineau), songs of Buxton Orr with Iain Burnside (Delphian), and works by Schumann, Wolf and Britten, as well as world premieres of Jonathan Dove, Pavel Haas, Alun Hoddinott and Mark-Anthony Turnage.
Dean Whiteside, conductor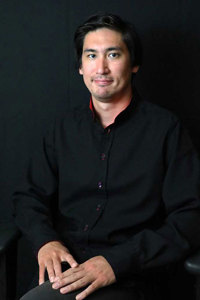 Dean Whiteside was born in New York City and trained in Vienna at the University of Music and Performing Arts. He is in his third season as the New World Symphony's Conducting Fellow, where he leads a variety of performances and serves as assistant to Artistic Director Michael Tilson Thomas. Mr. Whiteside is founder and director of the Nashville Sinfonietta, hailed by The Tennessean as "a virtuoso band." He opened the Blair School of Music's 2013-14 season directing a multimedia realization of Haydn's Seven Last Words of Our Savior on the Cross called "innovative" by The Tennessean and "deeply meditative and satisfyingly original" by ArtsNash. 
Mr. Whiteside's European debut came in 2011 after winning the Jorma Panula Blue Danube Masterclass and Competition. He has conducted orchestras such as the Boston Symphony, Danish National Symphony, Jacksonville Symphony, Juilliard Orchestra, Opéra Orchestre National Montpellier, Orlando Philharmonic, Polish Baltic Philharmonic, Sibiu Philharmonic, Tonhalle Orchestra Zurich, Tokyo Philharmonic, Wiener Kammerorchester and Zagreb Philharmonic, as well as the Vanderbilt Orchestra on a five-city tour of China. He has served as Cover Conductor to the Dallas Symphony and San Francisco Symphony.
Mr. Whiteside is the winner of the American Prize in Conducting and received second prize and the Zagreb Philharmonic Orchestra Award at the Sixth International Competition of Young Conductors Lovro von Matačić. Other awards include the 2017 Mahler Conducting Fellowship, Bruno Walter Memorial Foundation Conducting Scholarship, Croatian Composers' Society Award, David Effron Conducting Fellowship, Bayreuth Festival Scholarship and David Rabin Performance Prize. He has received fellowships from the Aspen Music Festival, Atlantic Music Festival, Cabrillo Festival of Contemporary Music and Castleton Festival.
Mr. Whiteside has worked closely with such conductors as Bertrand de Billy, Fabio Luisi, Lorin Maazel, Jun Märkl, Kurt Masur, Jorma Panula, Leonard Slatkin and Robert Spano. He began his conducting studies with Robin Fountain at Vanderbilt University.