Events & Tickets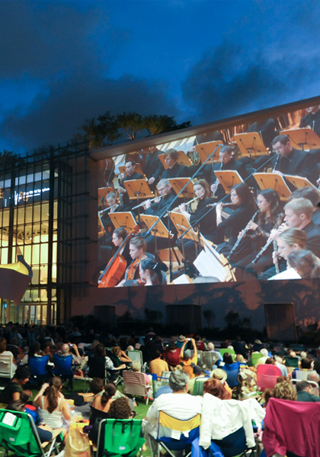 WALLCAST® Concert
WALLCAST® CONCERT: SCHEHERAZADE
SoundScape Park
Saturday, March 21 at 8:00 PM
Program
NWS Conducting alumnus Joshua Gersen returns to bring one of the most alluring masterworks to the New World Center. Arabian Nights' famed storyteller Scheherazade spins fables to survive. Nikolai Rimsky-Korsakov pays homage to the princess in this evocative and exotic symphonic page-turner—a treasure trove of imaginative scenes, like Sinbad on the high seas, with mesmerizing solo features.
COMPOSE YOUR OWN SUBSCRIPTION PACKAGE!
Choose this plus two more concerts to customize your own subscription. It's the ultimate flexibility with all the subscriber benefits, including free exchanges when plans change! Click here to create your own series today.
SUBSCRIBERS ENJOY THE BEST OF NWS!
As an NWS Subscriber, you receive amazing benefits to enjoy throughout the season, including the best seats for the lowest prices and access to our incredibly talented Fellows. Click here to learn more!
Knight Foundation and New World Symphony: Reimagining Classical Music in the Digital Age. 
WALLCAST® concerts are free. No tickets required. Document your WALLCAST® concert experience using #WALLCAST on social media!
WALLCAST® Concert Club: Click here to learn about the free WALLCAST® Concert Club. Join today!
Mobile Program: Text WALLCAST to 50155 and receive a link to the mobile program.
Pre-Concert Chat: Join NWS Fellows for a free Pre-Concert Chat in SoundScape Park! These half-hour chats begin one hour prior to the performance. 
Restrooms: There are always restrooms available in the south-east corner of SoundScape Park. Restrooms inside the New World Center will be open to WALLCAST® Concert Club members at the beginning of the second half of the concert until 10 minutes before the end of the performance.
What's a WALLCAST® concert? Click here to get a taste of the WALLCAST® concert experience!
WALLCAST® Concert Sponsors
WALLCAST® concerts are made possible with support from Hitachi, Knight Foundation, Sarah Arison and Thomas Wilhelm, Chanin and Adam Carlin, Susan D. Kronick and Edward Manno Shumsky, Will Osborne and Karen Bechtel, and William Strong. Knight Foundation and New World Symphony: Reimagining Classical Music in the Digital Age.
Program
Camille Saint-Saëns
(1835-1921)

Concerto No. 1 in A minor for Cello and Orchestra, Op. 33 (1872)

Allegro non troppo
Allegretto con moto
Tempo primo
Aaron Jay Kernis
(b. 1960)

Legacy Concerto for Horn, Strings, Harp and Percussion (2017)

Introduction – Echoes of…
Will
Divided
… Grace
Nikolai Rimsky-Korsakov
(1844-1908)

Scheherazade, Op. 35 (1888)

The Sea and Sinbad's Ship
The Kalandar Prince
The Young Prince and The Young Princess
Festival at Baghdad – The Sea – The Ship Breaks against a Cliff Surmounted by a Bronze Horseman
Joshua Gersen, conductor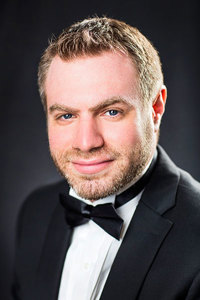 Joshua Gersen recently concluded his tenure as the Assistant Conductor of the New York Philharmonic, where he most notably made his subscription debut in 2017 on hours' notice to critical acclaim filling in for an ailing Semyon Bychkov. Mr. Gersen was also previously the Music Director of the New York Youth Symphony, as well as the John S. and James L. Knight Foundation Conducting Fellow of the New World Symphony, where he served as the assistant conductor to Artistic Director Michael Tilson Thomas, and led the orchestra in various subscription, education and family concerts, including the orchestra's renowned Pulse series. He made his conducting debut with the San Francisco Symphony in the fall of 2013 and has been invited back numerous times to conduct a variety of concerts, including a performance in SoundBox and even filled in for Michael Tilson Thomas on part of a subscription series. Mr. Gersen was the winner of the Aspen Music Festival's prestigious 2011 Aspen Conducting Prize and the 2010 Robert J. Harth Conducting Prize, and served as the festival's assistant conductor for the 2012 summer season under Robert Spano. He served as the principal conductor of the renowned Ojai Music Festival in 2013 and has recently appeared as a guest conductor with the symphonies of Chicago, Detroit, National in Washington, D.C., Toronto, New Jersey, Indianapolis, San Antonio and North Carolina. He was also a recipient of a 2015 and 2016 Solti Foundation U.S. Career Assistance Award.
Beyond his conducting interests, Mr. Gersen is also an avid composer. Both his String Quartet No. 1 and Fantasy for Chamber Orchestra have been premiered in the New England Conservatory's celebrated Jordan Hall. He has had works performed by the New Mexico Symphony, Greater Bridgeport Symphony and frequently by the Greater Bridgeport Youth Orchestra. His work as a composer has also led to an interest in conducting contemporary music. He has conducted several world premieres of new works by young composers with the New York Youth Symphony as part of their esteemed First Music Program, and with the New York Philharmonic as part of their Very Young Composers program. He has also collaborated with many prominent contemporary composers including John Adams, Esa-Pekka Salonen, Christopher Rouse, Steven Mackey, Mason Bates and Michael Gandolfi.
Mr. Gersen made his conducting debut at age 11 with the Greater Bridgeport Youth Orchestra and his professional conducting debut five years later, when he led the Greater Bridgeport Symphony in a performance of his own composition, A Symphonic Movement. Mr. Gersen is a graduate of the Curtis Institute of Music, where he studied conducting with the esteemed Otto Werner Mueller, and the New England Conservatory of Music, where he studied composition with Michael Gandolfi.
Ben Fryxell, cello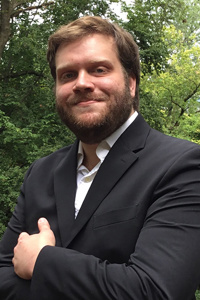 Ben Fryxell is a cellist from Cincinnati and a first-year Fellow at the New World Symphony. Since his teenage years, he has been a regular presence on the concert stage. He has performed as a soloist with the Kentucky Symphony, Blue Ash-Montgomery Symphony and the combined forces of the Cincinnati Symphony Orchestra/Cincinnati Symphony Youth Orchestra, as well as many others.
Mr. Fryxell is passionate about music from all eras, but especially enjoys studying Baroque music and its cultural influences, as well as current trends in concert music. He received his master of music degree from the New England Conservatory in 2019, where he studied with Yeesun Kim, and his bachelor of music degree from The Juilliard School, where he studied with Natasha Brofsky. He has also studied with AliceAnn O'Neill and Alan Rafferty, and has studied chamber music with members of the Juilliard, Borromeo and Emerson string quartets, as well as Emanuel Ax, Norman Fischer and countless others.
During his time with the New World Symphony, Mr. Fryxell hopes to not only hone his orchestral playing skills, but also to tap into his innate entrepreneurial spirit to find creative ways to bring music to the public. When he is not at the cello, he enjoys composing, watching stand-up comedy and studying languages.
Scott Leger, horn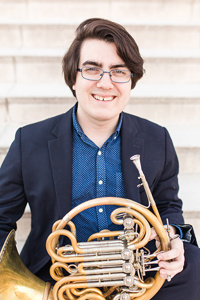 Scott Leger is a first-year Horn Fellow at the New World Symphony. He currently holds the position of Principal Horn of the Cayuga Chamber Orchestra in Ithaca. In addition, he has performed with the Omaha and South Dakota symphonies as a substitute musician, and has received fellowships to spend his summers at a variety of music festivals including the Tanglewood Music Center, National Repertory Orchestra, Norfolk Chamber Music Festival and National Orchestral Institute.
As a soloist, Mr. Leger has performed in international competitions, most recently receiving Second Prize in the University Division of the International Horn Competition of America. He received an Honorable Mention in the Woolsey Concerto Competition in 2017 for his performance of Oliver Knussen's Horn Concerto, and in 2014 he performed Gordon Jacob's Concerto for Horn and String Orchestra with the Meadows Symphony Orchestra at Southern Methodist University.
Mr. Leger remains dedicated to chamber music of varying ensembles. Performing on the Yale School of Music's Vista Recital Series and Oneppo Chamber Series, he has presented Brahms' Trio in E-flat for Horn, Violin and Piano; Mozart's Quintet for Piano and Winds and his own transcription of Shostakovich's String Quartet No. 8 for wind quintet.
Mr. Leger is an active arranger and composer of music for horn, wind quintet and other instrumentations, with the explicit goal of finding compositional genres and styles that have eluded these ensembles and finding a way to make this music adaptable, in hopes to enhance both the repertoire of the ensemble and to also breathe new life into the music.
Receiving certification from the State of Texas to teach music for grades EC-12 in 2016, Mr. Leger has maintained an active teaching schedule. His primary teaching engagement prior to joining the New World Symphony was as the conductor of the All-City Honors Ensemble for the Yale School of Music's Music In Schools Initiative. He also served this program as a Teaching Artist, and continues to present master classes and seminars to high school brass players in Houston and Dallas.
Mr. Leger completed his master's degree at the Yale School of Music under the direction of William Purvis in 2018. He received his bachelor of music degrees in music education with certification and music performance, with minors in music theory and mathematics, in the studio of Gregory Hustis.