Events & Tickets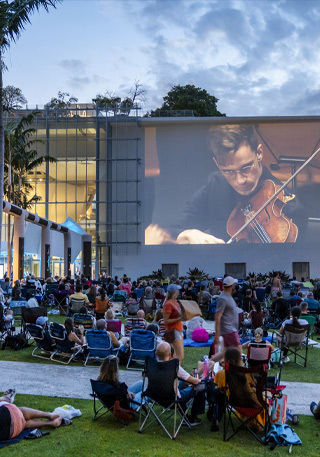 WALLCAST® Concert
WALLCAST® Concert: Season Finale: Denève and Ehnes
SoundScape Park
WALLCAST® concerts are free. No tickets required.
Document your WALLCAST® concert experience using #NWSWALLCAST on social media!
Mobile Program: Download NWS's free app for event information, program notes, musician profiles and more! Click here to download.
WALLCAST® Concert Club: Attend a WALLCAST Concert and check-in at the Concert Club table to win prizes and rewards.
Expanded Viewing Area: In addition to the New World Center's 7,000-square-foot projection wall, NWS's new Mobile Wall, a 23x13-foot projection wall with a state-of-the-art sound system, will extend the viewing areas in SoundScape Park during the WALLCAST® concert.
Restrooms: There are always restrooms available in the south-east corner of SoundScape Park. 
What's a WALLCAST® concert? Click here to get a taste of the WALLCAST® concert experience!
Live closed captions are available throughout this concert by visiting nws.edu/captions.
Program
John Williams
(b. 1932)
Approx. Duration: 5 minutes

Just Down West Street...on the left (2015)

John Williams
(b. 1932)
Approx. Duration: 30 minutes

Concerto No. 1 for Violin and Orchestra (1974–76, revised 1998)

Moderato
Slowly, in Peaceful Contemplation
Broadly (Maestoso) – Quickly
Guillaume Connesson
(b. 1970)

New work to be announced (2024; world premiere of NWS commission)

Igor Stravinsky
(1882-1971)
Approx. Duration: 32 minutes

The Rite of Spring (1913; revised 1947)

Part I: The Adoration of the Earth
Part II: The Sacrifice
Stéphane Denève, conductor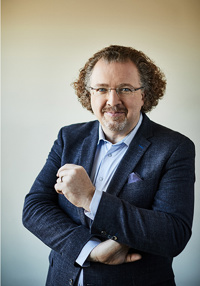 Stéphane Denève is Artistic Director of the New World Symphony, Music Director of the St. Louis Symphony Orchestra and will also be Principal Guest Conductor of the Netherlands Radio Philharmonic from 2023. He recently concluded terms as Principal Guest Conductor of The Philadelphia Orchestra and Chief Conductor of the Brussels Philharmonic, and previously served as Chief Conductor of Stuttgart Radio Symphony Orchestra (SWR) and Music Director of the Royal Scottish National Orchestra.
Recognized internationally for the exceptional quality of his performances and programming, Stéphane Denève regularly appears at major concert venues with the world's greatest orchestras and soloists. He has a special affinity for the music of his native France and is a passionate advocate for music of the 21st century.
Stéphane Denève's recent and upcoming engagements include appearances with the Royal Concertgebouw Orchestra, NHK Symphony Orchestra, Orchestra Sinfonica dell'Accademia Nazionale di Santa Cecilia, Bavarian Radio Symphony Orchestra, Royal Stockholm Philharmonic Orchestra (with whom he conducted the 2020 Nobel Prize concert), Orchestre National de France, Czech Philharmonic, NDR Elbphilharmonie Orchestra, Vienna Symphony, DSO Berlin, Orchestre Philharmonique de Radio France, and Rotterdam Philharmonic.
In North America, Stéphane Denève made his Carnegie Hall debut with the Boston Symphony Orchestra, with whom he has appeared several times both in Boston and at Tanglewood, and he regularly conducts the New York Philharmonic, The Philadelphia Orchestra, The Cleveland Orchestra, Los Angeles Philharmonic, San Francisco Symphony, New World Symphony and Toronto Symphony. In 2022 Denève was the conductor for John Williams' official 90th Birthday Gala with NSO Washington; he is also a popular guest at many of the U.S. summer music festivals, including the Hollywood Bowl, Bravo! Vail, Saratoga Performing Arts Center, Blossom Music Festival, Festival Napa Valley, Grand Teton Music Festival and Music Academy of the West.
Stéphane Denève frequently performs with many of the world's leading solo artists, including Leif Ove Andsnes, Emanuel Ax, Joshua Bell, Nicola Benedetti, Yefim Bronfman, Renaud and Gautier Capuçon, James Ehnes, Kirill Gerstein, Hélène Grimaud, Augustin Hadelich, Hilary Hahn, Sheku Kanneh-Mason, Leonidas Kavakos, Lang Lang, Olivier Latry, Paul Lewis, Nikolai Lugansky, Yo-Yo Ma, Anne-Sophie Mutter, Kelly O'Connor, Víkingur Ólafsson, Stéphanie d'Oustrac, Gil Shaham, Akiko Suwanai, Nikolaj Szeps-Znaider, Jean-Yves Thibaudet, and Frank Peter Zimmermann.  He also treasures the memory of Nicholas Angelich and Lars Vogt, two exceptional artists with whom he enjoyed a close musical friendship over many years.
In the field of opera, Stéphane Denève led a new production of Pelléas et Mélisande with the Royal Concertgebouw Orchestra and Netherlands Opera at the 2019 Holland Festival. Elsewhere, he has led productions at the Royal Opera House Covent Garden, Opéra National de Paris, Glyndebourne Festival, Teatro alla Scala, Deutsche Oper Berlin, Saito Kinen Festival, Gran Teatro del Liceu, La Monnaie and Deutsche Oper am Rhein.
As a recording artist, Stéphane Denève has won critical acclaim for his recordings of the works of Poulenc, Debussy, Ravel, Roussel, Franck and Connesson. He is a triple winner of the Diapason d'Or of the Year, has been shortlisted for Gramophone's Artist of the Year Award, and has won the prize for symphonic music at the International Classical Music Awards. His most recent releases include a live recording of Honegger's Jeanne d'arc au bûcher with the Royal Concertgebouw Orchestra, and two discs of the works of Guillaume Connesson with the Brussels Philharmonic (the first of which was awarded the Diapason d'Or de l'année, Caecilia Award, and Classica Magazine's CHOC of the Year). A box-set of his complete Ravel recordings with Stuttgart Radio Symphony Orchestra was released in 2022 by Hänssler Classic.
A graduate and prize-winner of the Paris Conservatoire, Stéphane Denève worked closely in his early career with Sir Georg Solti, Georges Prêtre and Seiji Ozawa. A gifted communicator and educator, he is committed to inspiring the next generation of musicians and listeners and has worked regularly with young people in programs such as those of the New World Symphony, Tanglewood Music Center, Colburn School, European Union Youth Orchestra and Music Academy of the West.
James Ehnes, violin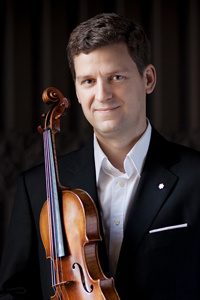 James Ehnes has established himself as one of the most sought-after violinists on the international stage. Gifted with a rare combination of stunning virtuosity, serene lyricism and an unfaltering musicality, he is a favorite guest of many of the world's most respected conductors including Vladimir Ashkenazy, Marin Alsop, Andrew Davis, Stéphane Denève, Mark Elder, Iván Fischer, Edward Gardner, Paavo Järvi, Juanjo Mena, Gianandrea Noseda, David Robertson and Donald Runnicles. His long list of orchestras he has worked with include the Boston, Chicago, London, NHK and Vienna symphonies, the Los Angeles, New York, Munich and Czech philharmonics and the Cleveland, Philadelphia, Philharmonia and DSO Berlin orchestras.
Mr. Ehnes' recent orchestral highlights include The Metropolitan Opera Orchestra at Carnegie Hall with Gianandrea Noseda, Leipzig Gewandhaus Orchestra with Alexander Shelley, San Francisco Symphony with Marek Janowski, Frankfurt Radio Symphony with Andrés Orozco-Estrada, London Symphony with Daniel Hardin, and Munich Philharmonic with Jaap van Zweden, as well as his debut with the London Philharmonic at Lincoln Center in spring 2019. In the 2019-20 season, Mr. Ehnes is Artist in Residence with the Dallas Symphony, which includes performances of the Elgar Concerto with Fabio Luisi, a play/direct program and a chamber music program. In 2017 he premiered Aaron Jay Kernis' Violin Concerto with the Toronto, Seattle and Dallas symphonies, and gave further performances of the piece with the Deutsches Symphonie-Orchester and Melbourne Symphony.
Alongside his concerto work, Mr. Ehnes maintains a busy recital schedule. He performs regularly at Wigmore Hall, Carnegie Hall, Symphony Center Chicago, Amsterdam Concertgebouw, Ravinia, Montreux, Chaise-Dieu, the White Nights Festival in St Petersburg, Verbier Festival, Festival de Pâques in Aix, and in 2018 he undertook a recital tour to the Far East, including performances in Hong Kong, Shanghai, Singapore and Kuala Lumpur.
As part of the Beethoven celebrations, Mr. Ehnes has been invited to perform the complete cycle of Beethoven Sonatas at Wigmore Hall throughout the 2019-20 season. Elsewhere he performs the Beethoven Sonatas at the Dresden Music Festival, Prague Spring Festival, Concertgebouw Amsterdam, Aspen Music Festival (as part of a multi-year residency) and Bravo! Vail Festival during his residency week also including the Violin Concerto and Triple Concerto with the Dallas Symphony and Donald Runnicles. In 2016 Mr. Ehnes undertook a cross-Canada recital tour, performing in each of the country's provinces and territories, to celebrate his 40th birthday.
As a chamber musician, Mr. Ehnes has collaborated with leading artists such as Leif Ove Andsnes, Renaud Capuçon, Louis Lortie, Nikolai Lugansky, Yo-Yo Ma, Antoine Tamestit, Jan Vogler and Yuja Wang. In 2010 he formally established the Ehnes Quartet, with whom he has performed in Europe at venues including Wigmore Hall, the Louvre Auditorium in Paris and Théâtre du Jeu de Paume in Aix, amongst others. Mr. Ehnes is the Artistic Director of the Seattle Chamber Music Society.
Mr. Ehnes has an extensive discography and has won many awards for his recordings, including a Grammy Award (2019) for his live recording of Aaron Jay Kernis' Violin Concerto with the Seattle Symphony and Ludovic Morlot, and a Gramophone Award for his live recording of the Elgar Concerto with the Philharmonia Orchestra and Andrew Davis. His recording of the Korngold, Barber and Walton violin concertos won a Grammy Award for Best Instrumental Soloist Performance and a JUNO award for Best Classical Album of the Year. His recording of the Paganini Caprices earned him universal praise, with Diapason writing of the disc, "Ehnes confirms the predictions of Erick Friedman, eminent student of Heifetz: 'there is only one like him born every hundred years.'" Recent releases include sonatas by Beethoven, Debussy, Elgar and Respighi, and concertos by Walton, Britten, Shostakovich, Prokofiev and Strauss, as well as the Beethoven Violin Concerto with the Royal Liverpool Philharmonic and Andrew Manze, which was released in 2017 on Onyx Classics.
Mr. Ehnes began violin studies at the age of five, became a protégé of the noted Canadian violinist Francis Chaplin at the age of nine, and made his orchestra debut with Montreal Symphony Orchestra at the age of 13. He continued his studies with Sally Thomas at the Meadowmount School of Music and The Juilliard School, winning the Peter Mennin Prize for Outstanding Achievement and Leadership in Music upon his graduation in 1997. He is a Fellow of the Royal Society of Canada and in 2010 was appointed a Member of the Order of Canada. Mr. Ehnes was awarded the 2017 Royal Philharmonic Society Award in the Instrumentalist category. He plays the "Marsick" Stradivarius of 1715.
Molly Turner, conductor
Molly Turner is a Chinese-born conductor and composer. Recently, she has conducted the Orchestre de Paris, Gstaad Festival Orchestra, Theater Orchester Biel Solothurn, Juilliard Orchestra, Dallas Opera Orchestra, Primrose International Viola Competition, Colburn Orchestra and Eastern Festival Orchestra. Highlights of the 2022-23 season included a debut with San Francisco Symphony's SoundBox Series, a Concert Scolaire with Orchestre de Paris, conducting the premiere of her own new orchestra work with the Tacoma Youth Symphony, Colburn Chamber Music Society with David Rejano and Cosi! Men Are Like That with opera company White Snake Projects. She has served as assistant conductor for the Berliner Philharmoniker, Orchestre de Paris, San Francisco Symphony, Utah Symphony, San Diego Symphony, National Polish Radio Symphony, Juilliard Orchestra and Colburn Orchestra. In 2019 she was the youngest conductor invited for residency at the Dallas Opera's Hart Institute for Women Conductors. She has assisted Esa-Pekka Salonen, David Robertson, Stéphane Denève, Yaniv Dinur, Rafael Payare, Nicholas McGegan and Jeffrey Milarsky.
Ms. Turner is a devoted advocate for contemporary and modern music. She has collaborated with many living composers including Paul Novak, Max Vinetz, Lauren Vandervelden, Corey Chang, Sujin Kang, Webster Gadbois and Sofia Ouyang and has a strong affinity for the music of Stravinsky, Bartók and Lutosławski. She is a member of the Colburn Contemporary Ensemble and has conducted works by Lou Harrison, Timo Andres and Nina Young with them. As part of Juilliard's ChoreoComp, Ms. Turner premiered four different dance pieces created by current student composers and choreographers and at Rice, she conducted and composed for Hear&Now: New Music.
 Pursuing projects outside of the traditional concert hall is a core part of Ms. Turner's artistic identity. In 2021 she performed an open improvisation set on violin alongside Pablo O'Connell, Kebra-Seyoun Charles and Ryan Jung in an Alice Tully Hall window performance. While she was a Teaching Artist Fellow at Juilliard, she was involved in creating an improvisatory work that used K-8 student "found sound" recordings as source material. From 2017-19 was the artistic director for New Art / New Music at the Moody Center for the Arts. There she worked with composers and visual artists to curate a concert of new works that were site-specific to current exhibitions at the Moody Center. In 2017 she played viola in a multimedia performance art project alongside Angelbet Metoyer creating art live, Saul Williams reciting poetry and other musicians openly improvising.  In 2015 she co-wrote a graphic score with Sarah Grace-Graves for sculptor Katie Grinnan's Astrology Orchestra written for the Turrell Skypsace.
In her own music, Ms. Turner is interested in the balance between strictly dictated elements and more aleatoric notation. Her relationship to the standard repertoire is often integrated in subtle ways beneath the foreground of the music. A violinist and violist herself, she finds string instruments endlessly fascinating. Improvisation is a core part of her writing process and she often starts her work as voice memos or graphic scores. In 2018 her string quartet, The Shapes of Stories, was read by the Arditti Quartet. Her work has been heard in Benaroya Hall, Duncan Recital Hall, the Moody Center for the Arts and has been privately recorded.  
She completed her master's degree in orchestral conducting at The Juilliard School studying with David Robertson and received a bachelor in music composition cum laude from Rice University. She recently was pursuing an artist diploma at the Colburn Conservatory of Music in Los Angeles, where she studied under the guidance of Esa-Pekka Salonen in the Negaunee Conducting Program as a Salonen Fellow. She has studied composition with Kurt Stallmann, Arthur Gottschalk, Karim Al-Zand and Richard Lavenda. She has attended the Gstaad Festival Conducting Academy where she worked with Johannes Schlaefli, Jaap van Zweden and Baldur Brönnimann and the Eastern Music Festival, where she worked with Gerard Schwarz. In her free time, she enjoys biking, playing Ultimate Frisbee and reading.