Events & Tickets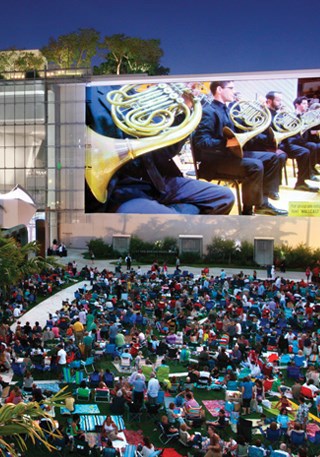 WALLCAST® Concert
WALLCAST® Concert: Season Finale with MTT and Gil Shaham
SoundScape Park
Saturday, May 7, 2022 at 8:00 PM
Program
WALLCAST® concerts are free. No tickets required.
Document your WALLCAST® concert experience using #WALLCAST on social media!
Mobile Program: Download NWS's free app for event information, program notes, musician profiles and more! Click here to download.
WALLCAST® Concert Club: Click here to join for special perks, discounts and WALLCAST® concert reminders. 
Restrooms: There are always restrooms available in the south-east corner of SoundScape Park. There will be no restroom access inside the New World Center. 
What's a WALLCAST® concert? Click here to get a taste of the WALLCAST® concert experience!
Program
Ludwig van Beethoven
(1770-1827)
Approx. Duration: 5 minutes

Overture to The Creatures of Prometheus, Op. 43 (1801)

Joseph Boulogne
(1745-1799)
Approx. Duration: 22 minutes

Concerto No. 9 in G major for Violin and Orchestra, Op. 8, No. 9 (1781)

Gustav Mahler
(1860-1911)
Approx. Duration: 68 minutes

Symphony No. 5 in C-sharp minor (1901-02)

Part I: 
   Trauermarsch 
   Stürmisch bewegt, mit grösster Vehemeng 
Part II: 
   Scherzo: Kräftig, night zu schnell 
Part III: 
   Adagietto, sehr langsam  
   Rondo – Finale: Allegro 
Michael Tilson Thomas, conductor
Michael Tilson Thomas is Co-Founder and Artistic Director of the New World Symphony, America's Orchestral Academy; Music Director Laureate of the San Francisco Symphony; and Conductor Laureate of the London Symphony Orchestra. In addition to these posts, he maintains an active presence guest conducting with the major orchestras of Europe and the United States.
Born in Los Angeles, Mr. Tilson Thomas is the third generation of his family to follow an artistic career. His grandparents, Boris and Bessie Thomashefsky, were founding members of the Yiddish Theater in America. His father, Ted Thomas, was a producer in the Mercury Theater Company in New York before moving to Los Angeles where he worked in films and television. His mother, Roberta Thomas, was the head of research for Columbia Pictures.
Mr. Tilson Thomas began his formal studies at the University of Southern California, where he studied piano with John Crown, and conducting and composition with Ingolf Dahl. At age 19 he was named Music Director of the Young Musicians Foundation Debut Orchestra. During this same period, he was the pianist and conductor in master classes of Gregor Piatigorsky and Jascha Heifetz and worked with Stravinsky, Boulez, Stockhausen and Copland on premieres of their compositions at Los Angeles' Monday Evening Concerts.
In 1969, after winning the Koussevitzky Prize at Tanglewood, he was appointed Assistant Conductor of the Boston Symphony Orchestra. That year he also made his New York debut with the Boston Symphony and gained international recognition after replacing Music Director William Steinberg in mid-concert. He was later appointed Principal Guest Conductor of the Boston Symphony Orchestra where he remained until 1974. He was Music Director of the Buffalo Philharmonic from 1971 to 1979 and a Principal Guest Conductor of the Los Angeles Philharmonic from 1981 to 1985. His guest conducting includes appearances with the major orchestras of Europe and the United States.
Mr. Tilson Thomas is a two-time Carnegie Hall Perspectives artist, curating and conducting series at the hall from 2003 to 2005 and from 2018 to 2019. In the most recent series, he led Carnegie Hall's National Youth Orchestra of the United States of America both at the hall and on tour in Asia, opened the Carnegie Hall season over two evenings with the San Francisco Symphony, conducted two programs with the Vienna Philharmonic and finished with a pair of concerts leading the New World Symphony.
A winner of eleven Grammy Awards, Mr. Tilson Thomas appears on more than 120 recordings. His discography includes The Mahler Project, a collection of the composer's complete symphonies and works for voice and orchestra performed with the San Francisco Symphony, in addition to pioneering recordings of music by Charles Ives, Carl Ruggles, Steve Reich, John Cage, Ingolf Dahl, Morton Feldman, George Gershwin, John McLaughlin and Elvis Costello. His recordings span repertoire from Bach and Beethoven to Debussy and Stravinsky, and from Sarah Vaughan to Metallica.
His television work includes a series with the London Symphony Orchestra for BBC Television, broadcasts of the New York Philharmonic Young People's Concerts from 1971 to 1977 and numerous productions on PBS's Great Performances. With the San Francisco Symphony, he created a multi-tiered media project, Keeping Score, which includes a television series, web sites, and radio programs. He received a Peabody Award for his SFS Media radio series The MTT Files.
Mr. Tilson Thomas's compositions are published by G. Schirmer. In 1991, he and the New World Symphony were presented in a series of benefit concerts for UNICEF in the United States, featuring Audrey Hepburn as narrator of his work From the Diary of Anne Frank, which was commissioned by UNICEF. This piece has since been translated and performed in many languages worldwide. In August 1995, he led the Pacific Music Festival Orchestra in the premiere of his composition Shówa/Shoáh, commemorating the 50th anniversary of the bombing of Hiroshima. His vocal music includes settings of poetry by Walt Whitman and Emily Dickinson, which were premiered by Thomas Hampson and Renée Fleming, respectively. In 2016, Yuja Wang premiered his piano piece You Come Here Often?.
Mr. Tilson Thomas' song cycle Four Preludes on Playthings of the Wind, a setting of Carl Sandburg's poem, was premiered in 2016 by the New World Symphony, with Measha Brueggergosman as soloist. In 2019 the piece was recorded for Medici.tv at the New World Center and given its New York premiere as part of Mr. Tilson Thomas's second Carnegie Hall Perspectives series. His first Perspectives series also featured performances of his own compositions, including Island Music for four marimbas and percussion; Notturno for solo flute and strings, featuring soloist Paula Robison; and new settings of poems by Rainer Maria Rilke. In 2020, he led the San Francisco Symphony in the world premiere of his six-part song cycle Meditations on Rilke, and he subsequently conducted the work at the Cleveland Orchestra. Additional compositions include Street Song for brass instruments; Agnegram, an overture for orchestra; and Urban Legend, a concerto for contrabassoon that was premiered by the San Francisco Symphony. In June 2020, SFS Media released an album of works composed by Mr. Tilson Thomas, featuring live concert recordings of From the Diary of Anne Frank, narrated by mezzo-soprano Isabel Leonard, and Meditations on Rilke, sung by mezzo-soprano Sasha Cooke and bass-baritone Ryan McKinny.
Mr. Tilson Thomas is an Officier de l'Ordre des Arts et des Lettres of France, is a member of the American Academy of Arts and Sciences, was Musical America's Musician of the Year and Conductor of the Year, was Gramophone magazine's Artist of the Year and has been profiled on CBS's 60 Minutes and ABC's Nightline. He has been awarded the National Medal of Arts, has been inducted into the California Hall of Fame and the American Academy of Arts and Letters, and was a 2019 recipient of the Kennedy Center Honors.
Gil Shaham, violin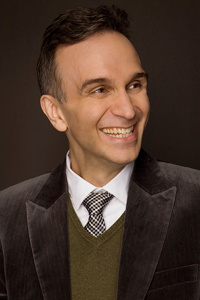 Gil Shaham is one of the foremost violinists of our time: his flawless technique combined with his inimitable warmth and generosity of spirit has solidified his renown as an American master. The Grammy Award-winner is sought after throughout the world for concerto appearances with leading orchestras and conductors, and regularly gives recitals and appears with ensembles on the world's great concert stages and at the most prestigious festivals.
Mr. Shaham's recent highlights include the acclaimed recording and performances of J.S. Bach's complete sonatas and partitas for solo violin. In the coming seasons, in addition to championing these solo works, he will join his long-time duo partner pianist, Akira Eguchi in recitals throughout North America, Europe and Asia.
Mr. Shaham's appearances with orchestra regularly include the Berlin Philharmonic, Boston Symphony, Chicago Symphony, Israel Philharmonic, Los Angeles Philharmonic, New York Philharmonic, Orchestre de Paris and San Francisco Symphony as well as multi-year residencies with the Orchestras of Montreal, Stuttgart and Singapore.  Mr. Shaham continues his exploration of violin concertos from the 1930s, including the works of Samuel Barber, Béla Bartók, Alban Berg, Erich Korngold, Sergei Prokofiev, among many others. 
Mr. Shaham has more than two dozen concerto and solo CDs to his name, earning multiple Grammys, a Grand Prix du Disque, Diapason d'Or and Gramophone Editor's Choice. Many of these recordings appear on Canary Classics, the label he founded in 2004. His CDs include 1930s Violin Concertos, Virtuoso Violin Works, Elgar's Violin Concerto, Hebrew Melodies, The Butterfly Lovers and many more. His most recent recording in the series 1930s Violin Concertos Vol. 2, including Prokofiev's Violin Concerto and Bartók's Violin Concerto No. 2, was nominated for a Grammy Award.
Mr. Shaham was born in Champaign-Urbana, Illinois in 1971. He moved with his parents to Israel, where he began violin studies with Samuel Bernstein of the Rubin Academy of Music at the age of seven, receiving annual scholarships from the America-Israel Cultural Foundation. In 1981 he made debuts with the Jerusalem Symphony and Israel Philharmonic, and the following year, took the first prize in Israel's Claremont Competition. He then became a scholarship student at The Juilliard School, and also studied at Columbia University.
Mr. Shaham was awarded an Avery Fisher Career Grant in 1990, and in 2008 received the coveted Avery Fisher Prize. In 2012 he was named "Instrumentalist of the Year" by Musical America. He plays the 1699 "Countess Polignac" Stradivarius, and lives in New York City with his wife, violinist Adele Anthony, and their three children.
Chad Goodman, conductor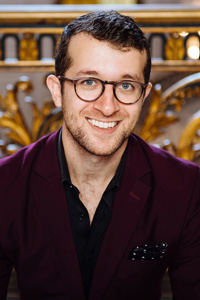 With a flair for inventive programming and a bold presence on stage and in the community, Chad Goodman has been praised for "bringing innovation to classical music" (Forbes).
As the Conducting Fellow of the New World Symphony, Mr. Goodman conducts on subscription, education, family and holiday programs. His program, "SPARK: How Composers Find Inspiration," blended captivating light design and videography with engaging audience participation to explore how a composition is created and brought to life by an orchestra.
Since 2018 Mr. Goodman has served as an Assistant Conductor to the San Francisco Symphony, assisting Esa-Pekka Salonen, Manfred Honeck, Daniel Harding, Pablo Heras-Casado, Simone Young and James Gaffigan among others.
As Founder and Artistic Director of Elevate Ensemble, Mr. Goodman's ambitious vision for concert programming resulted in the pairing of music from Bay Area composers with underappreciated gems of the 20th and 21st centuries. Under his leadership, Elevate Ensemble established a Composer-in-Residence program and commissioned fifteen works from Bay Area composers. Elevate collaborated with photographers, videographers, poets and culinary artists, bringing new music and vibrant multi-genre experiences to unique venues such as yoga studios, historic Victorian homes and art studio warehouses.
Mr. Goodman has previously served as Conducting Fellow of Festival Napa Valley, Music Director of the Contra Costa Chamber Orchestra, Conducting Fellow of the Atlantic Music Festival, and a rehearsal and cover conductor for the San Francisco Ballet.
In addition to his performing career, he teaches young musicians the business and entrepreneurial skills needed to successfully navigate the world as a working musician in his workshop "You Earned a Music Degree. Now What?"
Mr. Goodman holds a bachelor of music degree from the Eastman School of Music and a master of music degree from San Francisco State University. His mentors include Michael Tilson Thomas, Alasdair Neale, Cyrus Ginwala and Martin Seggelke.