Events & Tickets
WALLCAST® Concert
WALLCAST® CONCERT: SOUNDS OF THE SEASON
SoundScape Park
Saturday, December 21 at 7:30 PM
Program
It's 100% cheer as the NWS Fellows perform the season's favorites while decked out in their finest and funniest holiday costumes. This festive program celebrating the holiday season offers audience members an opportunity to gather and share music with friends and family. Enjoy selections from a variety of cultural heritages, certain to delight audiences of all ages.
The Friday, December 20 performance is presented by the City of Miami Beach for its residents. 
COMPOSE YOUR OWN SUBSCRIPTION PACKAGE!
Choose this plus two more concerts to customize your own subscription. It's the ultimate flexibility with all the subscriber benefits, including free exchanges when plans change! Click here to create your own series today.
SUBSCRIBERS ENJOY THE BEST OF NWS!
As an NWS Subscriber, you receive amazing benefits to enjoy throughout the season, including the best seats for the lowest prices and access to our incredibly talented Fellows. Click here to learn more!
Knight Foundation and New World Symphony: Reimagining Classical Music in the Digital Age. 
WALLCAST® concerts are free. No tickets required. Document your WALLCAST® concert experience using #WALLCAST on social media!
WALLCAST® Concert Club: Click here to learn about the free WALLCAST® Concert Club. Join today!
Mobile Program: Text WALLCAST to 50155 and receive a link to the mobile program.
Pre-Concert Chat: Join NWS Fellows for a free Pre-Concert Chat in SoundScape Park! These half-hour chats begin one hour prior to the performance. 
Restrooms: There are always restrooms available in the south-east corner of SoundScape Park. Restrooms inside the New World Center will be open to WALLCAST® Concert Club members at the beginning of the second half of the concert until 10 minutes before the end of the performance.
What's a WALLCAST® concert? Click here to get a taste of the WALLCAST® concert experience!
WALLCAST® Concert Sponsors
WALLCAST® concerts are made possible with support from Hitachi, Knight Foundation, Sarah Arison and Thomas Wilhelm, Chanin and Adam Carlin, Susan D. Kronick and Edward Manno Shumsky, Will Osborne and Karen Bechtel, and William Strong. Knight Foundation and New World Symphony: Reimagining Classical Music in the Digital Age.
Program
Leroy Anderson
(1908-1975)

A Christmas Festival (1950)

Erich Korngold
(1897-1957)

Overture to The Snowman (1908)

Selections from Harry Potter and the Sorcerer's Stone (2001)

Hedwig's Theme
Nimbus 2000
Harry's Wondrous World
Anthony DiLorenzo
(b. 1967)
Approx. Duration: 9 minutes

Navidad Latina! (2019; world premiere of NWS commission)

"Campana sobre Campana"
"Los Peces en el Río"
"Ya Viene el Niñito"
"Mi Burrito Sabanero"
"Feliz Navidad"
Piotr Ilyich Tchaikovsky
(1840-1893)

Selections from The Nutcracker, Op. 71 (1892)

Miniature Overture
March
In the Pine Forest
Chocolate (Spanish Dance)
Trepak (Russian Dance)
Dance of the Sugar Plum Fairy
Pas de deux: Prince and the Sugar Plum Fairy
Leroy Anderson
(1908-1975)

Chad Goodman, conductor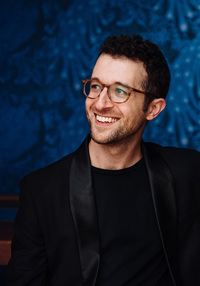 With a flair for inventive programming and a bold presence on stage and in the community, Chad Goodman has been praised for "bringing innovation to classical music" (Forbes).
As the Conducting Fellow of the New World Symphony, Mr. Goodman conducts on subscription, education, family and holiday programs. His program, "SPARK: How Composers Find Inspiration," blended captivating light design and videography with engaging audience participation to explore how a composition is created and brought to life by an orchestra.
Since 2018 Mr. Goodman has served as an Assistant Conductor to the San Francisco Symphony, assisting Esa-Pekka Salonen, Manfred Honeck, Daniel Harding, Pablo Heras-Casado, Simone Young and James Gaffigan among others.
Mr. Goodman's 2022-23 Season will include debut appearances with the Elgin Symphony, Baton Rouge Symphony, Greensboro Symphony and San Francisco Chamber Orchestra.
As Founder and Artistic Director of Elevate Ensemble, Mr. Goodman's ambitious vision for concert programming resulted in the pairing of music from Bay Area composers with underappreciated gems of the 20th and 21st centuries. Under his leadership, Elevate Ensemble established a Composer-in-Residence program and commissioned fifteen works from Bay Area composers. Elevate collaborated with photographers, videographers, poets and culinary artists, bringing new music and vibrant multi-genre experiences to unique venues such as yoga studios, historic Victorian homes and art studio warehouses.
Mr. Goodman has previously served as Conducting Fellow of Festival Napa Valley, Music Director of the Contra Costa Chamber Orchestra, Conducting Fellow of the Atlantic Music Festival, and a rehearsal and cover conductor for the San Francisco Ballet.
In addition to his performing career, he teaches young musicians the business and entrepreneurial skills needed to successfully navigate the world as a working musician in his workshop "You Earned a Music Degree. Now What?"
Mr. Goodman holds a bachelor of music degree from the Eastman School of Music and a master of music degree from San Francisco State University. His mentors include Michael Tilson Thomas, Alasdair Neale, Cyrus Ginwala and Martin Seggelke.