Events & Tickets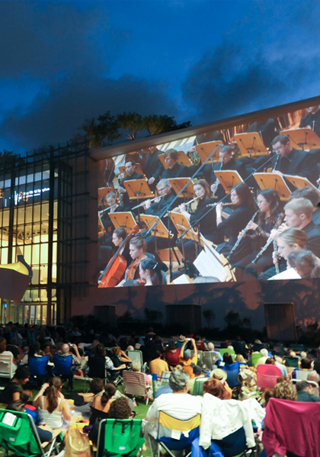 WALLCAST® Concert
WALLCAST® CONCERT: SOUNDS OF THE TIMES: HARMONY AND UNDERSTANDING
SoundScape Park
Saturday, December 8 at 7:30 PM
Program
Click below to hear a message from composer David Lang:
To the Audience—I wrote this piece for you.
These words were written by David Lang, Pulitzer Prize-winner and co-founder of musical maverick group Bang on A Can, about the U.S. premiere of his new commission harmony and understanding.
Here is why:
You may have noticed that we live in a world that is increasingly being divided into smaller and smaller groups. We are constantly being encouraged to divide ourselves—by nationality, by religion, by political opinion, by race, by the amount of money we have. My piece is designed so that, at least for a few minutes, we can un-divide ourselves a little.
One night only on December 8, be there and experience what he created for you – the audience – which is music so inclusive and interactive that it blurs the lines between performers and audience. Lang designed this unusual and exciting work to bring us together as human beings, to play and create and enjoy creating the music together. 
Also featured is a work by American contemporary music icon John Adams, who said he confronted who he was as a composer through Harmonielehre, resulting in a dynamic marriage of American minimalism and the expressive world of European greats like Mahler, Debussy and Sibelius.
Join us to be a part of history AND the performance in this exclusive evening at the New World Center, one night only, December 8.
This concert is sponsored in part by Chanin and Adam Carlin, Mary and Howard S. Frank, Rose Ellen Greene, Susan D. Kronick and Edward Manno Shumsky, William Strong, and Michael Tilson Thomas and Joshua Robison.
WALLCAST® concerts are free. No tickets required. Document your WALLCAST® concert experience using #WALLCAST and #CitiMiami on social media!
WALLCAST® Concert Club: Click here to learn about the free WALLCAST® Concert Club. Join today!
Mobile Program: Text WALLCAST to 91011 and receive a link to the mobile program.
Citi Pre-Concert Chat: Join NWS Fellows for a free Pre-Concert Chat in SoundScape Park! These half-hour chats begin one hour prior to the performance. 
Restrooms: There are always restrooms available in the south-east corner of SoundScape Park. Restrooms inside the New World Center will be open to WALLCAST® Concert Club members at the beginning of the second half of the concert until 10 minutes before the end of the performance.
What's a WALLCAST® concert? Click here to get a taste of the WALLCAST® concert experience!
Program
David Lang
(b. 1957)
Approx. Duration: 20 minutes

harmony and understanding (2018; U. S. premiere; NWS commission)

John Adams
(b. 1947)
Approx. Duration: 43 minutes

Part I
Part II: The Anfortas Wound
Part III: Meister Eckhardt and Quackie
David Lang
harmony and understanding (2018; U. S. premiere; NWS commission)

Approximate duration: 20 minutes
When he moved to New York City after completing his studies at the Yale School of Music, David Lang found a music community hopelessly divided and stuck in outdated orthodoxies. His antidote, co-created with fellow composers and Yale alumni Julia Wolfe and Michael Gordon, was Bang on a Can, a collective that paved the way for the current blossoming of "indie-classical" ventures. Lang's style continues to transcend genres, moving seamlessly from a concert work like the little match girl passion (winner of the 2008 Pulitzer Prize and a 2010 Grammy Award) to his Oscar-nominated music for the film Youth. Lang wrote the following introduction to harmony and understanding, which, like all his works, uses only lowercase letters in its title.
To the Audience—
I wrote this piece for you. What I mean is that I wrote this piece, not just for you to hear and to enjoy, but I wrote it for you to perform, so that you and the orchestra and everyone in the hall can work together to make something that sounds nice.
Here is why:
You may have noticed that we live in a world that is increasingly being divided into smaller and smaller groups. We are constantly being encouraged to divide ourselves—by nationality, by religion, by political opinion, by race, by the amount of money we have.  My piece is designed so that, at least for a few minutes, we can un-divide ourselves a little. Everyone is part of this piece, it needs everyone to make it, and everyone has to come together to perform it. When the audience is the chorus there is, in fact, no audience at all, but a community of people, all working together to make something, together.   
We are going to make this piece, together, right now. 
The text for the piece is a list of the things that all of us want. I know that it really is what all of us want because I crowd-sourced the text on the internet—I typed into a search engine the sentence "We all want to…" and the internet completed the sentence, in a million different ways. The text of my piece is made of the first 33 answers that the internet provided that day. (To be more honest, they are the first 33 answers that didn't name a person or a product or a religion or a gender or said anything bad about anyone.) 
The title harmony and understanding comes, of course, from the song "Age of Aquarius" from the hippie musical Hair, which was made popular in 1967 by the band The 5th Dimension. I grew up in California in the 1960s so I guess there is still a little hippie left in me. 
Thanks so much for being here, and for helping to make this piece.   
Now let's make it.
                              — David Lang


John Adams
Harmonielehre (1985)

Approximate duration: 43 minutes
Raised in New England and educated at Harvard, John Adams left the Eurocentric East Coast in 1971 for San Francisco. He found models for his earliest mature works in the large-scale minimalism of Steve Reich and Philip Glass, composers who themselves drew inspiration from Africa, Asia and other non-classical traditions. But Adams soon moved on from "pure" minimalism, and the Romantic streak that returned to his language fueled his most famous compositions, including the opera Nixon in China (1987) and his Pulitzer Prize-winning work for chorus and orchestra, On the Transmigration of Souls (2003).
Harmonielehre, composed for the San Francisco Symphony in 1985, represents a crucial juncture in Adams' process of reconciling Minimalist and Romantic tendencies. The title, German for "Treatise on Harmony," comes from a textbook published by Arnold Schoenberg in 1911, just as he was breaking with tonality in his own music. In Harmonielehre, Adams looks back to the massive compositions that emerged around the turn of the 20th century, including Schoenberg's Gurre-Lieder, Debussy's La mer, Sibelius' Fourth Symphony and Mahler's epic symphonies. It would have been perfectly appropriate to label Harmonielehre a symphony (many commentators have), but Adams simply describes it as "a large, three-movement work for orchestra that marries the developmental techniques of minimalism with the harmonic and expressive world of fin de siècle late Romanticism."
Describing the untitled first movement in a program note, Adams wrote, "The pounding E-minor chords at the beginning and end of the movement are the musical counterparts of a dream image... In the dream I'd watched a gigantic supertanker take off from the surface of San Francisco Bay and thrust itself into the sky like a Saturn rocket."
Work on Harmonielehre coincided with Adams' interest in the writings of the Swiss psychologist Carl Jung, "particularly his examination of Medieval mythology," as Adams explained. "I was deeply affected by Jung's discussion of the character of Anfortas, the king whose wounds could never be healed. As a critical archetype, Anfortas symbolized a condition of sickness of the soul that curses it with a feeling of impotence and depression."
This myth inspired the slow movement, The Anfortas Wound. As Adams describes it, "A long, elegiac trumpet solo floats over a delicately shifting screen of minor triads that pass like spectral shapes from one family of instruments to the other. Two enormous climaxes rise up out of the otherwise melancholy landscape, the second one being an obvious homage to Mahler's last, unfinished symphony."
Adams labeled the third movement Meister Eckhardt and Quackie. "The Zappaesque title," he wrote, "refers to a dream I had shortly after the birth of our daughter, Emily, who was briefly dubbed 'Quackie' during her infancy. In the dream, she rides perched on the shoulder of the Medieval mystic, Meister Eckhardt, as they hover among the heavenly bodies like figures painted on the high ceilings of old cathedrals." 

-- Copyright © 2018 Aaron Grad
Aaron Grad is a composer, guitarist and writer based in Seattle. Besides providing program notes for the New World Symphony, he has been the Orpheus Chamber Orchestra's program annotator since 2005 and also contributes notes to the Saint Paul Chamber Orchestra and Seattle Symphony.
Brad Lubman, conductor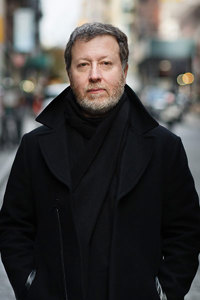 Brad Lubman, American conductor and composer, has gained widespread recognition for his versatility, commanding technique and insightful interpretations over the course of more than two decades. He is much in demand with major orchestras in Europe and the U.S., and has been successful in building regular partnerships with several well-known orchestras and ensembles such as the Bavarian Radio Symphony, NDR Symphony, WDR Symphony and Deutsches Symphonie-Orchester Berlin. Alongside his busy schedule in Germany, he is also frequently asked to conduct some of the world's leading orchestras, including the Royal Concertgebouw Orchestra, Orchestre Philharmonique de Radio France, Los Angeles Philharmonic, San Francisco Symphony, Orchestra del Maggio Musicale Fiorentino, Barcelona Symphony and Shanghai Symphony.
In addition, Mr. Lubman has worked with some of the most important European and American ensembles for contemporary music, including the Ensemble Modern, London Sinfonietta, Klangforum Wien, Ensemble MusikFabrik, Ensemble Resonanz, Los Angeles Philharmonic New Music Group and Steve Reich and Musicians.
Last season Mr. Lubman was featured at Grafenegg Festival in all his facets; as a conductor, composer and an outstanding teacher. As part of his residency he led the Tonkünstler Orchestra in works by Brahms and Mahler, as well as the world premiere of his Reflections for orchestra. In the 2018-19 season he will appear on the podium of major international orchestras, including the Danish National Symphony, Brussels Philharmonic, New World Symphony, Singapore Symphony, Orquestra Sinfónica do Porto, as well as the Radio Symphony Orchestras of Munich (BR), Leipzig (MDR), Cologne (WDR), Saarbrücken (Deutsche Radio Philharmonie) and Paris (Orchestra Philharmonique de Radio France).
Mr. Lubman is founding Co-Artistic and Music Director of the New York-based Ensemble Signal. Their recording of Reich's Music for 18 Musicians on harmonia mundi was awarded a Diapason d'or in June 2015 and appeared on the Billboard Classical Crossover charts. He is also Associate Professor of Conducting and Ensembles at the Eastman School of Music in Rochester, as well as on the faculty at the Bang on a Can Summer Institute.
Mr. Lubman has recorded for harmonia mundi, Nonesuch, AEON, BMG/RCA, Kairos, Mode, NEOS and Cantaloupe.
Kathryn Kelly Longo, audience chorus coach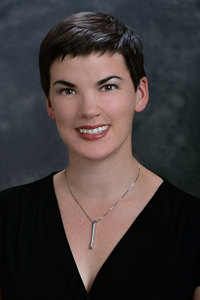 Kathryn Kelly Longo is the Director of Choral Studies at Florida International University (FIU) where she conducts the Concert Choir and University Singers, and teaches graduate and undergraduate conducting courses. Under her leadership, the FIU Concert Choir has been invited to perform in prestigious venues, most recently with the National Symphony of Cuba in Havana. Since moving to Miami in 2011, Dr. Longo has worked as a clinician in many South Florida schools and conducted honor choirs in Broward and Collier counties as well as around the country.
Dr. Longo holds a doctorate of musical arts degree in choral conducting from the University of Miami, a master's degree in choral conducting from the University of Oregon and dual bachelor degrees in music and music education from the University of Connecticut.