Events & Tickets
WALLCAST® Concert
WALLCAST® Concert: Tchaikovsky 5
SoundScape Park
Saturday, January 21, 2023 at 7:30 PM
Program
WALLCAST® concerts are free. No tickets required.
Document your WALLCAST® concert experience using #NWSWALLCAST on social media!
Mobile Program: Download NWS's free app for event information, program notes, musician profiles and more! Click here to download.
WALLCAST® Concert Club: Click here to join for special perks, discounts and WALLCAST® concert reminders. 
Expanded Viewing Area: In addition to the New World Center's 7,000-square-foot projection wall, NWS's new Mobile Wall, a 23x13-foot projection wall with a state-of-the-art sound system, will extend the viewing areas in SoundScape Park during the WALLCAST® concert.
Restrooms: There are always restrooms available in the south-east corner of SoundScape Park. 
What's a WALLCAST® concert? Click here to get a taste of the WALLCAST® concert experience!
Program
Valerie Coleman
(b. 1970)
Approx. Duration: 14 minutes

Umoja, Anthem of Unity for Orchestra
(2019)

Samuel Barber
(1910-1981)
Approx. Duration: 23 minutes

Concerto for Cello and Orchestra, Op. 22 (1945)

Allegro moderato 
Andante sostenuto 
Molto allegro e appassionato 

Pyotr Ilyich Tchaikovsky
(1840-1893)
Approx. Duration: 47 minutes

Symphony No. 5 in E minor, Op. 64 (1888)

Andante – Allegro con anima 
Andante cantabile con alcuna licenza 
Valse: Allegro moderato 
Finale: Andante maestoso – Allegro vivace 
Valerie Coleman
Umoja

, Anthem of Unity

for Orchestra


(2019)

Approximate duration: 14 minutes
By the time Valerie Coleman was 14 she had completed three symphonies and was winning top awards at flute competitions in her native Kentucky. She earned degrees from Boston University and Mannes School of Music and in 1997 founded Imani Winds, a wind quintet especially lauded for commissioning and championing music by African American and Latin American composers. Since leaving Imani Winds in 2018, she has devoted herself principally to teaching and composing. She served on the faculties of the Frost School of Music of the University of Miami and at The Juilliard School, and 2021 she joined the flute and composition faculty at Mannes. She was named to the Metropolitan Opera/Lincoln Center Theater New Works commissioning program in 2021-22 and directs a recently created wind quintet workshop at the Boston University Tanglewood Institute.
Many of her compositions feature the flute or chamber groupings of wind instruments, but she has also fielded symphonic commissions from Carnegie Hall, American Composers Orchestra and Hartford Symphony. Umoja straddles these worlds. She composed it initially as a choral piece, and in 2001 she adapted it as a movement for wind quintet, in which form it was chosen by Chamber Music America for its roster of the "Top 101 Great American Ensemble Works." She greatly expanded it into a symphonic work on commission from The Philadelphia Orchestra, which introduced it in 2019 (with Yannick Nezet-Seguin conducting), making it the first "classical" work by a living female African American composer that ensemble had ever programmed. At that point, its title was expanded to Umoja, Anthem for Unity.
Umoja is, in fact, the Swahili word for "unity," and the name attaches to the first of the seven days of the African diasporic celebration of Kwanzaa. A note printed in the published score explains that, in its original form, the umoja was a piece for women, singing as a choir, that "embodied a sense of 'tribal unity,' through the feel of a drum circle, the sharing of history through 'call and response' form, and the repetition of a memorable sing-song melody… The orchestral version brings an expansion and sophistication to the short and sweet melody, beginning with sustained ethereal passages [where] the melody is… sweetly singing in its simplest form with an earnest reminiscence of Appalachian-style music" launching a 10-minute journey through to a final 'bold call of unity that harkens back to the original anthem."
Samuel Barber
Concerto for Cello and Orchestra, Op. 22

(1945)

Approximate duration: 23 minutes
Samuel Barber was teaching at his alma mater, the Curtis Institute, when he joined the war effort in 1942 as a member of the U.S. Army Airforce. In July 1945, with World War II finally ending, he avoided the two years of service that in principle remained for him (a firmly worded letter from conductor Serge Koussevitzky worked wonders) and refocused on composing concert works. During these months of 1945 he wrote his Cello Concerto, commissioned by none other than Koussevitzky, who hoped to premiere it in Boston with Raya Garbousova as soloist. That January, Barber spent several hours listening to Garbousova play through highlights from her repertoire so as to get a grasp of her special qualities as a cellist. He then sent her portions of the music as he completed them and incorporated technical suggestions she offered. The process was occasionally rocky, but Garbousova later recalled it as one of the most creative and fulfilling artistic experiences of her life—and it certainly led to a splendid, dazzling, technically hair-raising addition to her instrument's repertoire.
Following the premiere, critical response was all over the map. Some of the adjectives that surface in write-ups of the concert: "nervous," "jittery," "spotty," "brilliant," "fragmentary," "vague," "tragical." Nonetheless, the work was awarded the 1946 Award of the Music Critics Circle of New York following its first performance in town, echoing the on-target opinion Virgil Thomson had expressed when he reviewed the premiere for the New York Herald Tribune: "It is full of thought about musical expression in general and about the possibility for musical expression of the violoncello in particular. It is full of ingenious orchestral devices for accompanying the instrument without drowning it. And it is full of reasonably good tunes… The working up of these into a richly romantic, well-sustained structure is musical, masterful, thoughtful and not without a certain Brahms-like grandeur. The work has the feel of serious repertory about it and it is most advantageous for the cello, which has a lot to do all the time… And for all its occasional modernity of texture, it has the formal solemnity of Late Romanticism and an expansive melancholy of mood that makes it both adequate and suitable to a permanent place on the standard symphony orchestra programs."
Pyotr Ilyich Tchaikovsky
Symphony No. 5

in E minor

, Op. 64

(1888)


Approximate duration: 47 minutes

Pyotr Ilyich Tchaikovsky spent the summer of 1888 at his vacation home on a forested hillside at Frolovskoe, not far from his home base in Moscow. In this idyllic locale he managed to complete his Fifth Symphony in the span of only four months. He kept his principal patron, Nadezhda von Meck, informed about his compositions through detailed letters, and this correspondence offers much information about how the Fifth Symphony progressed during that summer. His work was already well along when he broached the subject in a letter on June 22: "I shall work my hardest. I am exceedingly anxious to prove to myself, as to others, that I am not played out as a composer. Have I told you that I intend to write a symphony? The beginning was difficult, but now inspiration seems to have come. We shall see…" Ensuing correspondence brims with allusions to the emotional background to this piece, which involved resignation to fate, the designs of providence, lapses of faith and similarly dark thoughts.

Such ideas reached back at least to that April, when he jotted in a notebook the concept for the first movement, which involved "complete resignation before Fate—or, what is the same thing, the inscrutable designs of Providence" as well as "murmurs of doubt, laments, reproaches against… XXX." Some musicologists maintain that the triple-X reference referred to Tchaikovsky's homosexuality, others to his gambling addiction; whatever it stood for, the composer obviously considered it secret and personal. At least his jottings confirm that this Symphony is about something, even though he later protested to a friend that it had no program whatsoever.

The four movements are unified through common reference to a minor-mode "motto theme," which is announced by somber clarinets at the outset. This would seem to represent the idea of Fate to which Tchaikovsky referred. It reappears often in this Symphony, sometimes reworked considerably. It causes a brutal interruption in the middle of the slow movement (a languid elegy spotlighting the solo horn); it appears in a subdued statement by clarinets and bassoons near the end of the graceful third movement; and in the finale this motif is transposed into the major mode in a gesture that sounds at least temporarily triumphant. "If Beethoven's Fifth is Fate knocking at the door," wrote an early commentator, "Tchaikovsky's Fifth is Fate trying to get out."

– © James M. Keller

James M. Keller is the longtime Program Annotator of the San Francisco Symphony and was formerly Program Annotator of the New York Philharmonic and a staff writer-editor at The New Yorker. The author of Chamber Music: A Listener's Guide (Oxford University Press), he is writing a sequel volume about piano music for the same publisher.  
Umoja, Anthem of Unity for Orchestra
(2019)
Concierto para violonchelo y orquesta, Op. 22 (1945)
Allegro moderato 
Andante sostenuto 
Molto allegro e appassionato 

Pyotr Ilyich Tchaikovsky
(1840-1893)


Sinfonía No. 5 en Mi menor, Op. 64 (1888)
Andante – Allegro con anima 
Andante cantabile con alcuna licenza 
Valse: Allegro moderato 
Finale: Andante maestoso – Allegro vivace 
Valerie Coleman
Umoja

, Anthem of Unity

 

for Orchestra


(2019)

Duración aproximada: 14 minutos
A los 14 años, Valerie Coleman ya había compuesto tres sinfonías y estaba ganando importantes premios en concursos de flauta en su natal Kentucky. Graduada de la Boston University y Mannes School of Music, en 1997 fundó el Imani Winds, un quinteto de vientos elogiado especialmente por comisionar y defender la música de compositores afroamericanos y latinoamericanos. En 2018 deja de ser parte de Imani Winds, y desde entonces se ha dedicado principalmente a la enseñanza y la composición. Ha sido parte del claustro de profesores de la Frost School of Music en la Universidad de Miami y de la Juilliard School en Nueva York, y en 2021 comenzó a trabajar como profesora de flauta y composición en Mannes. Fue escogida para el programa de comisiones de Nuevas Obras del Metropolitan Ópera/Lincoln Center en 2021-22 y dirige un taller de quinteto de vientos recientemente creado en el Instituto Tanglewood de la Boston University.
Muchas de sus composiciones incluyen flauta o conjuntos de cámara de instrumentos de viento, pero también ha recibido encargos para obras sinfónicas de Carnegie Hall, American Composers Orchestra y la Hartford Symphony. Umoja abarca ambos lados de estos mundos. La compuso inicialmente como una obra coral, y en 2001 la convirtió en un movimiento para quinteto de viento, en cuya forma fue elegida por Chamber Music America para su lista de las "Top 101 Great American Ensemble Works". Coleman la expandió en gran medida hasta convertirla en una obra sinfónica por encargo de la Orquesta de Filadelfia, que la presentó en 2019 (bajo la dirección de Yannick Nezet-Seguin), convirtiéndola en la primera obra "clásica" de una compositora afroamericana viva que la orquesta había programado. En ese momento, su título se amplió a Umoja, Anthem for Unity (Umoja, Himno por la Unidad.)
De hecho, Umoja significa "unidad" en swahili, y el nombre se asocia al primero de los siete días de celebración de la diáspora africana en Kwanzaa. Una nota impresa en la partitura publicada explica que, en su forma original, umoja era una pieza para mujeres, cantando en coro, que "personificaba un sentido de 'unidad tribal' a través de la experiencia en un círculo de tambores, el compartir historias en forma de 'pregunta y respuesta' (call and response) , y la repetición de una memorable melodía cantada…La versión orquestal le brinda una expansión y sofisticación a la melodía corta y dulce, comenzando con pasajes etéreos y sostenidos donde está la melodía…dulcemente cantando en su forma más simple con una honesta reminiscencia de la música al estilo de los Apalaches",  iniciando un viaje de 10 minutos hacia un "audaz llamado a la unidad final que rememora el himno original".
Samuel Barber
Concierto para violonchelo y orquesta, Op. 22
 

(1945)


Duración aproximada: 23 minutos

Samuel Barber trabajaba como profesor en su alma mater, el Instituto Curtis, cuando decidió unirse a la guerra en 1942 como miembro de la Fuerza Aérea del ejército estadounidense. En julio de 1945, con la Segunda Guerra Mundial finalmente terminando, evitó los dos años de servicio militar que en principio le quedaban (una carta del director de orquesta Serge Koussevitzky hizo maravillas) y se reenfocó en componer obras de concierto.

Durante estos meses de 1945 escribió su Concierto para Violonchelo , comisionado nada menos que por Koussevitsky, quien esperaba estrenarlo en Boston con Raya Garbousova como solista. Ese enero, Barber dedicó varias horas a escuchar a Garbousova tocar lo mejor de su repertorio para tener una idea de sus cualidades como chelista. Luego le mandó partes de la música mientras la iba escribiendo e incorporó sugerencias técnicas que ella le ofreció. El proceso se tornó difícil en ocasiones, pero Garbousova lo recordó tiempo después como una de las experiencias artísticas más creativas y enriquecedoras de su vida – que ciertamente condujo a una adición espléndida, deslumbrante y técnicamente espeluznante al repertorio de su instrumento.

Después del estreno, la respuesta de la crítica fue muy variada. Algunos adjetivos que surgieron en reseñas del concierto: "nervioso", "agitado", "irregular", "brillante", "fragmentario", "vago", "trágico". No obstante, la obra fue reconocida con el Premio del Círculo de Críticos Musicales de Nueva York en 1946 seguido de su primera interpretación en esa ciudad, haciendo eco de la certera opinión que Virgil Thompson había expresado cuando reseñó la premier para el New York Herald Tribune: "Está muy bien pensada desde el punto de vista de la expresión musical en general y del violonchelo en particular. Está llena de ingeniosos recursos orquestales para acompañar el instrumento sin ahogarlo. Y está lleno de melodías razonablemente buenas….el desarrollo de estas hacia una estructura ricamente romántica y sostenida es musical, magistral, reflexivo y no sin un cierto "grandeur" al estilo de Brahms. La obra tiene aire de pertenecer al repertorio serio, y es ventajosa especialmente para el chelo, el cual tiene mucho que hacer todo el tiempo… Y a pesar de su modernidad ocasional en la textura, posee la solemnidad formal del romanticismo tardío y una expansiva melancolía que la hace adecuada y apropiada para alcanzar un lugar permanente en el repertorio estándar de las orquestas sinfónicas".
Pyotr Ilyich Tchaikovsky
Sinfonía No. 5 en Mi menor, Op. 64

 

(1888)


Duración aproximada: 47 minutos

Pyotr Ilich Tchaikovsky pasó el verano de 1888 en su casa de vacaciones en los bosques de Frolovskoe, no lejos de su hogar en Moscú. En este  idílico lugar logró completar su Quinta Sinfonía en el lapso de solo cuatro meses. Mantuvo a su patrocinadora principal, Nadezhda von Meck, informada sobre sus composiciones a través de cartas detalladas, y esta correspondencia ofrecería mucha información sobre cómo progresó la Quinta Sinfonía durante ese verano. Su trabajo estaba bastante adelantado cuando abordó el tema en una carta del 22 de junio: "Trabajaré más duro que nunca. Estoy extremadamente ansioso de probarme a mí mismo, así como a los demás, que no he terminado como compositor. ¿Le he dicho que tengo la intención de escribir una sinfonía? El principio fue difícil, pero ahora la inspiración parece haber llegado. Veremos…" La correspondencia subsiguiente está llena de alusiones al trasfondo emocional de esta pieza, la cual refleja la resignación al destino, los designios de la providencia, lapsos de fe y pensamientos similares.

Tales ideas se remontaban al menos a aquel abril, cuando esbozó en una libreta el concepto del primer movimiento, el cual implicó "resignación completa ante el Destino, o, lo que es lo mismo, los inescrutables designios de la Providencia" como también "murmullos de duda, lamentos, reproches contra…XXX." Algunos musicólogos sostienen que la triple X se refiere a la homosexualidad de Tchaikovsky, y otros a su adicción al juego; de cualquier manera, el compositor obviamente lo consideraba secreto y personal. Al menos sus apuntes confirman que esta Sinfonía se trata de algo, aunque él  luego le discutió a un amigo que no tenía propósito alguno.

Los cuatro movimientos se unifican a través de una referencia común a un tema en modo menor, el cual es anunciado de forma sombría por los clarinetes al principio. Esto parece representar la idea del Destino a la que Tchaikovsky se refería. El tema reaparece a menudo en esta sinfonía, en ocasiones reelaborado considerablemente. Causa una brutal interrupción en el medio del movimiento lento (una elegía lánguida que destaca el solo de trompa); aparece en una declaración subyugada de los clarinetes y fagots cerca del final del tercer movimiento; y en el finale este motivo es transpuesto a una tonalidad mayor en un gesto que lo hace sonar al menos temporalmente triunfante. "Si la Quinta de Beethoven es el Destino tocando a la puerta," escribió uno de los primeros críticos, "la Quinta de Tchaikovsky es el Destino tratando de escapar".

– © James M. Keller

James M. Keller ha sido escritor de programas de la Sinfónica de San Francisco por largo tiempo y anteriormente realizó el mismo trabajo para la Filarmónica de Nueva York, donde también fue miembro y editor del staff de redacción de la revista The New Yorker. El autor del libro: Chamber Music: A Listener's Guide (Música de Cámara: Guía para un oyente) publicado por la Editorial Oxford University Press, actualmente está escribiendo un segundo volumen sobre música para piano para la misma editorial.

Translated by Maria Paulina García
Gemma New, conductor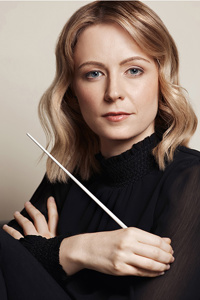 Sought after for her insightful interpretations and dynamic presence, New Zealand-born Gemma New is the newly appointed Artistic Advisor and Principal Conductor of the New Zealand Symphony, Music Director of the Hamilton Philharmonic Orchestra and Principal Guest Conductor of the Dallas Symphony. She is the recipient of the prestigious 2021 Sir Georg Solti Conducting Award.
In Ms. New's inaugural season with the New Zealand Symphony, she leads the 2022 Winter Festival with Hilary Hahn and Paul Lewis, Mozart Requiem with Voices New Zealand and contemporary works by New Zealand composers John Psathas, John Rimmer, Tabea Squire and Anthony Ritchie in the orchestra's 75th Anniversary season.
In the 2022-23 season, Ms. New leads the Royal Philharmonic Orchestra, BBC Symphony Orchestra, Royal Scottish National Orchestra and Royal Northern Sinfonia. Increasingly in demand in Europe, she leads the RTÉ National Symphony Orchestra, Orchestre National de Lyon, Berner Symphonieorchester, Gävle Symphony, Orchestre National Bordeaux Aquitaine, Orchestra della Toscana and Mozarteum Orchestra Salzburg in the final concert of Mozartwoche 2023. Ms. New makes her debuts with the Houston Symphony and Melbourne Symphony in Australia and returns to lead the New Jersey Symphony, Toronto Symphony and New World Symphony. In June 2023, she returns to St. Louis to lead Opera Theatre of St. Louis's production of Susannah.
Ms. New's work as Music Director of the Hamilton Philharmonic has been committed to deepening the artistic level of the orchestra and expanding its reach into the community. She launched the HPO's first "Intimate and Immersive" concert series, a Family Series and regular side-by-sides with the HPO Youth Orchestra. Her programs present works by core masters such as Beethoven and Mahler, as well as works by today's most active composers from Canada and New Zealand, such as Zosha di Castri, José Evangelista, Salina Fisher and Kevin Lau.
Ms. New previously served as Resident Conductor of the St. Louis Symphony Orchestra and as Associate Conductor of the New Jersey Symphony. A former Dudamel Conducting Fellow with the Los Angeles Philharmonic, she was a 2018 Conducting Fellow at Tanglewood Music Center and Conducting Fellow at the Aspen Music Festival. She studied conducting at the Peabody Institute with Gustav Meier and Markand Thakar.
Alisa Weilerstein, cello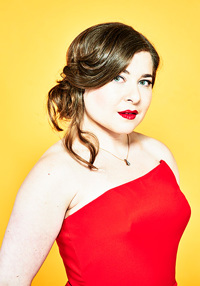 Alisa Weilerstein is one of the foremost cellists of our time. Known for her consummate artistry, emotional investment and rare interpretive depth, she was recognized with a MacArthur "genius grant" Fellowship in 2011. Today her career is truly global in scope, taking her to the most prestigious international venues for solo recitals, chamber concerts and concerto collaborations with all the preeminent conductors and orchestras worldwide. "Weilerstein is a throwback to an earlier age of classical performers: not content merely to serve as a vessel for the composer's wishes, she inhabits a piece fully and turns it to her own ends," marvels The New York Times. "Weilerstein's cello is her id. She doesn't give the impression that making music involves will at all. She and the cello seem simply to be one and the same," agrees the Los Angeles Times. As the U.K.'s Telegraph put it, "Weilerstein is truly a phenomenon."
With her multi-season new project, "FRAGMENTS," Ms. Weilerstein aims to rethink the concert experience and broaden the tent for classical music. A multisensory production for solo cello, the six-chapter series sees her weave together the 36 movements of J.S. Bach's solo cello suites with 27 new commissions. After premiering the first two chapters in Toronto in early 2023, with subsequent performances at New York's Carnegie Hall and beyond, she looks forward to touring all six chapters in seasons to come. Ms. Weilerstein recently premiered Joan Tower's new cello concerto, A New Day, at the Colorado Music Festival. The work was co-commissioned with the Detroit Symphony; The Cleveland Orchestra, where she performed it last fall and National Symphony, where she reprised it in May. An ardent proponent of contemporary music, she has also premiered and championed important new works by composers including Pascal Dusapin, Osvaldo Golijov and Matthias Pintscher. Already an authority on J.S. Bach's music for unaccompanied cello, in 2020 Ms. Weilerstein released a best-selling recording of his solo suites on the Pentatone label, streamed them in her innovative #36DaysOfBach project, and deconstructed his beloved G-major prelude in a Vox.com video, viewed more than two million times. Her discography also includes chart-topping albums and the winner of BBC Music's "Recording of the Year" award, while other career milestones include a performance at the White House for President and Mrs. Obama.
Diagnosed with type 1 diabetes at nine years old, Ms. Weilerstein is a staunch advocate for the T1D community. She lives with her husband, Venezuelan conductor Rafael Payare, and their two young children.
Chad Goodman, conductor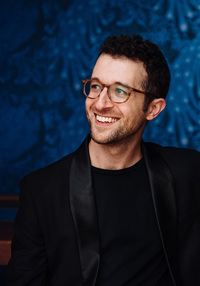 With a flair for inventive programming and a bold presence on stage and in the community, Chad Goodman has been praised for "bringing innovation to classical music" (Forbes).
As the Conducting Fellow of the New World Symphony, Mr. Goodman conducts on subscription, education, family and holiday programs. His program, "SPARK: How Composers Find Inspiration," blended captivating light design and videography with engaging audience participation to explore how a composition is created and brought to life by an orchestra.
Since 2018 Mr. Goodman has served as an Assistant Conductor to the San Francisco Symphony, assisting Esa-Pekka Salonen, Manfred Honeck, Daniel Harding, Pablo Heras-Casado, Simone Young and James Gaffigan among others.
Mr. Goodman's 2022-23 Season will include debut appearances with the Elgin Symphony, Baton Rouge Symphony, Greensboro Symphony and San Francisco Chamber Orchestra.
As Founder and Artistic Director of Elevate Ensemble, Mr. Goodman's ambitious vision for concert programming resulted in the pairing of music from Bay Area composers with underappreciated gems of the 20th and 21st centuries. Under his leadership, Elevate Ensemble established a Composer-in-Residence program and commissioned fifteen works from Bay Area composers. Elevate collaborated with photographers, videographers, poets and culinary artists, bringing new music and vibrant multi-genre experiences to unique venues such as yoga studios, historic Victorian homes and art studio warehouses.
Mr. Goodman has previously served as Conducting Fellow of Festival Napa Valley, Music Director of the Contra Costa Chamber Orchestra, Conducting Fellow of the Atlantic Music Festival, and a rehearsal and cover conductor for the San Francisco Ballet.
In addition to his performing career, he teaches young musicians the business and entrepreneurial skills needed to successfully navigate the world as a working musician in his workshop "You Earned a Music Degree. Now What?"
Mr. Goodman holds a bachelor of music degree from the Eastman School of Music and a master of music degree from San Francisco State University. His mentors include Michael Tilson Thomas, Alasdair Neale, Cyrus Ginwala and Martin Seggelke.