Events & Tickets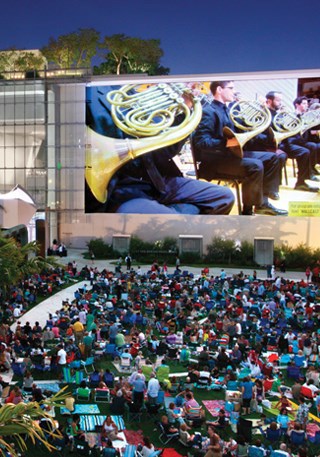 WALLCAST® Concert
WALLCAST® Concert: Tchaikovsky's Fourth
SoundScape Park
Saturday, March 26, 2022 at 8:00 PM
Program
WALLCAST® concerts are free. No tickets required.
Document your WALLCAST® concert experience using #WALLCAST on social media!
Mobile Program: Download NWS's free app for event information, program notes, musician profiles and more! Click here to download.
WALLCAST® Concert Club: Click here to join for special perks, discounts and WALLCAST® concert reminders. 
Restrooms: There are always restrooms available in the south-east corner of SoundScape Park. There will be no restroom access inside the New World Center. 
What's a WALLCAST® concert? Click here to get a taste of the WALLCAST® concert experience!
Program
Esa-Pekka Salonen
(b. 1958)
Approx. Duration: 9 minutes

Helix for Orchestra (2005)

Victor Herbert
(1859-1924)
Approx. Duration: 24 minutes

Concerto No. 2 for Cello and Orchestra, Op. 30 (1894)

Allegro impetuoso 
Andante tranquillo 
Allegro
Pyotr Ilyich Tchaikovsky
(1840-1893)
Approx. Duration: 44 minutes

Symphony No. 4 in F minor, Op. 36 (1878)

Andante sostenuto 
Andantino in modo di canzona 
Scherzo: Pizzicato ostinato 
Finale: Allegro con fuoco
Roderick Cox, conductor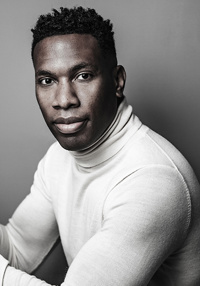 Winner of the 2018 Sir Georg Solti Conducting Award by the U.S Solti Foundation, Berlin-based American conductor, Roderick Cox, has been praised as a conductor who is "paving the way" (NBC News) and recognized as a "trailblazer…a conductor who will be amongst the vanguard" (Minnesota StarTribune).
Highlights this season include debuts with the Symphonieorchester des Bayerischen Rundfunks, Seattle and New World symphonies, Cincinnati Symphony Orchestra, Los Angeles Chamber Orchestra, BBC Philharmonic, Malmo, Kristiansand and Lahti Symphony Orchestras, as well as returns to Washington National Symphony Orchestra.
Recent highlights include his debuts with the Deutsches Symphonie-Orchester Berlin, Die Deutsche Kammerphilharmonie Bremen, Dresdner Philharmonie, Philharmonia Orchestra, BBC Symphony, Orchestre de Paris, Cleveland Orchestra (Blossom Music Festival), Dallas Symphony Orchestra, as well as returns to the Los Angeles Philharmonic, Detroit Symphony Orchestra, Minnesota Orchestra and Aspen Music Festival Chamber Orchestra.
In the theatre, Roderick has recently made important debuts at the Houston Grand Opera (Pêcheurs de Perles) and San Francisco Opera (Il barbiere di Siviglia), as well as recording Jeanine Tesori's Blue with the Washington National Opera. This season, he returns to the Opéra national de Montpellier for Rigoletto, having made an impressive debut there with a symphonic concert last season.
With a passion for education and diversity and inclusion in the arts, Roderick started the Roderick Cox Music Initiative (RCMI) in 2018 — a project that provides scholarships for young musicians of color from underrepresented communities, allowing them to pay for instruments, music lessons, and summer camps. Roderick and his new initiative will be featured in an upcoming documentary called Conducting Life.
Born in Macon, Georgia, Roderick attended the Schwob School of Music at Columbus State University, and then later attended Northwestern University graduating with a master's degree in 2011. He was awarded the Robert J. Harth Conducting Prize from the Aspen Music Festival in 2013 and has held fellowships with the Chicago Sinfonietta as part of their Project Inclusion program and at the Chautauqua Music Festival, where he was a David Effron Conducting Fellow. In 2016, Roderick was appointed as Associate Conductor of the Minnesota Orchestra, under Osmo Vänskä, for three seasons, having previously served as assistant conductor for a year.
Zuill Bailey, Cello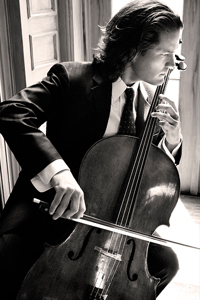 Zuill Bailey is a Grammy Award winning, internationally renowned soloist, recitalist, artistic director and teacher. His rare combination of celebrated artistry, technical wizardry and engaging personality has secured his place as one of the most sought after and active cellists today. A consummate concerto soloist, Mr. Bailey has been featured with symphony orchestras worldwide and has collaborated with renowned conductors.
Zuill's demanding 2018/2019 season include Daugherty's Tales of Hemingway with the Anchorage Symphony, the Estonian National Symphony, and Orchestra Iowa, the Elgar Concerto with the Madison Symphony, the Lalo Concerto with the Wimbledon International Music Festival, Richard Strauss' Don Quixote with the National Philharmonic and violist Roberto Díaz, and the Walton Concerto with the North Carolina Symphony, as well as chamber music appearances at the Asheville Chamber Music Series and the Howland Camber Music Circle with the Ying Quartet.
Zuill Bailey has appeared at prominent concert halls throughout the U.S., Europe, Asia and the Far East. Zuill is a regular at music festivals around world and was the featured soloist performing the Elgar Cello Concerto at the Bard Festival in the world premiere of the Doug Varrone Dance Company performance of Victorious.
Zuill Bailey's Musical Outreach is based on the principle that great music transforms lives making Classical Music accessible to all! He works diligently to make classical music accessible to all, primarily children everywhere. Zuill reaches thousands through these exceptional music education presentations from University Level Master Classes to Schools, Hospitals, Senior Centers, Libraries, Museums, Rehabilitation Programs and Prisons. Music knows no borders or boundaries!
Zuill Bailey is a popular recording artist with an extensive discography. He won a best solo performance Grammy Award (2017) for his Live Recording of Tales of Hemingway by composer Michael Daugherty. His celebrated Bach Cello Suites and Britten Cello Symphony/Sonata CD, with pianist Natasha Paremski, immediately soared to the number one spot on the Classical Billboard charts. Zuill's numerous other releases include the chart-topping Quincy Jones-produced Diversity, with pianist/composer Emily Bear and his innovative Spanish Masters CD for Zenph Studios, where he forms a unique duo blending with recordings of composer Manuel de Falla and an all-American recital program with pianist Lara Downes on the Steinway and Sons label. In celebration of his recordings and appearances, Kalmus Music Masters has released Zuill Bailey Performance Editions, which encompasses the core repertoire of cello literature.
Network television appearances include a recurring role on the HBO series Oz, NBC's Homicide, A&E, NHK TV in Japan, a live broadcast and DVD release of the Beethoven Triple Concerto performed in Tel Aviv with Itzhak Perlman conducting the Israel Philharmonic. Mr. Bailey is also featured in the televised production of the Cuban premiere of Victor Herbert's Cello Concerto No. 2 with the National Orchestra of Cuba. He has been heard on NPR's Morning Edition, Performance Today, Saint Paul Sunday, BBC's In Tune, Sirius Satellite Radio's Virtuoso Voices, Minnesota Public Radio, and RTHK Radio Hong Kong.
Mr. Bailey performs on the "rosette" 1693 Matteo Gofriller Cello, formerly owned by Mischa Schneider of the Budapest String Quartet. In addition to his extensive touring engagements, he is the Artistic Director of El Paso Pro-Musica (Texas), the Sitka Summer Music Festival/Series and Cello Seminar, (Alaska), the Northwest Bach Festival (Washington), Classical Inside and Out Series-Mesa Arts Center(Arizona) and Director of the Center for Arts Entrepreneurship at the University of Texas at El Paso.