Events & Tickets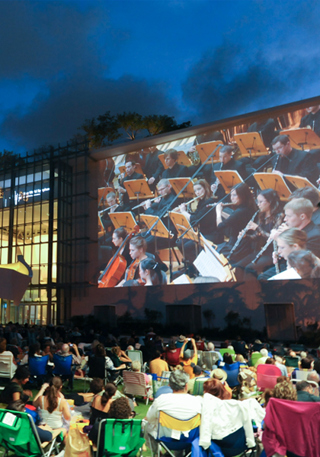 Special Event
WALLCAST® EVENT: STRAVINSKY AND BALANCHINE
SoundScape Park
Saturday, February 1 at 7:30 PM
Program
The New World Symphony and Miami City Ballet will come together to perform a celebration of Igor Stravinsky and George Balanchine, two icons of the 20th century whose decades-long friendship proved to be one of the most prolific artistic pairings of their time. Blending music and movement, the two cultural giants gave the world unforgettable productions and inspired students Michael Tilson Thomas and Lourdes Lopez, who now embolden the next generation of artists in our community. Included in this tribute is Apollo—their first collaboration inspired by the Greek God of music and his muse visitors. World-renowned violinist James Ehnes returns for Stravinsky's Concerto, which becomes even more mind-blowing when paired with Balanchine's choreography. Stravinsky's raucous Circus Polka comes alive with immersive projections by video artist Emily Eckstein.
This will mark the first large-scale collaboration between the two esteemed institutions and is inspired by NWS's Michael Tilson Thomas and Miami City Ballet's Lourdes Lopez's personal connections to Stravinsky and Balanchine.
The New World Symphony and Miami City Ballet are cultural pillars of the South Florida community, and have earned global recognition for their respective commitments to artistic excellence. This unique collaboration will be an opportunity to showcase both organizations as leaders in classical music, education, and dance.
Knight Foundation and New World Symphony: Reimagining Classical Music in the Digital Age. 
WALLCAST® concerts are free. No tickets required. Document your WALLCAST® concert experience using #WALLCAST on social media!
WALLCAST® Concert Club: Click here to learn about the free WALLCAST® Concert Club. Join today!
Mobile Program: Text WALLCAST to 50155 and receive a link to the mobile program.
Pre-Concert Chat: Join NWS Fellows for a free Pre-Concert Chat in SoundScape Park! These half-hour chats begin one hour prior to the performance. 
Restrooms: There are always restrooms available in the south-east corner of SoundScape Park. Restrooms inside the New World Center will be open to WALLCAST® Concert Club members at the beginning of the second half of the concert until 10 minutes before the end of the performance.
What's a WALLCAST® concert? Click here to get a taste of the WALLCAST® concert experience!
WALLCAST® Concert Sponsors
WALLCAST® concerts are made possible with support from Hitachi, Knight Foundation, Sarah Arison and Thomas Wilhelm, Chanin and Adam Carlin, Susan D. Kronick and Edward Manno Shumsky, Will Osborne and Karen Bechtel, and William Strong. Knight Foundation and New World Symphony: Reimagining Classical Music in the Digital Age.
Program
Igor Stravinsky
(1882-1971)
Approx. Duration: 30 minutes

Apollo, Ballet in Two Scenes 
    (1947 version)

First Scene
Naissance
Second Scene
Variation d'Apollon
Variation de Calliope
Variation de Polymnie
Variation terpsichore
Variation d'Apollon
Pas de deux
Igor Stravisky
(1882-1971)
Approx. Duration: 4 minutes

Featuring immersive projections by video artist Emily Eckstein
Igor Stravinsky
(1882-1971)
Approx. Duration: 22 minutes

Concerto in D major for Violin and Orchestra (1961 revision)

Toccata
Aria I
Aria II
Capriccio
Michael Tilson Thomas, conductor
Michael Tilson Thomas is Co-Founder and Artistic Director of the New World Symphony, America's Orchestral Academy; Music Director of the San Francisco Symphony; and Conductor Laureate of the London Symphony Orchestra. In addition to these posts, he maintains an active presence guest conducting with the major orchestras of Europe and the United States.
Born in Los Angeles, Mr. Tilson Thomas is the third generation of his family to follow an artistic career. His grandparents, Boris and Bessie Thomashefsky, were founding members of the Yiddish Theater in America. His father, Ted Thomas, was a producer in the Mercury Theater Company in New York before moving to Los Angeles where he worked in films and television. His mother, Roberta Thomas, was the head of research for Columbia Pictures.
Mr. Tilson Thomas began his formal studies at the University of Southern California where he studied piano with John Crown and conducting and composition with Ingolf Dahl. At age 19 he was named Music Director of the Young Musicians Foundation Debut Orchestra. He worked with Stravinsky, Boulez, Stockhausen and Copland on premieres of their compositions at Los Angeles' Monday Evening Concerts. During this same period he was the pianist and conductor for Gregor Piatigorsky and Jascha Heifetz.
In 1969, after winning the Koussevitzky Prize at Tanglewood, he was appointed Assistant Conductor of the Boston Symphony Orchestra. That year he also made his New York debut with the Boston Symphony and gained international recognition after replacing Music Director William Steinberg in mid-concert. He was later appointed Principal Guest Conductor of the Boston Symphony Orchestra where he remained until 1974. He was Music Director of the Buffalo Philharmonic from 1971 to 1979 and a Principal Guest Conductor of the Los Angeles Philharmonic from 1981 to 1985. His guest conducting includes appearances with the major orchestras of Europe and the United States.
His recorded repertoire of more than 120 discs includes works by composers such as Bach, Beethoven, Mahler, Prokofiev and Stravinsky as well as his pioneering work with the music of Charles Ives, Carl Ruggles, Steve Reich, John Cage, Ingolf Dahl, Morton Feldman, George Gershwin, John McLaughlin and Elvis Costello. He also recorded the complete orchestral works of Gustav Mahler with the San Francisco Symphony.
Mr. Tilson Thomas' television work includes a series with the London Symphony Orchestra for BBC Television, the television broadcasts of the New York Philharmonic Young People's Concerts from 1971 to 1977 and numerous productions on PBS' Great Performances. Mr. Tilson Thomas and the San Francisco Symphony produced a multi-tiered media project, Keeping Score, which includes a television series, web sites, radio programs and programs in schools.
In 1990 Mr. Tilson Thomas and the New World Symphony were presented in a series of benefit concerts for UNICEF in the United States, featuring Audrey Hepburn as narrator of From the Diary of Anne Frank, composed by Mr. Tilson Thomas and commissioned by UNICEF. This piece has since been translated and performed in many languages worldwide. In August 1995 he led the Pacific Music Festival Orchestra in the premiere of his composition Showa/Shoah, commemorating the 50th anniversary of the bombing of Hiroshima. Thomas Hampson premiered his settings of poetry by Walt Whitman, Renée Fleming premiered his settings of the poetry of Emily Dickinson and the San Francisco Symphony premiered his concerto for contrabassoon entitled Urban Legend. As a Carnegie Hall Perspectives Artist from 2003 to 2005, he had an evening devoted to his own compositions which included Island Music for four marimbas and percussion, Notturno for solo flute and strings and a new setting of poems by Rainer Maria Rilke. Other compositions include Street Song for brass instruments and Agnegram, an overture for orchestra.
Among his many honors and awards, Mr. Tilson Thomas is a Chevalier dans l'ordre des Arts et des Lettres of France, was Musical America's Musician of the Year and Conductor of the Year, Gramophone Magazine's Artist of the Year and has been profiled on CBS's 60 Minutes and ABC's Nightline. He has won 11 Grammy Awards for his recordings. In 2008 he received the Peabody Award for his radio series for SFS Media, The MTT Files. In 2010 President Obama awarded him the National Medal of Arts, the highest award given to artists by the United States Government.
Miami City Ballet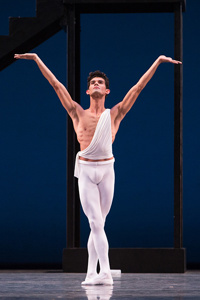 Miami City Ballet is considered a leader in the field – nurturing dancers, creating innovative collaborations, commissioning new works, presenting renowned masterworks, and opening avenues of inclusivity within classical ballet. MCB's repertory of 100 ballets, including 13 world premieres, was built upon the Balanchine repertory, style, and technique and then expanded to include beloved classical works of critical acclaim and exciting new choreography by ground-breaking artists.   MCB maintains annual seasons in Miami-Dade, Palm Beach, and Broward, serving more than 100,000 patrons through four diverse repertory programs; the treasured holiday fairytale, George Balanchine's The Nutcracker®; and a burgeoning roster of stateside and international touring engagements. Founded in 1985 by Toby Lerner Ansin and Founding Artistic Director Edward Villella, Miami City Ballet is universally admired as one of the world's pre-eminent interpreters of the choreography of George Balanchine.
About Lourdes Lopez
Lourdes Lopez was personally invited by George Balanchine to join the corps de ballet of New York City Ballet at only 16 years of age. Lopez was featured in countless leading roles in seminal Balanchine works, including Firebird, Serenade, Symphony in C, Agon, and The Four Temperaments.  Lopez also danced and was coached by Balanchine in Stravinsky Violin Concerto and Apollo, two of the three works in the joint program.  After retiring from the stage, Ms. Lopez went on to serve as the Executive Director of the George Balanchine Foundation for four years.  In 2012, she became Artistic Director of Miami City Ballet, bringing with her a nearly 40-year career in dance, television, teaching and arts management. Under Lopez's direction, Miami City Ballet has become one of the country's premier ballet companies. According to The New York Times, "This troupe [is] at the forefront of all those dancing choreography by George Balanchine today…. Bold, light, immediate, intensely musical, the dancing of Miami City Ballet flies straight to the heart." Her impactful career and dedication to Miami City Ballet promoted her to be recently named one of "The Most Influential People in Dance Today" by Dance Magazine.
James Ehnes, violin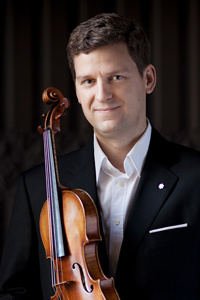 James Ehnes has established himself as one of the most sought-after violinists on the international stage. Gifted with a rare combination of stunning virtuosity, serene lyricism and an unfaltering musicality, he is a favorite guest of many of the world's most respected conductors including Vladimir Ashkenazy, Marin Alsop, Andrew Davis, Stéphane Denève, Mark Elder, Iván Fischer, Edward Gardner, Paavo Järvi, Juanjo Mena, Gianandrea Noseda, David Robertson and Donald Runnicles. His long list of orchestras he has worked with include the Boston, Chicago, London, NHK and Vienna symphonies, the Los Angeles, New York, Munich and Czech philharmonics and the Cleveland, Philadelphia, Philharmonia and DSO Berlin orchestras.
Mr. Ehnes' recent orchestral highlights include The Metropolitan Opera Orchestra at Carnegie Hall with Gianandrea Noseda, Leipzig Gewandhaus Orchestra with Alexander Shelley, San Francisco Symphony with Marek Janowski, Frankfurt Radio Symphony with Andrés Orozco-Estrada, London Symphony with Daniel Hardin, and Munich Philharmonic with Jaap van Zweden, as well as his debut with the London Philharmonic at Lincoln Center in spring 2019. In the 2019-20 season, Mr. Ehnes is Artist in Residence with the Dallas Symphony, which includes performances of the Elgar Concerto with Fabio Luisi, a play/direct program and a chamber music program. In 2017 he premiered Aaron Jay Kernis' Violin Concerto with the Toronto, Seattle and Dallas symphonies, and gave further performances of the piece with the Deutsches Symphonie-Orchester and Melbourne Symphony.
Alongside his concerto work, Mr. Ehnes maintains a busy recital schedule. He performs regularly at Wigmore Hall, Carnegie Hall, Symphony Center Chicago, Amsterdam Concertgebouw, Ravinia, Montreux, Chaise-Dieu, the White Nights Festival in St Petersburg, Verbier Festival, Festival de Pâques in Aix, and in 2018 he undertook a recital tour to the Far East, including performances in Hong Kong, Shanghai, Singapore and Kuala Lumpur.
As part of the Beethoven celebrations, Mr. Ehnes has been invited to perform the complete cycle of Beethoven Sonatas at Wigmore Hall throughout the 2019-20 season. Elsewhere he performs the Beethoven Sonatas at the Dresden Music Festival, Prague Spring Festival, Concertgebouw Amsterdam, Aspen Music Festival (as part of a multi-year residency) and Bravo! Vail Festival during his residency week also including the Violin Concerto and Triple Concerto with the Dallas Symphony and Donald Runnicles. In 2016 Mr. Ehnes undertook a cross-Canada recital tour, performing in each of the country's provinces and territories, to celebrate his 40th birthday.
As a chamber musician, Mr. Ehnes has collaborated with leading artists such as Leif Ove Andsnes, Renaud Capuçon, Louis Lortie, Nikolai Lugansky, Yo-Yo Ma, Antoine Tamestit, Jan Vogler and Yuja Wang. In 2010 he formally established the Ehnes Quartet, with whom he has performed in Europe at venues including Wigmore Hall, the Louvre Auditorium in Paris and Théâtre du Jeu de Paume in Aix, amongst others. Mr. Ehnes is the Artistic Director of the Seattle Chamber Music Society.
Mr. Ehnes has an extensive discography and has won many awards for his recordings, including a Grammy Award (2019) for his live recording of Aaron Jay Kernis' Violin Concerto with the Seattle Symphony and Ludovic Morlot, and a Gramophone Award for his live recording of the Elgar Concerto with the Philharmonia Orchestra and Andrew Davis. His recording of the Korngold, Barber and Walton violin concertos won a Grammy Award for Best Instrumental Soloist Performance and a JUNO award for Best Classical Album of the Year. His recording of the Paganini Caprices earned him universal praise, with Diapason writing of the disc, "Ehnes confirms the predictions of Erick Friedman, eminent student of Heifetz: 'there is only one like him born every hundred years.'" Recent releases include sonatas by Beethoven, Debussy, Elgar and Respighi, and concertos by Walton, Britten, Shostakovich, Prokofiev and Strauss, as well as the Beethoven Violin Concerto with the Royal Liverpool Philharmonic and Andrew Manze, which was released in 2017 on Onyx Classics.
Mr. Ehnes began violin studies at the age of five, became a protégé of the noted Canadian violinist Francis Chaplin at the age of nine, and made his orchestra debut with Montreal Symphony Orchestra at the age of 13. He continued his studies with Sally Thomas at the Meadowmount School of Music and The Juilliard School, winning the Peter Mennin Prize for Outstanding Achievement and Leadership in Music upon his graduation in 1997. He is a Fellow of the Royal Society of Canada and in 2010 was appointed a Member of the Order of Canada. Mr. Ehnes was awarded the 2017 Royal Philharmonic Society Award in the Instrumentalist category. He plays the "Marsick" Stradivarius of 1715.