Events & Tickets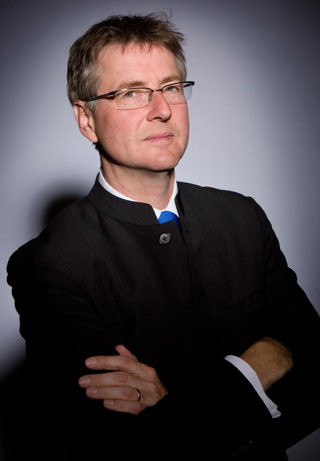 Orchestra Concert,WALLCAST® Concert
WATER MUSIC
New World Center
Saturday, November 7 at 7:30 PM
Sunday, November 8 at 2:00 PM
Program
Plunge into the crisp melodies of these famous odes dedicated to the rivers Thames and Elbe. With deft brilliance, Telemann paints a nautical theme into all of his movements, each dedicated to mythological sea idols, from water nymphs to Triton and Neptune. Handel, in his most famous instrumental work, moved King George I to extravagant praise with his large-scale, regal score while sailing down the Thames, its joyful notes—rooted in European dances—ringing for miles. Renowned for his authentic period-style performances, conductor Paul Goodwin leads a dazzling performance of these aquatic gems. This is a concert fit for royalty!
**The Saturday, November 7 performance will be presented as a WALLCAST™ concert, presented by Citi®, in SoundScape Park. WALLCAST™ concerts are free, no ticket is required. For more information, please click here.**
Program
Georg Philipp Telemann
(1681-1767)
Approx. Duration: 23 minutes

Overture in C major, Water Music, "Hamburg Ebb and Flood," TWV 55:C3  (1723)

Sarabande: The Sleeping Thetis
Bourrée: Thetis Awakening
Loure: Neptune in Love
Gavotte: Playing Naiads
Harlequinade: The Joking Triton
The Stormy Aeolus
Menuet: The Pleasant Zephir
Gigue: Ebb and Flow
Canarie: The Merry Boat People   
George Frideric Handel
(1685-1759)
Approx. Duration: 45 minutes

Suite No. 1 in F major 
Suite No. 2 in D major
Suite No. 3 in G major  
Georg Philipp Telemann
Overture in C major, Water Music, "Hamburg Ebb and Flood," TWV 55:C3 

(1723)


Approximate duration: 23 minutes

Georg Phillip Telemann was Germany's leading composer in his lifetime—and his competition was stiff. Born four years before his compatriots Bach and Handel, Telemann influenced them both. He was godfather and namesake to the oldest Bach son, Carl Phillip Emmanuel, and the legacy he left from his student life and early career in Leipzig, including the founding of the Collegium Musicum, shaped J. S. Bach's later tenure in that city. Handel, for his part, paid Telemann the ultimate compliment by repeatedly borrowing his music.

Telemann was arguably the most prolific composer ever, creating at least 3,000 works during his long career. About half of those were cantatas that went along with his role directing music for the principal churches of Hamburg, a prestigious post he held from 1721 until his death 46 years later. (His output slowed in his old age but never ceased completely; he did however make time for his gardening hobby, as we know from his correspondence with Handel.) Telemann also wrote about 50 operas and nearly 1,000 instrumental works, mostly from the early part of his career.

Hamburg was a bustling port town on the Elbe River, with the waterways protected and maintained by an admiralty formed in 1623. For its centennial, Telemann composed two nautical-themed works, a secular cantata and an instrumental overture, which were introduced together at a sumptuous banquet near the harbor. The ten-movement Overture (or Suite) sometimes appears under the descriptive heading of Hamburg Ebb and Flood; it has also been dubbed Telemann's Water Music, drawing a parallel to Handel's earlier work.

Following the French template for such suites, the Overture begins with a slow introduction full of undqual rhythms before proceeding to a faster, more contrapuntal continuation.

The remainder of the suite consists mostly of shorter dance forms, which Telemann labeled with their usual French names and also colorful titles that reference mythological water figures. The suite deviates from standard dances with a Harlequinade in honor of "the joking Triton," a storm scene for Aeolus (master of the winds), and a stomping Canarie that closes the suite in tribute to "the merry boat people."

 

Additional Resources 

PDF score from the IMSLP Petrucci Music Library 

Detailed biography of Telemann 

Information on Telemann's relationship to the Bach family

 
George Frideric Handel
Water Music (1717)

Approximate duration: 45 minutes
Not long after Handel became Kapellmeister in 1710 to George Ludwig, Elector of Hanover, those two Germans would find themselves making history in England. Handel, for his part, revolutionized the opera scene in London with Rinaldo from 1711, spurring him to settle there permanently. Meanwhile George, by virtue of the 1689 Bill of Rights that barred Catholic monarchs, became the unlikely heir to the British throne, as the great-grandson of King James I and the closest living Protestant relative to Queen Anne when she died in 1714.
George fired Handel from the Hanover position in 1713, leading to a brief falling out. (If Handel's long absences in London were not cause enough for termination, he also made the mistake of participating in festivities for a treaty that was unfavorable to Hanover interests.) But the two reconciled after George's coronation, and Handel became a trusted source of music for the royal court. In 1717 when a conflict with his liberal-minded son (the future George II) left the king in need of some good public relations, he organized an outing on the River Thames and asked Handel to provide orchestral entertainment. On July 17, 1717, the river filled with boats, including a barge loaded with some fifty musicians. The whole flotilla rode the tide upriver to Chelsea, stopped for a supper, and then returned to Whitehall, with Handel's new Water Music sounding all the while.
Water Music consists of three self-contained suites, each with slightly different instrumentation. To help the sound carry over the water, Handel leaned on the winds and brass, including a pair of horns, used for the first time in a British orchestral work. For the basso continuo line, a bassoon reinforced the cellos and basses. It is unlikely that a harpsichord was on the barge, but it is now customary to add one to the basso continuo for indoor performances. As for the sequence of movements, the order is flexible; this performance retains the original flow of the First Suite, and then intersperses the movements of the Second and Third Suites.
The First Suite in F major begins with a grand Overture in the French style, opening with a stately Largo introduction and continuing into a contrapuntal Allegro featuring two solo violins, as in a concerto grosso.
This introduction links directly to the Adagio e staccatosecond movement with its minor-key oboe melody.
The third movement features the horns in its outer sections, separated by a contrasting Andante passage centered on the oboes and bassoons.
The latter half of the First Suite explores typical dance forms, and also inserts a simple and memorable Air.
Instead of ending with a typical gigue, the First Suite closes with a contrapuntal movement in the related minor key.
The Second Suite in D major spotlights the brilliant tone of the trumpets. In both the opening movement and the beloved Alla Hornpipethat follows, the horns have an echoing role, answering the trumpets in a mellower, lower register.
The next selection comes from the Third Suite in G major, the most compact section of Water Music with only four movements and an orchestration that omits the brass. It opens with a civilized Sarabande, a form that first came to European courts by way of Spain's rough-and-tumble American colonies.
Also from the Third Suite, the Rigaudon is an example of da capo form, meaning that there is an initial dance in the given style, followed by a contrasting dance in the same style, and then a da capo ("to the head") return to the first dance.
Returning to the Second Suite, the next selection is a graceful movement simply labeled Lentement ("Slowly"), followed by a deft Bourrée.
Moving again to the Third Suite, the orchestra rolls out two more da capo dances. A piccolo brightens the tone of the second Minuet and also leads the bouncing melody for the closing Gigue.
This rendition of Water Music closes with a courtly Minuet, from the Second Suite.
Additional Resources
PDF score from the IMSLP Petrucci Music Library
More background on how George Ludwig became George I
Handel's house in London, now a museum
Review in The Daily Courantfrom July 19, 1717, describing the Water Music festivities
-- Copyright © 2015 Aaron Grad
Aaron Grad is a composer, guitarist and writer based in Seattle. Besides providing program notes for the New World Symphony, he has been the Orpheus Chamber Orchestra's program annotator since 2005 and also contributes notes to the Saint Paul Chamber Orchestra and Seattle Symphony.
Audio clips provided by Naxos of America, Inc.
Paul Goodwin, conductor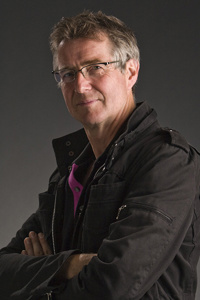 Paul Goodwin is well known for his creative and dynamic programming and incorporating period style within the traditional orchestral world. He has achieved acclaim for delivering fresh, exciting and original accounts of mainstream repertoire as well as his historically informed interpretations. His extensive repertoire spans from the 14th century to the present day.
Mr. Goodwin is Artistic Director and Conductor of the Carmel Bach Festival and Principal Guest Conductor of Cappella Aquileia. He has conducted orchestras throughout the world including the Philadelphia Orchestra, San Francisco Symphony, BBC Philharmonic Orchestra, Hallé Orchestra, City of Birmingham Symphony, Royal Scottish National Orchestra, Konzerthaus Orchester Berlin, Minnesota Orchestra, National Symphony, Utah Symphony, New World Symphony, Seattle Symphony, St. Paul Chamber Orchestra, Toronto Symphony, the Rotterdam, Auckland, Helsinki and Royal Stockholm philharmonics, and radio orchestras in Munich, Frankfurt, Hannover and Leipzig.
In opera, Mr. Goodwin's successes have included Gluck's Iphigenia in Tauris at Komische Oper Berlin, Britten's Rape of Lucretia at Teatro Real Madrid, Handel's Orlando at Scottish Opera and Opera Australia, Handel's Jephtha at Welsh National Opera and Handel's Riccardo Primo at Staatstheater Karlsruhe.
Mr. Goodwin's recent and future highlights include the Chofu International Music Festival, Orquesta Sinfónica de Galicia, Warsaw Philharmonic, Melbourne Symphony Orchestra, Baltimore Symphony Orchestra, Hong Kong Sinfonietta, Les Violons du Roy, Seoul Philharmonic, New World Symphony Orchestra and a revival of Mozart's Così fan tutte at the Royal Danish Opera.
For 11 years Mr. Goodwin was the Associate Conductor of the Academy of Ancient Music, with which he toured extensively and made recordings of Heinrich Schütz's choral music, Mozart's singspiel Zaide and two discs of music by John Tavener, commissioned for the AAM.  Three of these CDs were nominated for Grammy (U.S.) and Gramophone (U.K.) awards. Mr. Goodwin was Principal Guest Conductor of the English Chamber Orchestra for six years, collaborating with artists such as Kiri Te Kanawa, Joshua Bell, Maria João Pires, Mstislav Rostropovich and Magdalena Kozena.  Elsewhere, he has recorded CDs of Strauss, Hartmann, Handel's Riccardo Primo and Athalia, and a highly acclaimed CD of Elgar's Nursery Suite for Harmonia Mundi. With the Munich Radio Orchestra he has recorded two CDs for Sony: one that includes Prokofiev's Peter and the Wolf and the other, under the stars, in collaboration with violinist Charlie Siem.
Mr. Goodwin's dedication to educational projects has led him to work with National Youth Orchestras in Spain and Holland, Junge Deutsche Philharmonie, Orchestra Giovanile Italiana, Royal Conservatoire in The Hague, and the orchestras of the Royal College and Royal Academy of Music, London. For many years he was a regular visiting conductor for the Queen Elisabeth Competition in Brussels. In 2007 he was awarded the Handel Honorary Prize of the City of Halle (Saale) in recognition of his extraordinary services to performances of works by George Frideric Handel.
For more information, please visit paulgoodwinconductor.com.