Events & Tickets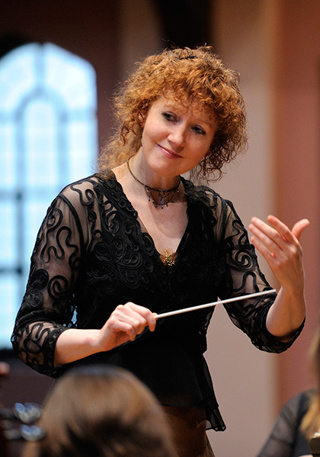 Orchestra Concert
WEBCAST: A RETURN TO BACH'S COFFEEHOUSE
New World Center
Long before Starbucks appeared on every corner there was Leipzig's Café Zimmermann, where the original jam sessions were taking place regularly by musical mastermind J.S. Bach and his student orchestra. With libations flowing, Bach would take the stage to perform his own works, as well as those by his admired friends Vivaldi and Telemann. Recreate the magic with two of Bach's renowned Brandenburg Concertos, Telemann's whimsical "chirping" symphony and a brilliant concerto by Vivaldi. Grab a cup of joe with friends as the Artistic Director of Cleveland's famed Apollo's Fire, Baroque authority Jeannette Sorrell, sets the scene with intoxicating zest and hypnotic precision.
Tickets no longer available online.
Program
Georg Philipp Telemann
(1681-1767)
Approx. Duration: 10 minutes

Grillen-Symphonie, TWV 50:1 (c. 1765)

Rather lively
Toying
Presto
Antonio Vivaldi
(1678-1741)
Approx. Duration: 7 minutes

Concerto in A minor for Two Violins and Orchestra, R. 522 (before 1711)

Allegro moderato
Larghetto e spiritoso
Allegro
Chelsea Sharpe, Margeaux Maloney, violin
Johann Sebastian Bach
(1685-1750)
Approx. Duration: 19 minutes

Suite No. 2 in B minor for Orchestra, BWV 1067 (c. 1739)

Ouverture
Rondeau
Sarabande
Bourrée I – Bourrée II
Polonaise – Double
Menuet
Badinerie
Johann Sebastian Bach
(1685-1750)
Approx. Duration: 21 minutes

Brandenburg Concerto No. 5 in D major, BWV 1050 (c, 1720)

Johanna Gruskin, flute
Christen Greer, violin
Jeannette Sorrell, harpsichord
Johann Sebastian Bach
(1685-1750)
Approx. Duration: 13 minutes

Brandenburg Concerto No. 2 in F major, BWV 1047 (c. 1720)

(Allegro)
Andante
Allegro assai
Elizabeth Lu, flute
Mark Grisez, trumpet
Emerson Millar, violin
Georg Philipp Telemann
Grillen-Symphonie, TWV 50:1 (c. 1765)

Approximate duration: 10 minutes
Telemann was arguably the most prolific composer ever, creating at least 3,000 works during his long career. About half of those were cantatas that went along with his role directing music for the principal churches of Hamburg, a prestigious post he held from 1721 until his death 46 years later. Telemann also wrote about 50 operas and nearly 1,000 instrumental works, mostly from the early part of his career.
The Grillen-Symphonie is one of the more enigmatic compositions in Telemann's vast catalog. Its origins are uncertain—estimates for the year of its creation range from the 1730s to 1765—and even the title is a mystery: The literal German translation of Grillen is "crickets," but it could also mean "whims" or "fancies." Certain musical details align with the burgeoning genre of the Symphony, but this is really a concerto grosso, employing a downright bizarre solo group consisting of flute or piccolo, oboe, chalumeau (a forerunner of the clarinet, which is the customary substitute today) and two double basses that lay down a growling, rustic foundation to balance the chirping woodwinds.
The middle movement is labeled Tändelnd, which translates as "toying" or "flirting," and the playful dynamics and crisp contrasts demonstrate an aspect of Telemann not far at all from the young Haydn, who began experimenting with symphonies in the early 1760s. The finale derives its droning, driving character from folk music, capping a work that Telemann described (with tongue in cheek, we can presume) as being modeled after the "Italian, French, English, Scottish and Polish styles."
Additional Resources: 
Info on Telemann 2017, A festival commemorating 250 years since Telemann's death 
History of the chalumeau and its usage by composers
Antonio Vivaldi
Concerto in A minor for Two Violins and Orchestra, R. 522 (before 1711)

Approximate duration: 7 minutes
In 1711 an Amsterdam publisher printed L'estro armonico (The Harmonic Inspiration), Vivaldi's third official opus and the first to feature his concertos. The two-volume set collected a dozen works that demonstrated Vivaldi's mastery of the concerto in its many forms, from the concerto grosso for multiple soloists popularized by Corelli to the three-movement solo concerto that Vivaldi took to new heights. The publication did much to advance his reputation at home and abroad, and it helped to spread a new style of concerto writing beyond its birthplace in northern Italy.
The fast first movement of the Concerto in A minor shows just how inventive Vivaldi could be with a configuration of two solo violins, string sections and basso continuo. The soloists dart in and out of the spotlight while the accompanying ensemble experiments with diverse textures, even going silent at times.
The central movement, marked Larghetto e spiritoso, takes a more austere approach, stripping the accompanying figures down to bare unisons, and only involving the lower strings and harpsichord in the opening and closing measures. Limiting the support to a subtle unison line allows the soloists to deliver their cantabile (singing) phrases with the utmost intimacy and vulnerability.
The fast finale finds new sonic breadth in the various echoes and cascades that ripple through the ensemble. The soloists contribute their own excitement with rapid, string-crossing figures.
Additional Resources
PDF score from the IMSLP Petrucci Music Library
Essay on L'estro armonico by conductor Christopher Hogwood
Johann Sebastian Bach
Suite No. 2 in B minor for Orchestra, BWV 1067 (c. 1739)

Approximate duration: 19 minutes
From 1723 until his death in 1750, Bach held the demanding position of Thomaskantor, directing music for the principal churches of Leipzig and training the young choristers under his care. (The city had wanted to hire Telemann, but he was unavailable, having just accepted a high-profile job in Hamburg.) Somehow Bach also found the time to direct the Collegium Musicum, an amateur ensemble founded by Telemann back when he was a student in Leipzig. With most concerts held at a coffee house, the Collegium Musicum provided Bach a space where he could present secular music not fit for church, including the four surviving Orchestral Suites inspired by French dance music.
Composed in 1738 or 1739, Bach's Orchestral Suite No. 2 in B minor was actually the latest of the four suites. It might even have been the very last new orchestral work composed by Bach, who had less need for such repertoire after he retired from the Collegium Musicum in 1741.
The Suite No. 2 employs the smallest ensemble of Bach's suites, with a single flute joining the strings and basso continuo. Much of Bach's flute music was labeled flauto, which in his time indicated a vertical instrument, like the modern recorder. This suite, however, specifically calls for a flauto traverso or transverse flute, held sideways like today's flutes.
Following the French convention, the Suite No. 2 opens with a substantial Ouverture that uses dotted rhythms to achieve a grand and regal stature.
The central body of the movement elaborates a fast fugue, placing special emphasis on the solo flute during free-flying episodes.
For the next movement, the Rondeau heading suggests a certain pattern of how themes return, rather than a particular dance style for the music, which in this case mimics a gavotte dance with two strong upbeats.
The Sarabande began as a fast dance brought back from the Americas by Spanish guitarists, but in French practice it evolved into a slow and elegant dance in three beats, as heard in Bach's example.
Next come two linked Bourrée movements, with the second calling on the flute for virtuosic solos. A recap of the first Bourrée rounds out the da capo structure.
The Polonaise was another French adaptation of a foreign dance, this one based on traditions from Poland. A walking bass line gives this example a stern, driving character.
The contrasting Double reduces the orchestration to a chamber music texture, using just flute and basso continuo in the manner of a sonata.
The brief Menuet gives a taste of this quintessential French dance with a stately, three-beat pulse. 
The finale's uncommon heading of Badinerie does not reference any particular dance, but rather it indicates music of a playful, jesting character.
Additional Resources
PDF score from the IMSLP Petrucci Music Library
Dance and the Music of J. S. Bach: A fascinating book for fans of Bach's instrumental suites.
Johann Sebastian Bach
Brandenburg Concerto No. 5 in D major, BWV 1050 (c, 1720)

Approximate duration: 21 minutes
It took Bach 20 years of restless maneuvering to land the high-profile position as Thomaskantor in Leipzig. Before that point he worked mostly as a church organist, but from 1717 to 1723 he held a secular post as Kapellmeister in Cöthen, where he had a small but distinguished private orchestra at his disposal. Still Bach eyed other opportunities in larger markets like Berlin, where he traveled in 1718 to buy a new harpsichord for Cöthen. On that trip Bach met and performed for Margrave Christian Ludwig, the Duke of Brandenburg; two years later, Bach followed up with what amounted to an unsolicited job application. To this day, the six works Bach sent are known as the Brandenburg Concertos, even though their noble namesake never so much as replied.
Each Brandenburg Concerto takes a different approach to the concerto grosso genre. The usual template, established a generation earlier by Corelli, was to combine a group of soloists—two violins and cello, for example—with an accompanying ensemble of strings and basso continuo, including harpsichord. The Fifth Brandenburg Concerto is unusual in that a harpsichord joins the flute and violin as a co-equal soloist; in fact, the harpsichord steals the show in the first movement, when a solo episode built from astonishingly fast 32nd-notes spills into an indulgent cadenza (one fully notated by Bach) that builds for several breathless minutes.
The middle movement, labeled Affettuoso ("with feeling"), presents the soloists without the accompanying strings. Unlike a trio sonata, in which the harpsichord would typically have just a bass line with the right-hand harmonies filled in ad libitum, the harpsichordist's right hand has its own melodic line that intermingles with the flute and violin.
In the finale, a fugal structure reinforces the equal footing of the voices. The violin and flute take the first two entrances, and the harpsichord jumps in with the third and fourth voices of the fugue in the left and right hands, respectively.
Johann Sebastian Bach
Brandenburg Concerto No. 2 in F major, BWV 1047 (c. 1720)

Approximate duration: 13 minutes
For the Second Brandenburg Concerto, the distinctive solo group consists of trumpet, flute, oboe and violin. The trumpet Bach wrote for was a natural instrument without valves, meaning that the range was confined to the notes of the overtone series extending up from the instrument's fundamental pitch. The low overtones are spaced widely, as in the typical intervals of bugle calls, so to play melodies with adjacent notes requires accessing the higher harmonics. Playing in this clarino range of the natural trumpet requires extreme control and strength, and it produces one of the most bright and penetrating of all musical colors, lending the sonic palette of the Second Brandenburg Concerto its particular brilliance.
The jubilant opening movement makes up for the mismatched strength of the solo instruments by separating the voices out for individual statements and contrapuntal sparring.
The trumpet and orchestral strings drop out for the middle Andante movement, leaving just a steady line from the basso continuo to support the polyphonic weavings of the solo violin, flute and oboe.
A heralding call from the trumpet announces the Allegro assai third movement, initiating a rowdy finale that serves as a bookend to the unbridled joy of the opening movement.
Additional Resources
PDF scores from the IMSLP Petrucci Music Library
What's So Great about the Brandenburg Concertos? Article by Jeannette Sorrell

-- Copyright © 2018 Aaron Grad
Aaron Grad is a composer, guitarist and writer based in Seattle. Besides providing program notes for the New World Symphony, he has been the Orpheus Chamber Orchestra's program annotator since 2005 and also contributes notes to the Saint Paul Chamber Orchestra and Seattle Symphony.
Jeannette Sorrell, conductor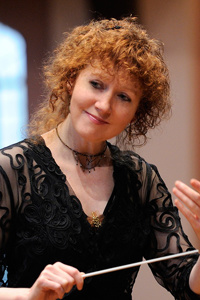 Award-winning harpsichordist and conductor ​Jeannette Sorrell ​has been credited by the BBC Music Magazine for forging​ "a vibrant, life-affirming approach to the remaking of early music… a seductive vision of musical authenticity."​ She takes her inspiration from the 17th-century concept of ​Affekt​, in which the goal of the musician is to move the emotions of the listeners. Ms. Sorrell makes use of Baroque dramatic devices, including rhetoric and harmonic tension and release, to bring Baroque repertoire to life in a highly personal and communicative way.   
Ms. Sorrell's recent and upcoming guest conducting engagements include Handel's Messiah in her Kennedy Center debut with the National Symphony in December 2017, as well as returns to the New World and Utah symphonies and debuts with the St. Paul Chamber Orchestra and at the Grand Teton Festival. She has previously led the Pittsburgh Symphony, Los Angeles Chamber Orchestra, Seattle Symphony, Opera Theatre of St. Louis with the St. Louis Symphony, Handel & Haydn Society (Boston) and the symphony orchestras of Jacksonville, Omaha, North Carolina, and Grand Rapids.
Founder and conductor of Apollo's Fire, Ms. Sorrell has built one of the largest audiences of any North American Baroque orchestras, with performances across America and Europe including the Tanglewood, Aldeburgh, BBC Proms and Aspen festivals, Metropolitan Museum in New York, Library of Congress and London's Wigmore Hall.  
Ms. Sorrell and Apollo's Fire record for the British label AVIE RECORDS and have released 24 commercial CDs, of which seven have been bestsellers on the Billboard Classical chart. Her recordings include the complete ​Brandenburg Concertos​ and ​harpsichord concertos​ (with Ms. Sorrell as harpsichord soloist and director), which was praised by the The Times of London as "a swaggering version… brilliantly played by Sorrell."  Her other bestsellers with Apollo's Fire include two crossover/folk programs, Sacrum Mysterium:  A Celtic Christmas Vespers​ and ​Come to the River: An Early American Gathering.  For the research and production of the latter disc, she received an American Masterpieces grant from the National Endowment for the Arts, one of two she has been awarded by the NEA.  
Ms. Sorrell's other awards include an honorary doctorate from Case Western University, Bodky Award from the Cambridge Society of Early Music and Noah Greenberg Award from the American Musicological Society. Passionate about guiding the next generation of performers, Ms. Sorrell has led many Baroque projects for Oberlin Conservatory and the Cleveland Institute of Music. She has also developed a highly successful Young Artist Apprentice Program to provide pre-professional training for talented period-instrument students under the auspices of Apollo's Fire.  
Born in the U.S. of Swiss and American parents, Ms. Sorrell was one of the youngest students ever accepted to the prestigious conducting courses of the Aspen and Tanglewood music festivals, studying conducting under Robert Spano, Roger Norrington and Leonard Bernstein, and harpsichord with Gustav Leonhardt in Amsterdam. She holds an artist diploma from Oberlin Conservatory, whereupon graduation she was invited to join the faculty of the Oberlin Baroque Performance Institute. 
René Schiffer, Baroque cello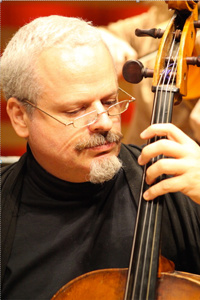 Praised for his interpretative imagination and patrician command of the cello (Cleveland Plain Dealer), René Schiffer is recognized as one of the most creative musicians on the international period-instrument scene. A native of Holland, he was a protégé of the great Dutch cellist Anner Bijlsma. He is particularly admired for his interpretation of the Bach cello suites, all of which he performs from memory. He is also a specialist in Romantic cello, performing the works of Beethoven and Schubert on gut strings in historical style.
Mr. Schiffer is the founding principal cellist of Apollo's Fire Baroque Orchestra, with which he has performed since 1992. He has toured internationally with Apollo's Fire, performing at such venues as the BBC Proms, Tanglewood and Aspen festivals, Madrid Royal Theatre, London's Wigmore Hall and Boston Early Music Festival. He has also performed and toured with most of the other leading period-instrument ensembles, including the Amsterdam Baroque Orchestra (Ton Koopman), Les Musiciens du Louvre (Marc Minkowski), La Petite Bande (Sigiswald Kuijken), Tafelmusik of Toronto, Netherlands Bach Society (Gustav Leonhardt) and the European chamber ensemble Il Gardellino. As a regular member of the renowned Belgian ensemble La Petite Bande for 16 years, he toured four continents and appeared many times on European television.
Mr. Schiffer began cello lessons at age six with his father, the Hungarian cellist György Schiffer. He holds a soloist diploma in modern cello from the Sweelinck Conservatory in Amsterdam as a pupil of Anner Bijlsma. He received another soloist diploma in historical cello (with honors) as a pupil of Jaap ter Linden, performing Schubert's Arpeggione Sonata for his diploma recital. Afterwards he moved to the United States and studied viola da gamba with Catharina Meints at the Oberlin Conservatory.
As a concerto soloist, Mr. Schiffer has performed the Vivaldi Concerto for Two Cellos over 20 times on tour throughout North America and Europe, in addition to performances of Boccherini and C.P.E. Bach concertos. As a recitalist, he has appeared on concert series across the U.S. as a member of the Apollo Duo (with Jeannette Sorrell). He has performed as soloist and chamber musician at major festivals throughout Europe, including the Budapest Baroque Festival, Flanders Festival, Versailles and the early music festivals of Bruges and Utrecht.
Mr. Schiffer can be heard on more than 40 CD recordings, primarily with La Petite Bande, Tafelmusik, Apollo's Fire and Il Gardellino, on the Harmonia Mundi, Philips, Virgin Classics, Erato, Sony, AVIE and Koch labels. His solo-concerto recordings include the Vivaldi Concerto for Two Cellos and the Tango Concerto for Two Gambas (his own composition), with Apollo's Fire on the British label AVIE.
As a teacher, lecturer and coach, Mr. Schiffer has given master classes and coachings for the New World Symphony, University of Michigan, Oberlin Conservatory, Cincinnati College-Conservatory, Penn State University and Cleveland Music School Settlement. He joined the faculty of the Cleveland Institute of Music in 2015 as Teacher of Baroque Cello. He is also in demand as a classroom speaker on music history and music appreciation, presenting community enrichment courses for the Toledo Symphony and pre-concert talks for Apollo's Fire.
Mr. Schiffer is also a composer in historical and modern styles. His works have been performed by Apollo's Fire, Australian Brandenburg Orchestra, Toledo Symphony and Lafayette Symphony. His Tango Concerto (in which he performs as soloist) and his completion of the unfinished Lacrimosa of Mozart's Requiem can be heard on CD recordings with Apollo's Fire on the AVIE and Koch International Classics labels. His music for the lost Bacchanale ending of Monteverdi's L'Orfeo was broadcast nationally on the NPR World of Opera and can be heard on the Apollo's Fire CD of L'Orfeo on the Eclectra label.