Events & Tickets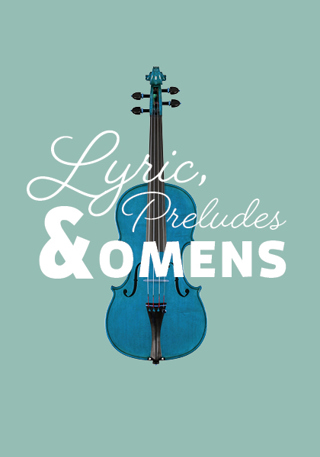 Online Event
Webcast: Lyric, Preludes and Omens
Online Event
** ONLINE CONCERT **
Saturday, January 8, 2022 at 7:30 PM ET
Program
THIS IS AN ONLINE CONCERT, AVAILABLE FOR 72 HOURS. NWS Insiders receive this concert as part of their digital membership and do not need to purchase the concert stream separately.
Click here to join NWS Inside and have on-demand streaming of digital concerts and events all season long. 
Conductors Andrew Grams, Christoph Koncz and Ian Bousfield joined the NWS Fellows in the first performances of the season. This concert is a highlight reel of those celebratory concerts – the first public events at the New World Center since March 2020!  
Jessie Montgomery's Strum draws inspiration from American folk idioms and the spirit of dance and movement. Italian composer Giacinto Scelsi's The Omens is preceded by George Walker's touching and beautiful Lyric for Strings, which he dedicated to his grandmother, a former slave who died shortly before the piece was written. The soaring lushness of Franz Liszt's famous tone poem Les préludes is pure indulgence. Themes of love, destiny, war and the countryside bloom as he muses "what is our life but a series of preludes to that unknown song?"
This is a pre-recorded concert with original footage captured at the New World Center on September 18, September 19 and September 25, 2021.
Loading Concert Information
Program
Jessie Montgomery
(b. 1981)
Approx. Duration: 7 minutes

Strum (2006; revised 2019)

George Walker
(1922-2018)
Approx. Duration: 6 minutes

Lyric for Strings (1946; revised 1990)

Giacinto Scelsi
(1905-1988)
Approx. Duration: 12 minutes

Bedřich Smetana
(1824-1884)
Approx. Duration: 13 minutes

The Moldau from Má vlast (1874-79)

Franz Liszt
(1811-1886)
Approx. Duration: 16 minutes

Les préludes, Symphonic Poem No. 3, S. 97 (1848)

Christoph Koncz, conductor
Jessie Montgomery
Strum (2006; revised 2019)

Approximate duration: 7 minutes
Jessie Montgomery began classical violin lessons at age four, but she learned just as much from the days she spent at her father's rehearsal studio for rock and jazz bands in Manhattan's East Village. Since studying violin performance at The Juilliard School and film scoring at New York University, she has established herself as an essential composer, performer and educator within New York's dynamic music scene.
Montgomery leans on her history of playing orchestral and chamber music to craft scores that feel as good to perform as they sound. Strum, one of her most often-played compositions, has gone through many iterations since it was first conceived in 2006 as a string quintet with two cellos. She tailored it into a string quartet version with revisions in 2008 and 2012, and it became a signature piece for the Catalyst Quartet of which Montgomery was a founding member, with their recording serving as the title track of her debut album in 2015. The latest revision in 2019 added an optional bass part to allow for performances by full string orchestras.
The primary driver for the piece is a strumming gesture, with the string players plucking their strings both up and down in the manner of a guitar. "Drawing on American folk idioms and the spirit of dance and movement," Montgomery writes in a program note, "the piece has a kind of narrative that begins with fleeting nostalgia and transforms into ecstatic celebration."
George Walker
Lyric for Strings (1946; revised 1990)

Approximate duration: 6 minutes
George Walker was a vital American composer who was active right up to his death in 2018 at the age of 96. Decades before he became the first Black winner of the Pulitzer Prize for Music in 1996, he broke ground in 1945 as the first Black graduate of the Curtis Institute of Music, where he studied with famed pianist Rudolf Serkin and composition with Samuel Barber. In an uncanny parallel with Barber, whose most celebrated music is still the Adagio for Strings adapted from the First String Quartet, Walker too is best known for the slow movement of his String Quartet No. 1 that he wrote in 1946. Originally titled Lament and dedicated to his recently deceased grandmother, Walker renamed the movement Lyric. Whether performed in its original quartet configuration or in his transcription for string orchestra, Lyric has become a fixture of American concert music.
Giacinto Scelsi
The Omens (1958)

Approximate duration: 12 minutes
Giacinto Scelsi, heir to a Count's title in the Italian aristocracy, passed the first half of his life as something of a musical dilettante. When his wife (a cousin of the British royal family) left him shortly after World War II, Scelsi suffered a nervous breakdown, and during his long recovery he would spend hours at the piano, playing a single note repeatedly. He also encountered Buddhist devotional singing in India and Nepal, and he brought that meditative quality into the stripped-down compositions of his prime years, blurring the line between formal music and sonic ritual.
I presagi (The Omens), composed for eight brass instruments plus tenor saxophone and percussion, exemplifies Scelsi's fusion of Eastern aesthetics with Western performance traditions. His method of composition was improvisational and intuitive, and the music bears traces of this sort of non-linear development, with tangled phrases that coalesce into distorted unisons that linger and bloom. The three related movements build to a buzzing climax powered by thudding drum-strokes and a whirring wind machine, accentuating the organic nature of this eerie and powerful music.
Bedřich Smetana
The Moldau from 

Má vlast (1874-79)


Approximate duration: 13 minutes

Bedřich Smetana, born in a small Bohemian castle town, came into his own as a composer at a time when his country was pushing back against Austrian political and cultural dominance. He devoted himself to studying Czech (having grown up speaking and writing mainly in German), and his Czech-language operas helped bolster a new theater scene in Prague. Even the sudden loss of his hearing in 1874 did not halt Smetana's progress; he still assembled a monumental collection of symphonic poems in honor of his homeland, and he added three more operas before he died a national hero in 1884.

Smetana wrote his most famous orchestral score in the months just after he went deaf. Vltava, the second of six tone poems from the cycle Má vlast (My Country), paid tribute to the longest Czech river, also known as the Moldau in German. As Smetana explained, the sonic journey begins with a bubbling evocation of a pair of springs that form the river's headwaters. The Moldau wends through the countryside, passing "a farmer's wedding" and "the round dance of the mermaids in the night's moonshine." It flows through rapids, broadens as it enters Prague, and then "majestically vanishes into the distance" where it joins the Elbe. The immortal main theme, related to a folk tune from that region, later became the basis for Israel's national anthem.
Franz Liszt
Les préludes
, Symphonic Poem No. 3, S. 97

(1848)


Approximate duration: 16 minutes

The New World Symphony recognizes the negative historical use of this work and acknowledges its harmful impact. 

Franz Liszt, the greatest virtuoso performer of his generation, retired from the concert stage at the age of 35 to focus on conducting, teaching and above all composing. One of his great innovations as a composer, and one that has had a particularly lasting impact, was the development of the symphonic poem: a single-movement composition expressing a story or concept in purely orchestral terms. Previous orchestral composers had incorporated programmatic elements of storytelling, such as Beethoven in the "Pastoral" Symphony No. 6 or Berlioz in the Symphonie fantastique, but they also maintained the recognizable and abstract logic of symphonic structure. Liszt's approach, in his 13 symphonic poems, was to let the extramusical source material shape the form and the development of themes.

The composition that eventually took shape as Liszt's third symphonic poem, Les préludes, had its roots as the overture to an earlier choral cycle, The Four Elements. In a bit of reverse engineering, the title—a reference to a French poem by Alphonse de Lamartine—was appended after Liszt reworked the music into a standalone composition. The first published score included a paraphrase of Lamartine's poem and its major themes of love, fate and struggle:

What else is our life but a series of preludes to that unknown Hymn, the first and solemn note of which is intoned by Death? Love is the glowing dawn of all existence; but what is the fate where the first delights of happiness are not interrupted by some storm, the mortal blast of which dissipates its fine illusions, the fatal lightning of which consumes its altar; and where is the cruelly wounded soul which, on issuing from one of these tempests, does not endeavor to rest his recollection in the calm serenity of life in the fields? Nevertheless man hardly gives himself up for long to the enjoyment of the beneficent stillness which at first he has shared in Nature's bosom, and when 'the trumpet sounds the alarm,' he hastens, to the dangerous post, whatever the war may be, which calls him to its ranks, in order at last to recover in the combat full consciousness of himself and entire possession of his energy.

Les préludes begins with a slow introduction that emphasizes a three-note motive heard in the first three bowed notes from the strings, and again when the flutes enter. Tense elaborations of this recurring idea build to a brassy, majestic arrival derived from the same theme. Yet another variant of the three-note motive blooms into a sweet melody that must surely represent love.

The same pattern, when reframed a faster new tempo, leads into the stormy and conflicted body of the work. In the end, the familiar motive returns as a triumphant battle cry, augmented by a militaristic percussion arsenal of snare drum, bass drum and cymbals.

-- © 2021 Aaron Grad

Aaron Grad is a composer and writer based in Seattle. In addition to providing program notes for the New World Symphony, Orpheus Chamber Orchestra, Baltimore Symphony Orchestra and others, he is also the artistic director of Many Messiahs, a project that reframes George Frideric Handel's masterpiece as a collective call for justice.
Andrew Grams, conductor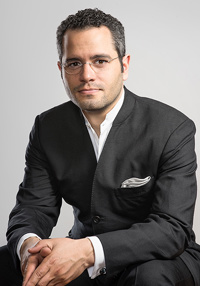 With a unique combination of intensity, enthusiasm and technical clarity, American conductor Andrew Grams has steadily built a reputation for his dynamic concerts, ability to connect with audiences, and long-term orchestra building. He was named 2015 Conductor of the Year by the Illinois Council of Orchestras and has led orchestras throughout the United States, including the symphonies of Chicago, Detroit, St. Louis, Cincinnati, Baltimore, Dallas and Houston, as well as The Philadelphia Orchestra and National Symphony.
Mr. Grams became Music Director of the Elgin Symphony after an international search in 2013 and recently concluded his tenure there after eight seasons. His charismatic conducting and easy accessibility have made him a favorite of Elgin Symphony audiences.
 A frequent traveler, Mr. Grams has worked extensively with orchestras abroad, including the symphony orchestras of Toronto, Montreal and Vancouver; the Orchestre National de France; Hong Kong Philharmonic; BBC Symphony Orchestra London; the symphony orchestras of Sydney, Melbourne and Adelaide; New Zealand Symphony, Barcelona Symphony and Het Residentie Orchestra in The Hague, Netherlands. He has led multiple performances of New York City Ballet's George Balanchine's The Nutcracker® and the first performances of the new production of The Nutcracker for the Norwegian National Ballet in Oslo.
Also an educator, Mr. Grams has worked with orchestras at institutions such as the Curtis Institute of Music, Cleveland Institute of Music, Indiana University, Roosevelt University, National Orchestral Institute at the University of Maryland and the Amsterdam Conservatorium.
Born in Severn, Maryland, Mr. Grams began studying the violin when he was eight years old. In 1999 he received a bachelor of music degree in violin performance from The Juilliard School, and in 2003 he received a conducting degree from the Curtis Institute of Music, where he studied with Otto-Werner Mueller. He was selected to spend the summer of 2003 studying with David Zinman, Murry Sidlin and Michael Stern at the American Academy of Conducting at Aspen and returned to that program again in 2004. Mr. Grams served as Assistant Conductor of The Cleveland Orchestra from 2004-2007, where he worked under the guidance of Franz Welser-Möst and has since returned for several engagements.
As an accomplished violinist, Mr. Grams was a member of the New York City Ballet Orchestra from 1998-2004, serving as acting Associate Principal Second Violin in 2002 and 2004. Additionally, he has performed with ensembles including the Orpheus Chamber Orchestra, Orchestra of St. Luke's, Brooklyn Philharmonic and New Jersey Symphony.
Ian Bousfield, conductor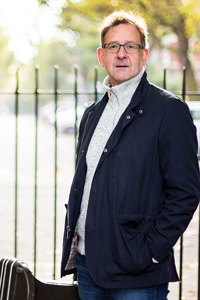 One of the most influential brass players of our time, now a soloist, conductor and pedagogue, Ian Bousfield has been at the top of his profession for over 35 years, having formerly been Principal Trombone of the Vienna Philharmonic and London Symphony in an orchestral career that spanned 30 years. As a soloist he has appeared with, amongst others, Riccardo Muti, Michael Tilson Thomas, Sir Neville Marriner and Kent Nagano with the Vienna Philharmonic, London Symphony, London Philharmonic and the BBC Philharmonic. He has recorded for EMI, Chandos and Camerata. Future plans include appearing with Kent Nagano and the Montreal Symphony, recording with the Airies Quartet, conducting the season-opening brass concert of the New World Symphony in Miami for the third time and directing the Aalborg Symphony in a series of concerts for brass and voice.
In recent times Mr. Bousfield's conducting career has taken off, seeing him regarded as one of the world's foremost brass conductors. He has conducted the Oslo Philharmonic, Liceu Opera, Danish Radio Symphony, Copenhagen Opera, Sonderborg Symphony, Bern Symphony, Norlands Opera and New World Symphony.
Mr. Bousfield is professor of trombone at the Hochschule der Künste in Bern and the Royal Academy of Music in London. His former students sit in some of the world's premier orchestras and have won the most prestigious competitions including the ARD and Royal Overseas League. His book and videos, Unlocking the Trombone Code, have met with great critical acclaim. He is a brass coach for the Gustav Mahler Youth Orchestra and a regular coach of the New World Symphony, two organizations that lie very close to his heart. He was awarded the ITA Award in 2012, a lifetime honor from the International Trombone Association.
In June 2019 Mr. Bousfield was Chair of the first ever Tchaikovsky Competition for Brass at the invitation of Valery Gergiev. Despite living outside of the U.K. for 20 years, he remains obsessed with cricket. His main hobby is the wines of Burgundy, and in 2017 he was honored by the region, being made a 'Chevalier de Tastevin.'
Christoph Koncz, conductor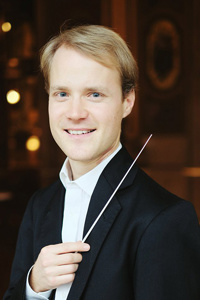 A highly versatile musician, Christoph Koncz enjoys a wide-ranging international career as a conductor, violin soloist, chamber musician and Principal Violinist of the Vienna Philharmonic.
Mr. Koncz has also established himself internationally as a conductor. His debut at the 2013 Salzburg Mozartwoche was followed by concerts at such prestigious venues as the Berlin, Cologne and Munich Philharmonie, Vienna Konzerthaus and KKL Lucerne, as well as at the Salzburg Festival. In 2017 he made his U.S. conducting debut with the Memphis Symphony and conducted the Tonhalle-Orchester Zürich in a master class with David Zinman. He made his subscription debut at the Cologne Philharmonie with Concerto Köln in June 2018 and took the Orchestre Métropolitain de Montréal on tour in March 2019. At the Cartagena Music Festival 2020 he appeared as Artist-in-Residence in six concerts with the Camerata of the Royal Concertgebouw Orchestra. For two decades, he has enjoyed a very close relationship with the Verbier Festival, performing chamber music, leading the Verbier Festival Chamber Orchestra and conducting the VFCO on tours.
Highlights of Mr. Koncz's 2020-21 season included performances with the Orchestre de la Suisse Romande (Khatia Buniatishvili), Hong Kong Philharmonic (Chiyan Wong, Zhang Zuo), Staatsoper Stuttgart and NDR Radiophilharmonie Hannover. During the 2021-22 season , Mr. Koncz will appear for the first time with Orchestre Dijon Bourgogne, Danish Chamber Orchestra, Orquesta Sinfónica de Castilla y León, Tokyo Symphony (as soloist), Orchestra Ensemble Kanazawa (as a conductor, having performed as soloist in 2019), Orchestre Symphonique de Mulhouse and Sinfonieorchester Aachen (as soloist).
Mr. Koncz is in his second season as Chief Conductor of the Deutsche Kammerakademie Neuss am Rhein and will perform with the orchestra at the Concertgebouw Amsterdam (Mendelssohn, Beethoven). He has recently been appointed Principal Guest Conductor of the renowned French period instrument ensemble Les Musiciens du Louvre, with whom he has recorded the complete Mozart Violin Concertos on the composer's own violin for the first time. The Strad magazine described his performance as "a masterly demonstration of melodic playing."
Born 1987 in Konstanz into an Austrian-Hungarian family of musicians and raised in Vienna, Mr. Koncz received his first violin lesson at the age of four and entered the Vienna University of Music only two years later. At the age of just nine, he received worldwide acclaim for starring as child prodigy Kaspar Weiss in the Canadian feature film The Red Violin, which won an Academy Award for Best Original Score.
In addition to his violin studies, Mr. Koncz also enrolled in the conducting class of Mark Stringer in 2005. Master classes with Daniel Barenboim and Daniel Harding further enriched his musical education. Much in demand as a chamber musician, his musical partners include Leonidas Kavakos, Joshua Bell, Vilde Frang, Renaud Capuçon, Antoine Tamestit, Kim Kashkashian, Gautier Capuçon, Andreas Ottensamer and Rudolf Buchbinder.
In 2008, at the age of 20, Mr. Koncz was appointed Principal Second Violin of the Vienna Philharmonic, a position he has held since. He plays the 1707 ex Brüstlein violin by Antonio Stradivari on generous loan by the National Bank of Austria.