Events & Tickets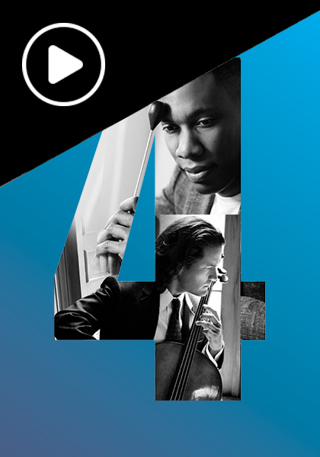 Online Event
Webcast: Tchaikovsky's Fourth
New World Center
** ONLINE CONCERT **
Saturday, March 26, 2022 at 8:00 PM ET
Program
THIS IS AN ONLINE CONCERT, AVAILABLE FOR 72 HOURS. NWS Insiders receive this concert as part of their digital membership and do not need to purchase the concert stream separately.
Click here to join NWS Inside and have on-demand streaming of digital concerts and events all season long. 
Conductor Roderick Cox is setting the musical world afire. He makes his anticipated NWS debut in an energetic program that mimics his dynamic talent. Pyotr Ilyich Tchaikovsky's Fourth Symphony is an urgent account of destiny and a creative outburst of extreme force. When Esa-Pekka Salonen premiered Helix, it was hailed as exuberant, dazzlingly colorful and a funnel of energy and suspense. Grammy Award-winning artist Zuill Bailey performs fellow cellist Victor Herbert's enchanting Second
Concerto. 
Program
Esa-Pekka Salonen
(b. 1958)
Approx. Duration: 9 minutes

Helix for Orchestra (2005)

Victor Herbert
(1859-1924)
Approx. Duration: 24 minutes

Concerto No. 2 in E minor for Cello and Orchestra, Op. 30 (1894)

Allegro impetuoso
Andante tranquillo
Allegro
Piotr Ilyich Tchaikovsky
(1840-1893)
Approx. Duration: 44 minutes

Symphony No. 4 in F minor, Op. 36 (1877-78)

Andante sostenuto – Moderato con anima
Andantino in modo di canzona 
Scherzo: Pizzicato ostinato 
Finale: Allegro con fuoco
Esa-Pekka Salonen
Helix for Orchestra (2005)

Approximate duration: 9 minutes
Esa-Pekka Salonen was Music Director of the Los Angeles Philharmonic from 1992 to 2009, and he began the same role at the San Francisco Symphony in 2020, succeeding Michael Tilson Thomas. In the tradition of Gustav Mahler and Leonard Bernstein, Salonen is one of the few musicians to sustain a career as both a conductor and a composer at the highest level, as seen in the Grawemeyer Award he earned for his 2009 Violin Concerto and his three-year stint as the Composer-in-Residence for the New York Philharmonic.
Mr. Salonen wrote the following note:
I decided to compose a celebratory and direct overture-like piece, which would nevertheless be very rigidly structured, and based on essentially one continuous process. The form of Helix can indeed be described as a spiral or a coil; or more academically a curve that lies on a cone and makes a constant angle with the straight lines parallel to the base of the cone.

The process of Helix is basically that of a nine-minute accelerando. The tempo gets faster, but the note values of the phrases become correspondingly longer. Therefore only the material's relation to the pulse changes, not necessarily the impression of speed itself. Hence the spiral metaphor: the material (which consists essentially of two different phrases) is being pushed through constantly narrowing concentric circles until the music reaches a point where it has to stop as it has nowhere to go.

The musical expression changes quite drastically in the course of these nine minutes: the idyllic, almost pastoral opening phrase for piccolo and contra-bassoon returns much later in the horns and trumpets, fortissimo, surrounded by a very busy tutti orchestra. The closing section shows the material in an almost manic light.
                — Esa-Pekka Salonen
Victor Herbert
Concerto No. 2 in E minor for Cello and Orchestra, Op. 30 (1894)

Approximate duration: 24 minutes
The composer and cellist Victor Herbert, born into an English and Irish family, spent his childhood in London and Germany, and he began his career playing cello in European orchestras while also composing on the side, including showpieces for his own instrument. At 27 he and his new bride, an opera singer, sailed to New York, where they both had jobs waiting at the Metropolitan Opera: she would sing the title role in the first Aida on American soil, and he would be the orchestra's principal cellist. Herbert soon became a fixture of New York's concert life, joining the New York String Quartet, conducting summer concerts of light fare, and teaching at the newly formed National Conservatory of Music, where Dvořák soon arrived to serve as the school's director. A few months after the New York Philharmonic premiered Dvořák's Symphony No. 9 ("From the New World"), they were back in Carnegie Hall for the premiere of Herbert's Second Cello Concerto, with the composer as soloist. The fame that Herbert achieved in future decades as a composer of light operettas and festive band music has obscured his significant talents as a composer of traditional concert music.
Piotr Ilyich Tchaikovsky
Symphony No. 4 in F minor, Op. 36 (1877-78)

Approximate duration: 44 minutes
In July of 1877 Pyotr Ilyich Tchaikovsky hastily married Antonina Ivanovna Milyukova, a union fraught with troubles, including a suicide attempt and mental breakdown by Tchaikovsky. On the advice of friends and doctors, he separated permanently from Antonina after three months of marriage. Another woman entered Tchaikovsky's life around the same time as his wife, and this relationship proved much healthier. The wealthy widow Nadezhda von Meck paid Tchaikovsky a generous stipend from 1877 to 1890. He came to consider von Meck "my dearest friend," as he expressed in the dedication of his Fourth Symphony.
Tchaikovsky began the Symphony in the spring of 1877, during the bizarre buildup to his marriage, and he finished the work while recuperating in Italy and Switzerland over the winter. In a letter to von Meck, Tchaikovsky outlined the Symphony's underlying program, especially the central importance of "Fate, the inexorable power that hampers our search for happiness." Following the model of Beethoven's Fifth Symphony, Tchaikovsky's "fate" motto announces itself at the outset. Whereas Beethoven subjected his initial kernel to continual variation, Tchaikovsky reserved his motto for carefully timed reprisals, snapping awareness back to fate's inescapable force. After the slow introduction, the substantial first movement takes up a searing new melody full of tense descents.
Tchaikovsky's Italian tempo heading for the second movement indicates that this music, moving at a gentle walking pace, is constructed in the manner of a song. A solo oboe delivers the first statement of the innocent, folk-like theme. The Scherzo third movement follows as a kinetic study on the string technique of plucking, or pizzicato.
Again, observing the model of Beethoven's Fifth, Tchaikovsky's minor-key "fate" Symphony closes with a finale in the affirmative major key. The movement quotes a Russian folk song, "In the Meadow there Stood a Birch Tree," building increasing urgency until a return of the dramatic "fate" theme. A return of the fiery music from the start of the movement burns away any lingering uncertainty, and the Symphony ends triumphantly.
-- © 2022 Aaron Grad
Aaron Grad is a composer, guitarist and writer based in Seattle. Besides providing program notes for the New World Symphony, he has been the Orpheus Chamber Orchestra's program annotator since 2005 and also contributes notes to the Saint Paul Chamber Orchestra and Seattle Symphony.
Roderick Cox, conductor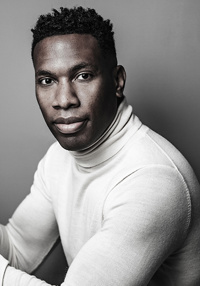 Winner of the 2018 Sir Georg Solti Conducting Award by the U.S. Solti Foundation, Berlin-based American conductor Roderick Cox has been praised as a conductor who is "paving the way" (NBC News) and recognized as a "trailblazer… a conductor who will be amongst the vanguard" (Star Tribune).
Highlights of Mr. Cox's 2021-22 season include debuts with the Bavarian Radio Symphony Orchestra; Seattle, Cincinnati and New World symphonies; Los Angeles Chamber Orchestra; BBC Philharmonic; and Malmo, Kristiansand and Lahti symphonies. He also returns to Washington, D.C. and the National Symphony.
Mr. Cox's recent highlights include his debuts with the Deutsches Symphonie-Orchester Berlin, Deutsche Kammerphilharmonie Bremen, Dresden Philharminic, Philharmonia Orchestra, BBC Symphony, Orchestre de Paris, Cleveland Orchestra (Blossom Music Festival) and Dallas Symphony, as well as returns to the Los Angeles Philharmonic, Detroit Symphony, Minnesota Orchestra and Aspen Music Festival Chamber Orchestra.
In the theatre, Mr. Cox has recently made important debuts at Houston Grand Opera (Bizet's The Pearl Fishers) and San Francisco Opera (Rossini's The Barber of Seville), as well as recording Jeanine Tesori's Blue with Washington National Opera. This season, he returns to Opéra national de Montpellier for Rigoletto, having made an impressive debut there with a symphonic concert last season.
With a passion for education and diversity and inclusion in the arts, Mr. Cox started the Roderick Cox Music Initiative (RCMI) in 2018 — a project that provides scholarships for young musicians of color from underrepresented communities, allowing them to pay for instruments, music lessons and summer camps. Mr. Cox and his new initiative will be featured in an upcoming documentary called Conducting Life.
Born in Macon, Georgia, Mr. Cox attended the Schwob School of Music at Columbus State University, and then later attended Northwestern University graduating with a master's degree in 2011. He was awarded the Robert J. Harth Conducting Prize from the Aspen Music Festival in 2013 and has held fellowships with the Chicago Sinfonietta as part of their Project Inclusion program and at the Chautauqua Music Festival, where he was a David Effron Conducting Fellow. In 2016 Mr. Cox was appointed as Associate Conductor of the Minnesota Orchestra, under Osmo Vänskä, for three seasons, having previously served as Assistant Conductor for a year.
Zuill Bailey, Cello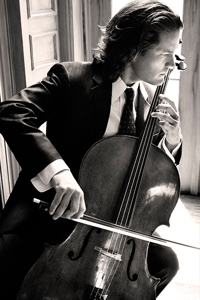 Zuill Bailey, widely considered one of the premiere cellists in the world, is a Grammy Award-winning, internationally renowned soloist, recitalist, Artistic Director and teacher. His rare combination of celebrated artistry, technical wizardry and engaging personality has made him one of the most sought after and active cellists today.
Mr. Bailey has been featured with symphony orchestras and music festivals worldwide. He won the Best Solo Performance Grammy Award in 2017, for his recording of Michael Daugherty's Tales of Hemingway with the Nashville Symphony led by Giancarlo Guerrero. His extensive discography includes his newest release—his second recording of the Bach Cello Suites for PS Audio's Octave Records label, recorded and mixed in stereo and multichannel sound.
Mr. Bailey appeared in a recurring role on the HBO series Oz, and has been heard on NPR's Morning Edition and Tiny Desk concerts, Performance Today, Saint Paul Sunday, BBC's In Tune, XM Radio's Live from Studio II and Sirius Satellite Radio's Virtuoso Voices. His latest disc of Bach Suites was the disc of the week on Sirius' Symphony Hall.
Mr. Bailey received his bachelor's degree from the Peabody Conservatory, where he was named the 2014 Johns Hopkins University Distinguished Alumni, and received a master's degree from The Juilliard School. He performs on the "Rosette" 1693 Matteo Gofriller Cello formerly owned by Mischa Schneider of the Budapest String Quartet.
Mr. Bailey is the Artistic Director of El Paso Pro-Musica (Texas), Sitka Summer Music Festival/Series and Cello Seminar (Alaska), Juneau Jazz and Classics (Alaska), Northwest Bach Festival (Washington),  Classical Inside Out Series - Mesa Arts Center (Arizona) and is Director of the Center for Arts Entrepreneurship and Professor of Cello at the University of Texas at El Paso.