Events & Tickets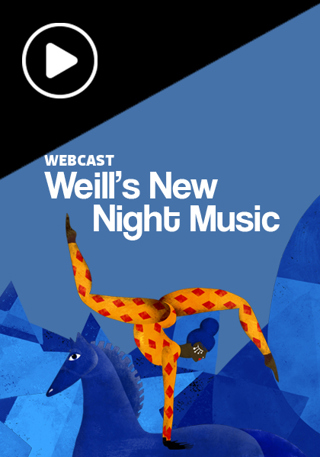 Chamber Music
Webcast: Weill's New Night Music
Online Event
** ONLINE CONCERT **
Saturday, December 4, 2021 at 7:30 PM ET
Program
THIS IS AN ONLINE CONCERT, AVAILABLE FOR 72 HOURS. NWS Insiders receive this concert as part of their digital membership and do not need to purchase the concert stream separately. 
Click here to join NWS Inside and have on-demand streaming of digital concerts and events all season long.  
Oliver Herbert—renowned cellist and son of two former NWS Fellows—is hailed for his "wonderful youthful exuberance… coupled with a highly sophisticated musical expression and outstanding technique." (Santa Cruz Sentinel) The recent Avery Fisher Career Grant winner will join the NWS Cello Fellows for Julius Eastman's The Holy Presence of Joan d'Arc, which comes to life with the help of dancers from Kyle Marshall Choreography. When faced with the pandemic, Christopher Cerrone penned what he calls an "accidental diary" that reflects life before and during this unusual time, from relentless energy and incessant street noises to empty spaces and static soundscapes. HK Gruber makes his anticipated return to New World Symphony as both conductor and composer. After a near-100-year mystery—in a story of lost scores, WWII and forgotten safes—Kurt Weill's Little Magic Night Music at long last receives its U.S. premiere.
This is a pre-recorded concert with original footage captured at the New World Center on October 24, October 29 and November 13, 2021. 
Loading Concert Information
Program
Julius Eastman
(1940-1990)
Approx. Duration: 20 minutes

The Holy Presence of Joan d'Arc for 10 Cellos (1981)

Oliver Herbert, Amy Sungyoung Lee, Victor Huls, Vivian Chang, James Churchill, Chava Appiah, Isabel Kwon, Emily Yoshimoto, Clare Bradford, Ben Fryxell, cello          
Kyle Marshall Choreography
Kyle Marshall, Artistic Director and Choreographer
Madalyn Rupprecht, Company Manager
Bree Breeden, Taina Lyons,
David Lee Parker, Ariana Speight, dancers
Edo Tastic, makeup artist, visual consultant
Ikshit Pande, costume designer
Christopher Cerrone
(b. 1984)
Approx. Duration: 17 minutes

Don't Look Down: Concerto for Prepared Piano and Percussion Quartet (2020)

Hammerspace
The Great Empty
Caton Flats
Wesley Ducote, prepared piano
Kevin Ritenauer, Marcelina Suchocka, 
Charlie Rosmarin, Joe Desotelle, percussion
Kurt Weill
(1900-1950)
Conceived and edited by John Baxindine
Approx. Duration: 22 minutes

Kleine Zaubernachtmusik (Little Magic Night Music) (1922; U.S. premiere)

Midnight 
The Little Horse 
Funeral March 
The Soldier 
Waltz 
Gavotte 
The Roly-Poly 
Dawn 
Sergio Carleo, violin I; Ann Cho, violin II
Marlea Simpson, viola; Vivian Chang, cello
Levi Jones, bass
Leah Stevens, flute; Bee Ungar, bassoon
Kevin Ritenauer, Marcelina Suchocka, Joe Desotelle, percussion
Wesley Ducote, piano
Projection Design by Clyde Scott and Michael Matamoros
Based on illustrations by Kristina Rodriguez
Julius Eastman
The Holy Presence of Joan d'Arc

 

for 10 Cellos

(1981)

Approximate duration: 20 minutes
Julius Eastman, a gay Black provocateur with exceptional gifts as a composer and singer, died in obscurity in 1990. With his radical perspective on identity politics and a sound-world that intensifies the cyclical processes of minimalism, Eastman is resonating with 21st-century listeners and filling concert halls that were never accessible to him while alive.
In the late 1970s, Eastman was living in the Bowery, a notoriously gritty neighborhood in lower Manhattan that was filled with clubs, including the iconic CBGB. He quoted a riff from a song he heard and apparently loved by Patti Smith—the queen of New York's punk scene—in the hard-driving opening to The Holy Presence of Joan d'Arc, as noted by Josh Langhoff in The Cresset. 
Its sanctified title notwithstanding, The Holy Presence of Joan d'Arc used the medieval martyrdom of a gender-fluid warrior as an entry point to explore themes of resistance and freedom. He addressed the saint directly in his program note, writing, "Dear Joan, when meditating on your name I am given strength and dedication… I shall emancipate myself from the materialistic dreams of my parents; I shall emancipate myself from the bind of the past and the present; I shall emancipate myself from myself."
After Eastman introduced The Holy Presence of Joan d'Arc at The Kitchen in 1981, the score went missing. Fortunately a recording of that concert survived, and the composer and cellist Clarice Jensen undertook a meticulous reconstruction. The American Contemporary Music Ensemble (of which Jensen is artistic director) launched a new life for this rapturous score with a performance in 2016.
Christopher Cerrone
Don't Look Down

:

 

Concerto

 

for Prepared Piano and Percussion Quartet

(2020)

Approximate duration: 17 minutes
Since completing his studies at the Manhattan School of Music and Yale University, Christopher Cerrone has become one of his generation's most accomplished composers. A finalist for the Pulitzer Prize in 2014 and the winner of the Rome Prize in 2015, he has written for the Los Angeles Chamber Orchestra, the Calder Quartet, Third Coast Percussion, Eighth Blackbird and the Albany Symphony, where he was a composer-in-residence.
Mr. Cerrone wrote the following program note:
Don't Look Down is an accidental diary of having lived through the worst pandemic of the last hundred years. When I started writing this piece in February 2020, it would be inconceivable to imagine the world we live in now. The one thing that kept me sane during this period was clocking into work—that is, working on this piece. So looking back, it's not at all surprising the piece would wind up reflecting both the strangeness and the instability of the world we live in.
The title of the work takes its name from an article by the economist Paul Krugman, himself referring to the moment when the cartoon character Wile E. Coyote would look down and suddenly realize he'd fallen off a cliff, at which point he would actually drop. The first movement, "Hammerspace," is the world before: all grooving and relentless energy. The pianist hammers away at the high notes of the piano which have all been muted with putty. I imagined his part as like a drum solo performed in an echo chamber—the rhythmic muted notes create unique and fantastic sympathetic resonances with the lower strings of the instrument when the pedal is held down. A variety of percussion instruments support him, from the more traditional to drum set to other oddities like a bicycle pump and sandpaper block. 
The piece "looks down" at the start of the second movement, "The Great Empty," when suddenly all of the energy stops and we are left with an uncertain and static soundscape: instead of playing the piano, the pianist "bows" the instrument by drawing fishing tackle over the strings. The percussionists play cheap harmonicas and blow over the tops of wine bottles alongside other instruments to create a dissonant and deliberately out-of-tune sound world. The piano part that interjects halfway through is similarly out-of-tune: the pianist has placed small pieces of putty, causing the piano to sound as out of tune as the percussion instruments. The title of the movement is drawn from a photographic series that was shown in The New York Times of city centers devoid of people.
The final movement, "Caton Flats," refers to a construction site active on my block in Brooklyn. When I was working on this movement in my studio, my partner, Carrie, walked into the room and remarked that the music "sounds like the construction going on outside"! I loved the idea so much that I had to include it in the piece. I also loved the idea that the things that most drive us crazy—like noisy construction on our street—could become a thing of nostalgia when it's gone.
               – Christopher Cerrone
Kurt Weill
Kleine Zaubernachtmusik

 
(

Little Magic Night Music

)

(1922; U.S. premiere)


Approximate duration: 22 minutes

Kurt Weill was a 22-year-old music student and cabaret pianist in Berlin when he created his first work for the stage, a dance-pantomime for children titled Zaubernacht (Magic Night). Taking into account the tender age of his intended audience and reacting to the fanciful plot about toys coming to life, Weill composed in a more tuneful and simple style than the "serious" music of his student years, and he was delighted with the response from children and adults alike, setting him on a course to continue writing some of the most popular theater works of the century. When Weill learned that a famous playwright had been impressed with Zaubernacht, he made contact and started a process that resulted in his first opera a few years later; from there it was just another small leap to the music theater collaborations with Bertolt Brecht that made Weill an icon of Weimar-era Germany. Even Weill's marriage to Lotte Lenya, the saucy chanteuse who starred in those shows, has its roots in Zaubernacht, since they met when she auditioned for a role.

After its initial run in Berlin, Zaubernacht played for five performances in 1925 at a children's theater in New York, where its librettist had resettled. That was the last staging produced in Weill's lifetime, and the full score was among the documents lost in Germany when he fled in 1933, having become an early target of the Nazis for his Jewish faith and his provocative theater pieces.

It was exciting enough in 2000 when a scholar took a stab at recreating the orchestration based on markings in Weill's surviving piano score, but Zaubernacht had an even greater surprise in store. In 2005, when Yale University cracked open a forgotten safe that had been stashed behind cabinets in a basement storage room, they discovered the orchestral parts that had been copied out for the New York staging. Besides making the entire work available for theatrical productions, Weill's publisher developed this concert suite of Kleine Zaubernachtmusik (Little Magic Night Music), featuring eight highlights from the show. The tolling bells in the first and last selections frame the show's action between midnight and dawn, and the dance episodes in between sample the show's many delights, including a mock-tragic funeral march and a tipsy waltz.

This performance is funded in part by the Kurt Weill Foundation for Music, Inc., New York, NY. The Kurt Weill Foundation, Inc. promotes and perpetuates the legacies of Kurt Weill and Lotte Lenya by encouraging an appreciation of Weill's music through support of performances, recordings, and scholarship, and by fostering an understanding of Weill's and Lenya's lives and work within diverse cultural contexts. It administers the Weill-Lenya Research Center, a Grant and Collaborative Performance Initiative Program, the Lotte Lenya Competition, the Kurt Weill/Julius Rudel Conducting Fellowship, the Kurt Weill Prize  for scholarship in music theater, and publishes the Kurt Weill Edition and the Kurt Weill Newsletter. Building upon the legacies of both Weill and Lenya, the Foundation nurtures talent, particularly in the creation, performance, and study of musical theater in its various manifestations and media. Since 2012, the Kurt Weill Foundation has administered the musical and literary estate of composer Marc Blitzstein.  www.kwf.org.

-- © 2021 Aaron Grad

Aaron Grad is a composer and writer based in Seattle. In addition to providing program notes for the New World Symphony, Orpheus Chamber Orchestra, Baltimore Symphony Orchestra and others, he is also the artistic director of Many Messiahs, a project that reframes George Frideric Handel's masterpiece as a collective call for justice.
Oliver Herbert, cello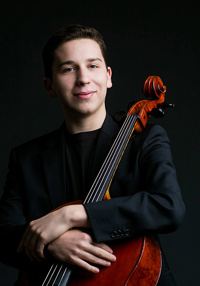 Cellist Oliver Herbert is quickly building a reputation as an artist with a distinct voice and individual style, admired by audiences for his communicative and connective performances. The recipient of a 2021 Avery Fisher Career Grant, he has been praised by San Francisco Classical Voice for his "expansive tone, virtuosity and musical instincts." Recent appearances include debuts with world renowned ensembles including the San Francisco Symphony, Chicago Symphony Orchestra, Warsaw Philharmonic and Edmonton Symphony Orchestra.
Mr. Herbert is equally at home playing well-known works as well as exploring uncharted musical territories. The 2021-22 season marks the beginning of several ambitious projects, including performances of the complete Bach Cello Suites at Capital Region Classical and the complete Beethoven Cello Sonatas at Guarneri Hall in Chicago. He will also be premiering a commissioned work by Chelsea Komschlies for multitrack cello and electronics, as well as exploring the music of Venezuelan composer and cellist Paul Desenne. Concerto highlights for the 2021-22 season include performances with the Buffalo Philharmonic, Kitchener-Waterloo Symphony, New World Symphony and Rhode Island Philharmonic—performing works by Barber, Ibert, Saint-Saens, Schumann and Tchaikovsky.
In June of 2020, Mr. Herbert released his debut album with pianist Xiaohui Yang, Frame of Mind: Fauré and Janáček, featuring the two cello and piano sonatas of Gabriel Fauré as well as Leoš Janáček's Pohádka (Fairy Tale). His additional recording highlights include a release of Haydn's D-major Cello Concerto with Michael Tilson Thomas and the San Francisco Symphony. Interested in the intersection of visual art and music, Mr. Herbert also enjoys working on mixed media and video projects. Recent collaborations in this area include projects with filmmakers Lone Cricket, Mike Grittani and Mimi Pfahler.
As a chamber musician, Mr. Herbert has participated in leading music festivals including Caramoor, ChamberFest Cleveland, Krzyżowa Music, La Jolla Summerfest, Marlboro Music, Music in the Vineyards, Nevada Chamber Music Festival, Ravinia and Verbier. In the 2021-22 season, he joins violinist Alexi Kenney and pianist Eric Lu for a program of Haydn, Schumann and Schubert at the Philadelphia Chamber Music Society.
Born in San Francisco, Mr. Herbert is a graduate of the Curtis Institute of Music and Colburn School, where he studied with Carter Brey, Clive Greensmith and Peter Wiley. Additional mentors include Pamela Frank and Dr. Ford Lallerstedt at the Curtis Institute. His competition awards include top prizes in the Lutoslawski International Cello Competition, Klein Competition and Stulberg Competition. He currently plays on a Guadagnini cello that belonged to the great Italian cellist Antonio Janigro, on generous loan from the Janigro family. 
Kyle Marshall Choreography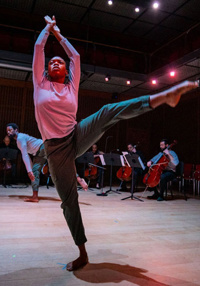 Founded in 2014, Kyle Marshall Choreography (KMC) is a company that sees the dancing body as a container of history, an igniter of social reform and a site of celebration. KMC believes in the creation, sharing and teaching of dance as a way to deepen our knowledge of who we are as individuals, how we develop relationships, and ultimately societies.
KMC has performed at venues including the BAM Next Wave Festival, Jacob's Pillow Inside/Out, Joe's Pub, Roulette, Actors Fund Arts Center and Philadelphia's FringeArts. Commissions have included the Baryshnikov Arts Center, "Dance on the Lawn" Montclair Dance Festival, NJPAC and Harlem Stage. KMC has received residences from County Prep High School, 92nd St Y, Jamaica Performing Arts Center and MANA Contemporary Performance Residency Program. The company is currently in residence at The Center for Ballet and The Arts at NYU and with The Joyce Theater at 280 Gibney Dance Center. Director Kyle Marshall is a graduate of Rutgers University, a Jersey City resident and a NJ State Arts Fellow. As an educator he has taught master classes and creative workshops at high schools and colleges including Bloomfield College, Trenton Central High School, Montclair State University and the American Dance Festival. Additionally, he has received a 2018 NY Dance and Performance Juried Bessie Award, a 2020 Dance Magazine Harkness Promise Award and was a 2020 Bessie Honoree for the revival of his 2017 dance, Colored.
Kyle Marshall Choreography is fiscally sponsored through The Foundation for Independent Artists.
HK Gruber, conductor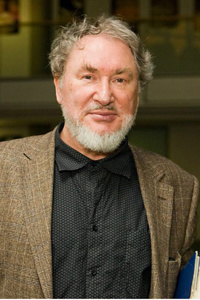 Composer, conductor and chansonnier, HK Gruber was born in Vienna in 1943 and sang with the Vienna Boys' Choir as a child, going on to study at the Vienna Hochschule für Musik. In 1961 he began playing double bass with Ensemble die reihe and from 1969 to 1998 in the Vienna Radio Symphony Orchestra. Mr. Gruber first began performing as a singer/actor with the 'MOB art and tone ART' ensemble, which he cofounded in 1968 with fellow Viennese composers Kurt Schwertsik and Otto Zykan. Composing in his own highly individual style, his music is performed internationally by the world's leading artists and orchestras. Mr. Gruber was awarded Austria's most prestigious cultural prize the 2002 Greater Austria State Prize, and in 2009 was announced as an Honorary Member of the Wiener Konzerthaus, following a great tradition of musicians to also receive this accolade, including Igor Stravinsky, Pierre Boulez, Leonard Bernstein and Claudio Abbado. Mr. Gruber is an Honorary Lifetime Trustee of the Kurt Weill Foundation.
Mr. Gruber's compositions have been written for and performed by the foremost orchestras such as the Vienna Philharmonic, New York Philharmonic, Berlin Philharmonic and at Lucerne Festival, Carnegie Hall and BBC Proms. He is particularly noted for his concertos, including Aerial for trumpeter Håkan Hardenberger, which has received over 60 performances; two for violinist Ernst Kovacic; the Cello Concerto written for Yo-Yo Ma and premiered at Tanglewood in 1989; Busking for trumpet, accordion, banjo and string orchestra, premiered by Hardenberger in 2008; and his percussion concertos Rough Music and into the open..., premiered by Colin Currie in 2015. Orchestral scores include Dancing in the Dark, premiered by the Vienna Philharmonic under Sir Simon Rattle in 2003. Mr. Gruber's recent works include the opera Geschichten aus dem Wiener Wald (Tales from the Vienna Woods) premiered at the Bregenz Festival in 2014 and a major new Piano Concerto for Emanuel Ax, co-commissioned by New York Philharmonic, Berlin Philharmonic, Royal Concertgebouw Orchestra and Royal Stockholm Philharmonic.
An active conductor with many major international orchestras, highlights of Mr. Gruber's conducting career include engagements with the Vienna Philharmonic, Bavarian Radio Symphony, Philharmonia Orchestra, Mahler Chamber Orchestra, Leipzig Gewandhaus Orchestra, Tonhalle-Orchester Zürich, Royal Stockholm Philharmonic, Cleveland Orchestra and Los Angeles Philharmonic. He was also Composer/Conductor with the BBC Philharmonic from 2009-15. Mr. Gruber has performed extensively as chansonnier, most notably in Frankenstein!!, his most popular work which he premiered with Sir Simon Rattle and the Royal Liverpool Philharmonic in 1978, which has received more than 600 performances around the world. He has also performed and recorded as chansonnier in the works of Kurt Weill and Hanns Eisler as well as Schoenberg's Pierrot Lunaire and Maxwell Davies' Eight Songs for a Mad King.
Mr. Gruber was the 2019-20 Composer-in-Residence of the Leipzig Gewandhaus Orchestra, with plans which included the world premiere of a new orchestral work Short Stories from the Vienna Woods, co-commissioned by the Gewandhaus and Boston Symphony Orchestra (both performances postponed). In Spring 2021 he conducted Kurt Weill's Der Silbersee (The Silver Lake) at the Komische Oper and with the Swedish Chamber Orchestra, and Die sieben Todsünden (The Seven Deadly Sins) at the Kurt Weill Festival in Dessau and (alongside his own Zeitfluren) with the SWR Symphony Orchestra in Freiburg.
On recent CD releases Mr. Gruber has conducted music by Brett Dean with the Swedish Chamber Orchestra for BIS and works by Kurt Schwertsik with the BBC Philharmonic for Chandos. He has also recorded several of his own works for both labels.
The works of HK Gruber are published by Boosey & Hawkes.