Events & Tickets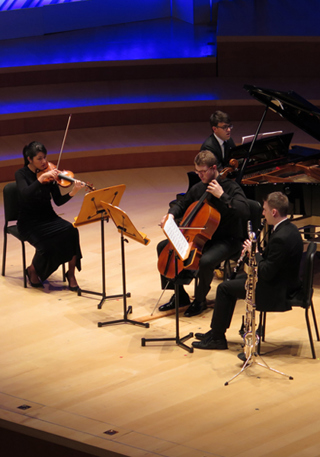 Chamber Music
WIND AND WAVES
New World Center, Michael Tilson Thomas Performance Hall
Sunday, December 22 at 2:00 PM
Program
Fellows bring the best of South Beach—its climate and beaches—to the New World Center with musical odes to nature. Local composer and FIU professor Orlando Jacinto García creates haunting, transient motifs for solo clarinet and strings. Timo Andres' Tides and Currents returns to NWS after it was first premiered by Fellows and the composer in 2016. Evening music is turned on its head in Oskar Böhme's quintet for trumpets and trombones and Charles Koechlin infuses a childlike charm into his Primavera. Johannes Brahms added an extra viola to the traditional string quartet, giving his Second Quintet extra richness throughout.
COMPOSE YOUR OWN SUBSCRIPTION PACKAGE!
Choose this plus two more concerts to customize your own subscription. It's the ultimate flexibility with all the subscriber benefits, including free exchanges when plans change! Click here to create your own series today.
SUBSCRIBERS ENJOY THE BEST OF NWS!
As an NWS Subscriber, you receive amazing benefits to enjoy throughout the season, including the best seats for the lowest prices and access to our incredibly talented Fellows. Click here to learn more!
Program
Charles Koechlin
(1867-1950)
Approx. Duration: 15 minutes

Primavera, Op. 156 (1936)

Allegro quasi allegretto
Adagio
Intermezzo
Final
Jack Reddick, flute; Chloe Tula, harp
Chelsea Sharpe, violin; Stephanie Block, viola
Drew Comstock, cello
Oskar Böhme
(1870-1938)
Approx. Duration: 8 minutes

Nachtmusik, Op. 44, No. 1 (1935)

Gianluca Farina, Rebecca Olivero, trumpet
Guangwei Fan, Arno Tri Pramudia, trombone
Lisa Stoneham, bass trombone
Orlando Jacinto García
(b. 1954)
Approx. Duration: 14 minutes

The Distant Wind II for Solo Clarinet and Strings (2013)

Angelo Quail, solo clarinet
Margeaux Maloney, Brendon Elliott, Christina Choi, Sophia Bernitz, violin I
Ethan Hoppe, Jonathan Chern, Michael Turkell, Harry Chang, violin II
Sam Pedersen, Gabe Napoli, Daniel Fellows, Yuan Qi, viola
Ben Fryxell, Amy Sunyoung Lee, Nicholas Mariscal, Vivian Chang, cello
Kathryn Bradley, Douglas Aliano, bass
Timo Andres
(b. 1985)
Approx. Duration: 14 minutes

Tides and Currents (2016; NWS commission)

Thomas Steigerwald, Wesley Ducote, piano
Kevin Ritenauer, Charlie Rosmarin, percussion
Johannes Brahms
(1833-1897)
Approx. Duration: 31 minutes

Quintet No. 2 in G major for Strings, Op. 111 (1890)

Allegro non troppo, ma con brio
Adagio
Un poco allegretto
Vivace, ma non troppo presto
Tara Lynn Ramsey, Teddy Wiggins, violin
Spencer Ingersoll, Jessica Pasternak, viola
James Churchill, cello
Charles Koechlin
Primavera, Op. 156 (1936)

Approximate duration: 15 minutes
After studying at the Paris Conservatory with Massenet and Fauré in the 1890s, Charles Koechlin made a place for himself at the center of French musical life in the first half of the 20th century. His scant recognition today is woefully out of alignment with his reputation among his peers, including Debussy (who asked Koechlin to orchestrate a ballet for him), Ravel (with whom Koechlin formed a society for the presentation of new music), Satie (who invited Koechlin to join a group that was a forerunner of the Les Six cohort), and many other French luminaries. Part of the problem was that Koechlin authored essential textbooks on orchestration and harmony, such that his reputation as a scholar eclipsed his prolific output as a composer.
The Primavera Quintet that Koechlin wrote in 1936 for the French harpist Pierre Jamet is emblematic of this composer's distinctly French sound. The pairing of flute and harp had been a favorite in Parisian salons for generations, and thanks to a sonata that Debussy wrote in 1915 for those instruments plus viola, that type of mixed ensemble became a permanent staple of French chamber music. Koechlin's scoring rounds out the string complement with violin and cello, and his knack for bright and transparent orchestration ensures that the strings never crowd out the harp or flute, even within the multilayered excitement of the fast outer movements. Ever since his student days, Koechlin had been fascinated by the counterpoint of J. S. Bach, and that appreciation for music's horizontal axis comes through most explicitly in the finale's flashes of fugal writing.
Oskar Böhme
Nachtmusik, Op. 44, No. 1 (1935)

Approximate duration: 8 minutes
The German composer Oskar Böhme took after his father and older brother in learning the trumpet. As a young man he played for several seasons in Budapest's opera orchestra, and he studied briefly at the Leipzig Conservatory, where his composition teacher reported that Böhme was "very talented" and also noted that he "worked very diligently and acquired excellent knowledge of harmony, counterpoint, canon and fugue, of instrumentation, and of musical form."
Böhme established his career in Russia, where he performed with the opera orchestra at St. Petersburg's Mariinsky Theatre while also composing distinctive music to feature his own instrument, including the Trumpet Concerto from 1899 and the Brass Sextet from around 1907. His status as a German outsider finally caught up with him during Stalin's purges in the 1930s; after being arrested and exiled to a remote community near Kazakhstan, Böhme was most likely executed in 1938.
The twin movements of Böhme's "night music," written late in his career for a quintet of two cornets and three trombones, stand a world apart from the political and ideological struggles of the Soviet Union under Stalin. After a noble Nocturne, the second movement takes up the relaxed sway of the Barcarolle, based on the traditional songs of Venice's gondoliers.
Orlando Jacinto García
The Distant Wind II for Solo Clarinet and Strings (2013)

Approximate duration: 14 minutes
Born in Havana in 1954, Orlando Jacinto García came to Miami in 1961. Since completing his doctorate at the University of Miami in 1984, he has become a driving force for new music in the city, in his role as Professor of Music at Florida International University and as the founder of the New Music Miami Festival and several contemporary music ensembles.
The Distant Wind II, composed in 2013, expanded upon a solo clarinet score that García wrote the previous year for Wojciech Mrozek. The original clarinet part, with its hollow air sounds and haunting multi-phonics, remained intact for the most part, framed by slow-moving strings that also double on wind chimes and tuned wine glasses. In his program note, García highlights his focus on "the counterpoint between pacing, timbre, and density, and the slow evolution of material," qualities that underscore his affinity with another master of time-suspending music, Morton Feldman, who was an important mentor at the beginning of García's career.
Timo Andres
Tides and Currents (2016; NWS commission)

Approximate duration: 14 minutes
A graduate of Yale University, the Brooklyn-based composer and pianist Timo Andres has received commissions from the Boston Symphony and Carnegie Hall, and his piano concerto The Blind Banister was a 2016 finalist for the Pulitzer Prize. He wrote the following note about Tides and Currents for two pianos and two percussionists, commissioned by the New World Symphony and premiered at the New World Center in 2016 with the composer playing one of the piano parts. 
I don't think explaining one's writing process usually does much to illuminate the resulting work, but in the case of Tides and Currents, which formed from structured improvisation, this process represents a marked difference from the way I've written all of my other music to date. I'm not much of an improviser, either in performance or as part of the composing process. However, I think improvisation can sometimes achieve a more natural sense of progression and development over a stretch of time than my usual, painstaking note-by-note routine. That's why I used it as a starting point for Tides and Currents, in which I wanted to give large reverberant instruments a sense of geological change over a relatively short time span.
Improvisation was only the first step, though. After I'd recorded several layers of prepared piano—hilly figures churning through the circle of fifths—I overlaid them at different periodicities, so their peaks and valleys would clash unpredictably. Then I "quantized" or aligned them to a regular rhythmic grid. The resulting material, organized into a long crescendo, became the first half of the piece. The second half takes cellular matter from the first and zooms in, revealing a gentler play of interlocking canons.
Once I'd drafted the piano parts, their constant ascent-descent looked like waves in the score, which suggested the back-and-forth exchange of "wet" (reverberant) to "dry" (short) sounds in the percussion parts. 
                – Timo Andres
Johannes Brahms
Quintet No. 2 in G major for Strings, Op. 111 (1890)

Approximate duration: 31 minutes
In 1890, at the age of 57, Brahms declared that he was retiring from composing, writing to his publisher, "With this note you can take leave of my music, because it is high time to stop." That correspondence with the publisher Simrock regarded final corrections to his String Quintet No. 2 in G Major, the work he intended to be his last. (Eventually his friends coaxed him back to composing by arranging for an encounter with an inspiring clarinetist, and that same performer lured Brahms back again after another short-lived "retirement" in 1894.)
Brahms first attempted a string quintet in 1862, during a period of concentrated chamber music activity. He planned to use the scoring developed by Boccherini and immortalized in the final instrumental work by Schubert—two violins, viola and two cellos—but that material got redirected into a piano quintet. When Brahms completed a different string quintet in 1882, he opted instead for Mozart's preferred instrumentation, using two violas and a single cello.
The Second String Quintet, also scored with a second viola, uses the ensemble's abundance of inner voices to generate an orchestral depth of sound. Brahms in fact sketched the opening cello theme when he was considering writing a fifth symphony, and he supported that heroic melody with a notably robust accompaniment from the pairs of violins and violas, all playing slurred oscillations at a strong forte dynamic. It makes for an especially bold contrast with the movement's warm and intimate secondary theme, voiced like a simple Viennese dance tune in which the violas step out as the initial partners.
The Adagio also links the two violas over pizzicato cello, with its stately pace and dotted rhythms hinting at a bygone Baroque sensibility. Rather than a rowdy scherzo, the restrained third movement is played at a modest tempo marked Un poco allegretto, in a key setting of G minor that allows for teasing glimpses of the return to the quintet's home key of G major. The lively finale toys with the listener at first, starting in the "wrong" key of B minor and only reaching the proper key center after some circuitous diversions. It's a sophisticated sort of humor that speaks to the self-evident pleasure Brahms found by digging into the old, neglected toolbox of Haydn, Mozart and Beethoven, where a true craftsman could make anything happen using just the fundamental relationships among notes and rhythms.
-- © 2019 Aaron Grad
Aaron Grad is a composer, guitarist and writer based in Seattle. Besides providing program notes for the New World Symphony, he has been the Orpheus Chamber Orchestra's program annotator since 2005 and also contributes notes to the Saint Paul Chamber Orchestra and Seattle Symphony.
Musicians of the New World Symphony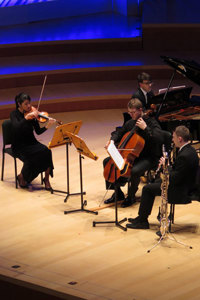 A laboratory for the way music is taught, presented and experienced, the New World Symphony consists of 87 young musicians who are granted fellowships lasting up to three years. The fellowship program offers in-depth exposure to traditional and modern repertoire, professional development training and personalized experiences working with leading guest conductors, soloists and visiting faculty. 
NWS Fellows take advantage of the innovative performance facilities and state-of-the art practice and ensemble rooms of the Frank Gehry-designed New World Center, the campus of the New World Symphony and home of the Knight New Media Center.
In the hopes of joining NWS, nearly 1,000 recent music school and conservatory graduates compete for available fellowships each year. The Fellows are selected for this highly competitive, prestigious opportunity based on their musical achievement and promise, as well as their passion for the future of classical music.