Events & Tickets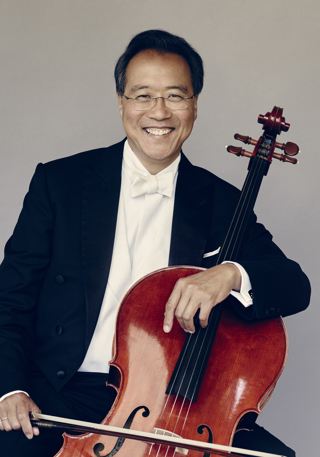 Orchestra Concert
YO-YO MA PLAYS STRAUSS
Adrienne Arsht Center
Yo-Yo Ma—celebrated cellist, cultural ambassador and humanitarian—joins Michael Tilson Thomas and the Fellows for this once-in-a-lifetime performance at the Adrienne Arsht Center. Adventures abound in Richard Strauss' epic tone poem, as Ma and San Francisco Symphony Principal Violist Jonathan Vinocour depict the delusional pursuits of Don Quixote and sidekick Sancho Panza. From battles against windmills and bleating sheep to magical flights and rocking boat rides, Strauss' score brings the dynamic duo's wild exploits to life. Felix Mendelssohn's Fourth Symphony channels his youthful tour of Italy in a series of sunny impressions, while the cheerful, feel-good Overture to Rosamunde is signature Franz Schubert from its theatrical start to its race-to-the-finish finale.
No ticket exchanges permitted into this performance.
Yo-Yo Ma's appearance is sponsored in part by a gift from the Diane Star Heller Foundation in memory of Daniel Neal Heller.
Program
Franz Schubert
(1797-1828)
Approx. Duration: 10 minutes

Overture to Rosamunde, D. 797 (1823)

Felix Mendelssohn
(1809-1847)
Approx. Duration: 26 minutes

Symphony No. 4 in A major, Op. 90, "Italian" (1833)

Allegro vivace
Andante con moto
Con moto moderato
Saltarello: Presto
Richard Strauss
(1864-1949)
Approx. Duration: 40 minutes

Don Quixote, Op. 35 (1897)

Introduction
Theme and variations
Finale
Franz Schubert
Overture to 

Rosamunde

, D. 797

(1823)


Approximate duration: 10 minutes

Among the many frustrations in Schubert's tragically short career, none came close to the difficulties he encountered in the world of theater music, with 16 failed operas in as many years. He had a habit of working with subpar librettos written by his friends; some scores he wisely abandoned midway and others he brought to fruition only to see them fizzle. A last-minute invitation in 1823 to compose incidental music for the play Rosamunde might have helped opened doors for Schubert in Vienna's theatrical circle, but the drama by Helmina von Chézy was a flop. The play closed and Schubert's music was lost for decades.

Schubert assembled nearly an hour of music for Rosamunde in a matter of weeks, pulling in some movements from existing works. To begin, he used the overture he had written a year earlier for Alfonso and Estrella, one of his failed operas. When Schubert's editors prepared the Rosamunde selections for publication in 1891, they substituted a different overture, which Schubert had composed in 1820 for The Magic Harp, another short-lived production. It is not clear why the switch was made, or if it had any basis in Schubert's wishes, but regardless the Overture to The Magic Harp has earned its place in the repertoire as a stirring prelude to Rosamunde.

To begin the overture, a slow and menacing phrase prefaces a wistful introduction in C minor.

The body of the overture enters with the bright contrast of C major, the main theme gliding over the light flutter of string tremolo.

A similarly restrained pianissimo presentation gives the contrasting lyrical theme a special luster, with woodwind duets in octaves supported by rustic, droning strings.

 

Additional Resources

PDF score from the IMSLP Petrucci Music Library

Article on the fate of The Magic Harp

 
Felix Mendelssohn
Symphony No. 4 in A major, Op. 90, "Italian"

(1833)


Approximate duration: 26 minutes

At 20, Mendelssohn did what most young men from wealthy families did at the time: He embarked on a "grand tour" through Europe. Whereas Scotland inspired the stormy Hebrides Overture and the "Scottish" Symphony, a visit to sunny Italy sparked a symphony that, according to the composer, was "the jolliest piece I have ever done."

Mendelssohn sketched part of that symphony while in Italy in 1830–31, and he completed the work in 1833, using it to fulfill a prestigious commission from the Philharmonic Society of London, the same group that had commissioned Beethoven's Ninth Symphony. Mendelssohn made substantial revisions to the Symphony's final three movements in 1834, and he intended to revise the first movement, too, but he postponed that task and finally suppressed the Symphony altogether. The work was published posthumously as the Symphony No. 4, although it was actually composed third.

Mendelssohn's bright impressions of Italy are borne out by the bouncing themes and running triplet pulse of the Allegro vivace movement that opens the Symphony.

Still, this is no mere musical "postcard"—just note the finely wrought development section, which shows the work of a composer equally fluent in Bach's formal counterpoint and Beethoven's obsessive manipulation of recurring themes.

The Andante con moto may have been influenced by a religious processional Mendelssohn witnessed in Naples, an image that fits with the movement's walking bass and grave harmonies.

The moderate pace and smooth flow of third movement resemble the minuets native to the symphonies of Mozart and Haydn, as opposed to the more rambunctious scherzos popularized by Beethoven.

In the contrasting trio section, the horns and bassoons indulge in spacious phrases that impart an outdoor quality, until the mood turns momentarily menacing with the interjection of trumpets, timpani and a stern minor key.

For the symphony's whirlwind finale, Mendelssohn borrowed lively rhythmic patterns from two Italian dances. He named the movement after the saltarello, a folk dance from central Italy defined by its fast triplet pulse and its leaping movements. Another dance with a similar rhythmic profile comes from the southern region of Taranto, on the heel of Italy's "boot." Legend holds that this manic tarantella dance could be used to ward off the effects of a poisonous bite from the area's giant spider, the tarantula.  

 

Additional Resources

PDF score from the IMSLP Petrucci Music Library

History of the tarantella dance

Letters Mendelssohn wrote while in Italy and Switzerland

 

 
Richard Strauss
Don Quixote
, Op. 35

(1897)


Approximate duration: 40 minutes

Strauss began his musical life with conservative tastes, taking after his father (the great horn player Franz Strauss) in a preference for the Classical style of Mozart, Haydn and Beethoven. It was only once Strauss left home that his ears opened up to the "music of the future," to quote a phrase associated with his new musical idol, Richard Wagner. In time, Strauss would inherit Wagner's mantle as the king of progressive opera, thanks to works like Salome (1905) and Elektra (1909). But first he followed another new hero, Franz Liszt, into the realm of the symphonic poem, as heard in such works as Don Juan (1889), Till Eulenspiegel's Merry Pranks (1895) and Also sprach Zarathustra (1896). These "tone poems," to use Strauss' preferred term, redefined the orchestral genre and placed the young composer at the forefront of the musical avant-garde.

Strauss continued his tone poem exploration in 1897 with Don Quixote, modeled after the novel of the same name by Miguel de Cervantes. Poking fun at the tradition of picaresque romances, Don Quixote retells episodes in the life of a hapless knight-errant, Don Quixote of La Mancha, and his squire, Sancho Panza.

Strauss crafted his score as a theme and variations, with each variation corresponding to a scene from the book. First there is a whimsical introduction, in which "Don Quixote loses his sanity after reading novels about knights, and decides to become a knight-errant." The musical representation of Don Quixote coming unhinged allowed Strauss to experiment with some truly nutty musical collisions.

Following the introduction, the solo cello presents the theme representing "Don Quixote, knight of the sorrowful countenance."

The lumbering melody that answers, first played by the bass clarinet and tenor tuba, corresponds to Sancho Panza. A solo viola then assumes the role of the trusty sidekick.

Over the course of Don Quixote, we witness battles against windmills (Variation I), sheep (Variation II), and pilgrims (Variation IV). In one "fast and stormy" passage, Don Quixote even fights with monks that he mistakes for magicians (Variation IX), represented by a studious bassoon duet.

We also meet (in Variation VI) the girl Don Quixote believes to be his beloved Dulcinea—actually a streetwalker, whose hips shimmy like a tambourine.

A particularly fanciful variation takes us flying through the air with Don Quixote, accompanied by the whirring of a wind machine (Variation VII).

Finally, after all the humor and foolishness, the sincere finale reveals Don Quixote's deeper humanity as his life fades away.

 

Additional Resources

PDF score from the IMSLP Petrucci Music Library

Complete text and a critical appreciation of Cervantes' novel

Radio program on Strauss' tone poems, hosted by soprano Deborah Voigt and featuring Michael Tilson Thomas

-- Copyright © 2017 Aaron Grad

Aaron Grad is a composer, guitarist and writer based in Seattle. Besides providing program notes for the New World Symphony, he has been the Orpheus Chamber Orchestra's program annotator since 2005 and also contributes notes to the Saint Paul Chamber Orchestra and Seattle Symphony.

Audio clips provided by Naxos of America, Inc.