Events & Tickets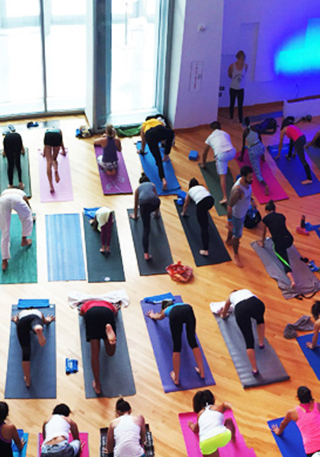 Special Event
YogaRefresh: Vinyasa Flow Yoga
New World Center
Saturday, January 6 at 10:00 AM
YogaRefresh 2018 at New World Symphony
Flow. Restore. Recharge
Start your New Year off right! Celebrate 2018 with a day devoted to mindfulness and music in the world-class New World Center Performance Hall. Retune and relax your body through the healing rhythms of live classical music, yoga, sound bowls and other healing instruments.
Wake up your senses with an energetic 60-minute morning vinyasa flow class led by Amy Dannheim from Tropical Vinyasa, Paula Walker from  Greenmonkey® Yoga, and Adrian Molina from Warrior Flow, accompanied by live performances by New World Symphony Fellows. Bring your mat, a towel and water. 
Rest, relax and set the tone for your evening with a restorative 60-minute yoga class led by Jodi Carey from Flowintuit Yoga, accompanied by live performances by New World Symphony Fellows. Bring your mat, a towel and water. 
Open up blocks and rebalance your energy with the vibrational power of the sound bowls and other sound healing instruments as they take center stage in a 40-minute sonic session led by Michelle Berlin from Tropical Vinyasa and Innergy Meditation. Bring your yoga mat, a pillow and water.
Prices:
Single Yoga Class: $35
Restorative Yoga Class and Sound Healing: $55
Sound Healing Only: $30
To bundle this class with the restorative class or sound healing session, please call the NWS Box Office at 305.673.3331. 
Program
SET I:
JOHANN SEBASTIAN BACH          Cello Suite, No. 1, BWV 1007
(1685-1750)                                         IV. Sarabande
                                                            Michael Frigo, cello
ERIK SATIE                                        Gymnopédie No. 1
(1866-1925)
Arranged by Claude Debussy
CAMILLE SAINT-SAËNS                 Carnival of the Animals
(1835-1921)                                         XIII. The Swan
                                                            Michael Frigo, cello
                                                            John Wilson, piano

SET II:
IGOR STRAVINSKY                         Pulcinella Suite
(1882-1971)                                         VI. Gavotte and Variations
GEORGE GERSHWIN                      Three Preludes
(1898-1937)                                        II. Andante con moto
                                                            John Wilson, piano
EDWARD ELGAR                             Serenade for Strings, Op. 20
(1857-1934)                                         III. Allegretto
FRÉDÉRIC CHOPIN                          Berceuse, Op. 57
(1810-1849)
                                                            John Wilson, piano
RALPH VAUGHAN WILLIAMS         Fantasia on Greensleeves
(1872-1958)
FRANCIS POULENC                         Sonata for Flute and Piano
(1899-1963)                                        II. Cantilena

                                                            Masha Popova, flute; John Wilson, piano
SERGEI RACHMANINOFF              "Vocalise," Op. 34, No. 14
(1873-1943)
                                                            Gregory Cardi, violin
CLARA SCHUMANN                       Three Romances, Op. 22
(1819-1896)                                         II. Allegretto
                                                            Kristin Kall, oboe; John Wilson, piano
MAURICE RAVEL                             Le tombeau de Couperin
(1875-1937)                                         III. Menuet
WOLFGANG AMADEUS                Piano Quartet in G minor, K. 478
MOZART                                              II. Andante
(1756-1791)
                                                            John Wilson, piano; Peiming Lin, violin
                                                            Kurt Tseng, viola; Michael Frigo, cello

SET III:
WOLFGANG AMADEUS                Divertimento in D major, K. 136
MOZART                                              II. Andante
(1756-1791)
                                                            Gregory Cardi, conductor
CLAUDE DEBUSSY                           Suite bergamasque
(1862-1918)                                         III. Clair de lune
Arranged by André Caplet
Dean Whiteside, conductor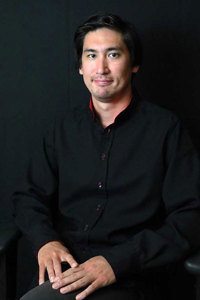 Dean Whiteside was born in New York City and trained in Vienna at the University of Music and Performing Arts. He is a former New World Symphony Conducting Fellow. Mr. Whiteside is founder and director of the Nashville Sinfonietta, hailed by The Tennessean as "a virtuoso band." He opened the Blair School of Music's 2013-14 season directing a multimedia realization of Haydn's Seven Last Words of Our Savior on the Cross called "innovative" by The Tennessean and "deeply meditative and satisfyingly original" by ArtsNash. 
Mr. Whiteside's European debut came in 2011 after winning the Jorma Panula Blue Danube Masterclass and Competition. He has conducted orchestras such as the Boston Symphony, Danish National Symphony, Jacksonville Symphony, Juilliard Orchestra, Opéra Orchestre National Montpellier, Orlando Philharmonic, Polish Baltic Philharmonic, Sibiu Philharmonic, Tonhalle Orchestra Zurich, Tokyo Philharmonic, Wiener Kammerorchester and Zagreb Philharmonic, as well as the Vanderbilt Orchestra on a five-city tour of China. He has served as Cover Conductor to the Dallas Symphony and San Francisco Symphony.
Mr. Whiteside is the winner of the American Prize in Conducting and received second prize and the Zagreb Philharmonic Orchestra Award at the Sixth International Competition of Young Conductors Lovro von Matačić. Other awards include the 2017 Mahler Conducting Fellowship, Bruno Walter Memorial Foundation Conducting Scholarship, Croatian Composers' Society Award, David Effron Conducting Fellowship, Bayreuth Festival Scholarship and David Rabin Performance Prize. He has received fellowships from the Aspen Music Festival, Atlantic Music Festival, Cabrillo Festival of Contemporary Music and Castleton Festival.
Mr. Whiteside has worked closely with such conductors as Bertrand de Billy, Fabio Luisi, Lorin Maazel, Jun Märkl, Kurt Masur, Jorma Panula, Leonard Slatkin and Robert Spano. He began his conducting studies with Robin Fountain at Vanderbilt University.