Events & Tickets
WALLCAST® Concerts and Park Events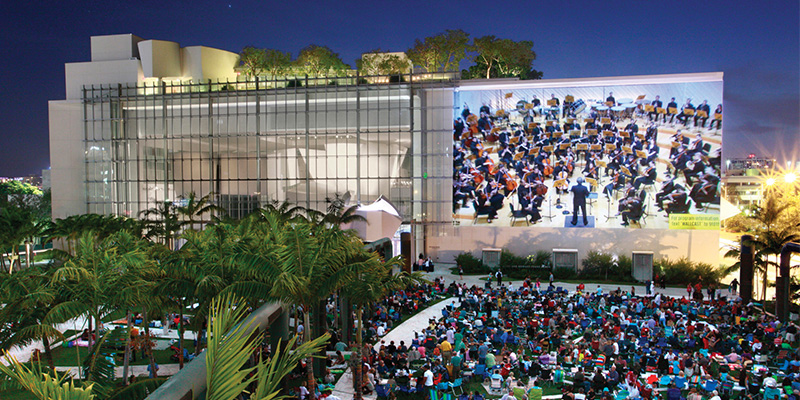 NWS WALLCAST® Concerts, Presented by Citi
New World Symphony WALLCAST® concerts, Presented by Citi, allow you to experience live classical music performances throughout the season at SoundScape Park through a striking use of visual and audio technology on the soaring, 7,000-square-foot projection wall of the New World Center. 
Bring a blanket, share a picnic dinner and enjoy the sights and sounds of the New World Symphony with friends and family! 
Each WALLCAST® concert is free to the public and does not require a ticket. WALLCAST® concertgoers have access to premium public restroom access in the southeast corner of SoundScape Park during each WALLCAST® concert. To receive a mobile program with sound clips and information on the artists text WALLCAST to 91011. Standard messaging rates apply.
* Encore WALLCAST® concerts do not include pre-concert chats or New World Center restroom access. There are public restrooms in SoundScape Park.

Pre-Concert Chats
NWS Fellows host a free Pre-Concert Chat one hour prior to each WALLCAST® concert, presented by Citi, in SoundScape Park. Space is limited and seating is first-come, first served. Each chat features Fellows speaking about themselves, the concert program and answering audience questions. These 30-minute interactions are the perfect way to meet the musicians and learn more about the concert you are about to hear. The Side-by-Side WALLCAST® concert on April 13, 2019 will not feature a Pre-Concert Chat.
WALLCAST® Concert Club
Sign up for the free WALLCAST® concert club to receive notifications and reminders about upcoming WALLCAST® concerts and events in SoundScape Park, special offers and discounts. You can sign up online today or at the next WALLCAST® concert. 
Be sure to check in at the NWS table on SoundScape Park Plaza outside the Box Office to receive a free treat!
Click here to join the WALLCAST® Concert Club.
New World Symphony WALLCAST® Concerts are presented by Citi®.
Citi Cinema Series at SoundScape
The FREE Citi Cinema Series at SoundScape is held at SoundScape Park at the New World Center. Movies begin at 8:00 PM, RAIN OR SHINE unless otherwise noted. Text MBFILM to 91011 for weekly reminders and updates. PLEASE NOTE: The SoundScape Cinema Series is curated and presented by the City of Miami Beach. Titles subject to change.
October
Wednesday, October 3, 2018 -THE NEVERENDING STORY (1984) [35th Anniversary]
Wednesday, October 10, 2018 - ISLE OF DOGS (2018)
Wednesday, October 17, 2018 - THE RED SHOES (1948) [70th Anniversary]
Wednesday, October 24, 2018 - A QUIET PLACE (2018)
Wednesday, October 31, 2018 - THE NIGHT OF THE LIVING DEAD (1968) [50th Anniversary]
November
Wednesday, November 7, 2018 - MARY POPPINS (1964)
Wednesday, November 14, 2018 - THE LITTLE MERMAID (1989)
Wednesday, November 21, 2018 - PADDINGTON 2 (2018)
Wednesday, November 28, 2018 - BIG (1988) [30th Anniversary]
December
Wednesday, December 12, 2018 - AN AMERICAN IN PARIS (1951)
Wednesday, December 19, 2018 - EDWARD SCISSORHANDS (1990)
Wednesday, December 26, 2018 - BLACK PANTHER (2018)
January
Wednesday, January 2, 2019 - PATHER PANCHALI (1955)
Wednesday, January 9, 2019 - THE BAND'S VISIT (2007)
Wednesday, January 16, 2019 - 2001: A SPACE ODYSSEY (1968)
Wednesday, January 23, 2019 - INDIANA JONES AND THE LAST CRUSADE (1989) [30th Anniversary]
Wednesday, January 30, 2019 - HARMONIA (2016)
February
Wednesday, February 6, 2019 - HAIRSPRAY (1988)
Wednesday, February 13, 2019 - AS GOOD AS IT GETS (1997)
Wednesday, February 20, 2019 - BABETTE'S FEAST (1987)
Wednesday, February 27, 2019 - FITZCARRALDO (1982)
March
Wednesday, March 6, 2019 - WONDER WOMAN (2017)
Wednesday, March 13, 2019 - READY PLAYER ONE (2018)
Wednesday, March 20, 2019 - THE RED TURTLE (2016)
Wednesday, March 27, 2019 - LITTLE SHOP OF HORRORS (1986)
April
Wednesday, April 3, 2019 - MASTER AND COMMANDER: THE FAR SIDE OF THE WORLD (2003)
Wednesday, April 10, 2019 - BRIGHT STAR (2009)
Wednesday, April 17, 2019 - WON'T YOU BE MY NEIGHBOR (2018)
Wednesday, April 24, 2019 - DAYS OF HEAVEN (1978)
May
Wednesday, May 1, 2019 - IDA (2013)
Wednesday, May 8, 2019 - REBEL WITHOUT A CAUSE (1955)
Wednesday, May 15, 2019 - SORCERER (1977)
Wednesday, May 22, 2019 - THE LAST RESORT (2018)
Wednesday, May 29, 2019 - ONCE UPON A TIME IN THE WEST (1968)