Events & Tickets
WALLCAST® Concerts and Park Events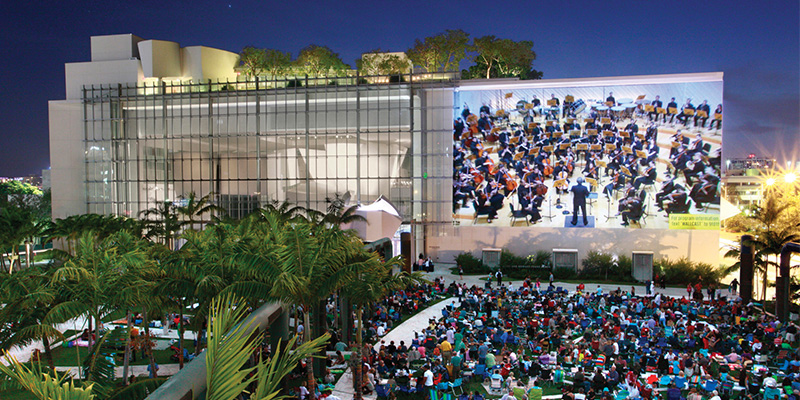 NWS WALLCAST® Concerts, Presented by Citi
New World Symphony WALLCAST® concerts, Presented by Citi, allow you to experience live classical music performances throughout the season at SoundScape Park through a striking use of visual and audio technology on the soaring, 7,000-square-foot projection wall of the New World Center. 
Bring a blanket, share a picnic dinner and enjoy the sights and sounds of the New World Symphony with friends and family! 
Each WALLCAST® concert is free to the public and does not require a ticket. WALLCAST® concertgoers have access to premium public restroom access in the southeast corner of SoundScape Park during each WALLCAST® concert. To receive a mobile program with sound clips and information on the artists text WALLCAST to 91011. Standard messaging rates apply.
2018-19 WALLCAST® Concerts, Presented by Citi
MTT and Christian Tetzlaff: From Bach to Ligeti
Saturday, February 23 at 7:30 PM
NWS Gala WALLCAST® concert and film: A Tribute to John Williams
*WALLCAST® concert immediately followed by screening of Jurassic Park
Saturday, March 2 at 7:45 PM
Mendelssohn and Schumann
Saturday, March 9 at 7:30 PM
Making Mozart
Saturday, April 6 at 8:00 PM
APRIL 13: TRANSMISSION OF WALLCAST® CONCERT CANCELLED FOR SIDE-BY-SIDE CONCERT 
Tickets available inside the New World Center, or watch live on Facebook or MUSAIC.
Season Finale: MTT and Yuja Wang
Saturday, April 27 at 8:00 PM

All dates, times and programs are subject to change.

Pre-Concert Chats
NWS Fellows host a free Pre-Concert Chat one hour prior to each WALLCAST® concert, presented by Citi, in SoundScape Park. Space is limited and seating is first-come, first served. Each chat features Fellows speaking about themselves, the concert program and answering audience questions. These 30-minute interactions are the perfect way to meet the musicians and learn more about the concert you are about to hear. The Side-by-Side WALLCAST® concert on April 13, 2019 will not feature a Pre-Concert Chat.
WALLCAST® Concert Club
Sign up for the free WALLCAST® concert club to receive notifications and reminders about upcoming WALLCAST® concerts and events in SoundScape Park, special offers and discounts. You can sign up online today or at the next WALLCAST® concert. 
Be sure to check in at the NWS table on SoundScape Park Plaza outside the Box Office to receive a free treat!
Click here to join the WALLCAST® Concert Club.
New World Symphony WALLCAST® Concerts are presented by Citi®.
WALLCAST® Concerts: Behind the Scenes
SoundScape Cinema Series
The FREE SoundScape Cinema Series is held at SoundScape Park at the New World Center. Movies begin at 8:00 PM, RAIN OR SHINE unless otherwise noted. Text MBFILM to 91011 for weekly reminders and updates. PLEASE NOTE: The SoundScape Cinema Series is curated and presented by the City of Miami Beach. Titles subject to change.
In order to welcome all members of our community, films in SoundScape Park will be screened with English subtitles and captions, where available. The SoundScape Cinema Series is presented by the City of Miami Beach. Any requests for any other accommodations should call 305.604.2489 and select 1 for English or 2 for Spanish, then option 6; TTY users may call via 711 (Florida Relay Service).
February
Wednesday, February 27, 2019 - FITZCARRALDO (1982)
March
Saturday, March 2, 2019 - one hour live concert "A Celebration of John Williams," immediately followed by JURASSIC PARK (1993)
(*concert begins at 7:45 PM; film begins around 9:00 PM)
Wednesday, March 6, 2019 - WONDER WOMAN (2017)
Wednesday, March 13, 2019 - READY PLAYER ONE (2018)
Wednesday, March 20, 2019 - THE RED TURTLE (2016)
Wednesday, March 27, 2019 - INDIANA JONES AND THE LAST CRUSADE (1989) [30th Anniversary] 
April
Wednesday, April 3, 2019 - MASTER AND COMMANDER: THE FAR SIDE OF THE WORLD (2003)
Wednesday, April 10, 2019 - BRIGHT STAR (2009)
Wednesday, April 17, 2019 - WON'T YOU BE MY NEIGHBOR (2018)
Wednesday, April 24, 2019 - DAYS OF HEAVEN (1978)
May
Wednesday, May 1, 2019 - IDA (2013)
Wednesday, May 8, 2019 - REBEL WITHOUT A CAUSE (1955)
Wednesday, May 15, 2019 - SORCERER (1977)
Wednesday, May 22, 2019 - THE LAST RESORT (2018)
Wednesday, May 29, 2019 - ONCE UPON A TIME IN THE WEST (1968)