News
June 10, 2022
Alum supports Ukraine with Cello for Peace tour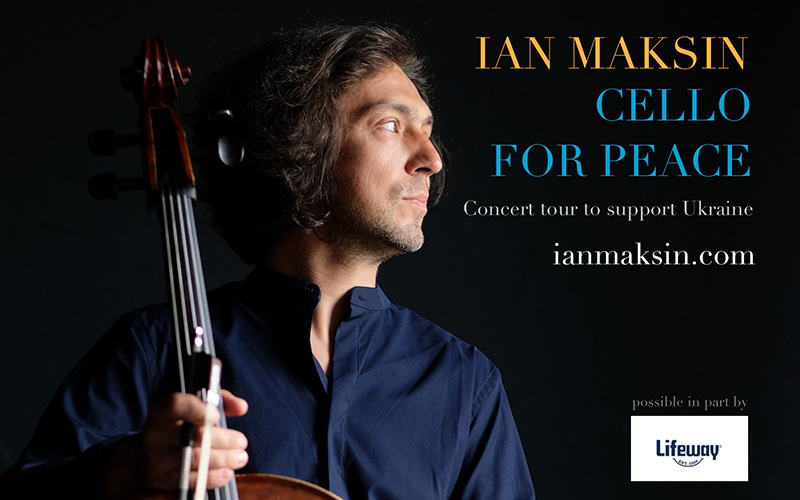 NWS cello alumnus Ian Maksin (2000-03) is wrapping up a North American solo tour of Cello for Peace in support of Ukraine. The tour began in San Diego in early May and has swept across North America with 30 concerts over the last five weeks. It culminates on Saturday, June 11 in Baltimore before resuming in the fall.
As a native of St. Petersburg, Russia, Ian has grappled in the past with his home country's conflicts. "As early as 2008, when I was a mainstream performer in both Russia and the U.S., I saw music as a force that connects us no matter what, even through conflict," said Ian. "I believed it fully transcended politics, language and geography and allows us to reach a level of peace. I focused on that and made my music void of any politicized content. But in February of this year, I knew I had to take a stand against this deep injustice on Ukraine and its people."
Cello for Peace Tour
Throughout the COVID-19 pandemic, Ian had been actively performing in Russia where venues were still open. In February 2022 when news of the conflict broke, Ian—who is Chicago based—immediately cancelled his upcoming performances in Russia and focused his energy into taking action. Ian is a brand ambassador for Lifeway Foods and joined its Chicago Chefs Cook for Ukraine event on March 16, where more than 70 chefs gathered at Navy Pier to raise money for Ukrainian refugees through World Central Kitchen. Ian was a featured soloist during the event, which raised $600,000. Afterward, Ian quickly assembled his Cello for Peace tour to further support Ukraine's humanitarian efforts. 
The tour has connected Ian and his relief efforts with audiences across the country and viewers online from around the world. He says as a musician, his role is in several avenues: financial: raising funds for those who need it the most, awareness: not to allow the conflict in Ukraine to be overshadowed by other current headlines, and spiritual support: Ian believes that music is as powerful as prayer and meditation in gathering energy of support and sending it to the people of Ukraine. Apart from the tour, Ian has been hosting daily musical Meditations for Peace in Ukraine in his social media that have gathered millions of viewers from people in Ukraine and worldwide.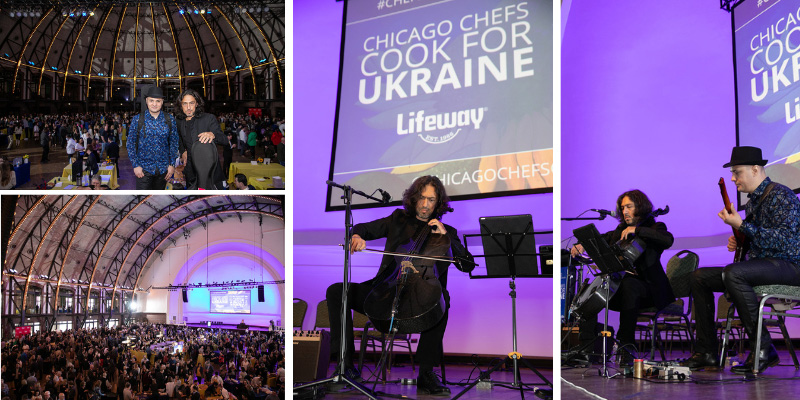 Chicago Chefs Cook for Ukraine event
Who it Benefits
The Cello for Peace tour has collected thousands of dollars for two relief funds. The first, United For Wellbeing, is a Chicago-based organization that works in conjunction with advisors from Ukraine's government to provide mobile medical units to areas where hospitals are destroyed, and no medical care exists otherwise. They also provide medical personnel from other areas in Ukraine, as well as other countries.
Ian's other relief fund is named Help Taras Chubay, a well-known Ukrainian musician and band leader whose home and music studio in Kiev were destroyed in the early days of the war.
"Taras is an integral part of Ukraine's musical landscape and is the inspiration of many in his homeland and beyond," said Ian. "Artists like him should have the opportunity to create within whatever circumstances they may be and continue their mission through difficult times."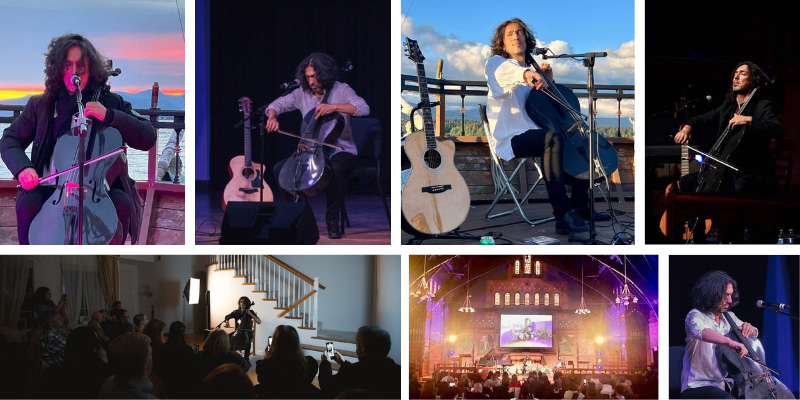 Cello for Peace tour events
How to Help
Ian has plans to resume his Cello for Peace tour this fall. In the meantime, he is also donating all the proceeds from downloads of his music in support of the two above relief funds. He is currently planning the fall tour for Cello for Peace and open to host and venue inquiries.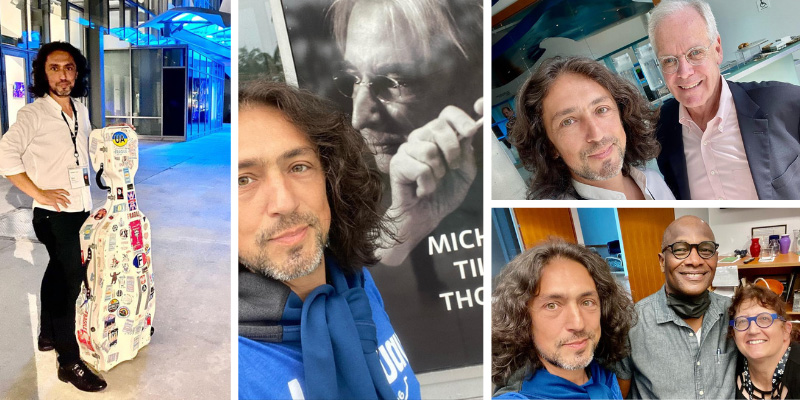 Ian Maksin visiting the New World Center and NWS staff on June 4 while participating at the 2022 TWIN Global - The World Innovation Network Conference.
Photos courtesy of Ian Maksin
Posted in: alumni
---