News
February 16, 2016
Annual conference explores intersection of technology and the arts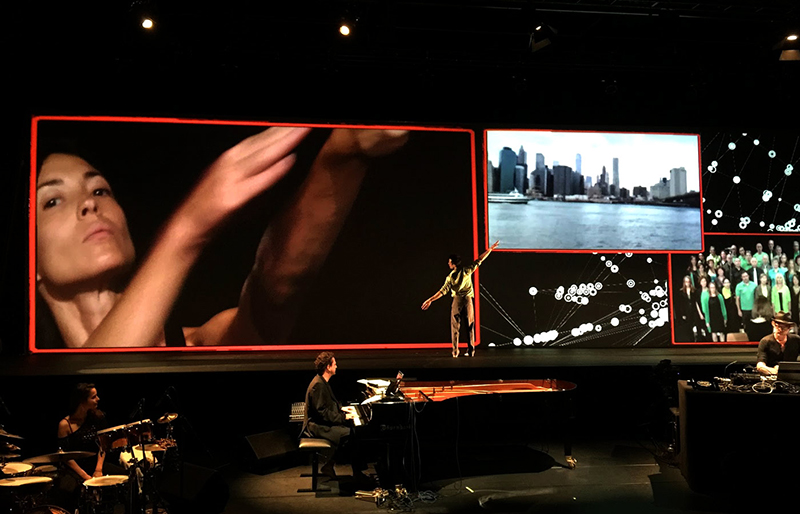 Image courtesy of KÒNIC THTR. 

When I first came to New World Symphony in 2007, video chatting was in its infancy. The word "Skype" had yet to widely enter the public's consciousness and, even then, the technology was considered more of a gimmick than a crucial element of daily communication. I was amazed at the fidelity and ease that New World Symphony's Internet2 connectivity provided to our educational programs. The Fellows come to us at the highest levels of musicianship, and here was a tool that would allow them to work at that level with virtually any soloist, teacher or composer around the world.
A lot has changed in the past nine years. Technologies such as LOLA, Ultragrid and Jacktrip have reduced the processing delay of video and audio to mere milliseconds. This allows us to do things we previously thought impossible, like perform a duet, work with a composer, or conduct an ensemble from more than 1,000 miles away.

No longer do you have to be in the same physical space as your collaborator. Traveling at the speed of light may always be science fiction, but communicating at the speed of light is a reality today.
We invite you to join us this March for the 13th edition of the Network Performing Arts Production Workshop. This annual gathering is an incredible opportunity for artists, performing arts presenters, academic administrators, students, and technologists to gather together for a dazzling showcase of the most advanced streaming technologies available today.  Join us to discover how these technologies can augment your artistic events and educational programs and network with some of the principal players in the arena.
Highlights of the three-day workshop include the Network Room, an exploration of a reverberating 'mesh' created by interconnected virtual spaces; a walkthrough of the most recent LOLA updates with project director Claudio Allocchio; a live performance between a trumpet soloist in Miami and an organist in Prague, facilitated by the 4K Gateway; an improvisatory dance battle between prominent break dancers of Miami and caretakers of Detroit's emblematic urban dance, the Jit; and the debut of a new piece entitled Bridge To Everywhere, which explores how technology allows us to keep in touch with our countries of origin in the form of a multi-site performance connecting dancers in Miami, New York, the United Kingdom and elsewhere.
We look forward to seeing you March 21-23 at #NPAPW! 
 Click here to register for the workshop.
---