News
December 5, 2022
Behind the Music: Manuel de Falla's Spanish Dances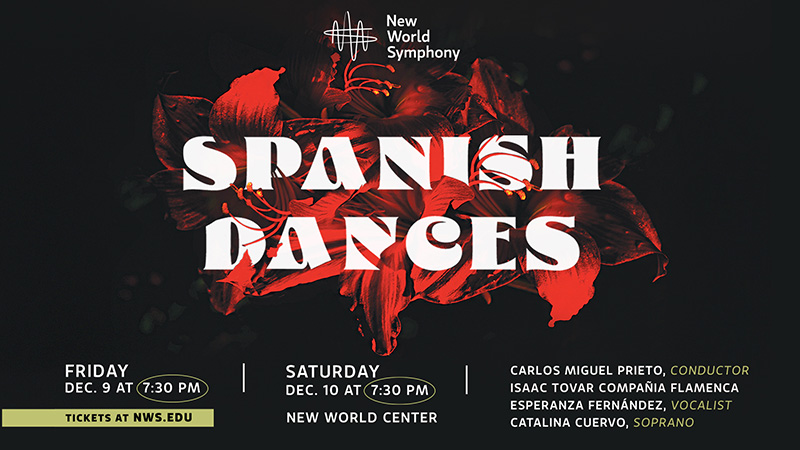 On December 9 and 10, NWS will delve into the intoxicating music of Manuel de Falla for Spanish Dances. Regarded by many as the greatest Spanish composer of the 20th century, Falla brought the sounds of his homeland—especially Andalusian flamenco—to the stage. Full of sensual flair, Falla's ballet music radiates passion through its fiery dances of love, jealousy and deception.
Dr. Michael Christoforidis—a leading expert on Manuel de Falla—offers a biographical sketch before we hear Falla's music come to life at the New World Center, in SoundScape Park or via webcast from the comfort of your own home.
--------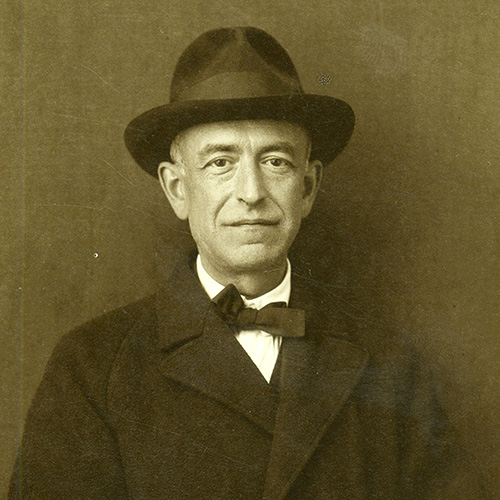 Manuel de Falla (1876-1946) was arguably Spain's most famous composer, gaining widespread recognition in a country more renowned for its literary and visual artists in the late 19th and early 20t centuries. And yet it would be a mistake to think of Falla solely as the quintessential Spanish composer, as his music more closely reflects the developments of the Parisian avant-garde in the first quarter of 20th century than that of any of his Hispanic colleagues. During the interwar period of the 1920s and 1930s he was a leading light of cosmopolitan musical modernity.
Born into a family of Cádiz's merchant class in 1876, Falla claimed that his earliest musical memories were of the songs, dances and stories of his nursemaid "La Morilla." While his early artistic efforts were directed towards art and literature, he went on to study and excel in piano and harmony. By the 1890s Falla had moved to Madrid in order further his musical studies in piano and composition, taking his first steps as a professional performer and composer of género chico zarzuelas (or short operetta-like stage works). The decisive encounter for the composer came in the early years of the new century, when he studied privately with the key figure of Spanish musical nationalism, Felipe Pedrell. Under Pedrell's guidance Falla's horizons were expanded through the study of folk music and Spanish musics of the past, the musical procedures of contemporary European composers, and learning to write for orchestra. A key advocate for the creation of a national opera repertory, Pedrell laid the foundations for Falla's first mature work, the prize-winning opera La vida breve (1905).
Falla moved to Paris in 1907 and sought out the French musicians he most admired: Paul Dukas introduced Falla to Claude Debussy, and after hearing La vida breve both Dukas and Debussy encouraged him to study on his own and offered their assistance. He also met the Spanish composer Isaac Albéniz, who urged Falla to draw on his Andalusian (or Southern Spanish) heritage. Falla's induction into the circle of Les Apaches—a progressive group of artists—was made possible by the Spanish pianist Ricardo Viñes, and led to friendships with Maurice Ravel and Igor Stravinsky, and involvement with the Serge Diaghilev's Ballets Russes. These contacts facilitated Falla's exposure to the Parisian "avant-garde" and provided him with a supportive audience for the presentation and refinement of his music and ideas.
The transformative impact of Paris on Falla is evident in his major work from this period, a series of nocturnes for piano that were converted into movements for piano and orchestra—Noches en los jardines de España [Nights in the Gardens of Spain] (1909-15). With Noches, Falla contributed a new orchestral language to emerging Spanish symphonic writing.  Its three movements are heavily indebted to the themes of Impressionism and the orchestral style of the New French school, especially in the "Spanish-flavored" works of Debussy and Ravel.
With the premiere of La vida breve in 1913, Falla finally received a measure of public acclaim in Paris, paving the way for a successful staging of the opera in Madrid in late 1914, after the composer returned to Spain due to the outbreak of World War I. Falla's collaboration with Gregorio Martínez Sierra, María Lejárraga and their innovative Teatro del Arte, allowed him to experiment with new theatrical forms that resulted in the first chamber versions of El amor brujo (Love, the Magician) (1915) and The Three-Cornered Hat, both of which would later be transformed into landmark ballets.  Close ties were formed between Falla, the Ballets Russes and its circle of artists during the company's extended stays in Spain from 1916 to 1918, during which time ideas were developed on the reconfiguration and choreography of The Three-Cornered Hat. This ballet would be premiered in 1919 in London, to Leonide Massine's choreography and sets by Pablo Picasso, and become an integral part of the repertory of the Ballets Russes. The Three-Cornered Hat and the reconfiguration of El amor brujo as a ballet (1925) provided a major impetus of the global dissemination of new visions of Spanish dance in the 20th century.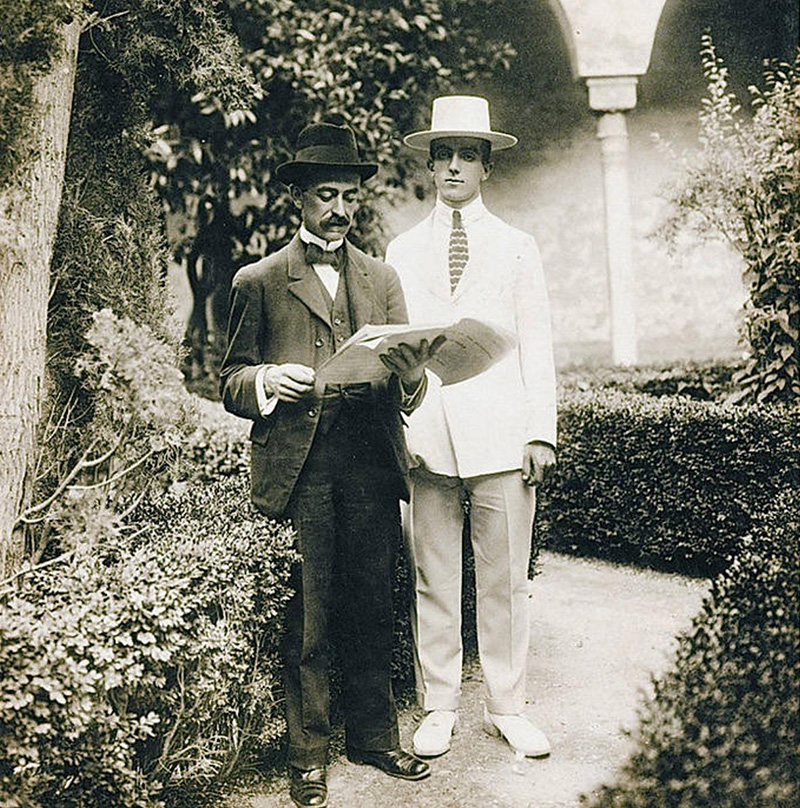 Manuel de Falla and Leonide Massine in the grounds of the Alhambra (Granada, 1917)
The relative financial security afforded by the success of The Three-Cornered Hat meant that Falla no longer had to rely on performing or commissions. He was also finally able to realize his long-held dream of living in Granada in late 1920, where he set up a house with his sister. Falla's early years in Granada were particularly productive and happy ones for the composer, and he became involved with a new circle of friends, including the young poet Federico García Lorca. Excursions into the surrounding countryside were organised by Lorca and friends to gather folk songs and observe local customs.  The interest generated by such activities led to the organisation of the first "Cante Jondo Competition," which was aimed at reviving and preserving what Falla called older forms of flamenco song.
Falla's musical construct of flamenco, in works from El amor brujo to the landmark piano piece, the Fantasia Baetica (1919), eventually prevailed with Spanish audiences, and his thoughts on the genre helped shape Andalusian and Spanish cultural consciousness and identity in the 20th century. The significance of this vision of flamenco is also demonstrated by manifestations of cultural exchange, in which Spanish gypsies have engaged with and reinterpreted Falla's music and Lorca's poetry.
Despite this fascination with Flamenco and folklore, Falla's early years in Granada saw a stylistic reorientation that was aligned with emerging neoclassical ideals in post-war European music. Falla formed part of the vanguard of this movement with the composition of El retablo de Maese Pedro (Master Peter's Puppet Show) in the early 1920s. This puppet opera, commissioned by the famous Paris arts patron, the Princesse de Polignac, was based on an episode from the second volume of Miguel de Cervantes' novel, Don Quixote. In this work Falla's musical imagination extended beyond Andalusia to embrace the Iberian Peninsula and tap the musics of Spain's Golden Age, from polyphonic Renaissance airs to the baroque guitar dances of Gaspar Sanz. In terms of musical style, Falla developed a broadly "tonal" modernist palette spiced with dissonant overlaid harmonies to accommodate these musical sources. This neoclassical construction of Spanish music was further distilled in the Concerto for harpsichord and five instruments, completed in 1926, in which Falla employed a great diversity of sources. The Concerto's three movements in their order of composition (the 3rd, 1st and finally the 2nd) constitute a musical journey through time, inspired by Spanish music from the 18th century all the way back to the 14th century.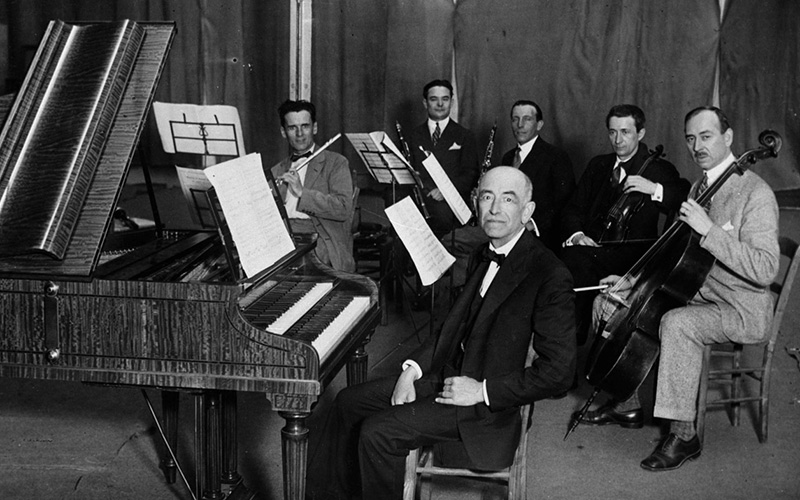 Manuel de Falla during the recording of the Concerto for harpsichord and five instruments (Paris, 1930)
By the end of the 1920s Falla had reached the height of his prestige. Most of his mature works were performed in England, the United States, Italy and France, and his scenic works were staged from Moscow to Buenos Aires. The French government awarded him the Legion of honor and the first books on the composer were published. Falla was particularly influential on younger French, Italian and Hispanoamerican composers who looked on him as a leading Latin modernist, and he was a key Spanish representative at the International Society for Contemporary Music. In 1927 Falla began work on Atlantida (Atlantis), based on an epic poem in Catalan by Jacinto Verdaguer, the score of which would occupy Falla for the rest of his life. The increasingly extended nature of Falla's creative process—already evident in the Concerto—contributed to the long delays in completing a more ambitious work like Atlántida.
The proclamation of the Spanish Republic in 1931 was initially well received by Falla, but the burning of the churches ran counter to his deeply felt Catholicism and he became more reclusive. Falla's health markedly deteriorated during the turbulent decade of the 1930s. While the military uprising in 1936 that sparked the Spanish Civil War was initially perceived by Falla as a factor that could promote stability, he was quickly disillusioned. Always claiming that he wished to remain "far above the workings of politics," there is little doubt that the imminent threat of another European war and a desire to avoid being identified as a cultural-political emblem by the Franco regime, were key factors in Falla's decision to travel to Buenos Aires in 1939 for a series of concerts. Falla and his sister led a relatively reclusive existence in Argentina, where the composer continued to suffer ill health, and no major new works were completed during his final years. Despite repeated official offers of support by the Franco regime for his repatriation to Spain, Falla had made no tangible plans to return to his homeland prior to his death in the Argentine township of Alta Gracia in November 1946.
--------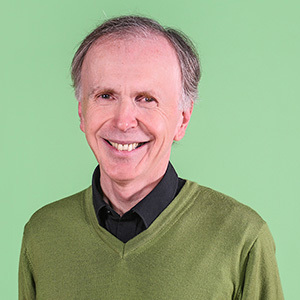 Michael Christoforidis is a professor in Musicology at the Melbourne Conservatorium of Music, University of Melbourne. He has published extensively on nineteenth- and twentieth-century Spanish music and dance, and its impact on Western culture. Other research interests include the impact of the visual arts upon musical modernism, issues of national identity and exoticism in music, and the history of the acoustic guitar. He has published two books: Manuel de Falla and Visions of Spanish Music (Routledge, 2017) and Carmen and the Staging of Spain (with Elizabeth Kertesz, Oxford University Press, 2018).
---