News
March 3, 2022
Blue Waves and You: A Pre-Concert Guided Meditation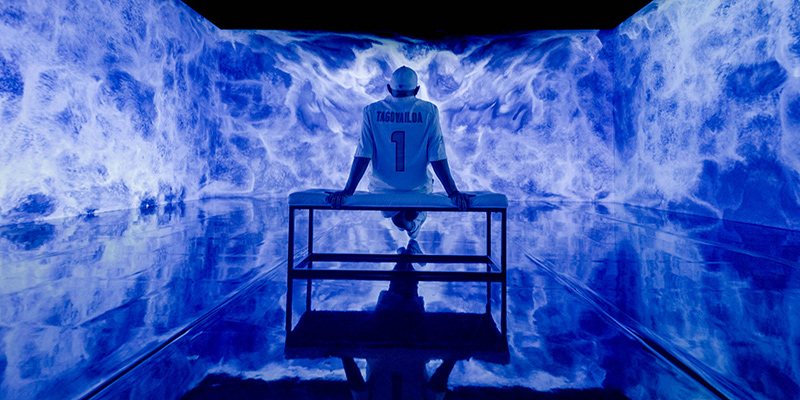 Blue Waves is on March 11; Visuals by AQUEOUS, an ARTECHOUSE original production.
On Friday, March 11, 2022 at 7:30 PM, NWS Fellows will present Blue Waves, a multimedia program exploring the innermost aspects of the human experience. In a program of their own design, Fellows will use music and immersive visual art as emotional gateways to a guided journey that celebrates our collective resilience. Blue Waves was designed by string Fellows Amy Sunyoung Lee, Christina Choi, James Churchill and Natsuko Takashima, in partnership with ARTECHOUSE and Wellspring Counseling.
Blue Waves is an NWS BLUE Project, made possible with support from the Maxine and Stuart Frankel Foundation and NWS's Fund for New Ventures.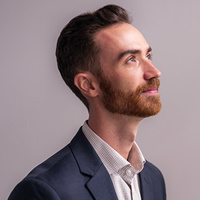 Violin Fellow Carson Marshall
Concert Bonus: Guided Meditation
Before Fellows take the stage for their innovative Blue Waves concert, Violin Fellow Carson Marshall will lead a guided musical meditation from 6:30-7:00 PM. Carson hopes to provide a safe space for the audience to ground themselves, explore resources and connect with their intention for the evening's concert. "Meditation for me, is about turning towards what is happening in the present moment and holding that with an open palm: supporting it and allowing it to be. Creating a safe space for your emotions and reactions to exist. I believe one of the reasons we are drawn to music is its incredible ability to create a safe space to feel."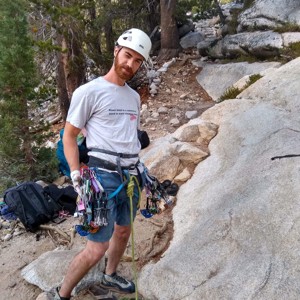 Showing off gear; Yosemite, CA
Carson said his first exposure to meditative states was while fly fishing, helping him to overcome severe social anxiety. "I have spent most of my life fearing my emotions, feeling numb and unable to connect and orient within the world around me," reflected Carson. "Watching my fly drift daintily downstream, the world would disappear. I also found this focus through rock climbing. In those moments where there was no room for fear, I learned to regulate my nervous system and inner emotional state, and get in touch with my emotional core. I found I had the power to regulate my emotional responses. I was no longer at their mercy. This return of personal power and self-regulation was incredibly liberating. I could experience my feelings fully, honor them and continue on my journey. It was then I started to feel safe in my body and mind."
Carson's explorations have impacted more than his outdoor sports; he also feels its reverberations through his music-making. "By honoring what I'm feeling I am a more captivating performer, I am able to feel the nervousness and excitement and direct this energy into action," said Carson. "I use meditation to expand my consciousness, gain greater awareness of where my nervous system is in any moment, and it is this noticing that is the first step towards self-regulation."
Clearing the Stage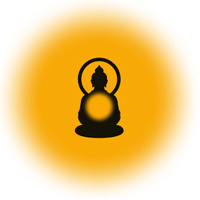 Through his own explorations in meditation practices, Carson has founded Clearing the Stage—an organization that commissions and promotes music and spoken word to deepen the audiences listening experience, and help build emotional resiliency. "We ask artists to create a 7-11 minute work in response to the prompt Center | Tension | Release. We use music and spoken word because it is such a direct link to our nervous systems. It can bypass our thinking mind and take us directly into feeling. We offer meditative techniques to help audiences orient and notice how this music is affecting them."
Carson has worked with artists and meditation guides from all over the world, and especially loves working with meditation guides as every time he collaborates he learns something new!
Click here for examples of Carson's meditations and collaborations.
Clearing the Stage was born from Carson's NWS BLUE Project, part of which included his Inside the Music presentation Music and Mindfulness. NWS BLUE Projects are made possible with support from the Maxine and Stuart Frankel Foundation and NWS's Fund for New Ventures. 
What to Expect and How to Join
On March 11, Carson will provide a grounding meditation, and out of that space a brief performance of violin and shruti box will unfold, and in closing, will reconnect the audience with the space around them. Carson will then invite the audience to transition into the evening's concert. Carson will be available to connect both after this activity and after the full concert in the Atrium.
This activity is open to all Blue Waves ticketholders. Click here for tickets.
Posted in: BLUE, Concerts, Events, Fellows
---