News
February 7, 2020
ConcertCue informs NWS audiences during concerts
Throughout its 2019-20 season, NWS is experimenting with program information, going beyond traditional printed notes to deliver immersive and behind-the-scenes experiences that shed light on the music the Fellows are performing.
For select performances, NWS has partnered with Eran Egozy of the MIT Music Technology Lab to offer ConcertCue, which streams synchronized program notes during a live musical performance. These program notes include text, images and other rich media, precisely timed to important events in the music itself. 
Eran—also the founder of Harmonix Music Systems, which is best-known for the wildly popular video games "Guitar Hero" and "Rock Band—was awarded a Prototype Fund Award by the John S. and James L. Knight Foundation to develop the web application. Awards were given to projects that are designed to harness the power of technology to engage people with the arts, and uncover replicable strategies that allow cultural organizations to thrive in the digital era. The list of ConcertCue's early adopters includes the Boston Symphony.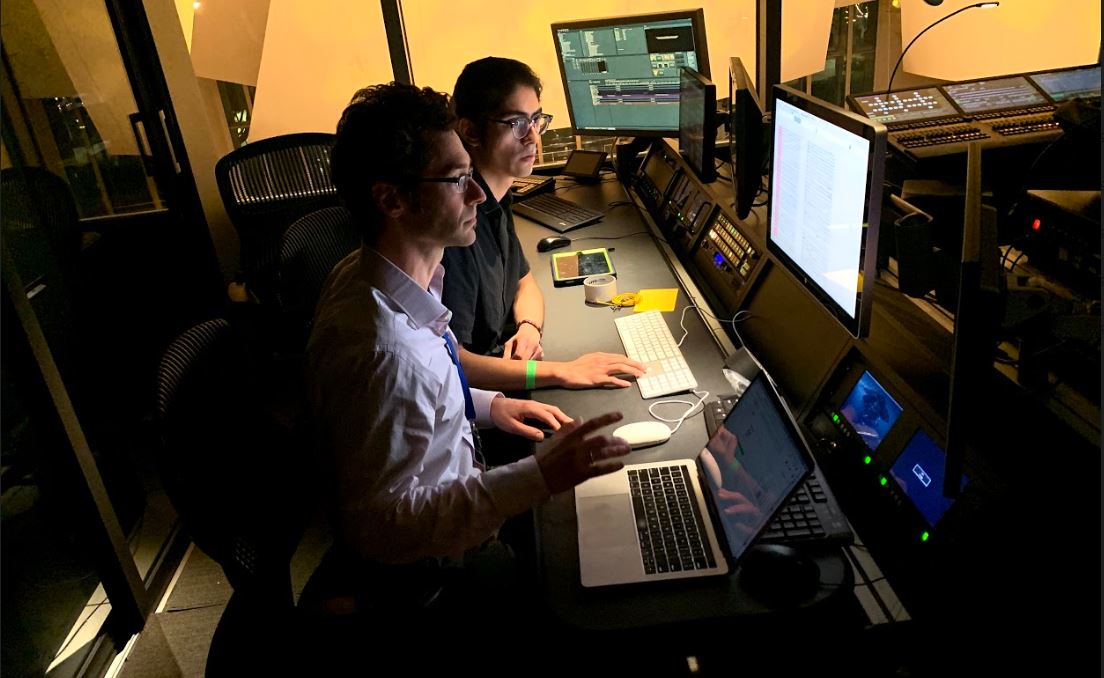 Eran Egozy and MIT student Juan Carlos Garcia at the New World Center, December 2019
On December 7, NWS first experimented with ConcertCue for its Sounds of the Times: Volatile Prayers concert. Audience members were treated to historical information, musical definitions and notations, and facts about the Fellows performing. This marked the first instance where ConcertCue's information was available in both English and Spanish.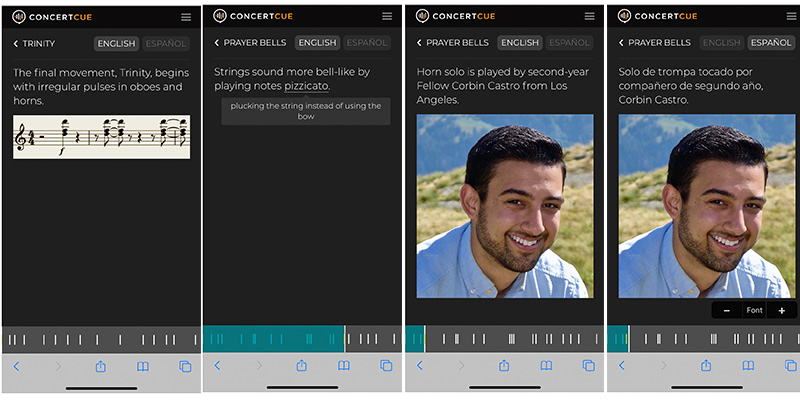 ConcertCue platform during NWS's Sounds of the Times performance, December 2019
Encouraging listeners to use their phones during a performance is outside the typical concert experience, but a welcome change for many who said it helped them understand the music and enhanced their participation.
"The idea of using mobile phones inside the concert hall might seem strange," said Eran Egozy. "But at MIT, much like at NWS, we like to experiment with new ideas; and new ideas can often feel unfamiliar in the beginning. Our goal is to create a better and more engaging concert experience for the audience by using technology carefully and thoughtfully. We are very excited to be partnering with a forward-thinking organization like the New World Symphony."
"As a laboratory for the way classical music is performed, taught and experienced, NWS is proud to partner with Eran, his team at MIT and the Knight Foundation in reimagining the concert experience," said Craig Hall, NWS's Vice President of Audience Engagement, Research and Design.
"Technology is offering new avenues for engaging classical audiences," said Chris Barr, Director/Arts + Technology Innovation at Knight Foundation. "While mobile apps may seem out of place in a concert hall, experiments like ConcertCue offer listeners thoughtful pieces context and just-in-time insight for deeper appreciation of the music. Knight Foundation is proud to support forward-thinking partnerships that help more people enjoy classical music."
Use ConcertCue at Feb. 15 WALLCAST® concert
Come be part of the next experiment! Audiences at NWS's February 15 WALLCAST® concert will be invited to use ConcertCue as they listen to music by Liszt, Prokofiev and Schumann. In addition to the dual-language tracks featuring information about the composers and pieces, users will also enjoy reflections from the evening's artists—NWS Co-Founder and Artistic Director Michael Tilson Thomas and violinist Nicola Benedetti.
WALLCAST® concerts take place in SoundScape Park and are free, no ticket required. Click here to learn more.
ConcertCue is designed and built by the MIT Music Technology Lab and is made possible in part with funding from the Knight Foundation.
Posted in: Concerts, Events, Knight, Technology, Wallcast Concerts
---