News
May 26, 2022
Congratulations to NWS Fellows and Alumni on 2021-22 Job Wins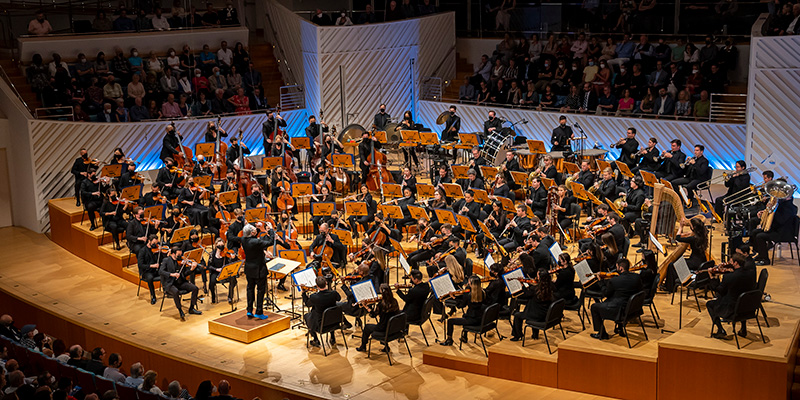 MTT leads Fellows and alumni in Mahler's Fifth Symphony on May 7, 2022, photo by Alex Markow
The New World Symphony envisions a strong and secure future for classical music. In the past 34 years, NWS has prepared nearly 1,200 Fellows for careers in performance, education, innovation, advocacy and administration. These talented musicians take with them skills they've developed during their time with NWS to professional positions around the globe.
We congratulate the following Fellows and alumni who won positions during the 2021-22 season. This season's wins more than double last season's due in part to the return of many ensemble auditions and educational vacancies that were previously on hold during the COVID-19 pandemic. These Fellows and alumni will continue to make an impact among their colleagues, students and in their new communities as they have here in Miami Beach. Join us in celebrating their accomplishments.
Fellows and Alumni: If we have inadvertently omitted your name, please contact Tom Hadley and Marci Falvey.

Nikki Abissi, Trombone, Radio City Orchestra
Chris Blackmon, Senior Librarian, Royal Concertgebouw Orchestra
** Emilio Carlo, Viola, Cincinnati Symphony (one-year)
** Corbin Castro, Second Horn, North Carolina Symphony (one-year)
Autumn Chodorowski, Violin, Columbus Symphony and Kansas City Symphony
** Victoria Chung, Principal Oboe, Richmond Symphony
** Justin Cummings, Principal Bassoon, Knoxville Symphony
Timothy Dodge, Director of Development, Grand Teton Music Festival
Karla Donehew Perez, Faculty (Violin), Longy School of Music of Bard College
** Brendon Elliott, Violin, Virginia Symphony
** Antonio Escobedo, Bass, Bergen Philharmonic
** Gianluca Farina, Principal Trumpet, Sarasota Orchestra
Roy Femenella, Regular Extra Musician (Horn), Metropolitan Opera Orchestra and Boston Symphony
** Ben Fryxell, Associate Principal Cello, Jacksonville Symphony
Gary Ginstling, Board, League of American Orchestras; Executive Director, New York Philharmonic
Alex Gonzalez, Violin, The Knights; Faculty, University of Colorado Boulder
** Johanna Gruskin, Principal Piccolo, New Zealand Symphony Orchestra
Richard Harris, Assistant Professor (Trombone), University of Denver
** Alexandria Hoffman, Associate Principal Flute, Auckland Philharmonia Orchestra (six-month)
** Ethan Hoppe, Violin, U.S. Air Force Strings
Spencer Ingersoll, Viola, Columbus Symphony
Miles Jaques, Faculty (Clarinet), University of Toronto
Brendan Kane, Principal Bass, Israel Philharmonic
** Jung Eun Kang, Violin, Los Angeles Philharmonic
Kerry Kavalo, Senior Project Manager, Zika
** Katherine Kobylarz, Violin, Baltimore Symphony (one-year)
** Isabel Kwon, Cello, Cincinnati Symphony (one-year)
** Scott Leger, Assistant Principal/Third Horn, Louisville Orchestra
Sodam Lim, Violin, Kansas City Symphony
Jarrett McCourt, Assistant Professor (Tuba and Euphonium), University of Memphis; Faculty (Tuba), Vanderbilt University
** Gabe Napoli, Viola, Cincinnati Symphony
Kathryn Nettleman, Associate Principal Bass, Minnesota Orchestra
Aaron Norlund, Second Trumpet, Jacksonville Symphony (one-year)
** Sam Pedersen, Viola, Houston Symphony
Rita Porfiris, Second Principal Viola, Icelandic Symphony
** Angelo Quail, Clarinet, U.S. Marine Band
** Michael Rau, Violin, Baltimore Symphony
Jonathan Reed, Principal Bass, Grand Rapids Symphony
Christian Reif, Music Director, Lakes Area Music Festival
Christopher Robinson, Violin, Louisville Orchestra (one-year)
** Yefim Romanov, Associate Concertmaster, The Florida Orchestra
Jessica Ryou, Violin, North Carolina Symphony
Kyle Sandborn, Bass, Minnesota Orchestra
** Chelsea Sharpe, Violin, Louisville Orchestra (one-year)
Johnathan Smith, Chief Recording and Mastering Engineer, Lake George Music Festival
** Marcelina Suchocka, Principal Percussion, Sarasota Orchestra
Kallie Sugatski, Viola, Pittsburgh Symphony (six-month)
Marc Thayer, Chief Executive Officer, Elgin Symphony
** Arno Tri Pramudia, Second Trombone, Gothenburg Symphony
Chloe Tula, Principal Harp, Omaha Symphony
Matthew Way, Director of Development, Elgin Symphony
Marguerite Lynn Williams, Faculty (harp), National Alliance of Audition Support
John Wilson, Principal Keyboard, Marin Symphony
** Started the 2021-22 season as a Fellow
---