News
March 22, 2018
Contemporary music icon John Adams returns to NWS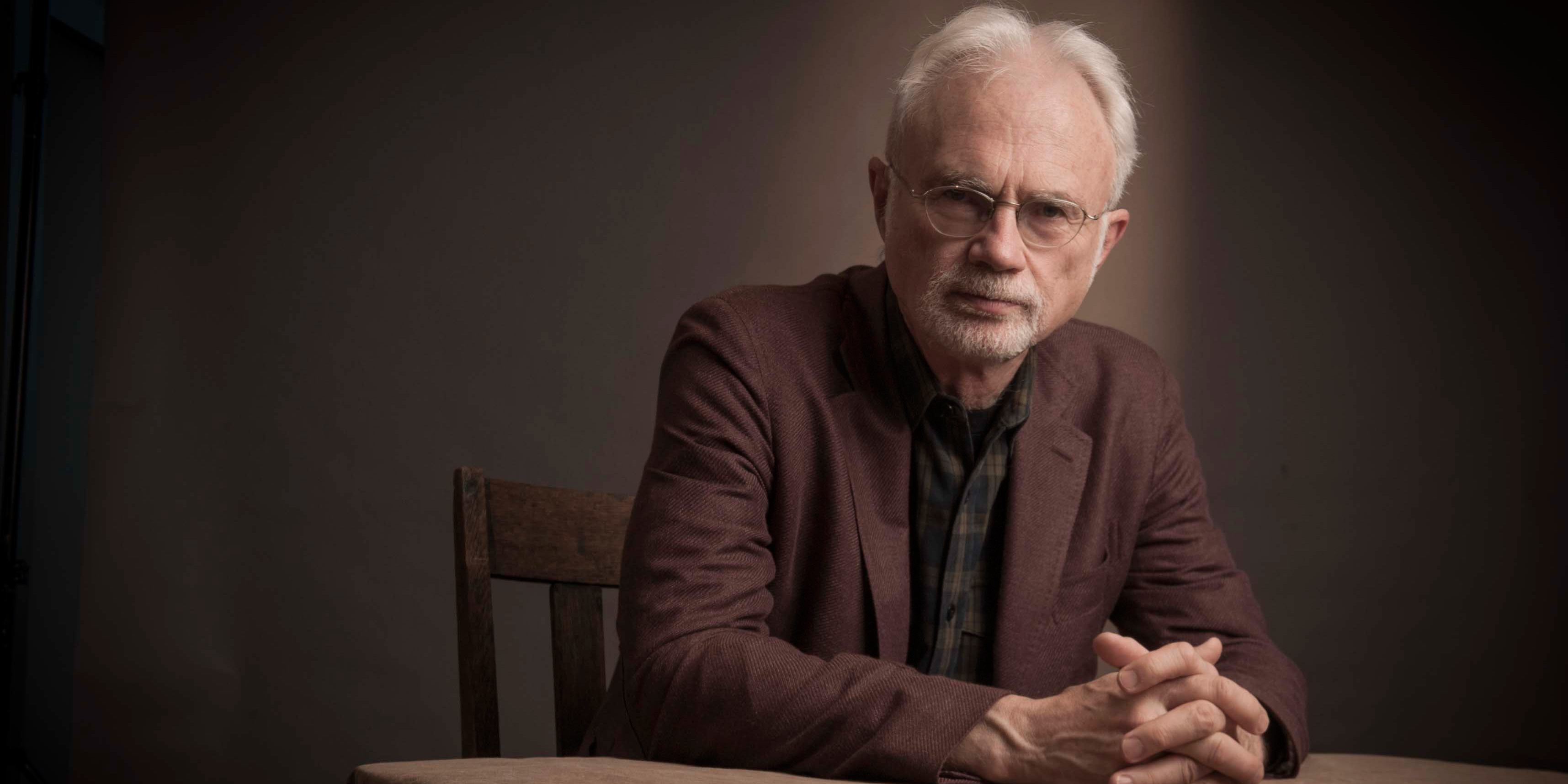 On Saturday, March 31 eminent composer, conductor and American music icon John Adams will return to the New World Center to lead the Fellows in his Two Fanfares for Orchestra and works by four of the country's other leading compositional voices (including that of his own son, Samuel).
Named the living epitome of American music by The Sunday Times and "a man whose name will never die" by New Yorker music critic Alex Ross, John Adams has personified the American sound with his often wildly energetic, sometimes frenetic scores after Aaron Copland once defined it with ones based in quietude.
For decades Adams has been a force in classical music—both as composer and conductor—and for 20 years he and his music have been a staple of NWS's fellowship program.
Said Douglas Merilatt, NWS's Executive Vice President for Artistic Planning:  "It's especially meaningful for the Fellows to work directly with the composers of our time. And no one makes the experience of doing so more inspirational--and more exciting--than does John Adams. For these past two decades, New World's Fellows have been privileged to rehearse and perform under the guidance of John's artistry as both a conductor and a composer. And for our audience as well as the Fellows, the result of that relationship has been a series of blazingly fine, unforgettable concerts."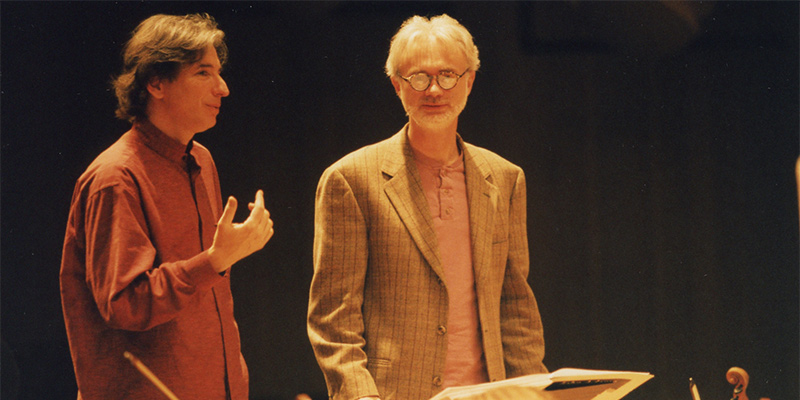 MTT with John Adams at the Lincoln Theatre, 1998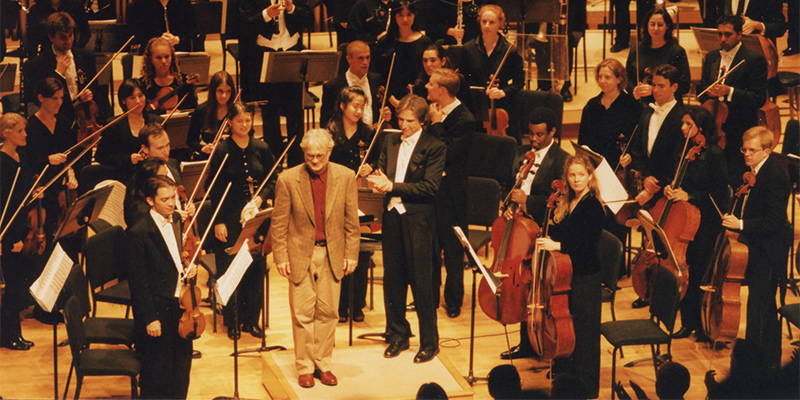 John Adams with NWS, 1998
In January 1998 Adams made his first appearance, as a guest composer, alongside NWS and MTT as part of the Music from America Festival. He returned in December 1999 to lead a performance of other works of his music and that of Conlon Nancarrow and Frank Zappa, which NWS repeated under Adams' direction at San Francisco Symphony's Davies Hall as part of its American Mavericks festival in June 2000.
Adams also appeared in NWS's first use of Internet2 during a performance in September 2002, digitally greeting the audience live in the Lincoln Theatre from New York before NWS's performance of his Shaker Loops. Since then, he has returned numerous times as conductor, educator and mentor.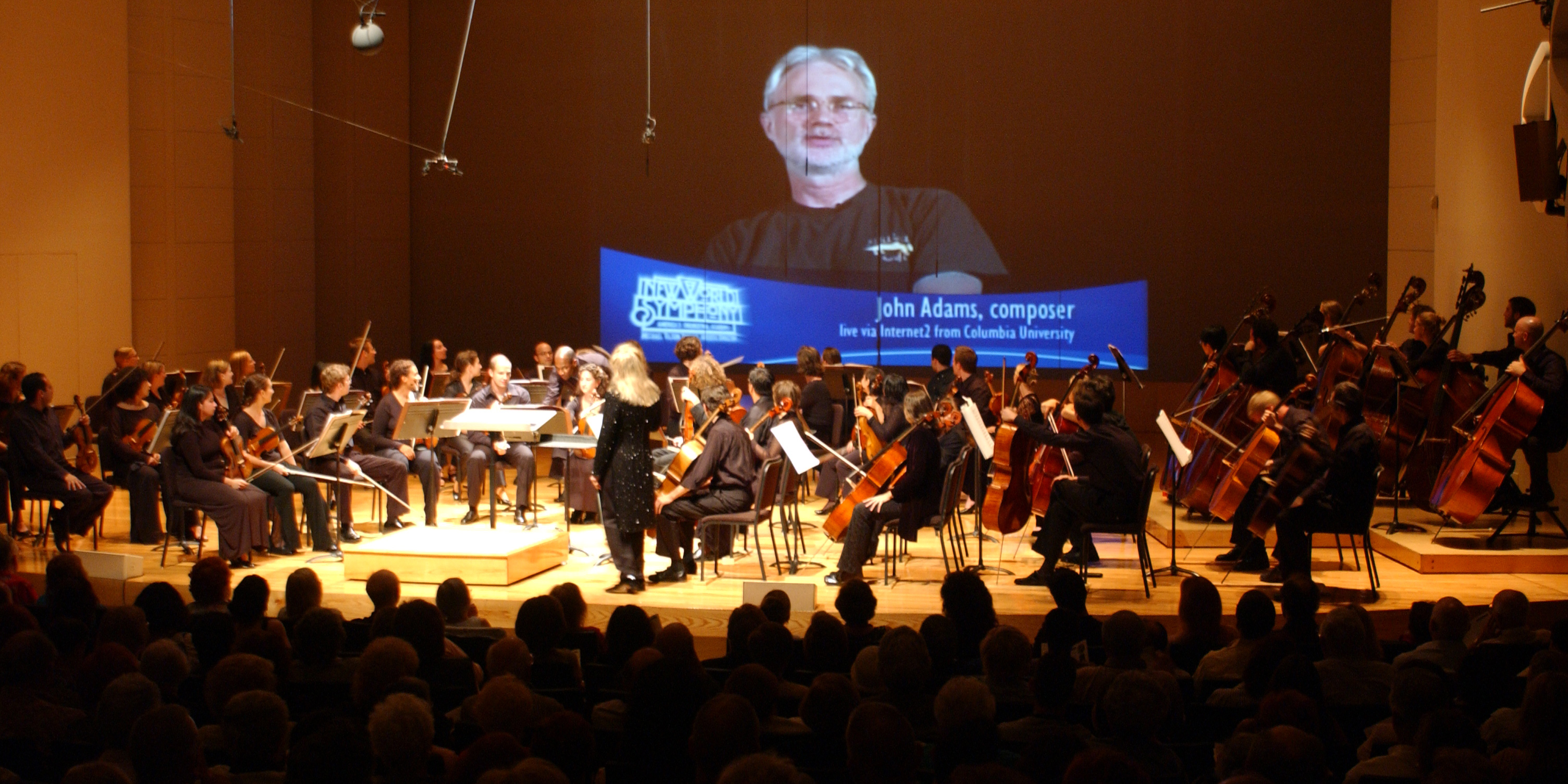 John Adams appears via Internet2 at the Lincoln Theatre, 2002
Like his friend and fellow maverick MTT (whose most recent Grammy Award was for his 2012 recording of Adams' Harmonielehre and Short Ride in a Fast Machine), Adams shares a love for fostering musicians and a love for the podium. Second-year Trombone Fellow Joseph Peterson vividly remembers the first time he performed with Adams as conductor.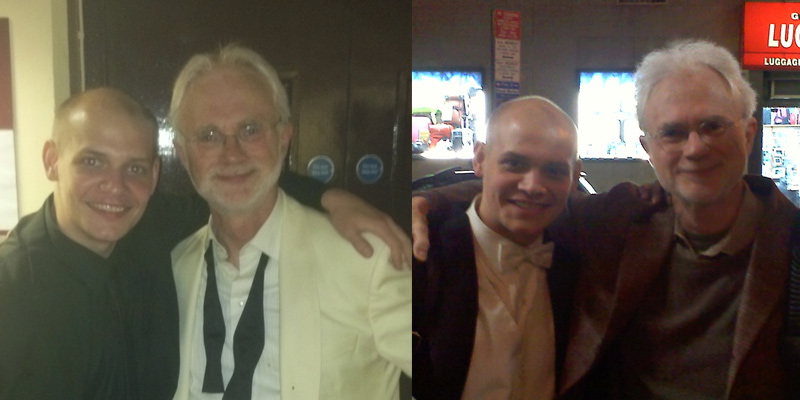 Trombone Fellow Joe Peterson with John Adams
"I had admired him for years. I first heard his music as a teenager listening to my brother's CD of Harmonielehre and later read his fascinating autobiography/memoir Hallelujah Junction (which I highly recommend). As a student at Juilliard, I saw performances of his operas Doctor Atomic and Nixon in China at the Metropolitan Opera before getting to work with him myself. He's a living legend and brought so much youthful energy to our performances of his extremely complex symphony City Noir in New York and London. It was amazing to have his perspective coming straight from the source and you could tell he relishes the opportunity to conduct. I personally find new music very important. Classical music isn't a museum and there's a certain energy that only a new music concert can bring. In his 2011 commencement address at Juilliard, John Adams urged us to never stop learning and to continue asking ourselves how we can make something fresh. And that's what he asks of us and the audience when he steps on the podium."
"How often are we bowled over and forced to stop all other discursive mind wandering and just sit there in astonishment, listening or looking in rapt amazement? That is what we want when we confront a work of art."
            -- John Adams

Join NWS for John Adams' one-night-only event on Saturday, March 31 at the New World Center.
Saturday, March 31 at 7:30 PM
John Adams, conductor
Jonathan Biss, piano
Timo Andres, piano
J. Adams: Short Ride in a Fast Machine
J. Adams: Tromba lontana
Lang:  mountain
Andres:  The Blind Banister
Marshall:  Flow
S. Adams:  many words of love

LEARN MORE:
MTT and John Adams' discuss Short Ride in a Fast Machine, the first work on Saturday's concert
Joe Peterson's pick: Adams' Phrygian Gates for piano
Joe Peterson's pick: Adams' Slonimsky's Earbox for orchestra
Program notes for Saturday's concert
---