News
March 25, 2020
Curiosity Fueled the Art: Part I
Mark Grisez goes by many titles: Former NWS Trumpet Fellow (2016-19), Principal Trumpet of the Columbus Symphony, SDCC Trumpet Guy and The Curious Musician – a platform he created while at NWS. In this blog series, he shares how his curiosity has allowed him to connect with his music, his mentors and his audiences.
Read the entire Curiosity Fueled the Art Series: Part II, Part III
Connect with Mark on Facebook, Instagram and using #TheCuriousMusician.
It's no secret to my friends, colleagues and mentors that I like to think, ask questions and learn about weird or obscure things—occasionally to a fault. When I arrived in Miami Beach in the fall of 2016, my mind was overflowing with anxious questions: What kind of musician do I want to be? What purpose will my music and the music I make with others serve in the greater picture—society, communities, even history? Do I even want to play in an orchestra for the rest of my career? I had just played two seasons with the San Francisco Symphony as Acting Associate Principal Trumpet, the first of which coincided with the final year of my undergraduate studies at the San Francisco Conservatory of Music. I was mentally and emotionally overwhelmed. But now, I had this opportunity at the New World Symphony, a place people described to me as a sandbox, a laboratory, an incubator for curious and ambitious musicians to pursue their ideas and make beautiful and exciting new things. My propensity for asking too many questions, a quality of which I occasionally felt ashamed ("Don't worry about all that, just play the music!"), all of a sudden seemed like it could be a powerful tool in this new environment, one that I could share with my new colleagues and eventually use to connect more deeply with audiences.
Getting Curious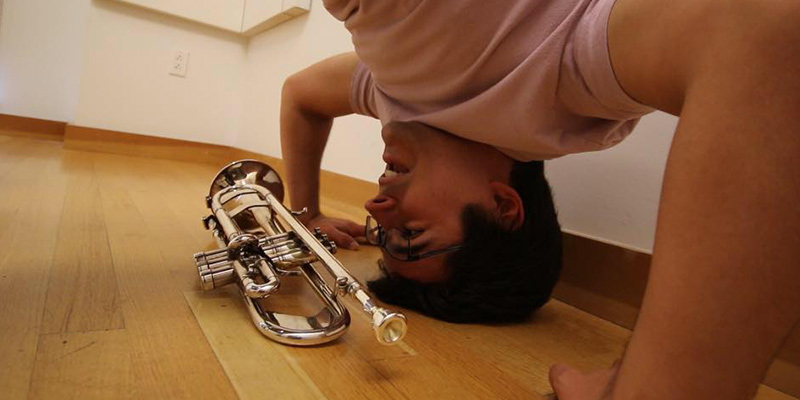 At NWS, I found many inquisitive, creative and thoughtful souls with whom to bond, both among the Fellows and the staff. Conversations lit up. I enjoyed telling someone about a weird practice technique I was trying out, sharing a new book I'd discovered and the ideas it gave me, and hearing what kinds of books and resources got other people excited. The more I spoke with others, the more I noticed a continuity: many other trained classical musicians were just as anxious as I was about finding their voice, taking risks, getting stuck in a rut, losing their passion or love of music to boredom or routine, or simply burning out. At the same time, we were having these wild individual exchanges about acting techniques, communication skills, artistic expression, practice ideas, musical composition, improvisation and much more. We were doing experiments with one another, trying out an idea in one performance and totally changing the formula for the next, and growing as artists and people, even if it wasn't immediately in the prescribed direction of "winning an audition." Were the things I was afraid of—getting stuck, going stale, losing my voice or losing my courage—actually as inhibiting as I thought?
Around that time, musicians like Adam Neely, Bob Reynolds, Miles Okazaki, Rick Beato and others were big inspirations to me. In addition to being active performers, each was making videos on YouTube to educate people about music, share cool ideas new and old, and incite conversations, using their communities as vehicles to bring fresh perspectives to the world of music. I too wanted to start conversations. I wanted to demonstrate that with investigation and good humor, it is possible to turn the most paralyzing musical obstacle into an opportunity.
I started work on The Curious Musician with the insight and support of NWS staff during my second year as a Fellow. The formula went like this: I'd put up a video demonstrating a few ways that I, for example, practice in opposites. Then I'd put out the call for viewers to submit videos of themselves demonstrating their own "opposites" practice, which I would highlight in a community response episode. My goal was to turn the practice room into a laboratory, a place where uncertainty is not a vice but a victory. What would it be like for "what if" to be the most exciting thing that one could say or think in the practice room? What if the name of the game isn't "perfect this piece/this excerpt/this audition" but instead, "What can I learn if I play this music backwards, inverted, in the wrong key or at the wrong volume?"
How I describe it now is not necessarily how I was thinking about it then. I made four episodes in that first "season" of The Curious Musician, each iterating on the last and trying out different messaging, angles and prompts. But looking back on this earliest "season" (and the "seasons" yet to come), what lay at the foundation of the project was a belief that even when it felt routine or mundane, music was always dynamic, full of possibilities, and, as I would learn in my next projects, rich soil for connecting with others.
The Human Effect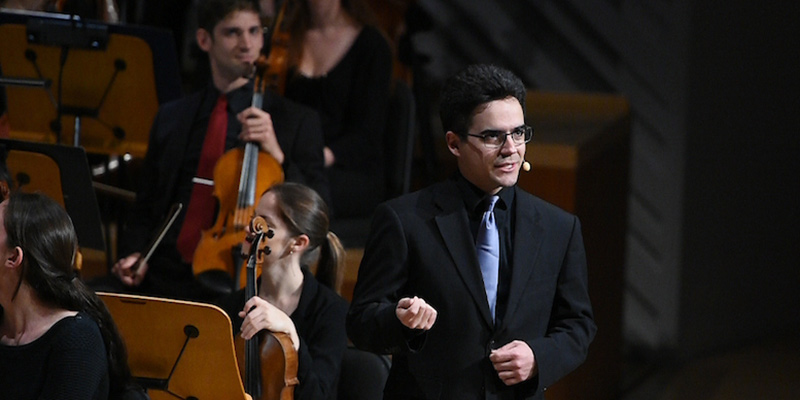 Realizing how many feelings, thoughts and anxieties I shared with other musicians was the first step on a longer path of using curiosity to connect with others. It was an unparalleled privilege to travel that path under the mentorship of Michael Tilson Thomas, both in San Francisco and at NWS. Whenever I spoke with him, he would gently remind me to keep asking questions (What is happening in this piece of music? Why did the composer write it this way? What does all of that mean to me?), but also to make a decision and take action (What am I going to do about it?).
In 2019 Fellows Kip Rieken, Joseph Peterson and I teamed up to follow our curiosity and take action. We designed a concert called The Human Effect, which explored the lives and work of artists from many different times and places and examined their responses to the changing worlds around them. With MTT guiding our investigation, we soon realized that we'd unearthed a fascinating story connecting the worlds of composer Paul Hindemith, actor Charlie Chaplin, Miccosukee leader Reverend Houston R. Cypress, painter Matthias Grünewald and others. The three of us found that artists across history experienced the same uncertainty about "the times" that we did and, like us, sought answers (or at least direction) in art.
When we presented these artists, their work and their stories to an audience with the aid of the New World Symphony orchestra, media team, stage crew, volunteer, and administrators, we found that the connection ran even further: into the audience. Everyone feels afraid. Everyone wants to be loved. Everyone loses hope but finds it again in unlikely places. When we spoke with audience members after the performance ended, they approached us with the same curiosity that we had felt when we first began this project. The uncertainty of looking into the unknown, far from provoking a defensive reaction, was actually bringing us all closer together.
As the season came to a close, my curiosity was leading me someplace new. I made the choice to leave Miami Beach that summer and move to Houston, where I would pursue my master's degree at Rice University. It was going to be an adjustment going back to school after four years, and I grieved leaving a home in which I'd realized what kind of artist I wanted to be, not to mention the friends I'd made during that process. But I knew I could trust my instinct to go, because it grew out of the same eager curiosity that brought me to NWS in the first place and fostered the amazing relationships and connections that I experienced while I was there. I would continue to follow that instinct in the coming months as I, among other things, revitalized The Curious Musician, joined the Columbus Symphony Orchestra and became intimately familiar with sapphire blue makeup. To be continued...
Posted in: Alumni
---